I am in love with my home and always look for accessories to make it even cozier. My recent find is patchwork rugs. I love these multicolored small items for the variety of colors, patterns, and textures, which create a special mood in my home. Probably, now you are asking yourself, "Do I need these rugs for my home?" Before answering, let's consider its pros and cons.
Patchwork rugs are a popular choice of homeowners. These rugs have lots of pros. These rugs are not expensive, environmentally friendly, and very versatile. But this option is not for everyone, as they have cons too. They are harder to clean than seamless rugs. Besides, to some homeowners, they seem too variegated. Read further to know, what styles of patchwork rugs exist.
What is Patchwork Rug?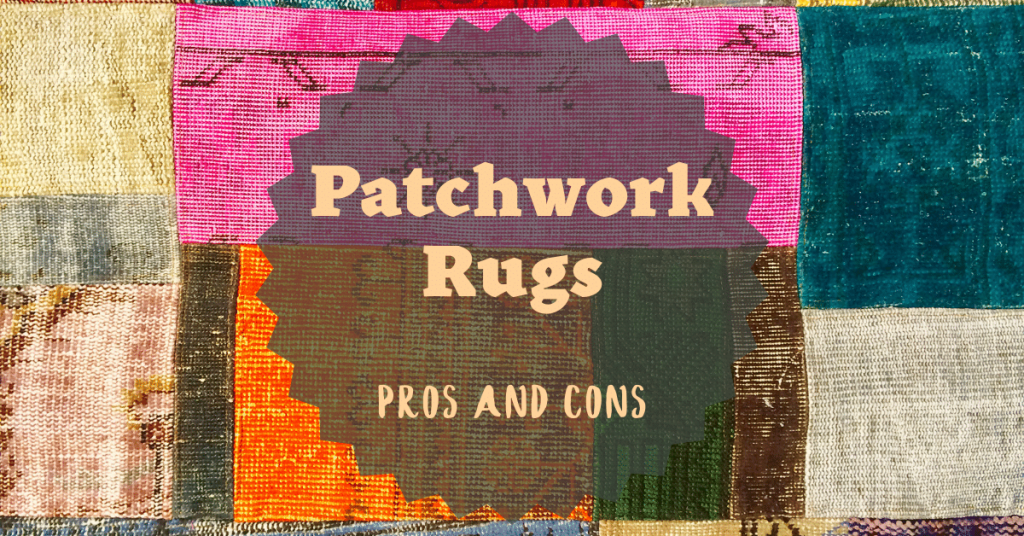 As you've guessed, "patchwork" consists of two words, "patch" and "work". Today, patchwork means the technology of rug making, when small parts of various carpets are sewn together into a larger one. Very often the patchwork carpets are unique. Their pattern is hard to repeat twice. Patchwork technology, the main idea of which is in stitching together various pieces of textile to form a new unique item, is used for making not only rugs but also blankets, pillows, and even clothes.
There are several styles of patchwork rugs.
Styles of Patchwork Rugs
No need to say that making rugs from various pieces presumes a great variety of designs and textures. That's why there are no two alike patchwork rugs. I understand that you are overwhelmed with such a wide choice of patchwork rugs. That's why I decided to classify them for you to navigate in the world of these rugs.
Traditional patchwork rugs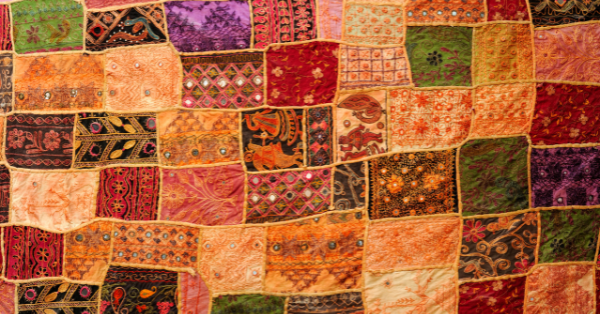 As you can guess, the rug makers use the leftover fabric to make new patchwork rugs. Traditionally, they tried to combine similar pieces of fabric to create a new item. Traditional patchwork rugs are made of pieces of similar structure and colors, which match one another. Very often they contain some abstract pattern, like various combinations of geometric forms.
Look at the video to know, how they make patchwork rugs:
Crazy patchwork rugs
As it's obvious from the name, this combination of colors and materials is chaotic. The details, which form the "crazy" patchwork rugs, differ in form, too. Thus, it is possible to mix small circle pieces with long wavy ones to create the new original rug. Very often "crazy" patchwork rugs have some additional decorations, like fringe or ribbons.
Knitted patchwork rugs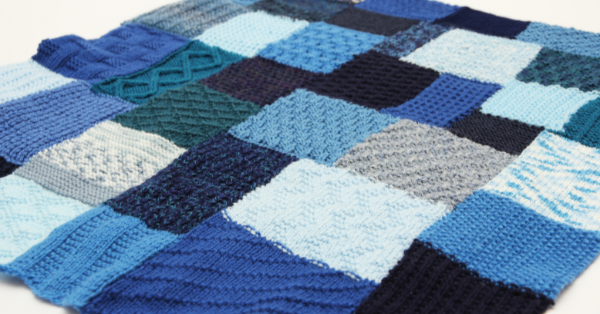 These rugs create a great relaxed atmosphere in any home. The rugs, made in this technique, belong to the retro style, so it is not suitable for premises with modern interiors.
There are several ways to make knitted patchwork rugs. The first one is to take separate pieces of fabric and then crochet them with the same threads and then knit them together. The second one is to knit the patches of multicolored yarn.
Quilted patchwork rugs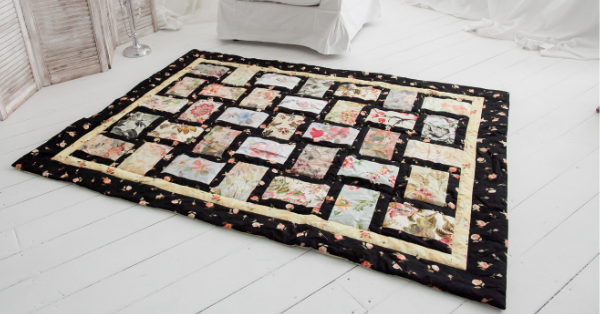 The rug makers create these items from pieces of quilted fabric. Very often the quilted patchwork rugs are voluminous. Usually, they are set on soft padding.
Japanese patchwork rugs
This technique presumes a combination of eastern patterns with western quilted fabrics. The rugs in this style are usually made of pieces of the same geometric form. But they contain Japanese plant patterns and pictures of Asian landscapes or animals.
The patchwork rugs have their proponents and opponents. To what group do you belong? To know it, read patchwork rugs' pros and cons.
Patchwork Rugs Pros and Cons
Choosing the rug for your home is a very personal thing. That's why I can't tell you whether you should get it to organize your space. But I can give you all the pros and cons patchwork carpets have, so you can make a final decision. Let's start with the positive sides of patchwork rugs.
Pro 1: Wide choice of colors
Each person has a range of colors he has vibes with. In the case of patchwork rugs, it is possible to combine several colors you like and create a unique mood in your room. Practically, you can let your imagination go wild and find those color decisions you like.
Pro 2: Wide choice of forms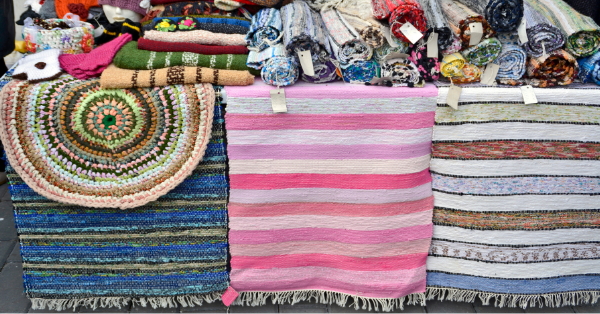 These rugs are made of patches, which are cut from other rugs, blankets, or carpets. The shape of these patches can be different, starting from standard squares and rectangles and ending with circles, rhombus, and triangles. The patchwork carpets can have any shape you like. It gives you the possibility to show your creativity. Besides, it perfectly fits small spaces or areas of unusual shape in your house.
Pro 3: Originality
This pro logically follows from the previous two. Made from pieces of various carpet fabrics, patchwork rugs are very versatile. With this rug you can be sure, you create the unique décor in your house. There's a small opportunity that you find the same rug in your neighbor's or friend's home.
Pro 4: Environmental protection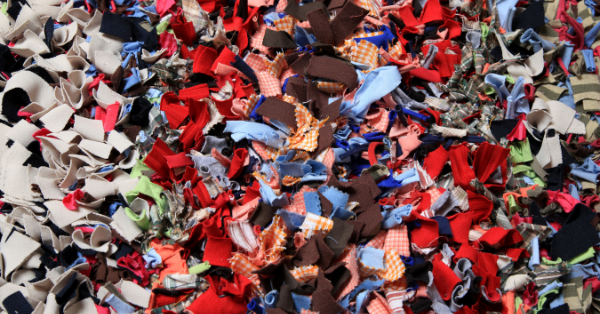 I am sure, among my readers, there are conscious and responsible homeowners, who don't want to fill our planet with plastic and other artificial materials. An average American throws away about 37 kg of clothes every year. The old clothes end their life in landfills. They also may be burnt. It is even harder to recycle old things if they are made of artificial materials.
The patchwork is that kind of design, which gives new life to an old fabric. Manufacturers produce not just rugs, but other various things in patchwork technique, like blankets, clothes, or bed covering. But I want to focus your mind exclusively on rugs.
Very often patchwork rugs are made of pieces of old ones. Often vintage rugs are taken to create new ones. Using old carpet fabric to create a new stylish patchwork rug is environmentally friendly.
Pro 5: Low price
Many popular patchwork-style rugs are inexpensive, so almost anyone can afford them. Made of pieces of fabric leftover, as usual, patchwork rugs are not expensive. The average cost of a patchwork rug is from $3.50 to $11 per square foot.
Pro 6: Durability
Modern patchwork carpets are pile-free. They consist of dense patches. They are strengthened from the back part with padding, so they do not slide on different kinds of floor coverings (parquet, laminate, etc.). Of course, the patchwork rug's durability depends on the material it is made of. Nevertheless, on average they last from 5 to 10 years if they are maintained correctly.
Ok, we've discussed patchwork rugs pros. Now let's consider what cons they have.
Con 1: It is hard to clean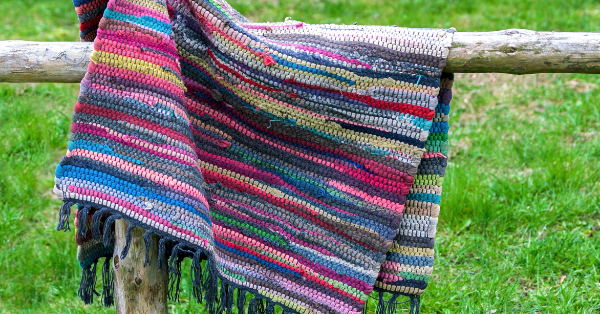 The patchwork rug is made of separate pieces, which are sewed or knitted together. The stitches, which join them, are quite hard to clean. I recommend getting a high-quality steam cleaner to wash these rugs carefully, even in such hard-to-reach places.
Con 2: It captures stains in its seams
The seams, which join the patches, seem to be the weak point of these rugs. They are not just hard to clean, but they also get dirty easily. The stains, which can appear on the rug surface after some spills, and pets' accidents are easy to clean from the flat surface of the rug. But the seams capture stains and it is very hard to remove them from the stitched surface. To solve this problem, I recommend you get the powerful stain remover.
Con 3: The color variety can make you tired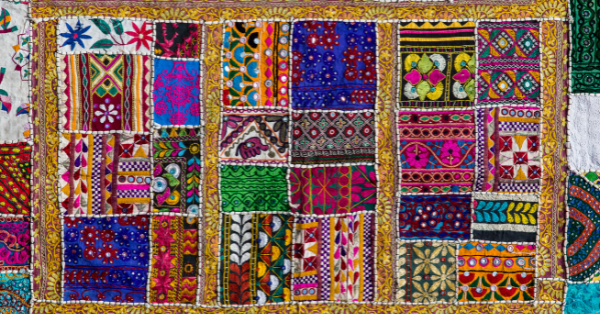 Usually, patchwork rugs are multicolored. The combination of various color tints and shades seems too bright for some homeowners. As I've told you previously, everything depends on the mood you want to create. If you like cheerful bright rooms, the patchwork rug will add that special vibe easily. For the lovers of calm philosophic spaces, I advise choosing patchwork rugs, made in Japanese style. They are usually quite abstract and done in pastel colors.
Conclusion
I think, building the house décor is no less interesting than building your look. Patchwork rugs are accessories that you may choose to create a unique ambiance in your house. These rugs have a lot of cons, including the variety of colors and shapes, which help you, make your home unique. At the same time, some homeowners consider the too bright look of these rugs as something tiresome. It's up to you to decide, whether you need these rugs in your house or not. But I want to inspire you never to give up and create a warm cozy home for you and your family members.