Like other things at your home, the carpets and upholstery will get a little dirty over time. That is why homeowners need to make sure their cleaning roster is full of practically useful products. How else can they restore everything to its original glory? Even you might have a top-notch vacuum cleaner or steam cleaner, but you must have a terrific carpet stain remover. After all, carpet stain removers are crucial to remove spots and stains painlessly!
While the market is full of different carpet stain removers, every one of them isn't worth your while. Before you search for one, make sure you know your priorities. It may take a little patience from your end, but you will be able to find the best cleaning agent online. All you must do is research the options and evaluate them one by one.
Title
BISSELL Professional Stain & Odor
Resolve Carpet Triple Oxi
Picture
Title
BISSELL Professional Stain & Odor
Picture
Title
Resolve Carpet Triple Oxi
Picture
Picture
Picture
Picture
What are the Best Carpet Stain Removers?
The Best Carpet Stain Removers for 2022 are Bissell Professional Stain & Odor and Woolite Advanced Pet Stain & Odor Remover
Let's have a closer look at the five things you need to consider before you purchase a carpet stain remover!
5 Things to Consider Before Making a Purchase
When going through different carpet stain cleaners, it is vital to know what aspects you prioritize the most. Otherwise, how will you know which one is the best for your home? Factors like the 'Overall Effectiveness', 'Suitability for Pet Owners', and 'Eco-friendliness' of the carpet stain cleaner matter a lot. Therefore, don't overlook them. I can't emphasize enough how necessary it is for you to pay attention to these things.
The 5 Things You Must Know Before Buying a Vacuum Cleaner
Here are the five things that you should consider when you go ahead and buy a carpet stain remover.
1. Overall Effectiveness
Carpet stain removers are cleaning agents that should do the job right on the first go. When you buy one, you want it to be a dependable solution that you can rely on again and again. For this to be possible, the product must be cost-effective, adept, and accessible. Therefore, when you are looking for a superior carpet stain remover, do prioritize its whole performance.
2. Value for Money
Since cleaning carpets is a regular reoccurrence, you will need to buy carpet stain removers repeatedly. This heavy usage of the cleaning agent will become a financial burden if the agent offers low value for money. When you're going through an alternative, prioritize this factor. After all, you deserve to purchase something that is a meaningful investment to your cleaning roster.
3. Suitability for Pet Owners
Some carpet stain removers are curated to clean pet mess effectively. If your home contains an animal, make sure the cleaning agent you acquire can clean challenging spots and stains! Every other carpet stain remover isn't worth your attention. Be careful when you get one for your home; it should be a reliable and effective cleaning agent!
4. Multipurpose
When you buy a product to eliminate spots and stains, it should deliver on its promise. Some stain removers are multipurpose, which means that they can clean multiple surfaces. In other words, if you get a versatile carpet stain remover, it can be used to clean the upholstery and flooring too. If you plan on using the vacuum cleaner for more than one surface, you should get this sort of product!
5. Eco-friendliness
Many carpet stain removers contain harsh chemicals that are harmful to the environment. If being ethically and environmentally responsible is important to you, get an eco-friendly cleaning agent. Don't just settle for any name in the market and do your research correctly. The carpet stain remover you get should be mild and friendly to the ecosystem
The Best Overall: Bissell Professional Stain & Odor, 22 Ounces
The BISSELL Professional Stain and Odor Remover is a prominent name in the market which is trustworthy and reliable. It can remove the most difficult of stains and odors without much ado.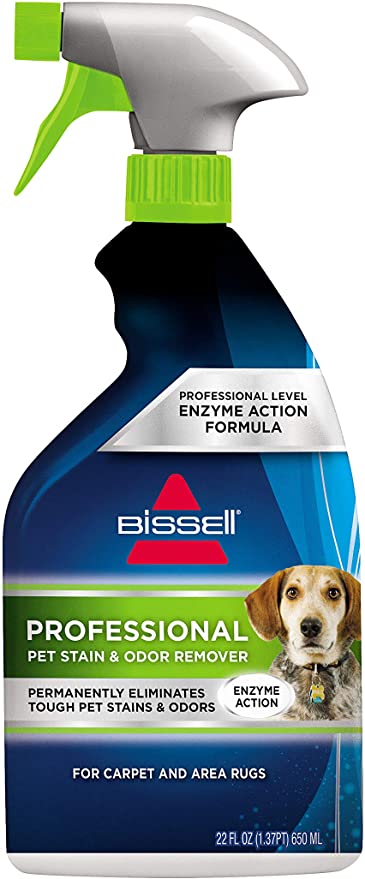 The Bissell Professional Stain and Odor Remover is a brilliant cleaning agent that relies on intense enzyme cleaning action. Regardless of whether you use it on the carpet or the upholstery, the results will be satisfying. Since it has the company curates it to tackle with pet mess, this stain and odor remover will never let you down.
You might want to know that it is an enzyme cleaner, which means that it treats organic stains the best. Don't hesitate to use a moist towel to soak the stain with this solution. Leave it for a generous duration of time, which falls between twelve to seventy-two hours. The probiotics in the solution will take care of the rest! Moreover, this solution is safe to use on carpet, upholstery, and water-safe surfaces. Use it yourself to verify this information if you want!
The Best Value for Money: Resolve Carpet Triple Oxi Advanced Carpet Stain Remover, 22 Ounce
The Resolve Carpet Triple Oxi Advanced Carpet Stain Remover offers excellent value for money. It is a great choice that ensures the elimination of the toughest of spots and stains.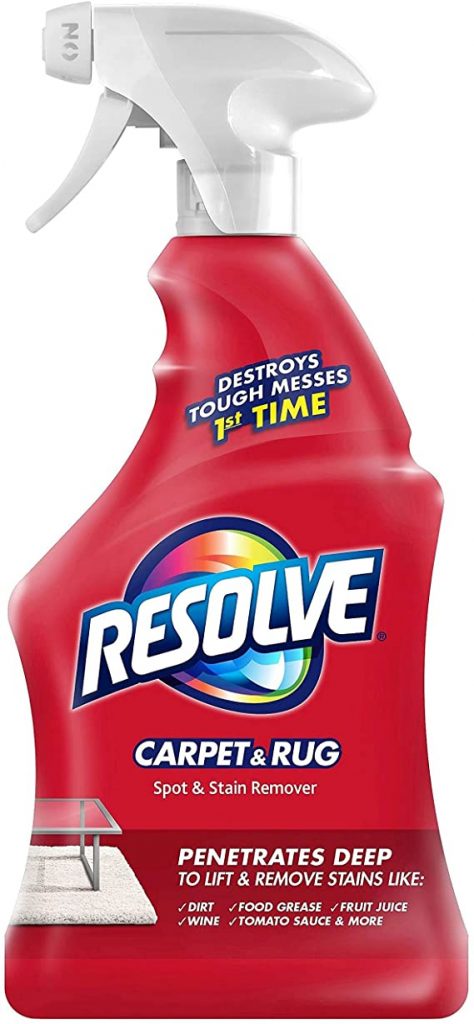 The Resolve Carpet Oxi Advanced Carpet Stain Remover is an excellent product you can use for spot cleaning. After all, it is formulated to remove ingrained dirt without fail. The best thing about it is that it is so economically priced! Consider using it if there are only a few tough stains on your carpet that require cleaning action.
The advanced formula of this stain remover can break down red wine, grease, pet stains, ink, and motor oil easily. Apart from that, it is also capable of eliminating the worst of odors. With this stain remover by your side, you won't have to worry about stubborn stains or pet messes. This cost-effective product will never cease to amaze you.
The Best for Pet Owners: Woolite Advanced Pet Stain & Odor Remover 22 fl oz
The Woolite Advanced Pet Stain and Odor Remover is a terrific cleaning agent that will mystify you with its performance. It is a potent concoction that can handle any mess your pets may have created.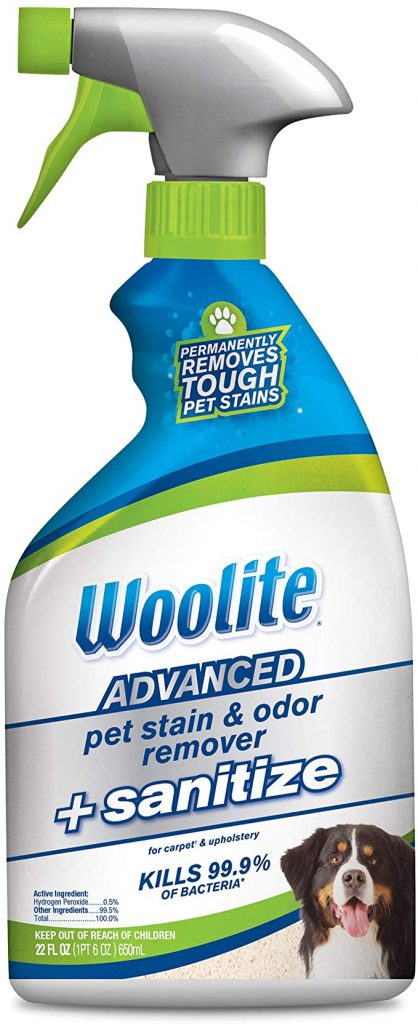 The Woolite Advanced Pet Stain and Odor Remover is a spectacular solution for your staining woes. It has an impressive sanitizing power that leaves the carpets with a fresh scent. The product isn't too expensive, yet it does wonders in terms of performance. If there is any spill, feel free to blot up the liquid with a towel. Next, spray a generous amount of Woolite on it and let the magic happen!
Since this spray has a unique composition that tackles pet stains and odors, it is a guaranteed repeat purchase. You won't find any other product that can reach the same level of magnificence as this one does. This stain removal product has a strong scent, so be careful how you use it. Generally, you will be pleased as it eliminates any foul odors the pets may have left behind.
The Best Multipurpose: Whip-It Multi-Purpose Stain Remover 32oz
The Whip-It Multipurpose Stain remover is a top-notch stain remover that will blow you away with the cleaning results. It is a versatile solution that can be used on different surfaces smoothly.

The Whip-It Multi-Purpose Stain Remover is a non-toxic cleaning product that will tackle stains effectively. It has a concentrated formula that serves the role of a stain remover, degreaser, and multipurpose cleaner at once. The process is simple; just spray the area with the product and wipe it using a towel for general cleaning. If you're dealing with a glass surface, use a microfiber cloth instead.
Regardless of whether you want to clean your carpets, upholstery, stairs, ceilings, or kitchens, this stain remover can perform. It is a wonder how it leaves surfaces so refreshed. It is a water-based cleaner that will get rid of whatever type of stain is bothering you.
The Most Ecofriendly: Biokleen Bac-Out Enzyme Stain Remover – 32 Ounce
The Biokleen Bac-Out Enzyme Stain Remover is a cleaning agent that is easy on the environment. However, it is still useful in showing spectacular cleaning results!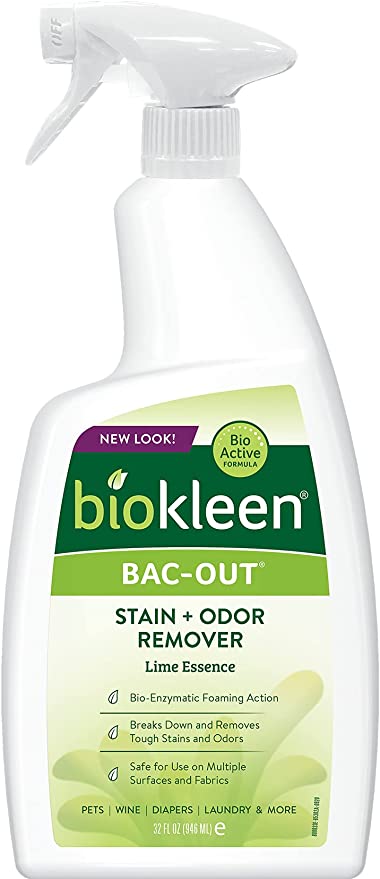 The Biokleen Bac-Out Enzyme Stain Remover is a savage cleaning agent that will surprise you with its performance. Even though people think that eco-friendly cleaners are mild, this product isn't. It will not disappoint you. Don't be mistaken because this is a powerful cleaner that can handle the worst of ordeals with grace.
The best thing about this concoction is that it contains a live enzyme culture and lime extract. With this product in your cleaning roster, you will never have to worry about everyday disasters. The carpet stain removers will come to the rescue and clean any spill or stain that you find threatening. Do keep in mind that this is a full-strength formula that doesn't require any diluting.
Conclusion
Your carpets need attention if you want them to stay in pristine condition. While you might have the best vacuum cleaner in town, you still need to have an effective carpet stain remover. Otherwise, your floor coverings will remain dirty and dull. When you go through different alternatives, make sure you keep your priorities in mind.
If you still haven't found what you were looking for, I recommend you check out our post about the best carpet hair removers.