I have a passion for high-class Oriental carpets. These carpets have a reputation for being the most valuable and original in the world. They are usually handmade and often have a geometric or floral design. Taking the right care about Oriental Rugs is the main task for their happy users. I wondered how professionals clean such delicate rugs.
As a rule, certified experts should clean Oriental rugs. The specialist makes a pre-test of your carpet to choose the cleaning method right. I've collected for you five main steps of the Oriental rug cleaning process. They are vacuuming, wet cleaning, setting the pile in one direction, drying, and combing. Read further to get aware of the prices for cleaning Oriental rugs. Also look through the most reputable companies, which can do this job for you.
5 Main Steps of Professional Oriental Rug Cleaning Process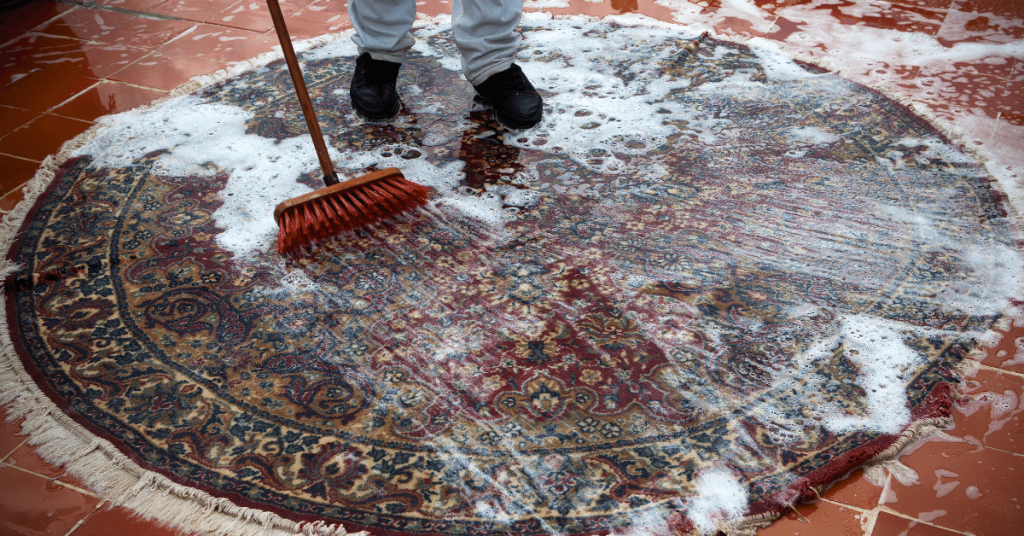 I know that sometimes homeowners dream to save some money. They clean the Oriental carpet at home, using Homemade Carpet Shampoo. But there's a reason, why I recommend doing the professional cleaning of Oriental rugs at least once a year. Only experts can take the dirt away from all the layers without damaging its tender fiber. 
The experts usually plan the carpet cleaning process. Oriental carpet cleaning consists of the following five steps:
The expert puts the Oriental carpet on some hard surfaces. Then he vacuums the front layer. After that, he replaces the rug from its facing surface to the padding and gets away the soil, dirt, and dust from its inner layers. Thus, the padding and pile are ready to wet cleaning.
Then the carpet cleaner specialist cleans the Oriental carpet with a soft shampoo and cold water from both parts – forward and back. He uses the professional cleaning machine to wash the carpet properly and to rinse out the soap from its pile and padding. 
During the professional cleaning process, the expert sets the pile in one certain direction to avoid its damage.
One of the most important steps is to dry the carpet away properly. For that purpose, the expert uses a powerful fan. A warm dry is necessary to avoid the appearance of mildew and a bad smell after the cleaning. 
To make Oriental carpets look soft and luxurious, the carpet cleaning specialist combes the carpet's pile with a brush and trims the fringe.
After that the cleaning company workers return the carpet to the room it was taken from. The Oriental carpet pleases the eyes of the owner, his relatives, and guests.
PRO-TIP
Although the Oriental carpet cleaning process seems quite simple, it's not easy to repeat it at home. The professional equipment and extensive experience help the experts to clean your rug more carefully and faster.
How Much Does the Professional Oriental Rug Cleaning Cost?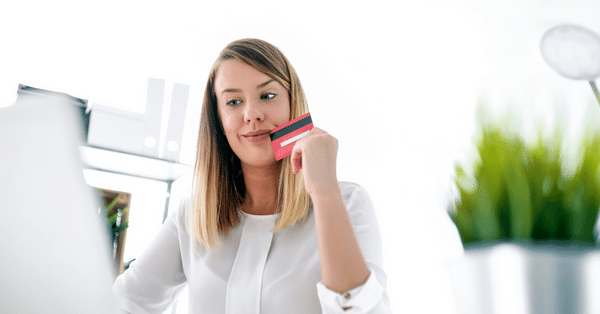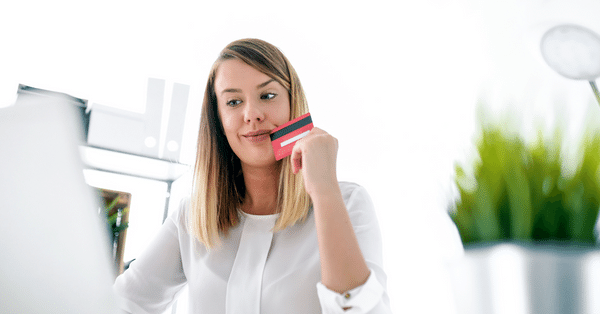 My readers write to me every single day, that they avoid inviting a cleaning expert to their house because they consider his service too expensive. I know that you don't plan to ruin your family budget, that's why you prefer to wash the rug yourself, thus making the compromise in quality. But Oriental carpets are valuable and high-quality, so if their owners are ready to spend some extra cash to maintain them correctly.
I've made the necessary investigation and learned that professional cleaning of Oriental carpets is not more expensive than the cleaning of any other wool rug. Have a look at the table below!
How Much Does it Cost to Clean an Oriental Rug?
| | | | |
| --- | --- | --- | --- |
| Type of Oriental Rug Cleaning | What You'll Get | Time To Spend | Price per Feet |
| Basic professional cleaning | VacuumingWet CleaningDrying | 1-2 hours | $5-8 |
| Stain Cleaning | Additional chemicals for stain cleaning | 2-3 hours | $10 – 40 |
| Bad Smell Removing | Extra supplies to get rid of animal and other kinds of odor | 2-5 hours | $15 – 35 |
Notes: The price of Oriental carpets cleaning depends on the area you live in. So, as usual, the companies will ask for your ZIP code before they set the final price. As usual, most companies have some minimal amount they set for their service. Thus, even if your rug is very small, you'll pay for at least 2 hours of work. The company sets the minimum amount of the area to clean, too. It is approximately 250 square feet. So, the smaller your Oriental rug is, the more you'll pay for it.
How Do the Companies Charge the Oriental Carpet Cleaning Service?
I've contacted several popular companies, where you can find an expert to clean the oriental carpet. Thus, the lowest price option you'll get at ChemDry Company. Here you'll spend $75 – 300 for dry cleaning the whole carpet. Hagopian Cleaning Services Company offers machine gentle washing for $100-600. You can order very delicate handwash for antique Oriental rugs. There's Dalworth Carpet Cleaning in Texas, which specializes in vintage and rare Oriental carpet cleaning. The price range here is $300 – $700 per average-sized rug.
Can Oriental Rugs Be Steam-Cleaned?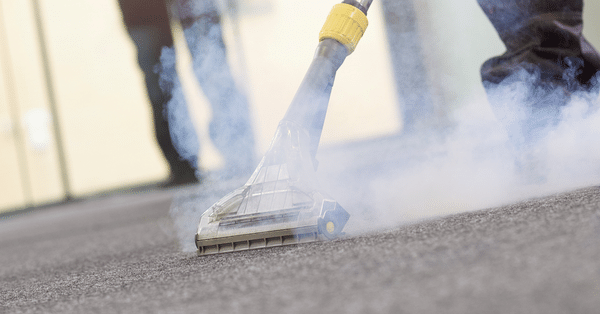 As a general rule, you shouldn't clean the oriental rugs with steam. The fact is most Oriental rugs are handmade. Their fragile natural fiber can be ruined with warm water. Besides, the colors of such carpets will fade faster if you often moisture them with steam. That's why I don't recommend steam cleaning the Oriental carpets by yourself.
Nevertheless, some professional cleaning companies offer such a service. As usual, the experts from these companies have passed the right training and got their certifications. They make a pre-test of your Oriental carpet and after that decide, if it can be steam-cleaned. Of course, they will choose the right cleaning products, which must be free of softeners and bleaches. They have powerful, but gentle steam cleaners, which will take all dirt out of the Oriental rug without damaging its pile. 
As for the prices, steam carpet cleaning usually costs from $0.20 to $1.00 per square foot.
There are several companies, which offer high-quality steam cleaning of Oriental carpets. They are Oriental Rug Salon and Stanley Steemer. These companies offer high-quality service and get mostly positive reviews.
It is one of the most reputable Oriental rug companies in Florida. They have been successfully cleaning wool and silk oriental rugs for years.
This is a national carpet cleaning company, which provides cleaning the Oriental carpets by a steaming method. To clean the average Oriental rug with steam here will cost you from $100 to $250.
The Expert's Opinion 
Camille Dubuis-Welch, the home interior specialist and chief editor of RealHomes.com, advises inviting an expert for Oriental rug cleaning every year or two. Besides, she recommends hiring a professional in the most difficult cases, like stains from chocolate or wine, which you or your guests have put on your gentle hand-made Turkish rug during a party. In other cases, you should keep your Oriental carpet neat, vacuuming it once or twice per week. 
Conclusion
To conclude, oriental carpets are a great investment in your household. Their high price is grounded. Soft, beautiful, original carpets will serve their owner for several decades. Therefore, I advise homeowners, who have oriental rugs, to hire an expert to wash them wisely. Usually, the carpet cleaning service is available at the same place, where you've bought your rug. It's a good idea to wash your oriental carpets there.
I recommend the happy holders hire a professional to do that delicate job for you. Of course, you should invite a certified expert, whom you can trust. Don't spare money for an experienced specialist. And your luxurious Oriental rugs will always please your eye.