When you're dealing with stains, dust, pet odor, or even moths on your carpet, your first inclination may be to reach into your supply closet and pull out the first cleaning product you see. A common misconception is that cleaning products are completely interchangeable. What works for your curtains must work for your rug, right? We'll debunk that myth right now.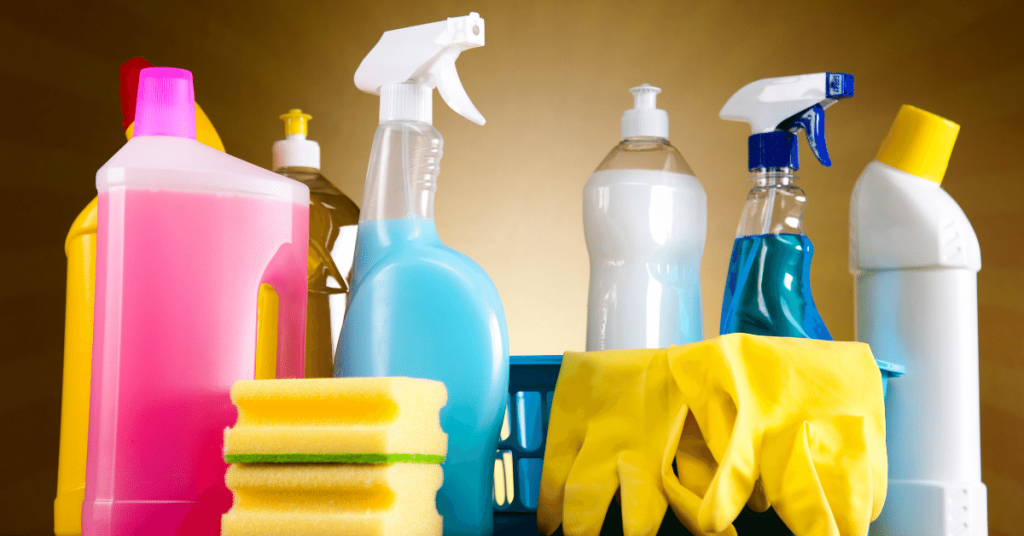 There's a reason for so many different cleaning products on the market. From the list of ingredients to organic vs. non-organic solutions, you'll need to read between the lines when you're choosing the right cleaning product for your rug or carpet.
This leaves you with the question… "Where do I begin?"
The cleaning aisle on your market may be absolutely daunting. You're immediately greeted with logos and brand names that you don't recognize, jargon you don't understand, and claims that you can't identify as true or false.
How do you decide?
The good news is that a lot of those solutions live up to their claims. There is a whole slew of cleaning products that will get the job done for you, which means you have lots of options!
The downside of that is, it can get overwhelming and hard to decide. That's why we took the liberty to narrow it down for you.
We've compiled a list of safe cleaning products on the market along with safe home remedies that can be used to clean your carpets. Read on to learn more!
Do I Really Have to Clean my Rugs and Carpets?
Before we can even begin to talk about the types of cleaning solutions you should use on your rugs and carpets, we need to tackle one age-old question first. "Do I have to clean my carpet?"
The answer is yes. Because a carpet is in direct contact with the floor, it is a host to all kinds of dirt, grime, and bacteria. Think about it. You step on your carpet and rugs with your dirty feet, your shoes, your socks. Not to mention, if you have animals or little tikes, they spend a lot of time in direct contact with the carpet. We all know pets aren't the cleanest, so that poses a sanitation problem just as much—if not more.
In the U.S., 60% of American consumers elect to clean their rugs and carpets all on their own. That statistic doesn't even account for the amount of people that hire professional cleaners.
You may be thinking it's an unnecessary expense, and you are not alone for thinking that. It may feel that way, but cleaning your carpet is just as important as cleaning your kitchen counter. Or your sink. Or the sheets on your bed. It's a big part of your home, and when it gets dirty, it can affect your living situation. Not to mention, it affects the air you breathe in on a normal basis.
Why Use Cleaning Products?
As enticing and quick as it sounds, a solution made up of water and soap may help, and sometimes do the job. It may help when the stain is still wet but it won't do a perfect job. If you want really want to deep clean your rug or carpet, and tackle the job faster with better results, cleaning products are the best option.
Carpets are durable, and they're made up of tiny, microscopic fibers that trap dirt, odors, and liquid. You need a cleaning solution that is up to the task of tackling that job.
In other words, cleaning your carpet is no small task. Many people hire professional cleaners to get the job done. You may feel like taking on a DIY approach, or you may hire a professional cleaner, too! Either way, you're going to face the reality that your carpet needs cleaning products, and it's good to know which ingredients you're comfortable with using.
Why do they need to be SAFE products?
First and foremost, your carpet is a big part of your home. If it's riddled with unsafe products, that could affect you, your kids, your pets, and all of the guests that you welcome into your home. So the cleaning products you use should be safe for the home.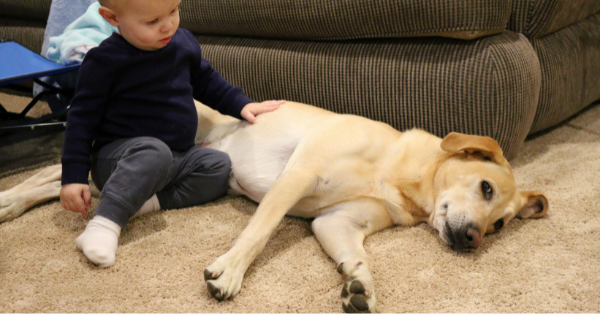 The other reason is that your rug or carpet could potentially get ruined or tarnished by unsafe products. For example, using a product that contains bleach could discolor your rug permanently. Some cleaning solutions could create an odor. You probably get the idea here.
Safe cleaning products are paramount, especially when we're dealing with carpets and rugs. That's why you should always try to look for cleaning products that will be kind to your rugs, and more importanly, to you and your kids!
Chemicals You Should Stay Clear From
There aren't too many "bad" chemicals in carpet cleaning solutions, but you should still read the ingredients label to make sure you're clear to use the solution. Below are a few chemicals that shouldn't be used on your rugs and carpets, if you care about your health:
– Perchloroethylene: If this chemical is inhaled too much, it can cause nausea or dizziness. Some studies also claim it could cause kidney and/or liver damage. This depends on the person and the household, but it's better to be safe than sorry.
– Butyloxy Ethanol: This chemical can get you by inhalation or direct contact with skin. Make sure to check the label to confirm that your carpet cleaning product doesn't contain this chemical.
– Naphthalene: There's great debate about this chemical. Some people think it's fine to use on carpets; others argue that it is too strong of a chemical and could lead to nausea, vomiting, and damage to organs like the kidney or liver.
Of course, it's important that you are aware of your allergies and your family's allergies. If there are any major allergies in your household, read the label to check for these as well!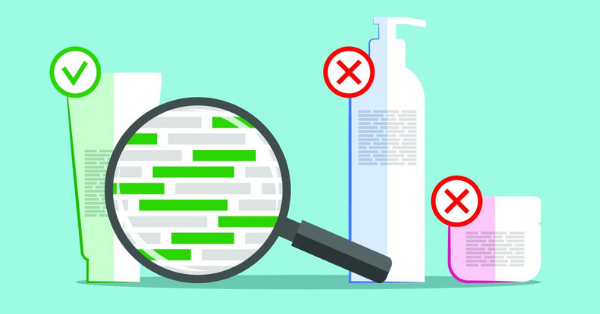 Other "mild" chemicals can be acids, pesticides, disinfectants, solvents, fragances, etc…But as there are too many, here you have the Household Products Database, a place created by the National Institute of Health, where you can see if a carpet cleaning product contains any of these ingredients.
For now, we'll talk about the 4 types of cleaning products you can use.
Best Cleaning Products
1. Brand Cleaning Products
In some cases, a name brand makes a difference because it has a reputation. Other times, it's simply an extra cost. This is up to you to decide, so what it comes down to is cost and the types of ingredients you're comfortable with using.
We'll start with name brand cleaning products. These are the big-name products that you see on commercials. That doesn't mean they work better, but typically they've been around for a while and they are trusted brands.
Folex
The Folex carpet spot remover is well-known to many. In fact, it's become almost a go-to for treating stains on carpets. It has thousands of reviews online, most of which are 5.0-star reviews. The brand, Folex, has been around for nearly 40 years, so it's a trusted U.S. cleaning brand. For DIY carpet cleaners, Folex is a household name.
Keep in mind this is used for spot cleaning, so it's not something you can use for your monthly or quarterly cleaning sessions. You'll still need a carpet cleaning solution that gets the nitty-gritty cleaning done for your carpet.
[amazon box="B001B0V5GG"]
Resolve
Most pet owners with carpets know the Resolve brand well. Resolve is a trusted brand that is used for immediate stain removal, especially for stains that are notorious for lingering. Resolve attacks pet odors, wine stains, grease, and other stains that are often hard to get out of carpets. This is similar to Folex in the sense that it's not a cleaner that works for the entire carpet. It's best for spot reduction.
[amazon box="B00FFDP0F2″]
Formula 409
This solution is best for carpets that are dealing with grease. Although it's not a natural or eco-friendly solution, it's safe for households with kids and pets. The Formula 409 carpet cleaner solution comes in two different forms: aerosol and spray. Formula 409 has several other cleaning products, so make sure you pick the one that is specifically made for carpets and rugs.
[amazon box="B00LK5J1FY"]
Bissell
Another household name, Bissell does a good job of getting a deep clean on your carpets and rugs. It comes in a bottle that looks like a bottle of laundry detergent, and it works best when used with a Bissell carpet cleaning machine. Most users say it has a fresh, light scent and creates a slight coating on the carpet.
[amazon box="B074FRJR9M"]
Carpet Miracle
If you like the sound of creating miracles for your carpet, this may be your best bet. Carpet Miracle is a powerful cleaning solution. You don't need much for this solution to work its magic, so the old trope "a little goes a long way" definitely applies here. You may want to dilute it with water, especially if it's too strong for your carpet. All in all, there's a lot of bang for your buck with Carpet Miracle.
[amazon box="B00WIMUVU2″]
2. Generic Brand Cleaning Products
You may not feel inclined to purchase a name brand cleaning product, and that's okay!
The important thing to make note of is the ingredients and the purpose of the cleaning solution. Carpets and rugs are different from countertops, bathroom sinks, clothes, and the like. They need a cleaning product that is specifically formulated for the unique texture and material.
If you're shopping at the grocery store and you find a generic brand that you'd like to test out, you most definitely can do so. Just make sure that you read the bottle to understand what the cleaning product is used for and what types of ingredients are in the solution.
[amazon box="B00OI20SXA"]
3. Green (natural) Cleaning Products
There are plenty of ways to clean your carpet with "eco-friendly" at the forefront. Let's face it—some cleaning products contain harsh and strong chemicals that aren't always necessary. That's not to say that you can't use those products, but the truth is they're not imperative. A green, all-natural approach is just as successful when it comes to cleaning your carpet.
Switch to green cleaning products and stop worrying about damaging your rugs and speacially your health.
Some of these products may be easily found in your cupboards and cabinets. If they're not, a quick trip to the grocery store doesn't hurt, and luckily, most of these solutions are fairly inexpensive.
Biokleen Carpet Shampoo
Meet Biokleen. Meet enzymes. These things will change your life! Enzymes play a huge role in cleaning carpets and rugs. They dig deep into the fibers and help with excreting bacteria, dirt, and stains. Biokleen is comprised of enzymes, and it's a plant-based carpet cleaning solution that works quickly and efficiently at cleaning your beloved carpets and rugs.
[amazon box="B00IJ6BDRQ"]
Simple Green Naturals
The name says it all. The Simple Green Naturals carpet cleaning solution is 100% natural and biodegradable. It's comprised of an oxidizing agent that gets into your rug to break down dirt and residue. This formula comes in a spray bottle, so it's easy to apply to your carpet.
[amazon box="B001CWIU98″]
Citra Solv
Citra Solv is a family-run business. All of the products are plant-based, eco-friendly, and high quality. This product chews through grease, stains, and dirt on your carpet and leaves you with a good-as-new carpet that smells fresh and clean. It works well when added to a carpet cleaning machine, so that's something to keep in mind if you're thinking about investing in the Citra Solv solution.
[amazon box="B0012BVXSO"]
Begley's Household Stain and Odor Remover
Created by actor Ed Begley Jr., this remover is 100% eco-friendly and green, so it's a great solution for anyone who is trying to be environmentally conscious. The solution couples enzymes with essential oils, creating an efficient spray that smells good and works quickly.
[amazon box="B00I6GYVR8″]
4. SAFE Homemade Cleaner
If, after all, you're tired of searching and you feel like going creating your own cleaner, you can always create your own DIY cleaner solution.
As you know, home ingredients such as vinegar, lemons, borax, hydrogen peroxide, liquid soap, and essential oils for smell, are the most natural cleaners you can use. And the top of the knotch for homemade cleaning solutions…
Baking Soda
Good ole' baking soda. Everyone loves it! It's used in refrigerators, shoes, garbage disposals, and…carpets! When you're trying to spruce up your rug or get rid of a mild odor, baking soda is a great go-to cleaning solution. All you need to do is sprinkle it on the carpet, let it sit for a few hours, and then you can vacuum it up when you feel like the job is done.
Here you have an article with the best tried and tested homemade cleaner solutions.
Now, be careful… Continue reading to avoid putting yourself and your rugs at risk!
Products that should never be mixed together
Now, some products are like two peas in a pod. Some products don't work together at all. It's important to make note of this and make sure you're not mixing together the wrong chemicals —especially when you're using a DIY approach—, as they could become really toxic together. The following products shouldn't be used in conjunction with each other: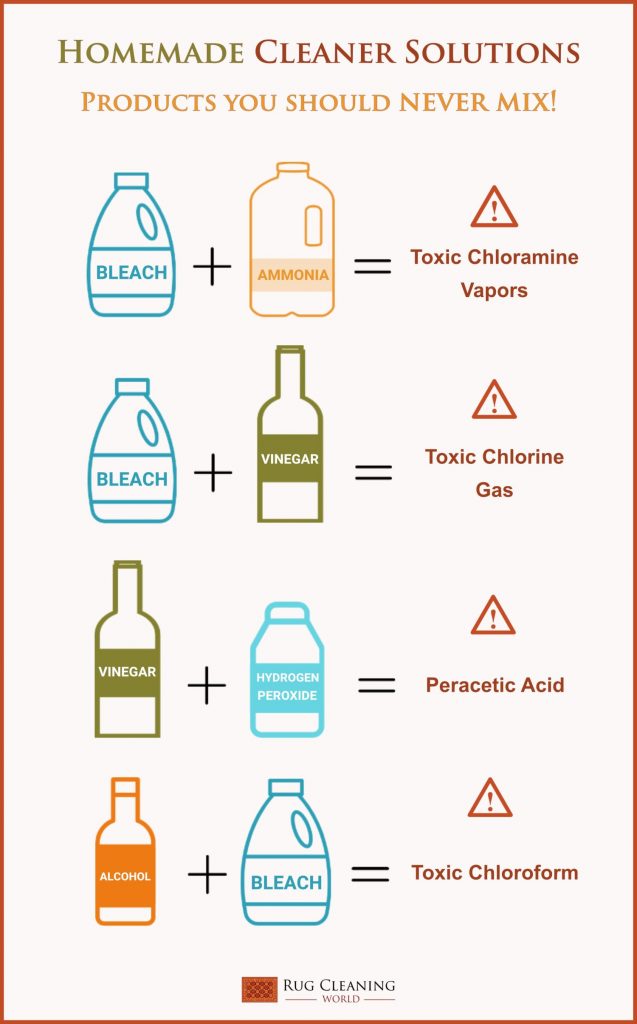 – Bleach and Ammonia
– Bleach and Vinegar
– Vinegar and Hydrogen peroxide
– Rubbing alcohol and Bleach
Seems like there's a common denominator here, right?
Yep, bleach is an incredibly strong chemical, so it's something to be cautious about when you're thinking about using it for your rugs and carpets. As you probably know, it often discolors materials with pigmentation, so unless you're cleaning a bright white carpet, you probably should avoid bleach altogether. And if you are cleaning a white carpet with bleach, be careful to not combine it with other strong chemicals. In fact, it's best to dilute it with water and add nothing else to the solution.
Which product for which carpet?
Not all carpets are created equal, so one last factor in the process is deciding which product works best for the type of carpet you have.
For example, an outdoor carpet will be tremendously more durable than a fluffy indoor carpet. You'll need to make sure you know what kind of carpet you have so that you can proceed with that accordingly.
First things first, check the care instruction tag if you have it. If not, try asking the manufacturer.
Here I'll talk a little bit about 3 types of rugs and carpets, but if you want to look deeper into it, on this article you can find cleaning tips for each type of rug and carpet.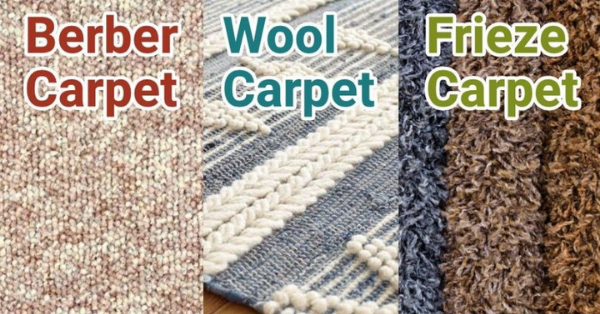 – Berber Carpet
This kind of carpet is made up of large loops. It may look difficult to clean because of the loops, but it's actually one of the easiest carpets to clean! It's easy to tell when these rugs and carpets get dirty, so you'll never have to guess when it's time for a cleaning session. Make sure to vacuum these carpets regularly, and when it's time for a cleaning, use a normal cleaner. You're not too limited on the types of cleaning products you can use on these carpets!
– Frieze Carpet
Frieze carpet is much more common than Berber carpet, but it's also more difficult to clean. This kind of carpet is made up of tiny individual fibers that love to trap dirt and bacteria. You may not even know that your carpet is dirty, so make sure you make it a regular custom to clean your frieze carpets. If you can, try to use natural solutions for these carpets. They should be powerful, and they should be able to lift grease easily, but natural is the way to go.
– Wool Carpet
It's no surprise that wool carpet can be one of the hardest types of carpet to clean. That is if you're doing it the wrong way. Wool carpets tend to shrink if they're cleaned the wrong way, so all you have to do is make sure you're taking the right steps to clean it properly. Begin by shaking out your rug. Due to the nature of wool carpets, a good shake is one of the best ways to rid the rug of dirt and bacteria. After that, try to clean the carpet with an eco-friendly solution or home remedy. This is going to be the easiest on the carpet. Cleaning a wool carpet doesn't have to be difficult after all!
Conclusion
That's a wrap! Having clean rugs and carpets is crucial when trying to keep a healthy home. Imagen all the dirt, dust and particles settling on your rug fibers…
It all comes down to one principle: Cleaning your carpet makes an impact on your daily life. It may not seem like it, but it affects the air you breathe, the cleanliness of your home, and the overall experience for your guests.
Now, as you embark on a carpet cleaning journey, remember everything you learned. Remember the importance of cleaning your carpet and the various options you have at your fingertips. We're so lucky to live in a world where cleaning is made this easy!
While you keep those things in mind, here are a few other things to recap from this guide:
– Cleaning your carpet is absolutely necessary. If you don't clean it, you could deal with health and safety repercussions.
– You may choose to DIY clean your carpet, or you may hire a professional. Either way, the cleaning products you use have a huge impact on the job. Make sure you educate yourself on this.
– Decide if you want to go green or not. There are eco-friendly options and brand name options.
– Read the labels of your cleaning solutions. This will tell you what is really going on in your carpet.
– Different carpets require different care. Be sure to look into the type of carpet or rug you have, and pick your cleaning products accordingly.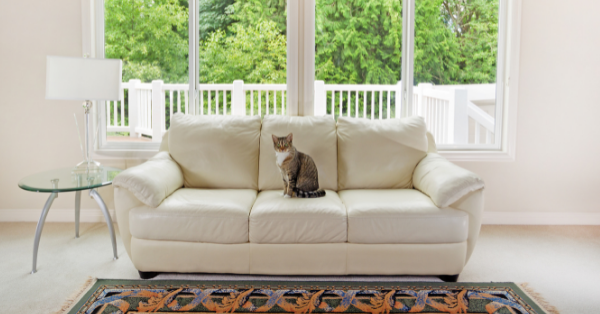 Congratulations! You've learned a ton about safe cleaning products to use on different types of rugs. With so many products on the market, it's hard to sift through them all and decide which one is best for you. Your carpet is meant to last long. Memories will be made on it, kids will be raised with it, and you'll have it as a household staple for many years. Don't let it be treated poorly!