I like laminate flooring, which remains one of the most popular choices on the market. It is easier to install than other types of hardwood flooring. It is available in various colors and patterns. Besides, it's a great option, if you are on a budget. But is laminate waterproof?
As a general rule, laminate flooring is not waterproof. Despite all advantages, like affordable price and extensive choice of patterns, the laminate floor has a drawback. It can be warped, if the liquid spill or pet "accident" takes place on its surface. In case of laminate plank damage with water, the entire floor should be torn out. Nevertheless, some brands, like Parcolys, invented waterproof laminate flooring. Read further to know other waterproof laminate manufacturers.
A Few Words about Laminate Flooring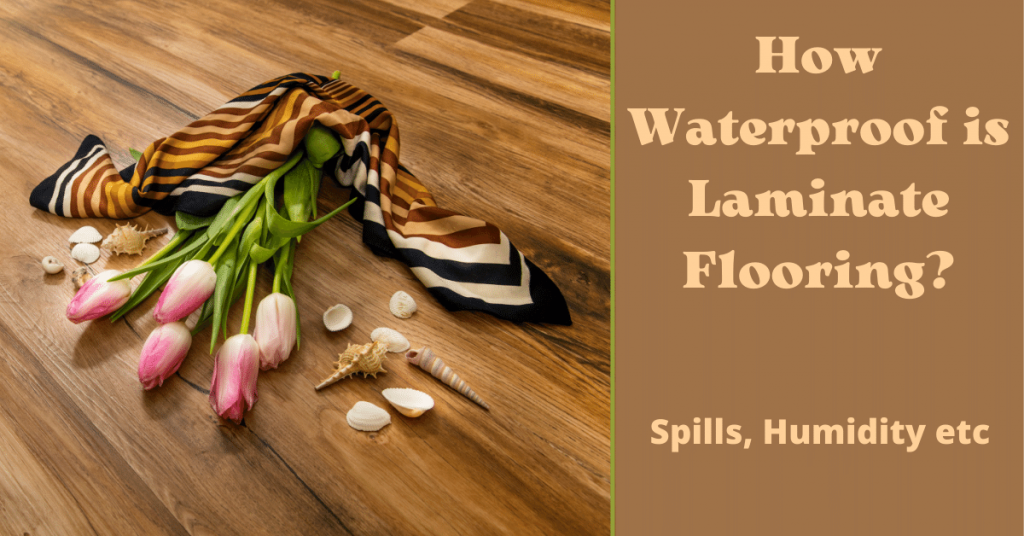 "Laminate" means "consisting of several layers". This kind of flooring got its name as it is composed of different layers of wood-like materials, which are laminated together. The top layer of the laminate floor consists of wood grain photographic imprint on the face of each board. As you can guess, photographic imprints can be very different, so any homeowner can find that look of a laminate floor, which suits his needs the best. The top layer of the laminate floor may look like real wood, for example, but in fact, it's just the realistic coating applied over the image.
Laminate is a plank of 7-11 mm thick, 40-50 cm in length, and 20 cm in width. The laminate planks have mortise-and-tenon joints, through which they are connected. It is easy to install the laminate plank through these joints. I know that many of my readers like this kind of DIY job and install the laminate sheets in their houses by themselves. As for me, I do not overrate my DIY skills. That's why I invited a professional to put the laminate flooring for me. The average price range for laminate installation is $2-$5 per square foot, depending on the difficulty.
If you like to know, how to install the laminate floor yourself, watch the video below.
I like laminate for the variety of patterns you can get with it. The upper plastic layer, which is a photograph of some more expensive material, may look like wood. It is the most widespread variant. A laminate floor can imitate many other kinds of floor, like parquet, stone, tiles, and even concrete, too.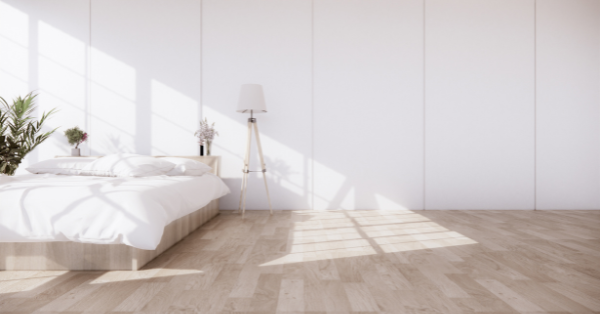 Pros of Laminate Flooring
Lots of patterns, colors, and styles are available
It is a low-budget option
It is easy to install
The laminate floor is easy to maintain
The laminate price range is wide enough. It starts from $1 and ends at $7 per square foot.
Cons of Laminate Flooring
Shot durability
The laminate floor can be warped by water
Of course, the main drawback of laminate flooring is that it wraps if the water leaks on its surface. I like the laminate floor in my house. I installed it when I had to remodel the floor in my house, but it was tough on a budget. I got the great cherry wood floor imitation in my room, which I liked so much! But I have to admit that the laminate floor is not the best choice for houses with pets and kids. Your favorite dog may have "an accident" and soil the laminated floor. Or your kid can spill the tea or milk on it. And all these water accidents should be cleaned and dried away as fast as possible to avoid floor deformation. In case, if the liquid warp the laminate plank, you won't be able to replace it without tearing the entire floor out.
However, different brands have attempted to create waterproof versions of laminate flooring. Let us look at their products.
Waterproof Version of Laminate Flooring
My readers always ask me, if there's a waterproof version of laminate flooring. They appreciate all the positive sides this type of flooring has, but its sensitivity to water makes the homeowners choose other options. So, is there such a thing as waterproof laminate flooring?
There's good news, the waterproof laminate exists! Some manufacturers simply apply waterproof coating to the upper layer and from all sides of the laminate floor. Due to this coating laminate can stand liquid spills and pets' "accidents". Even if the pipe in your house is broken and the water leaks take place, the waterproof laminate can stand it and not change its shape. Of course, this type of laminate floor is more expensive.
PRO-TIP
Weigh out all the costs and benefits of waterproof laminate flooring before making the final purchase.
The waterproof version has its own set of drawbacks. It cannot withstand heavy furniture and has to be placed in a non-humid area. The fiberboard core of the laminate is altered to prevent damage to the flooring. For laminate flooring to be waterproof, the fiberboard core needs to be eliminated.
PVC Plastic Version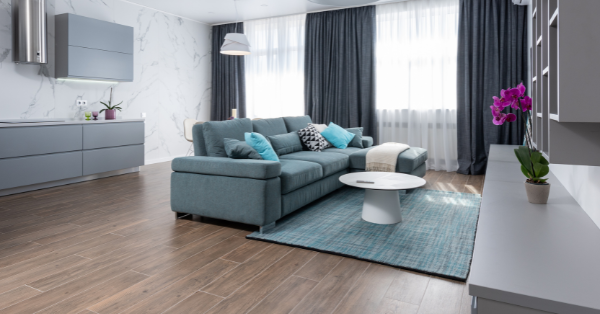 The best way to get rid of the core altogether is to use an alternative like PVC plastic. The PVC plastic version has some water resistance as compared to the fiberboard core laminate flooring. The installation process is relatively easier as well.
However, even the PVC plastic core does not provide long-time protection. Since this type of flooring goes through a long manufacturing process, it is considerably much more expensive than other versions.
Several companies have now started to produce waterproof versions. Let us look at a few of them.
Waterproof Laminate Brands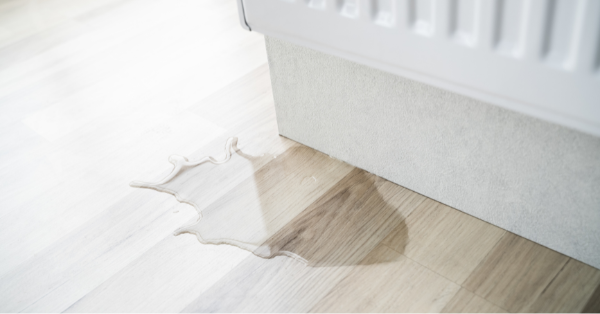 No type of laminate flooring is completely water-resistant.
WARNING
Do not place refrigerators on laminate flooring because any standing water will cause damage to the laminate!
Dumaplast
Dumaplast is a European company that produces water-resistant flooring for bathrooms. This type of flooring is extremely resistant to humidity. Their Finesse Floor is a product of both laminate and vinyl flooring. The flooring provides sound isolation as well.
Finesse flooring can be installed on surfaces like tiles and cement as well.
Parcolys
Parcolys is a Belgium-based brand that produces PVC core laminate flooring. The products are eco-friendly, waterproof, and stain-resistant. Parcolys products are UV resistant as well. Product availability can vary in regions other than Europe.
Aquastep
Aquastep offers 100% waterproof flooring. The flooring is durable and low maintenance. Aquastep provides flooring which can survive all four seasons. You won't have to worry about pets ruining the scratch-resistant flooring. Even if you spill a large amount of water, the water will not seep through the planks.
The top layer is mold resistant too. Most people are concerned about wooden flooring producing mold patches after prolonged use. You won't have to worry about mold or bacteria with their products.
Is Laminate Flooring OK for Bathrooms?
I know, you've heard numerous times, that laminate is the worst type of flooring for wet rooms, like bathrooms. But I want to refute these stereotypes. The waterproof laminate can be installed in the bathrooms. This option is even better for wet premises than the solid hardwood floor.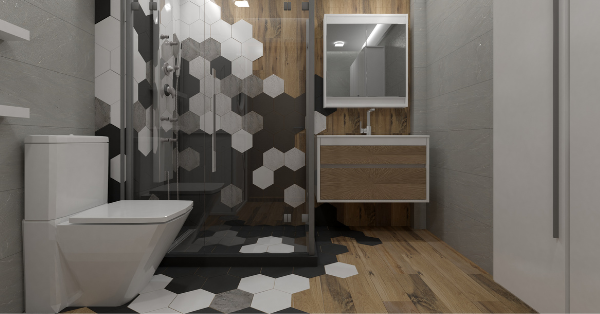 Of course, even waterproof versions of the laminate floor shouldn't stay in spilled water for hours. That's why you should maintain the laminate floor in the bathroom dry. So, wipe the floor in the bathroom every time, when you see water spill on it. Make sure, that all the laminate planks are joined well and now moisture will reach the padding, which is made of cheap wood.
You shouldn't pour water and other liquids on the laminate floor, even if you have its waterproof version. So, check the pipes in your bathroom regularly to avoid leaks.
How to Maintain Waterproof Laminate Floor
I always tell my readers, that the right care about the house flooring is the key to success. If you maintain the waterproof laminate floor right, it will serve you up to 30 years. It's even more than natural kinds of the floor have.
So, here are my recommendations, on how to maintain this kind of floor right.
1. Do regular dry cleaning
Clean the waterproof laminate floor with a broom or dry vacuum cleaner twice a week. It is necessary to keep the laminate floor free of dust and debris.
2. Wipe the floor once a week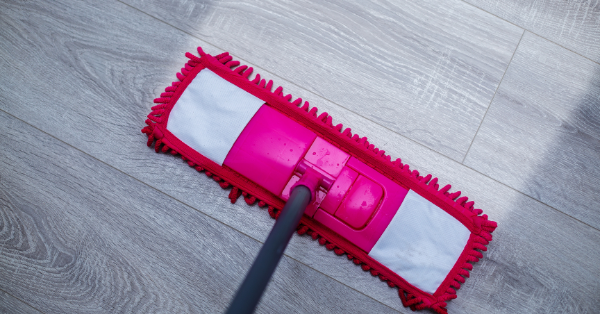 Once a week I recommend wiping the floor with a wet sponge. You shouldn't use too much water to clean the laminate floor, even if it is waterproof. So, before wiping the floor, squeeze the water from the sponge. You may use the PH neutral cleaner to wipe the laminate floor.
3. Put the pads under the furniture legs
The waterproof laminate is very sensitive to heavy furniture. So, use the wool or cotton pads under the furniture legs to protect the waterproof laminate floor from damage.
4. Clean the complex stains with a special cleaner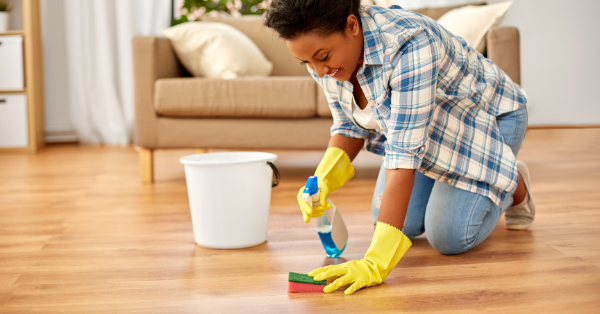 The complex stains on the waterproof laminate floor should be removed delicately. For that purpose, I advise getting a special cleaner, which is suitable for the laminate floor.
I am sure, your waterproof laminate floor will serve you for years if you care about it regularly.
Conclusion
We have looked at the waterproof versions of laminate flooring. These included brands such as Dumaplast, Parcolys, and Aquastep. All of these brands produce water-resistant laminate flooring. We've also discussed, how to maintain the laminate floor for it to stay for years. If you are interested to know more about other flooring options, go over to our post about vinyl flooring.
Does your temporary vinyl floor look too plain? You can spice it up with these ideas!