Do you want to keep your carpet looking new longer? Then you should groom it. A carpet requires grooming just as humans and pets do. Okay, not that much, but it does need proper cleanliness and restoration of fibers. A carpet rake is an ideal tool for this purpose. I know, that some of my readers hesitate, whether to get the carpet rake. Hopefully, I'll help all of us to look into the matter.
You should know that carpet rakes really work. They help to prolong the carpet's lifespan and improve its look. With the help of the carpet rake, the homeowner can pick up dirt, hair, pet fur, and even dried food remnants from the pile. Let's get into details about different aspects of this grooming tool.
What is the Carpet Rake?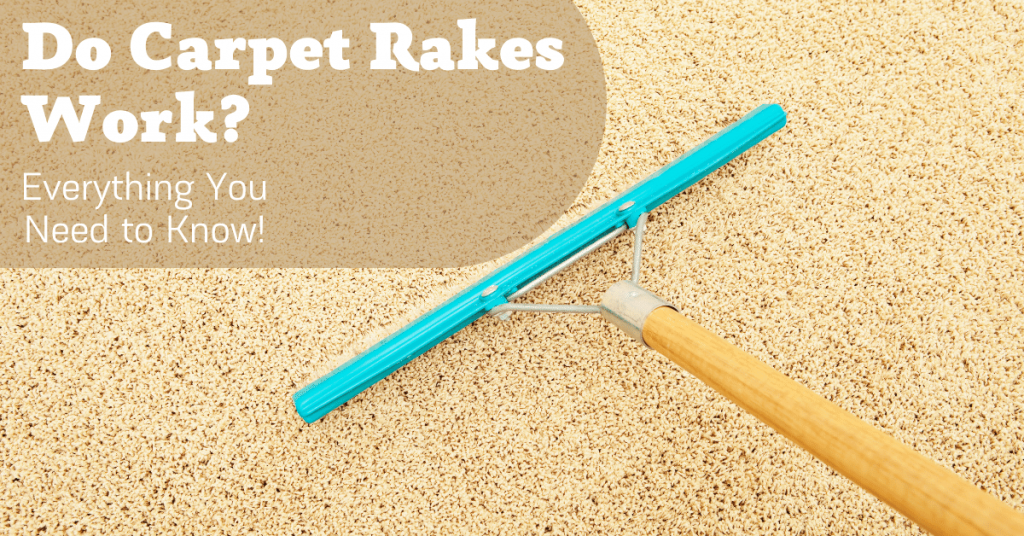 I know that there are a lot of grooming tools on the market. We have mechanical brooms, small manual carpet brushes with short handles, and various kinds of nozzles for vacuum cleaners. For you not to get confused, I want to start by defining, what the carpet rake is.
The carpet rake resembles the same tool you use outdoor. But if the yard rake has one row of small tines, the carpet one has 1-2 rows of bristles. A carpet rake has a long stick-like handle that makes it easy to use. The variety of options available proves to help people with different carpet materials.
What Does the Carpet Rake Do?
The experienced carpet owners consider the rake a necessary thing in the household. Some rakes are designed to pick up pet hair while others bring the dirt up. It is necessary before vacuuming the carpet and after wet cleaning it. This useful tool fulfills 3 main functions.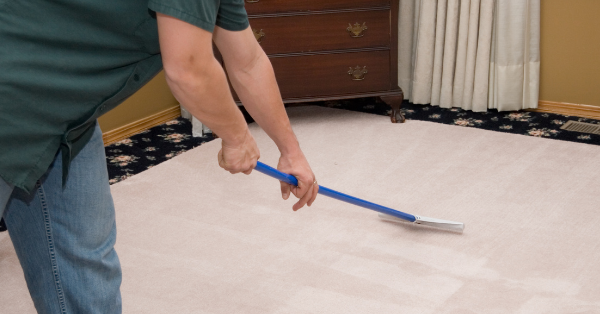 1. It can be used like a broom, which can penetrate deep into the fibers of the carpet. The rake breaks up dry old dirt and takes it away from the carpet fibers. Some carpet rakes are designed especially for sweeping the pet hair from the thick pile of the rug.
2. Some homeowners use rakes to prepare the carpet for vacuuming. They take away the food remnants, hair, and dry dirt, which blocks the hoover and makes the vacuuming process harder. After sweeping the rug with the rake, you should just collect some dust with a vacuum cleaner.
3. The other function, which the carpet rake fulfills successfully, is helping the rug to dry away after the wet cleaning. I told you many times in my blog that it is important getting the carpet pile dry after you've cleaned it with a steamer and chemicals. The damp carpet can cause lots of problems, including the appearance of mold and mildew in your house. If you comb the wet pile with a carpet rake, it will dry down faster. Besides, the carpet will look new and shiny.
How to Choose a Carpet Rake?
Choosing a rake that is best suited for your carpet can be tricky as there is a wide range of this tool available. There are a few factors you should consider before buying a carpet rake. Make sure it has the features that you are looking for.
Heavy-duty use or light-duty use
Presence of a pet
Types of particles present in the carpet fibers
Type of carpet surface
Size of the area to be groomed
You won't be purchasing a rake that isn't suitable for your carpet and needs if you know what your requirements are.
Kinds of Carpet Rakes
All carpet rakes can be divided into 4 big categories: manual ones with a short handle, manual ones with a long handle, double-sided rakes, and lint rollers. Let's look a little closer at all of them.
Manual carpet rake with a short handle
It is one of the oldest and cheapest options in the market. It has been used by housewives all over the world for ages. Modern manufacturers produce a short-handled rake with bristles of various hardness and length. They are used mostly for rubbing the stains on a certain carpet area. With the help of a manual carpet rake, you can also gather the pet hair.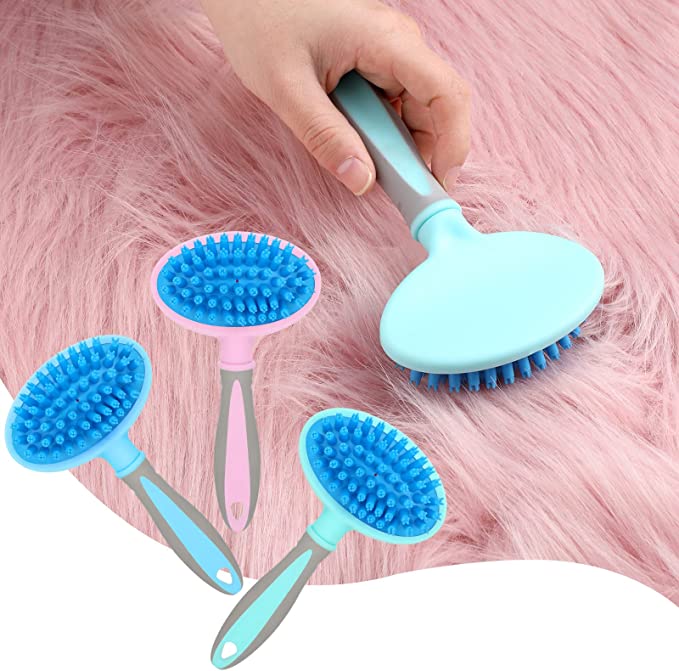 Carpet Rake
[amazon fields="B09QFHB3DW" value="button"]
Manual carpet rake with a long handle
This rake is similar to the previous one, but it has a long handle. It makes the rake more comfortable to use. With the long-handled rake, you can comb the carpet pile before vacuuming it and after the wet cleaning process. It is also good to get rid of dry dirt and some stains.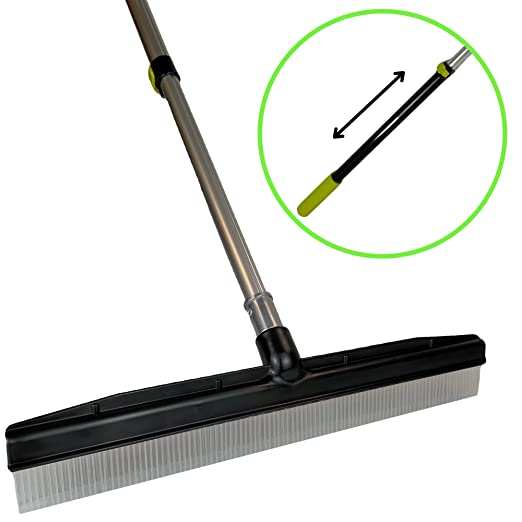 Room Groom Carpet Rake and Groomer with Telescoping Adjustable Handle
[amazon fields="B09WRX9X6Y" value="button"]
Double-sided rake
This rake is different from the others by super effective bristles. The rake has not one, but two rows of bristles. It makes the cleaning process more effective. The double-sided rake can be used for both, dry and wet cleanings. You can spread cleaning foams and liquids over the carpet surface with it. The double-sided rake helps to remove various kinds of dirt and stains from the carpet fiber. It is effective in removing spills, too.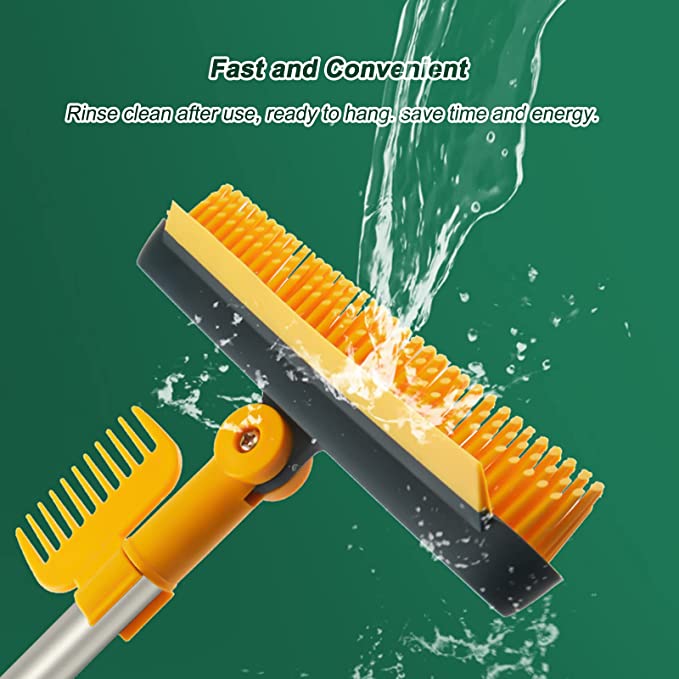 ZHDOKA Carpet Rake Floor Brush with Squeegee Soft Push
[amazon fields="B09W2LXM97″ value="button"]
Lint rollers
This kind of carpet rake – the lint roller – is ideal for homes with pets. This tool grabs the pet hair and dirt from the carpet pile. The debris sticks to the lint part of the rake. Don't worry, you won't spend long hours, peeling hair and debris from the sticky roller. It can be easily removed with a powerful flow of hot water.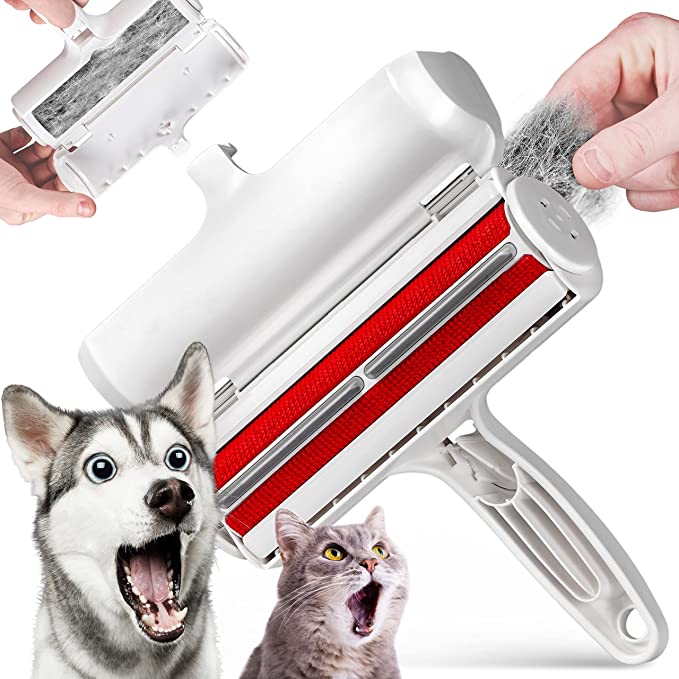 ChomChom Pet Hair Remover
[amazon fields="B00BAGTNAQ" value="button"]
How to Use Carpet Rakes?
Possessing a rake isn't enough. You should know how to use it. It is one of the most simple and convenient grooming/cleaning tools. Of course, there are different kinds of carpet rakes and the instructions for their usage are not the same. It is better if you read the instructions, and applied to the rake before starting to comb the carpet with it. But I want to give you 7 easy steps just to imagine this process.
Let's see what the 7 easy steps are for using a carpet rake.
1. While preparing, make sure the head is clean and securely screwed on.
2. Extend the handle to the desired length before tightening it in place.
3. Press the head against your carpet and then apply it with slight pressure.
4. Pull it back using short strokes to clean the carpet.
5. Use firm pressure and press down harder if the carpet is deep.
6. Move symmetrically across the floor, cleaning one area at a time.
7. Use your hand or a comb to remove fur and hair that will be collected in the bristles.
Take a look at the following Rakes! These are the ones that we find ourselves recommending over and over again.
[amazon fields="B001GL1NXU" value="thumb"]
Bissell Natural Sweep with Dual Rotating System
[amazon fields="B001GL1NXU" value="button"]
[amazon fields="B08Q3HFN7V" value="thumb"]
Conliwell Rubber Broom Carpet Rake
[amazon fields="B08Q3HFN7V" value="button"]
[amazon fields="B000EFDOOA" value="thumb"]
FURemover Broom, Hair Removal
[amazon fields="B000EFDOOA" value="button"]
[amazon fields="B07NGM3QRN" value="thumb"]
FURminator Grooming Rake
[amazon fields="B07NGM3QRN" value="button"]
Benefits of a Carpet Rake
Carpet rake, by name, sounds as if it is just associated with carpets. Truth is, it can be used on pretty much every surface to pick up dirt, hair, etc.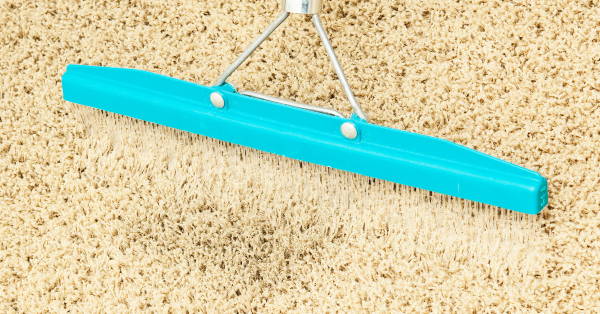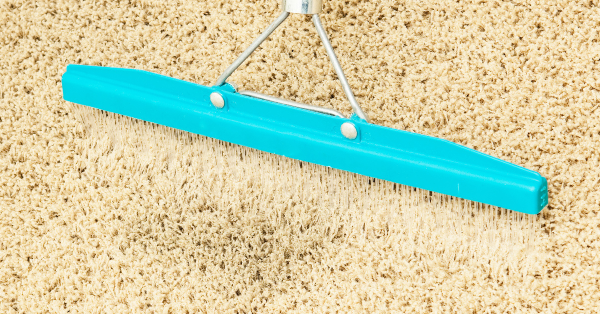 Below are some advantages of a carpet rake.
It can be used on any surface including carpet, upholstery, and even in a vehicle.
It can extract fur that is left behind by vacuum and other cleaning tools.
It can draw hair out of the carpet.
It keeps the carpet clean.
Its bristles are securely attached to the frame for a longer term of service.
It is not only lightweight but compact. Hence, easy to store.
It is quick and effective.
It doesn't require electricity, nor does it work with an irritating noise.
A carpet rake brings dirt, hair, and fur to the surface. You can apply a cleaning product and then use the rake to give your carpet a thorough clean. It will also fluff the fibers.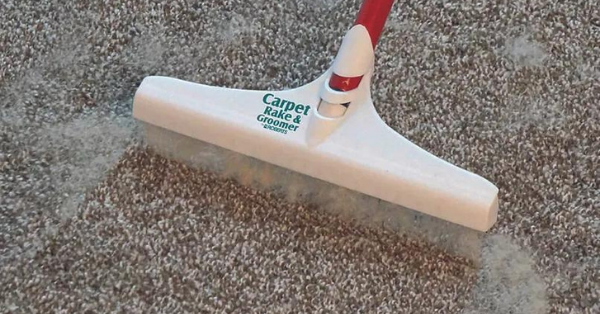 Drawbacks of a Carpet Rake
Just like any other product, a carpet rake comes with a set of cons. You should be aware of them before you make a decision.
Let's see what the disadvantages of a carpet rake are.
It can be a bit costly for the type of tool it is.
It may require a lot of effort from you to achieve satisfactory results.
It has limited usage options, not in terms of the surfaces it can be used on but the things it can accomplish.
It may require an extension stick to clean some hard-to-reach spots.
It can get stuck in shag or other high pile carpets.
These drawbacks are undermined by significant benefits. Most people who have used carpet rakes seem genuinely happy about their performance. Just make sure that the cons won't affect your handling and your carpet.
You should let professional cleaners take care of your carpet once in a while. We have a directory of the best carpet cleaners from hundreds of cities. Find the best in your area today.
Conclusion
That's a wrap. I hope your mind was cleared from questions about carpet rake. I would recommend that you go for this efficient tool and bring your carpets back to life.
For any other carpet problems, keep the carpet repair kit at your disposal. Thank us later!