I am a carpet expert, and diving into the big world of rugs is the thing, which I like the most. One day I got confused while choosing a rug for my living room with a cherry wood floor. I wondered, what color rug goes with this kind of floor. I am ready to share, what I've learned while I was exploring this topic.
As a rule, for cherry wood floor, which is dark, it is better to choose a rug of a light color. I can recommend choosing a beige or white rug if you like a neutral palette more. Otherwise, you can choose a rug of bright color, like red or yellow. But you should avoid the rugs of dark colors for the cherry wood floors. In this case, the beautiful rug will look lost on the dark floor surface. Read further to know, what rug patterns go with cherry wood floors.
What Color Rug Should I Get For Cherry Wood Floor?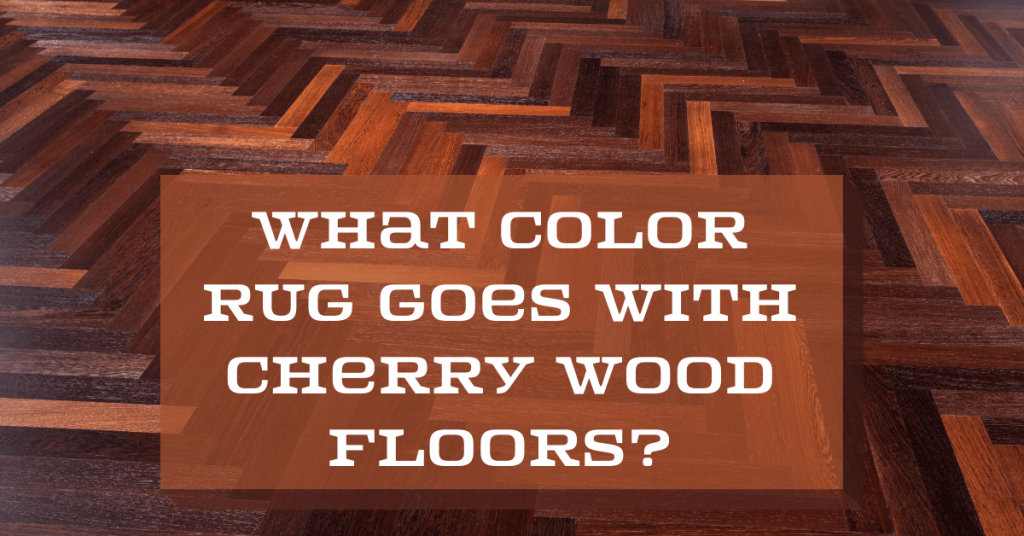 I want to remind you, that each color has its special vibe. So, the only person, who can say, what rug color is the best, it's you. Nevertheless, I want to share general design ideas, which will help you to make the final choice.
First of all, think about the general color of the room. Think about your lifestyle. Pay attention to the colors you choose for your wardrobe. It will help you to make a personal choice of color. Just keep in mind, that the rug is the thing, which joins the elements of interior décor together, so it should match not just the floor tone, but also the colors of other furniture there. I always recommend starting the room decoration from the carpet. Then it would be easier to select the other décor items for this premise.
What to Pay Attention to While Choosing the Color for Cherry Wood Floor?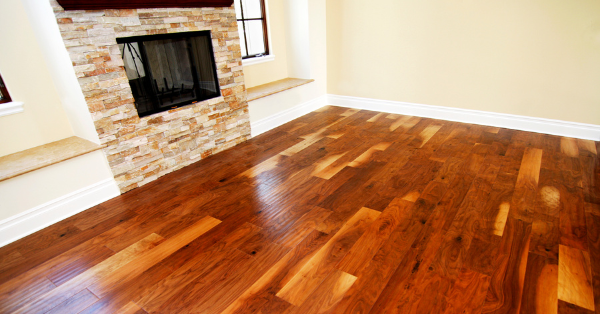 If you have the cherry wood floor at home, I want to congratulate you on making a great choice. American manufacturers have been using cherry wood for making floors and various items of furniture for years. The great advantage of the cherry wood floor is the way it is aging. Like great wine, this kind of floor is getting even better with time.
You can have just one problem with the cherry floor – its dark color. Looking very noble, the cherry wood color – dark brown with elegant shades of dark red – visually reduces the room space. That's why I recommend my readers to choose the light colors of the rugs for the room with a cherry wood floor. The light rug will visually make the premise larger, thus remedying the situation with the reduced space. Here's the list of colors, which for sure will go well with the cherry wood floor.
Delicate Pastel Shades of Rugs for Cherry Wood Floors
Delicate pastel colors look great on the dark hard surface of the cherry wood floor. They create a great mood and feeling in the space. With the rugs of light colors, the room will look cheerful, positive, and bright. Let's study several recommended rug colors in this group, which will perfectly match the cherry wood floor.
1. White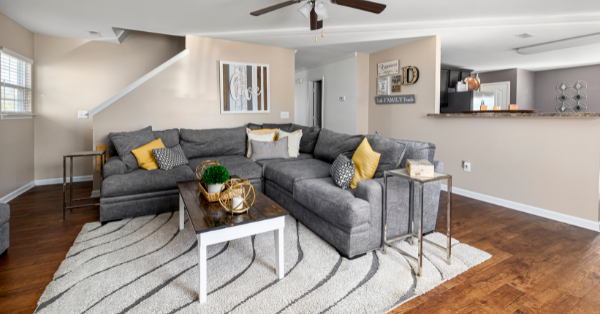 Can you show me anyone, who doesn't like white carpets? This neutral color is an ideal solution for any kind of design. The white rug on the cherry wood floor brings positive vibes into the room. It also makes the room visibly wider.
If you choose the white color of rug with cherry wood floor, think in advance about buying a powerful steam cleaner. White rugs look great only if they are fresh and clean. So, you need to do wet cleaning of the white rug every 2-3 months.
2. Beige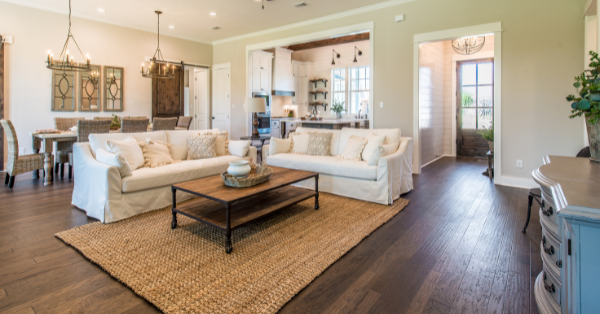 If the white rug is a little too much for you, consider beige as an alternative option. Beige is a light neutral color, which also matches any style of interior design. The beige rug paired with cherry wood floor creates elegant contrast, which refreshes the room. Besides, such color contrast creates a cozy mood in the room.
3. Yellow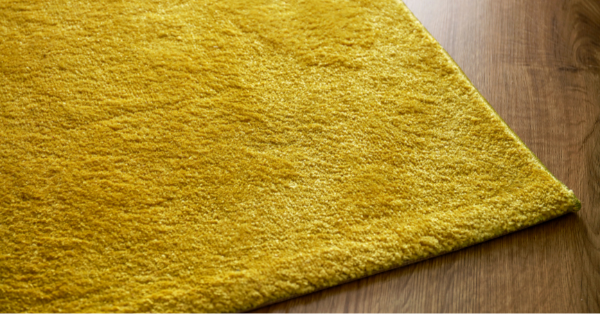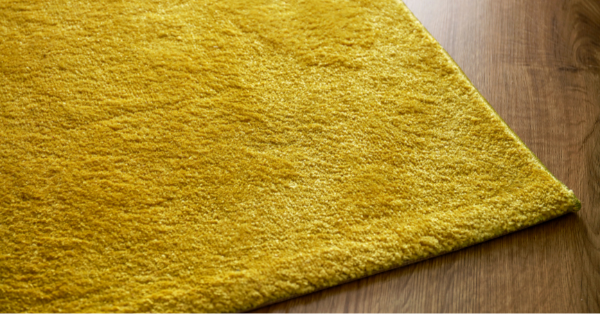 A yellow carpet is not a popular option for American households. This color is quite capricious, that's why many homeowners avoid it in their interiors. But if you like cheerful lemon-colored rugs, you should know that they look great on the cherry wood floor. The yellow rug works well with the dark floor surface, adding a positive color accent to the interior.
4. Light Blue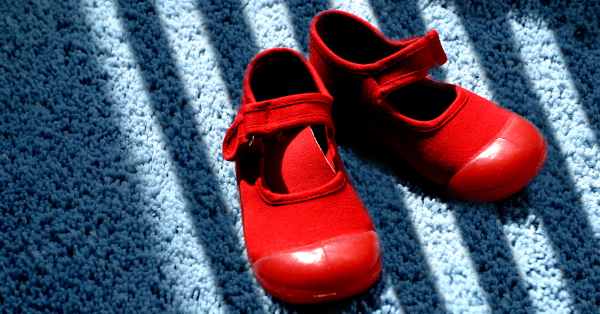 Do you want to bring some light and beauty to the elegant living room or bedroom with a cherry wood floor? Then, choose the light blue rug to cover the floor there. I know, that there are many shades of blue, but I don't recommend buying a dark blue rug for a cherry wood floor as it looks lost on it.
5. Gold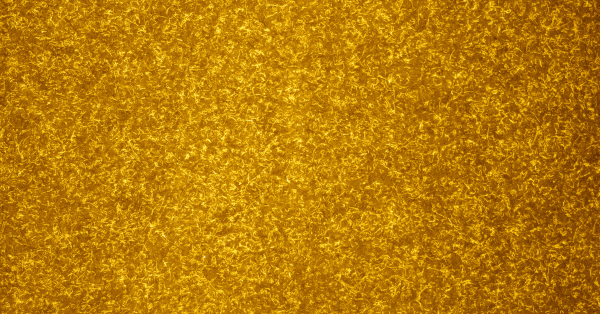 I know that some homeowners consider gold a pretentious color as it looks too luxurious. But I think, that a gold rug, paired with a cherry wood floor, creates an elegant and very fresh look. I advise you to look for lighter shades of gold to create a beautiful contrast between the dark floor and the bright carpet.
Does Grey Go With Cherry Wood Floor?
I decided to put this color aside from the others as many readers ask about it. So, does grey look great on the cherry wood floor? In fact, grey has lots of shades. If you want to refresh the interior of a room with a dark floor, choose a light grey color. The silver shiny rug would also look great on such a kind of floor. But avoid putting dark grey rugs on the cherry wood-colored surface.
Bright Colors of Rugs for Cherry Wood Floors
Bright colors are suitable for homeowners, who want their rugs rather stand out than blend in. If you want to create a bright contrast, choose a rug of red, pink, or green color for the premise with the dark cherry floor. In case, if you want your rug to pop, buy an item of large size to cover the major part of the room. Then choose the furniture pieces of neutral colors to make the rug the brightest part of the interior.
Colors of Rugs to Avoid with Cherry Wood Floors
As I've mentioned above, cherry wood floor pairs badly with rugs of dark colors. I advise avoiding black and brown rugs for the premises with a dark floor. Otherwise, the rug will look too bleak and unnoticeable on such a floor.
What Rug Patterns Match With the Dark Floor?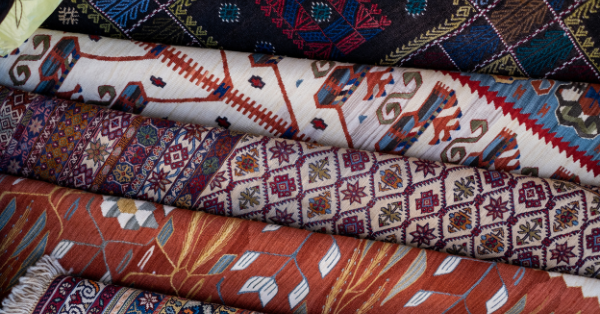 Many homeowners consider monochromic carpets too dull. I also like the multi-colored patterned rugs for living rooms, corridors, and kitchens. They refresh the room style and create a joyful cheerful mood. But you should be even more attentive when choosing a patterned carpet for the premise with the dark cherry floor. Follow my tips to choose the right rug pattern for the room:
Avoid rugs with trendy patterns as they will go out of fashion fast
To create a classic, but a fresh look of the cherry wood floor, use the rug with a tone-on-tone pattern, designed of the colors I've mentioned above
Stripes are a popular kind of pattern, which will look great on a dark floor. Choose such combination of colors as red and white, green and pink, yellow and light blue, etc.
PRO-TIP
In rug patterns, you can use even "forbidden" for dark cherry floor colors, like brown and black. But they definitely should be combined with bright delicate pastel colors to balance a general look.
Final Thoughts
To come to conclusion, choosing the right color of the rug for the cherry wood floor is a kind of challenge. The rugs tend to be permanent, so you should think about their color to make the right investment in your house. I've provided you with all the general rules and necessary tips to select the rug color matching the dark floor. But choosing a color is a very personal thing, so read these rules, think them over and purchase the rug of the color according to your taste.