Shaggy rugs may take you to the 70s and 80s, but it is a trend that's been getting a lot of fans lately. Forget about those outdated colors and styles… Decorators love them as they can be very fashionable and add a luxurious feel to any room.
You can find them with unique colors, textures and patterns. Enough variety to find one that fits your style! Not to mention how comfy they are to walk on…
But you must be careful! Shaggy rugs have their pros and cons (all types of rugs do), but there are certain things you need to know before buying one of these. From all the different types that exist nowadays to the specific characteristics.
Here we offer you a complete guide to learn all about shaggy rugs and which one fits best for you!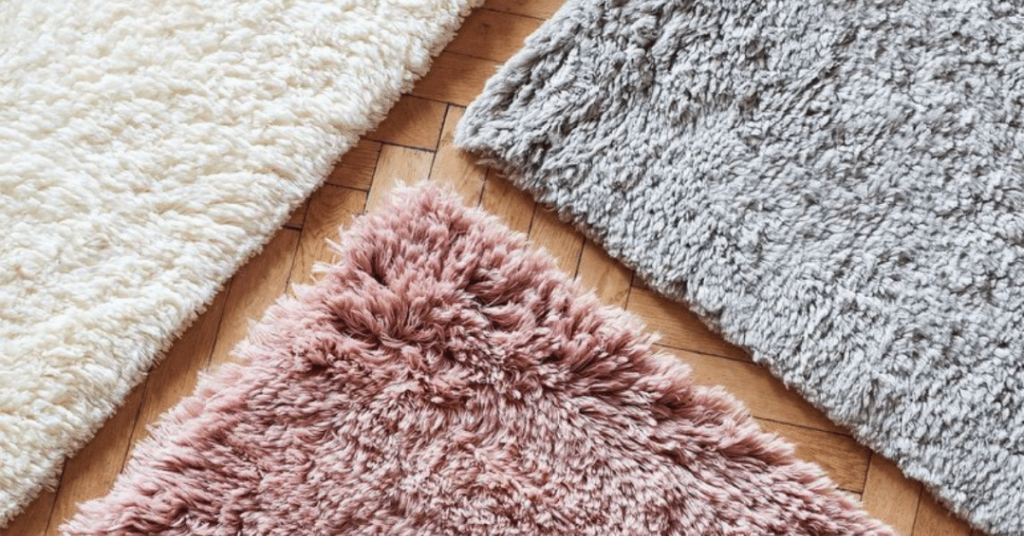 If you want to learn how to style shaggy rugs, take a look at these ideas to style shaggy rugs at home.
And if you already have one or want to know if they're easy to clean and how to keep it clean, here's an article just for you: How to clean shaggy rugs.
What is a shaggy rug?
Shaggy rugs or shag rugs get their name from the way they look. And what makes them look "shaggy" is their deep pile. The pile of a rug or carpet refers to the raised surface of a fabric, that is the length of the upright loops.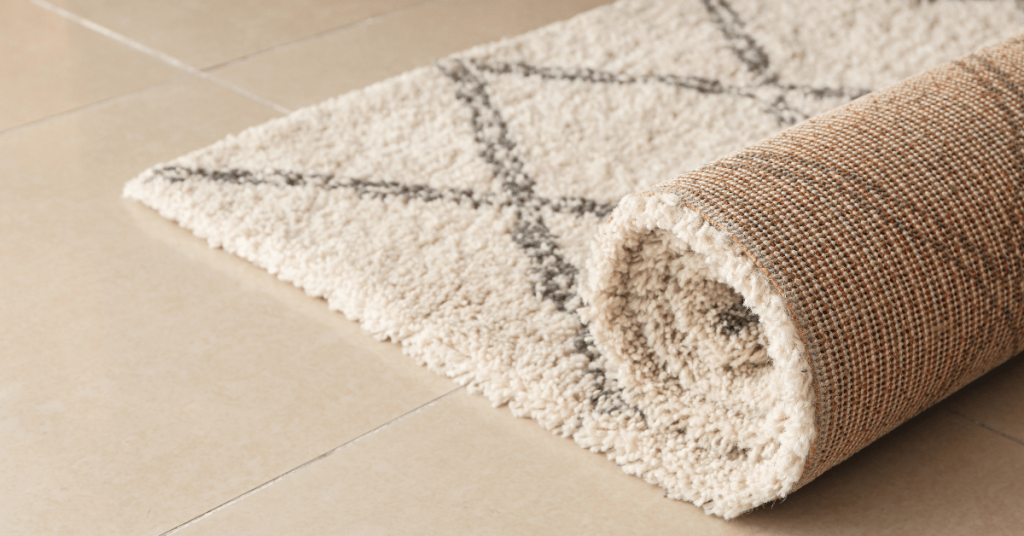 Carpet Pile and its height can be very important when it comes to buying a carpet. Learn about the different types and heights in this Ultimate Guide!
Shaggy rugs tend to have an uneven pile higher than an inch or so. You can find them in almost any color and material (such as cotton, wool or leather). And they are one of the coziest types of rugs you can have at home.
They go with many styles, giving a chic and warm look to the room.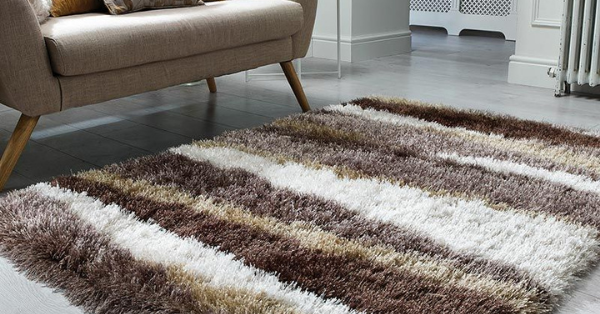 But what very few people tell you is how difficult they are to keep clean. Because they are thicker and have a higher and deeper pile, they trap all the dirt and dust easier than other rugs. And cleaning it can get very tricky as all gets trapped deep down in the fabric.
So if you really want to make sure you can handle it, here you have an article on how to clean shaggy rugs. It will give you an idea of the maintenance they need.
Another difficulty when talking about shaggy rugs is the variety you have in the market. Which one to get? Not to mention each type has it's own cleaning requirements, depending on the material they're made of.
You will probably need to hire a professional rug cleaner to help you with the cleaning. Especially if it's white-colored. So they can be a bit more expensive to clean than normal rugs.
Now, I don't want to scare you off. I'm here to help you choose the best option knowing all the pros and cons of each type.
USEFULL TIP

Generally, shaggy rugs will work best in low-traffic areas such as bedrooms and home offices.
Types of shaggy rugs
What differs all the types of shaggy rugs is the material they're made of. This factor will determine everything regarding the rug: where to place it, how it should be cleaned, etc.
There are 5 types of shaggy rugs:
Flokati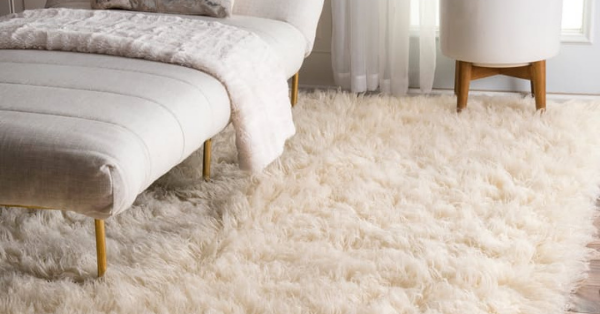 The material used is 100% wool (also the backing).
Originally made in Greece, it looks similar to a sheepdog and they are one of the fluffiest types. They are usually white or cream-colored, but you can find it dyed too.
They have to be cleaned and brushed often as they get dirty very fast. And to keep them soft they have to be cleaned regularly, even before it gets dirty.
CAUTION

Don't let too much time pass between cleanings, as it will be very difficult to make it look brand new if it gets too messy.
Leather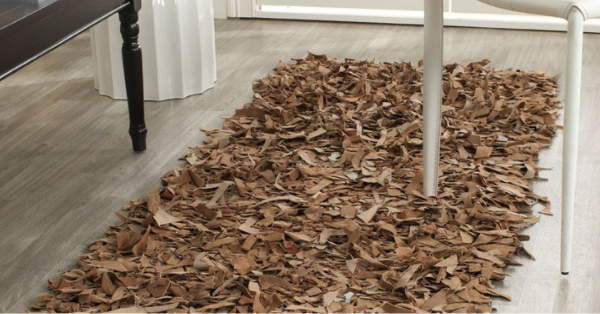 Leather shag rugs are hand-knotted to a cotton backing and the give a more unique texture and look to the room. They can have any color and they usually have multiple colors on it.
Leather is a very delicate material. You should place it low-traffic areas, or at least away from pets, food stains and spills.
Cleaning leather is another difficulty added to this kind of rugs. Vacuuming can lead to strands getting loose. The most effective way to keep a leather shaggy rug clean is to take it outside regularly and beating it lightly to loosen all the dirt and dust.
The one thing that makes it easier to clean than wool rugs is that there is a greater variety of leather cleaning products you can use if accidents happen.
This type of shaggy rugs can be a bit more expensive than others depending on the quality of the leather and how they're made.
CAUTION

Leather shaggy rugs are NOT pet-friendly nor life-friendly.
They should be placed in low-traffic areas of you want them to look good and stay clean.
Synthetic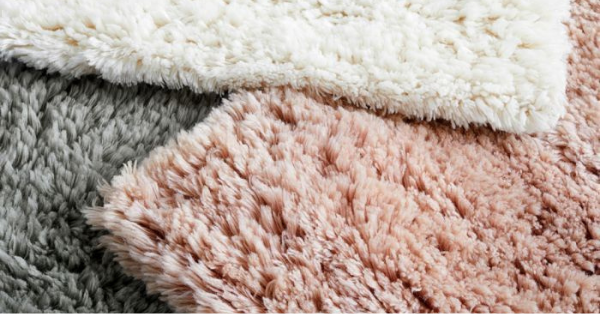 Synthetic shag rugs are one the most affordable types of shag rugs and easier to clean too. They may not last as long as wool ones, but you can take advantage of this and try new colors and patterns more often.
So it is definitely a go-to if you don't want to spend too much on a rug or don't have the budget.
They are a bit thinner than other shag rug types and they shed less too. And because it is all synthetic, you can find a greater variety of colors and patterns than when looking at natural shaggy rugs.
Inside synthetic shaggy rugs, you have acrylic, viscose and polypropylene.
CAUTION

Synthetic rugs can be dangerous as they are highly flammable. Beware to place it somewhere safe.
Mixed Textures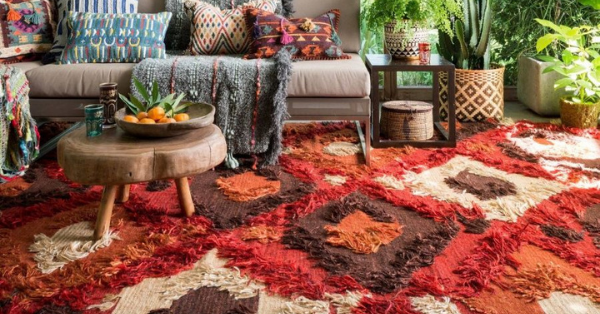 As their own name reveals, these shag rugs are created mixing different production methods or materials, which will end up providing a mix of textures in the same rug.
They provide a unique feel to the room.
The good thing is they tend to last long. The not so great part is how difficult they are to clean!
Berber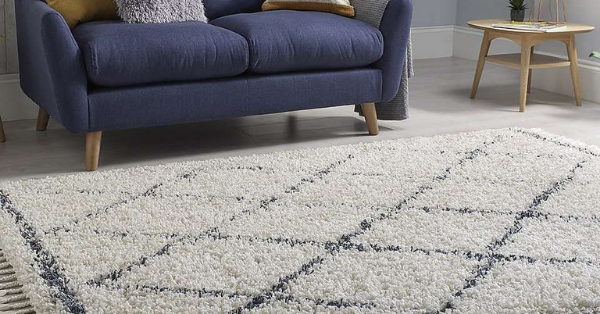 The term "Berber" comes from a manufacturing technique originally created in the North of Africa. And what makes them unique is their loop pile construction method (they usually have a short pile) and patterns.
They can be made of almost any type of material and can be hand-made or machine-made. You can easily think it's fur when looking at it. They are usually very soft and durable.
So if you want to add warmth and plush textures to your home, Berber shag rugs are the best option!
Shaggy Rugs Characteristics
Aside from the different types of shag rugs you can find in the market, there are also 3 characteristics you should have in mind when looking for the best shag rug for your home: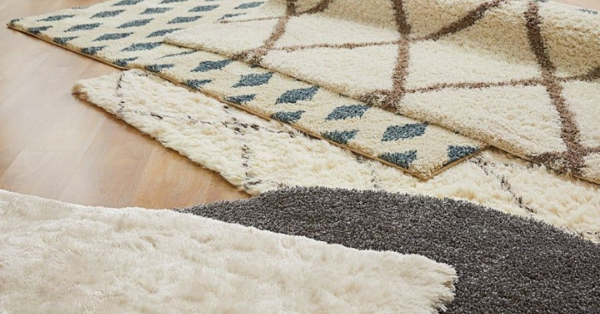 Colors and Patters
As you've already seen, you can find shag rugs in almost any color and pattern. But the color or pattern you want may determine also the material your shag rug is made of, as not all materials can be dyed into all colors.
Shaggy rugs will spice up any room. It will also add a cozy and soft feeling that will make you want to walk on them with bare feet.
Shapes and Sizes
As with any type of rug, you can find all kinds of shapes and sizes to match the room perfectly. From rectangular to round shapes.
If you don't know which size and shape fit best, in this article you have the best guide to choose the right size and shape for your home.
Shaggy Rugs Pros and Cons
Last but not least, you need to know both the benefits and disadvantages of having a shag rug at home. If you buy one without being aware of this, you might end up hating it and regretting the decision you made.
Rug experts are divided on whether shag rugs are a good option or not. So you'll find both critics and fans.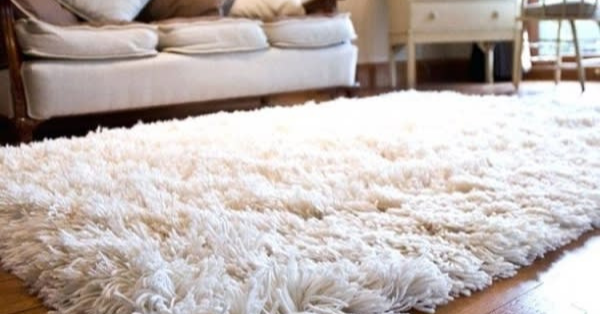 Shag rugs can be pretty expensive, so better if you make an informed decision that you won't regret!
Pros
Comfort and warmth: they are extremely soft and comfortable. But to keep them like that, you'll have to clean them regularly.
Insulating properties: if you live in a cold area, this type of rugs are great to have in winter!
Stylish and visually appealing: interior designers love shaggy rugs. They add a luxurious feel to the room and all the colors and patterns you have makes it easier to find the perfect one for you!
Cons
More expensive: shag rugs can be more expensive due to the way they're manufactured and the material they are made of.
Maintenance and cleaning: as you already know, shag rugs may be one of the most (if not the most!) difficult type of rugs to clean and maintain. And stains can be impossible to get out. You'll probably need to hire a professional cleaner to do so.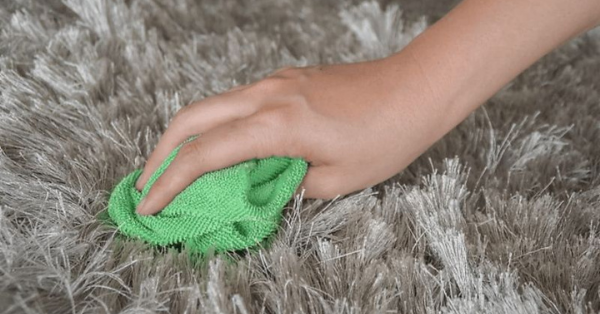 Shedding and unravelling: due to the way they're woven, shag rugs are more prone to unravelling and shedding than other types of rugs. You'll definitely have small bits all around the room after some time. And pets also love to play and eat shag rugs.
Allergies: shag rugs tend to trap all type of dust and dirt inside all the loops, making the air quality of a home deteriorate over time. So shag rugs aren't a good idea for people with allergies.
Conclusion
Shag rugs are great, but they are in many ways very inconvenient to have at home. Getting a shag rug is like getting a long-haired dog… only it doesn't poop around the house. But it will definitely leave some hair around and trap all the dirt and dust you let in.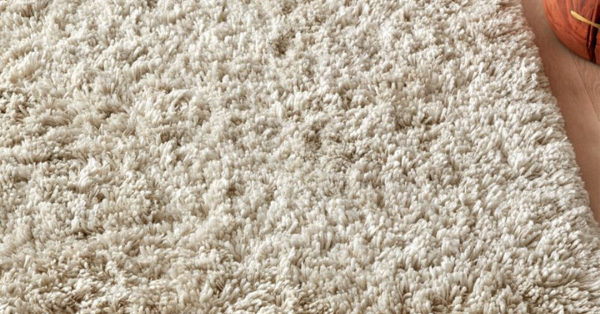 That's why it is so important to have all the pros and cons in mind when deciding if you'll buy a shag rug or not. Will you be able to maintain it and clean it regularly? Do you have pets that love to play around with loose ends? Or are you going to place it in your bedroom, where no one will mess up with it?
Think about it, and now that you know all about shag rugs, will you go for one?