Flatweave rugs have been present in many cultures over the centuries. It's called flat because differently from other techniques, it has no knot on its fabrication. The rug is built based on the horizontal fibers that cross the vertical ones.
They can be made of different materials such as wool, jute, cotton, nylon, polyester, viscose, polypropylene, acrylic, and seagrass. However, wool and cotton are the most common materials. To learn about every material, its pros and cons, you can read this other post.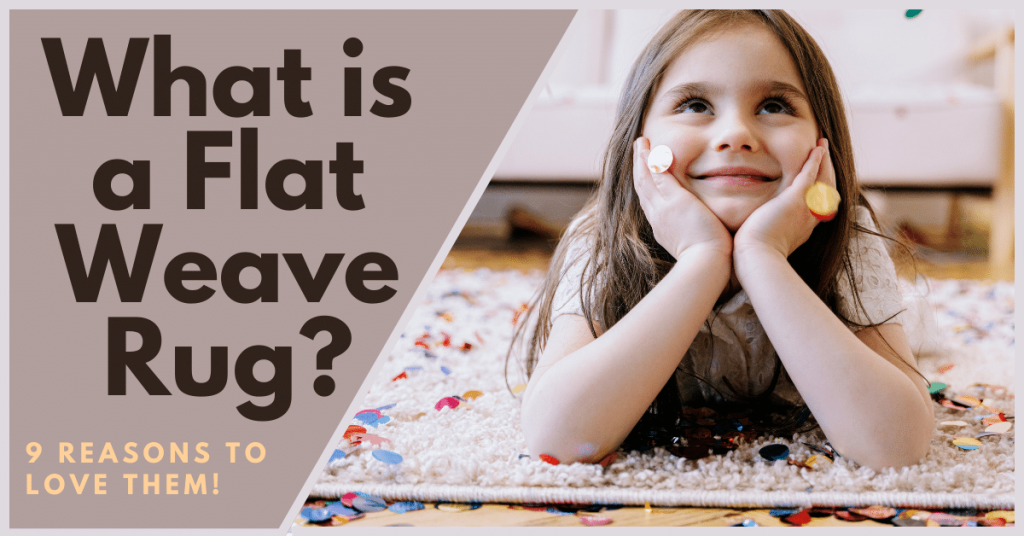 1. Resistant
There are some places in our homes with a lot of traffic and you may think that there's no rug to use in these places since all of them tend to get flattened or threadbare. But since the construction of the rug is based on the loom of fibers in two directions, flatweave rugs are more resistant to foot traffic.
This happens because the tips of the rug aren't being crushed underfoot, not developing flat areas on highly used paths.
2. Lightweight
When thinking about rugs it's common to think about how difficult it is to move them and to change positions if you decide to change the decoration.
But flatweave rugs are light and can be easily removed and replaced. This makes it possible for them to be a seasonal item in your decoration. You can change them from time to time to make the pattern fit with the season.
NOTE
Besides being lightweight, they also regulate your space's temperature through all the year. They keep the heat inside the room during the cold season and are breathable which helps to avoid trapping heat in the warmer months.
3. Easy Maintenance
Having rugs means that you have to care about its maintenance, which can require a lot of effort. Different from other types of rug, flatweaves can be cleaned by simply using a vacuum cleaner.
This makes flatweave rugs the perfect option to have in places where accidents can happen, like your kitchen.
NOTE
When using a vacuum make sure to have the rug anchored so it won't slip and shift under the vacuum.
4. Design Variety
The flatweave rugs can be found in a variety of designs, colors, and patterns because of the way it's constructed.
In different cultures there are different patterns related to this type of rug and modern design is still working to create new ones.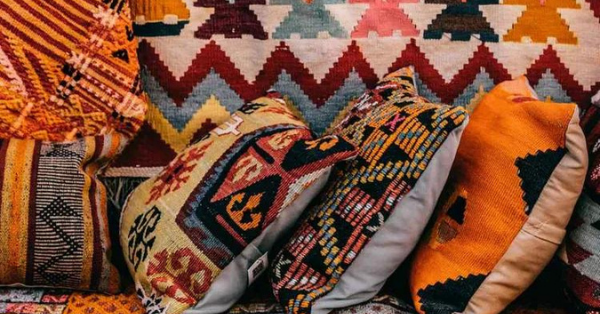 Other types of rugs are dated and rule all the decoration of the room and make changing it be harder. You'll find the perfect rug doesn't matter the intention you have for the room. There are colorful rugs, with different patterns, and also neutral ones.
Usually, the tone given to a room with this kind of rug is casual, but there are patterns to fit every space. Some models have tassels and are identical front and back. They are also very versatile and can be used on the floor, as a seat cover, and even as a wall hanging.
5. Affordable
So often we are decorating on a budget and choosing rugs can be a tough mission since at a first glance all of them seem to be expensive. But you'll love to know that since the manufacturing of the flatweave rug is easier and the material used is usually less expensive, the prices can be lower for these rugs
6. Easy to Fold or Roll-Up
If you have ever tried to fold or roll up a rug you probably had a hard time. Other types of the rug are heavy and hard to move from one place to another.
Flatweave rug is made with just two woven threads, which makes it lightweight hence easier to fold because it's more flexible.
This means that you can have a lot of fun storing them anywhere, moving them around as you like, and experiment with placing the rug without lifting too much of a heavy weight.
7. Compatible with Nurseries and Playrooms
Finding the right rug for Nurseries and Playrooms can be challenging, flatweave rugs are perfect for children to play with and can even have delightful patterns to amaze the kid. The toys won't get too far away when sliding.
8. Dining Room Convenience
We all think it's boring when the rug gets flat due to furniture legs. This isn't something to worry about when you choose a flatweave rug.
If you feel that the furniture isn't too smooth in your dining room, you should definitely try using a flat weave rug. This will give you the perfect vibe without having to pull a heavy chair across a thick rug.
9. Family-friendly
When you spend an arm and a leg in a rug, you don't want it to get flattened or wasted by any means. However, many rugs are sensible and can suffer from a disaster like moisture, too much sunlight, and even high traffic.
Flatweave rugs are the best option for these spaces because you don't want to put an investment piece there since it can easily get wasted. On the other hand, flatweave rugs are resistant and considerably cheaper.
It's family-friendly also because when you spend less time worrying about your rugs, you have more time to spend with your family.
Wrapping Up
Flatweave rugs are the best option in so many scenarios that I can't help but love them. And so you should. Even though you're not buying one on your next decoration purchase you still should keep it in mind as an option.
One of the things I like the most about them is that they are light not only in weight but since it's so easy to take care of and can be found in so many different patterns they also make my life lighter.
The maintenance of it doesn't make my life any harder and having a flatweave rug makes my decoration even more interesting.
Of course, there are more to consider when buying a rug and you'll learn all you need to know in this other post.
[amazon box="B07YYNJH46″]
[amazon box="B073HLQ1ZK"]
[amazon box="B07KQYMPN4″]
Keep reading
Our homes should be the coziest place on earth and it is our mission to make it feel like that. This is what made me start writing this blog in the first place.
I'm enjoying making my home feel more and more the best place to be and I know that there are people out there just like me who are striving to do the same.
So, keep your journey of making your home the coziest place on earth by reading this post on how to find your dream rug.
Homeowners want to get décor that is both stunning and enduring. Check out our comprehensive guide to figure out how you can buy a brilliant rug online.