One of the most common places to have a carpet in the home is the stairs, and even so, it seems to also be the trickiest. Choosing a carpet for any other area of the home is far less difficult than choosing a carpet for the stairs. You may be wondering why this is so, here is why…
The best carpet for stairs will depend on a variety of factors like it's quality, durability, material, thickness, soil resistance, thickness and the carpet's style. The carpet's warranty and your stair's structure also play a huge role on choosing the best carpet for your stairs.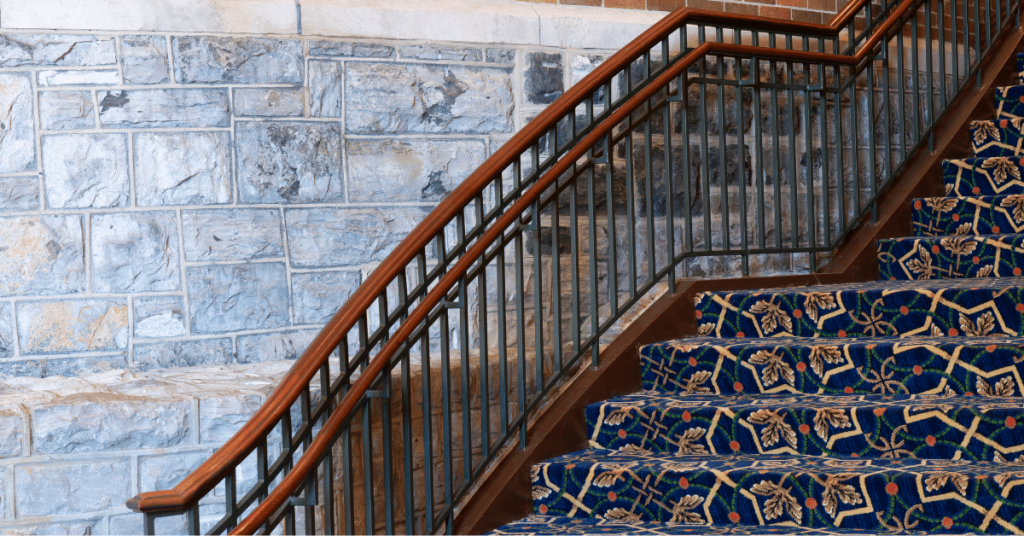 This ultimate guide has been written specifically to guide you through the process of sieving through the various types of carpet readily available in the market and making the right choice for your stairs. Because if you choose wrongly, you will begin to notice signs of wear and tear on your staircase.
Why Carpet Stairs
A major benefit of using carpet on stairs is their ability to cushion every step and reduce the noise from the daily movement of you and your family up and down the stairs.
And even though you are a lover of hard surfaces like laminate or hardwood, having a good carpet on the stairs isn't such a bad idea. It could maybe just serve as a runner on the stairs. It is actually safer to cover your stairs with a carpet than covering it with hard surface flooring.
Hard surface flooring can easily lead to a fall due to their slippery nature. Imagine the gravity of injury that will be sustained from such falls. Carpets, on the other hand, will reduce the chances of such injuries by providing a much softer landing spot compared to laminate or hardwood.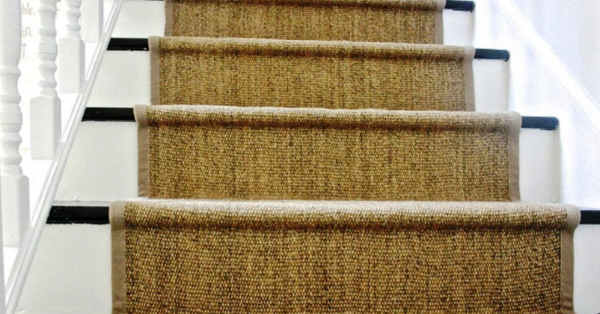 Types of Carpets
There are two major types of carpet based on their construction process. They are Staples and Bulked Continuous Filament (BCF). In Bulked Continuous Filament carpets, the entire section of the carpet is made from a long singular piece of fiber.
They are used in both loop carpets and plush (pile) carpets. On the other hand, staple carpets are constructed by weaving together many short fiber lengths.
The best option and a favorite amongst major manufacturers of synthetic carpet is the BCF because it offers more design versatility and sheds less –an indicator of lesser allergens.
Factors to Consider
In this guide, you will find the factors to consider when choosing the right carpet for your stairs. Although the list may not be comprehensive enough, following them will guide you through the process so you don't end up with regrets.
1. Carpet Quality
In any home, the areas with the most traffic are stairs and this is not only because of how frequently they are used. The added force of gravity experienced while descending the stairs makes the impact of foot traffic on it exceed that of flat areas in any home.
With this, it is therefore expedient that you make use of the highest quality carpet you can afford. Although you will be spending more by purchasing an upgraded carpet and pad, you will most definitely be saving a lot more money in the long run because a replacement will be done less frequently.
2. Carpet Durability
Due to the high traffic on the stairs, especially in a home with children, it is very imperative that the carpet be strong enough and tough enough to withstand imposed stress and still look good.
This means that a carpet that is suitable for your bedroom or halls may obviously not be the appropriate choice for your stairs.
When picking a carpet for your stairs, going for the carpet with the highest durability you can afford is your best bet. Unless -of course- when the highest grade happens to be too thick for stairs, in which case is not a good idea.
3. Carpet Material
There are concerns amongst many people regarding the best choice of material when it comes to choosing stair carpets. It is not necessarily a bad idea to ask such questions.
We are of the opinion that discussions about carpets for stairs should revolve around types of piles and the best materials recommended for a highly used area like the stairs.
Due to its durability, wool carpets are undoubtedly the ultimate luxury choice. Another incredible fact is it is resilient and does not easily flatten or matte down thereby making it a perfect choice for heavy footfall areas.
If you are not a fan of pure wool, you can decide to choose a carpet that blends wool with man-made fibers. It is actually a more cost-effective option to use a wool-mix carpet plus it gives you the opportunity of having the best of both materials.
If you'd like to know a little bit more about the different Carpet Materials available, check out this Ultimate Guide:
If you're about to buy a carpet you need to know about the different fiber materials. They all have their pros and cons, so read this to choose wisely!
4. Carpet Thickness
There is the popular misconception among many people that the thicker a carpet is the more durable it will be. Well, it is just a myth and it isn't always so. Truth be told, some of the thickest carpets are just full of air (which is unsuitable for areas like stairs) and some of the thinnest carpets turn out to be the most durable ones.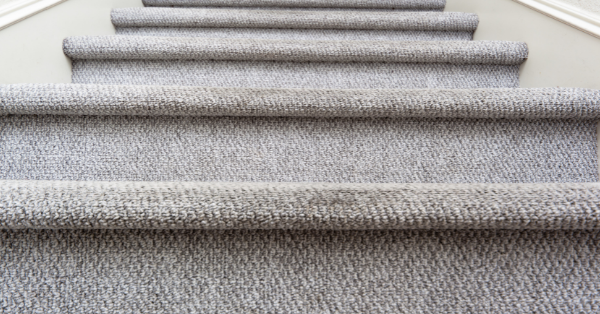 One cannot overemphasize the importance of thickness in choosing a suitable carpet for your stairs. It just has to be of the right thickness. An overly thick carpet can be dangerous because it can lead to slips and falls, an eventuality that no one wants to experience.
This happens when it wraps around the front edge of the stair, becoming a ramp for the feet and leaving no substantial support for the feet underneath. Hereby becoming a death trap rather than the protection it was designed to be.
What's more, carpet installers find it difficult working with thick carpets due to its complexity. Wrapping a thick carpet through the stair railing pickets and around its nosing can be a daunting task for even a professional carpet installer.
The best choice for a carpet should have a pile height of around 1/2 inch or less, padding of not more than 7/16 inch and a density rating of a minimum of 8 pounds.
If you don't fully understand what either carpet padding or carpet pile mean, I would strongly encourage to read the following guides. Knowing what those mean and why it matters is incredibly important to choose the right carpet:
Padding is a huge part of buying a carpet. But it's not easy to understand and many salespeople make it hard on purpose. This Ultimate Guide covers everything you need to make a buying decision.
Carpet Pile and its height can be very important when it comes to buying a carpet. Learn about the different types and heights in this Ultimate Guide!
5. Soil Resistance
Staining is entirely different from soiling. When you are choosing a carpet for your stairs, resistance to stain may not necessarily be a top priority since the carpet isn't as exposed and subjected to as many spills as the living room. Notwithstanding, you still need to consider getting a carpet with good soil resistance.
Oil residues from the sole of your feet can leave an imprint on the carpet as you walk up and down the stairs. This can be avoided by putting on slippers or socks while in the house.
On the other hand, if you prefer to go barefoot or you have pets in your home, then you may need to install a good carpet that has soil resistance to prevent the residues from sticking to the fibers and ultimately attracting more dirt.
6. Color
Picking the right color is also essential when it comes to choosing a carpet for your stairs. A good color should also matching-fit for your home décor.
Do you prefer a plain carpet instead? Then the best thing to do is you pick a lighter colored carpet. But it is worthy of note to remember that white and exceptionally light shades are more susceptible to stains. Some of the popular choices with customers are taupe shades and light grey.
Spaces like stairs, landings, and hallways which usually have a lesser percentage of natural light can appear narrow when deep and dark shades of carpets are used.
WARNING
THE DARKET THE BETTER
The floor carpet of lighter shades are more prone to stains by dirts and footpints
7. Carpet Style
Truth be told, you can use any style of carpet on your stairs. Style is not actually a major factor in choosing a carpet for your stairs. Nevertheless, there are few concerns about where a carpet will have to be cut around railing posts, or how it will look at the point where it wraps around the nosing of the stairs – will the backing of the carpet be visible as it wraps around the edge?
Only in the lowest grade products will you see the backing of the carpet. Any good carpet – provided that it has been installed properly- will not show its backing when wrapped around the edge of stairs. The direction of the pile of your carpet should not run sideways but from the top to the bottom of the stairs.
This will not only prevent the rows of fiber from being visible when the carpet is bent but will also enhance the performance of the carpet by ensuring that it doesn't wear out easily.
A detailed guide into carpet styles, differentiated on the basis of material, construction and pile height. The post also includes the things you need to keep in mind before buying a carpet.
8. Warranty Coverage
One important thing to remember is that so many carpets do not offer warranty coverage for stairs. And even though stairs are seen in most houses, and even smaller condos, carpet manufacturers have completely excluded warranty for stairs in past years.
However, recent times have seen the inclusion of a warranty for stairs by carpet manufacturers. As a rule of thumb, ensure to choose a carpet that offers cover for stains under the warranty.
Also, be careful to ask all the necessary questions when comparing options. Find out everything that the warranty covers because sometimes only defects are replaced without considerations for the usual wear and tear.
PRO TIP
TAKE NOTE
Don't be so quick to accept offers from carpet dealers without asking the necessary questions as to what it covers and what it doesn't
9. Structure of the Stairs
For stairs that are open on the side, the carpet must be bent both lengthwise – over the font of the stair- and widthwise – over the side that is open. There is a high likelihood that smiling will occur on the side with stairs having this structure. When the backings between the rows of a carpet are visible when you bend it, it is referred to as smiling.
High-quality carpets come with larger loops, longer piles and have less space between the rows. These kinds of carpets include the popular Berber carpets which well known for their ability to prevent smiling by the side of stairs.
Areas, where the carpet has been joined around the posts, will not be visible if the carpet is properly installed.
Installation Method
Now that you know the various factors to consider when choosing a carpet for your stairs, it is also important that it is installed properly. The kind of carpet you choose will also determine the method to follow in installing carpet on your stairs.
Waterfall and French cap are the two methods of installing carpets on stairs and both methods have their own distinct advantages.
For the waterfall method, the carpet is bent over the edge of the stairs and is brought straight down to meet the thread of the next step. It is not only an easier method of installing carpets but also the fastest way to get it done. This has made it the predominant method adopted by most home builders in recent times.
On the other hand, when it comes to the French cap method, the carpet is adversely wrapped around the edge (nosing) of the stairs and tucked under the lip ensuring that it contours with the shape of the step. Most carpet installers find this method more time consuming but a well-done job will definitely wow you as the owner.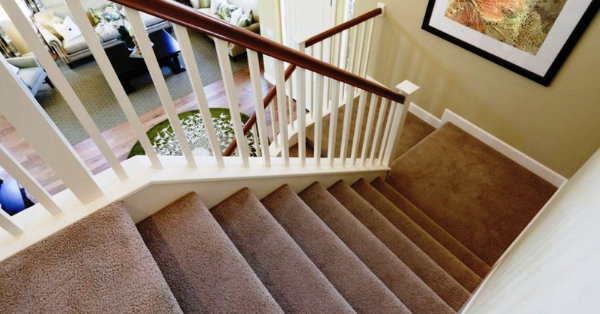 Conclusion
The best carpet for stairs is a carpet that meets every factor mentioned above including appropriate thickness, durability, warranty coverage, soil resistance, and of course, the best quality you can afford. Although there may not be a particular carpet that has it all, it is very important to put every single factor into consideration if you intend to enjoy your carpet and use it for a long period of time.
If you are still confused as to choosing the best capet for your stairs, you should contact a good carpet installer to help you out. We have a post that will teach you how to find the best carpet installers in your area. Click here to check it out!