START HERE
If you're reading this page, you're probably about to buy a new rug. Congratulations! Rugs are awesome and a crucial element in any home's decor.
But there are so many types of rugs and so many shops to buy them from… it's easy to get lost. That's why I wrote this ULIMATE GUIDE!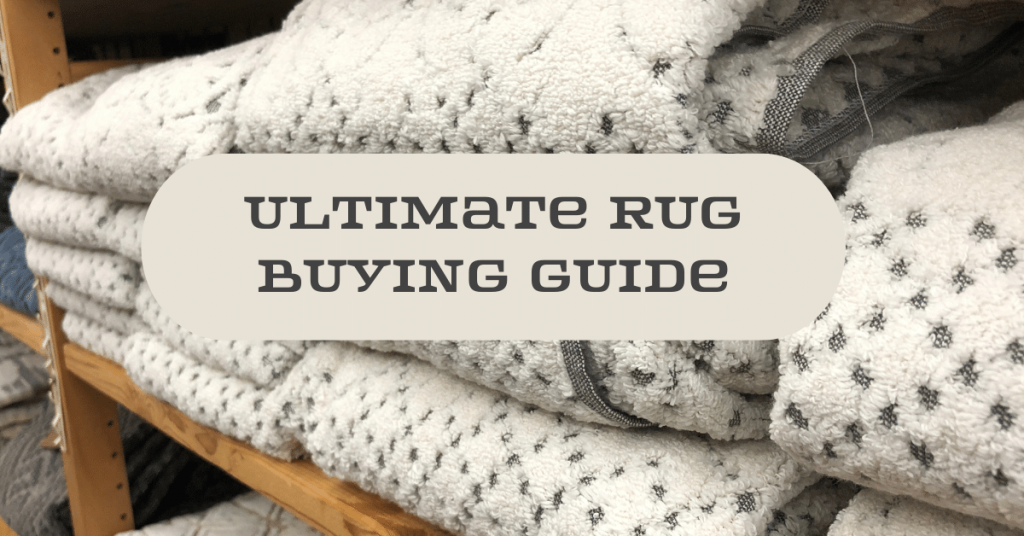 At Carpet and Rug World we write a lot about rugs, but we wanted to have a place where we could show our readers how exactly to buy a rug straight to the point. And that's exactly what we're about to do! In this page we'll be talking about 3 essential topics: What you need to know before buying a rug, The Best Shops to Buy rugs from (online), and Why Rug Pads are so important and how to choose the right one for you.
That being said, we don't want to make this guide too long. That's why we'll be giving you the most important information on this page and we'll link to the relevant posts that you need to read to learn more about that particular topic.
1. Know What You Want!
First things first, you need to know what you want! And in order to know what you want, you need to know about the different types of rugs, the different materials, where you want the rug placed, etc.
In all these posts you'll find amazing information. But I would strongly encourage you to read the Types of Rugs posts. I personally wrote that guide, and it covers all the rug materials that you'll find (wool, cotton, jute, sisal, seagrass, leather, silk, viscose, nylon, polypropylene, etc). For each of those types I analyse it's cost, durability, cleaning, texture and whether or not they are eco-friendly.
Once you know the material you want your rug to be and you'v read the other rug posts you might be interested in (like the Pet Friendly Rugs, or the Area Rug Placement Tips) head on to the next section of this post to find out the best shops to buy the rugs from.
There are many types of rugs. And you need to know which is which before you buy. Read this to know everything there is to know about all types of rugs!
Are you tired of having smelly rugs with pet stains all over? Well there's a solution to that! Choose the best pet friendly rug and stop worrying!
There are so many things to take into account when buying a rug that it can feel a bit stressful, right? Well here is everything you need to know.
Home Decor and Area Rugs are a great mix. But area rug placement can be very challenging. These 10 tips will help your living room look amazing!
which natural fiber rug is most durable? Do they shed? There are lots of questions that need answers before buying a natural fiber rug and that's what we're here to answer!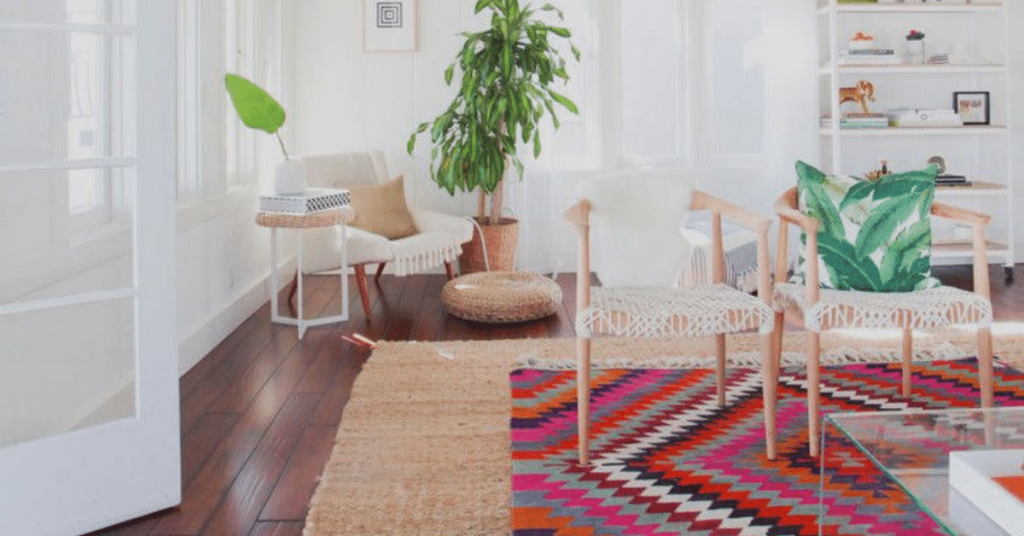 You love the idea of having natural fiber rugs at home, but how and where to place them can be tricky! Let me help you with these useful decor secrets!
2. Best Shops
Now that you know what type of rug you want to buy, it's time to actually buy it! But I get it… buying a rug online can be intimidating sometimes. It's one of those things that some people just need to see in person (even with the shops allowing free returns).
But don't worry! We're here to help! We've selected a list of the best rug shops! All of these shops offer high quality rugs at a good price. Sure, you might find some cheaper rugs on Amazon, but their quality won't be as good, they won't last or will look wore out after you've cleaned it once.
Rug Shopping is a lot of fun! Take a look at each of these rug shops and I'm sure that you'll find the rug that you're looking for.
Shop 1: Natural Area Rugs
I'm a huge fan of natural rugs. And if you're going to buy a natural rug, the best possible place is Natural Area Rugs. Their shop is beautiful, they're high quality and very affordable. If you're looking for a natural area rug, look no further. This is the one.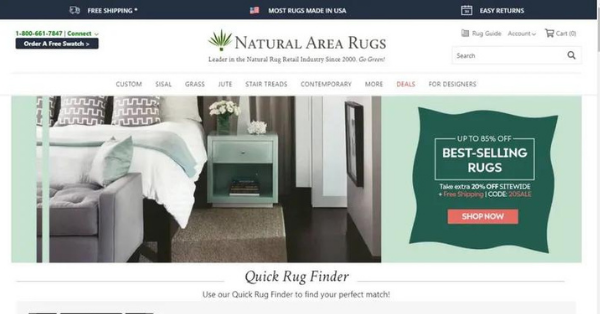 Their slogan is "Affordable Luxury Rugs", and I can assure you they live up to it. I would say is the absolute best place to buy affordable oriental rugs. But they have so much more than that! Visiting ECarpet Gallery is worth more than just 1 visit. Their customer support is great also!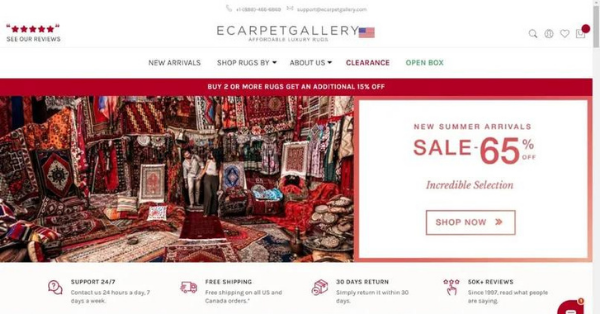 Lumens isn't known for being a rug company. Which is why it's so great! It's one of my favorite places to buy a rugs, and not a lot of people know about it. Take a deep look into their website, because they have some amazing rugs! They change their stock pretty quickly too, so if there's one in particular that you like, buy it asap!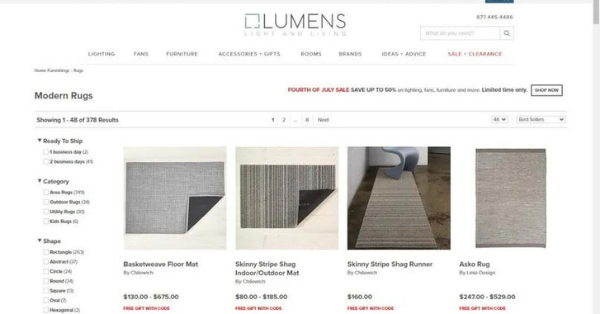 Homeowners want to get décor that is both stunning and enduring. Check out our comprehensive guide to figure out how you can buy a brilliant rug online.
3. Consider a Rug Pad!
Last but not least, we had to include this section about Rug Pads. Some people spend thousands of dollars on a brand new designer rug, but don't spend a single dollar on rug pads. And that's a terrible mistake!
Rug pads are extremely useful and can extend your rug's lifespan for decaded! In this section I've included 2 posts that I think you should read. The first one is a post that will show you why using a rug pad is so important. And the second one is a rug pad guide. It will help you choose the best rug pad for your rug (depending on the mateiral, size, thickness, flooring or function).
But just in case you want to skip it all together, these are the rug pads that I recommend the most:
[amazon link="B007T58QPU" title="BEST OVERALL"/]
[amazon box="B007T58QPU"]
[amazon link="B00MFR6ZUU" title="BEST BANG FOR BUCK"/]
[amazon box="B00MFR6ZUU"]
[amazon link="B07YCSJR7K" title="BEST BUDGET OPTION"/]
[amazon box="B07YCSJR7K"]
And these are the posts:
Think no more: rug pads are a must when having area rugs at home. There are multiple and very important reasons why and here you can learn them.
You know you need a Rug Pad, but which one? There are many sizes and materials available. Thanks to this Ultimate Guide you'll know which one is right for YOU!
Conclusion
Buying a Rug can be so exciting! Tell me about it! I started a whole blog just to talk about Carpets and Rugs.
Another very important thing to do after buying a rug is knowing how to take care of it. That's why I recommend you read our section on Carpet and Rug Cleaning Guides. The sooner you learn how to take care of your rug, the longer it will last! And trust me, some rugs (if taken care of properly), can last for ever!