Deciding which rug to buy may seem daunting due to all the different types, shapes, materials, etc. It's normal to feel overwhelmed. Especially when looking at their price tag…
Don't worry! We've got you covered on this one.
You just need to have three things in mind:
– the style you want
– where you're going to place it
– and the budget you have
There are other factors you can also have in mind such as how easy to clean the rug is or how long you want to keep it. You may be also picky about the material they're made of.
To choose rightly you need to know a bit more about rugs, and understand their pros and cons… so let's dive into the matter!
Types of Rugs based on…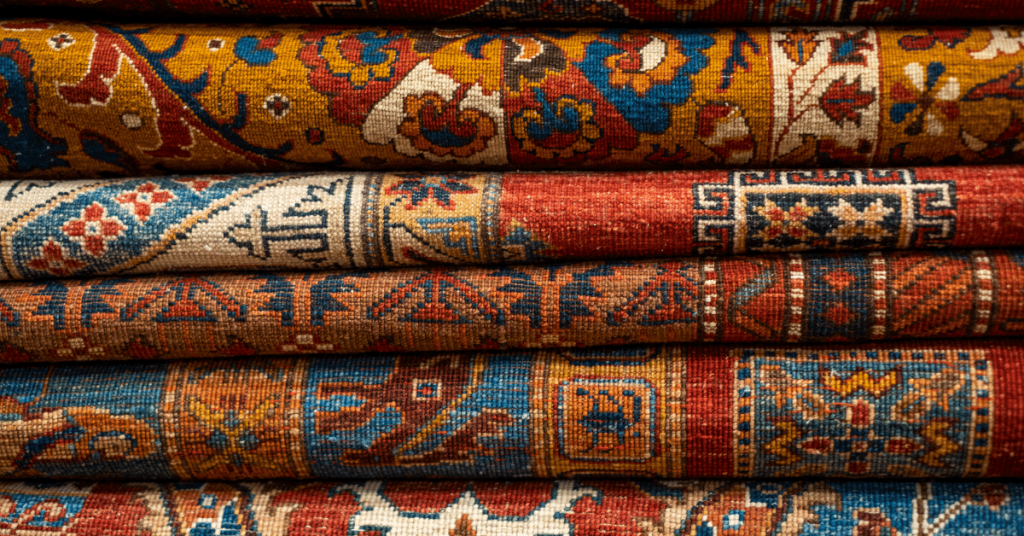 In this section, we're going to look at the different types of rugs based on materials, your home space where you're going to place it, their production method, their shape, and most know rug styles.
Their Material
The material from which a rug is made will affect drastically the cost, quality, look, and durability of it. So, when deciding which material to go for, you need to make sure it is a material that will hold up with your daily life.
Natural
As the word itself says, these rugs are made of natural materials, whether they come from animals or plants.
Wool Rugs
Wool is the most widely used material when talking about rugs and carpets. That's why you can find many different options in the market. It is a sustainable material that can last decades if maintained correctly. They're not washable but you can treat spot stains. This material absorbs humidity so avoid placing a wool rug on damp areas. They can also suffer from color fading and shedding of the wool.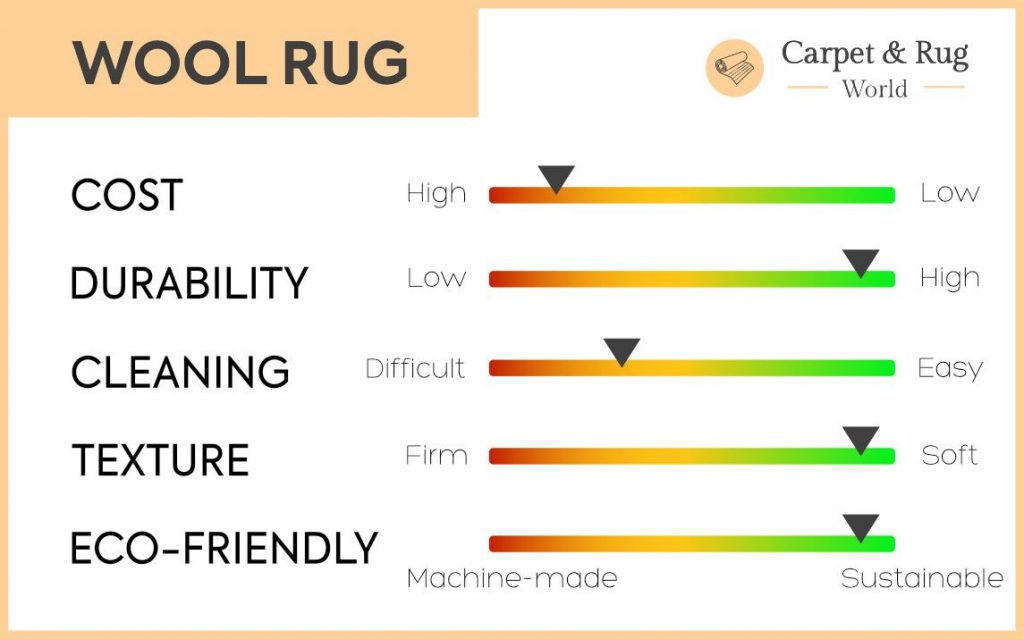 Cotton Rugs
This material is very sustainable and allergen friendly. They are pretty affordable but don't last as long as wool rugs… the good thing is you can flip them once one side looks too worn out. And they are washable too!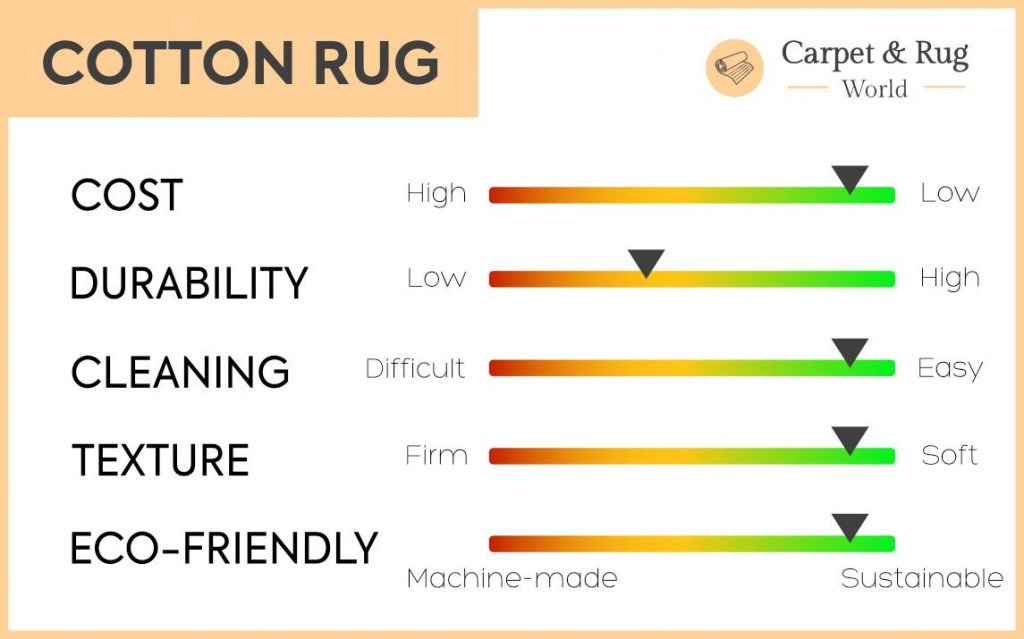 Vegetal Fiber Rugs
These rugs are made of natural fibers extracted from plants. The most widely known are jute, sisal and seagrass rugs. These types of rugs are considered the most eco-friendly as they are made of sustainable and allergen-friendly materials!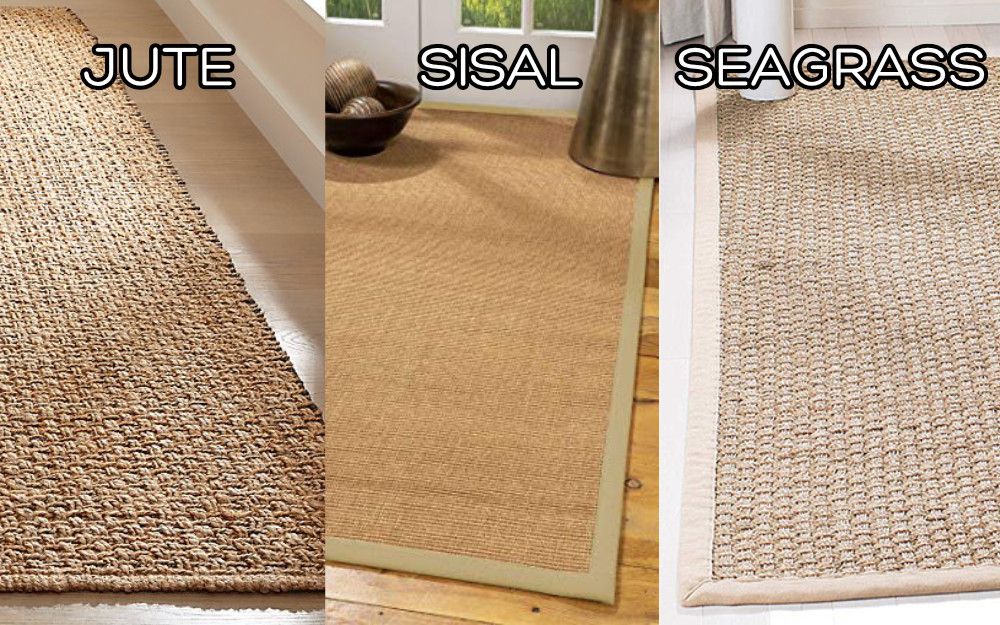 Jute
They are low-cost and have medium durability. But aren't easily washable… you'll probably need to take them to a professional if you want to clean them.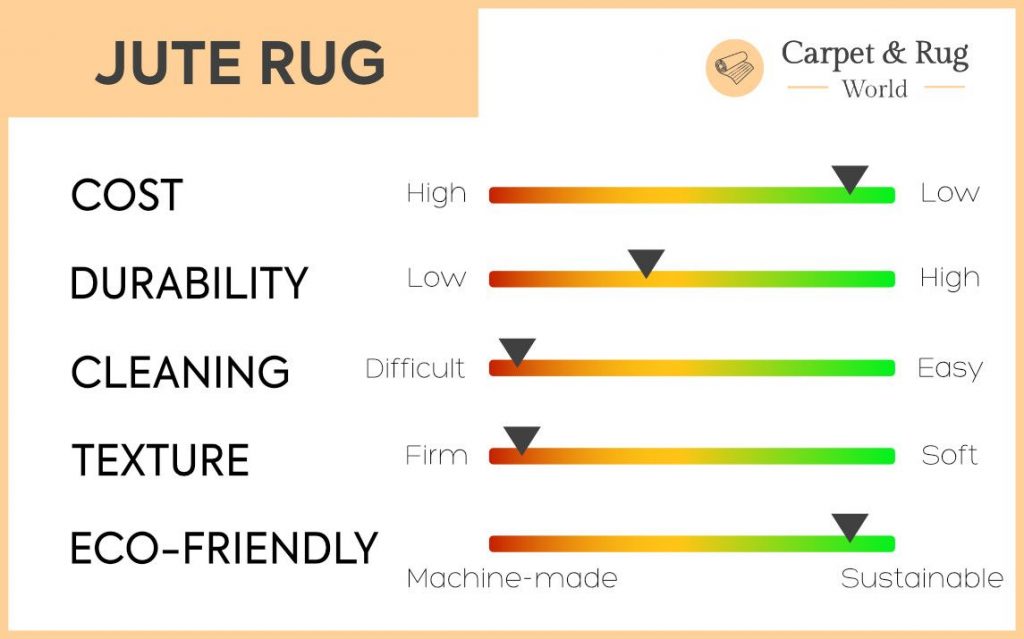 Sisal
They are also low cost but more durable than jute rugs. And they're washable!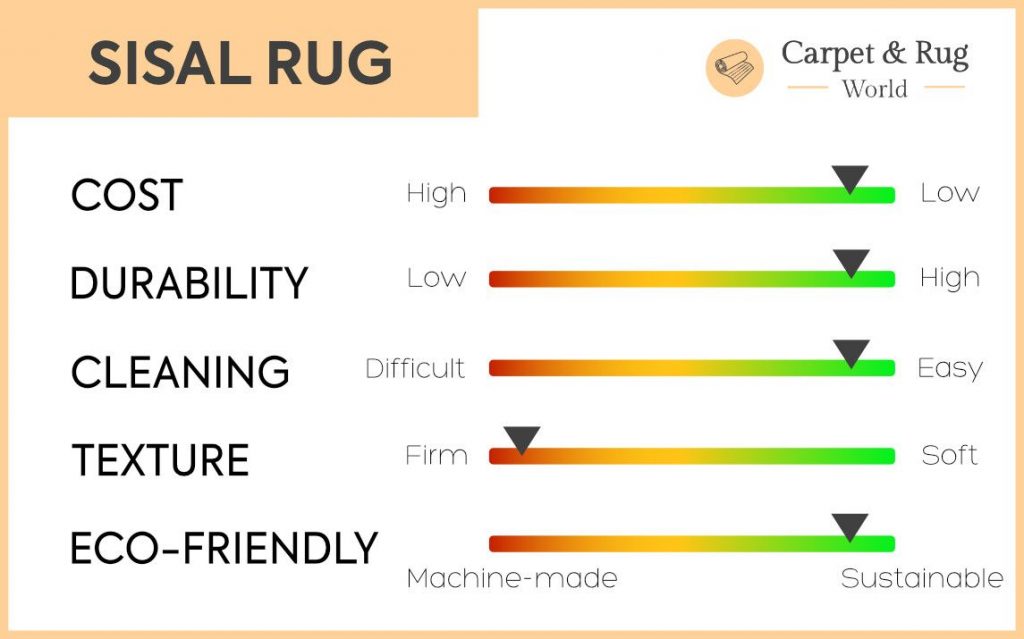 Seagrass
They are much more expensive than jute and sisal rugs. They have medium durability. And they are also washable at home!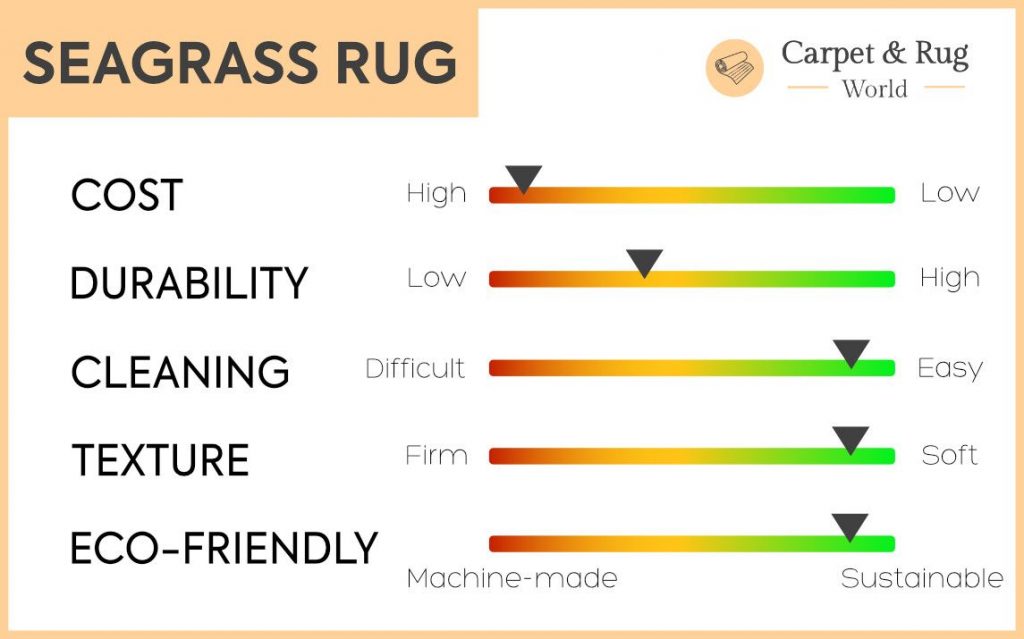 Leather Rug
If what you're looking for is fashion over functionality this is the type of rug you're looking for. When talking about leather here we are referring to all animal or faux animal skin rugs and fur rugs. This type of rugs may be more difficult to clean and maintain and their durability depends on the quality of the skin and the craftsmanship. If it's low quality, you should place it in a low-traffic area, while if it's a high-quality leather rug you can place it in a high-traffic area. They won't last long in humid or damp areas.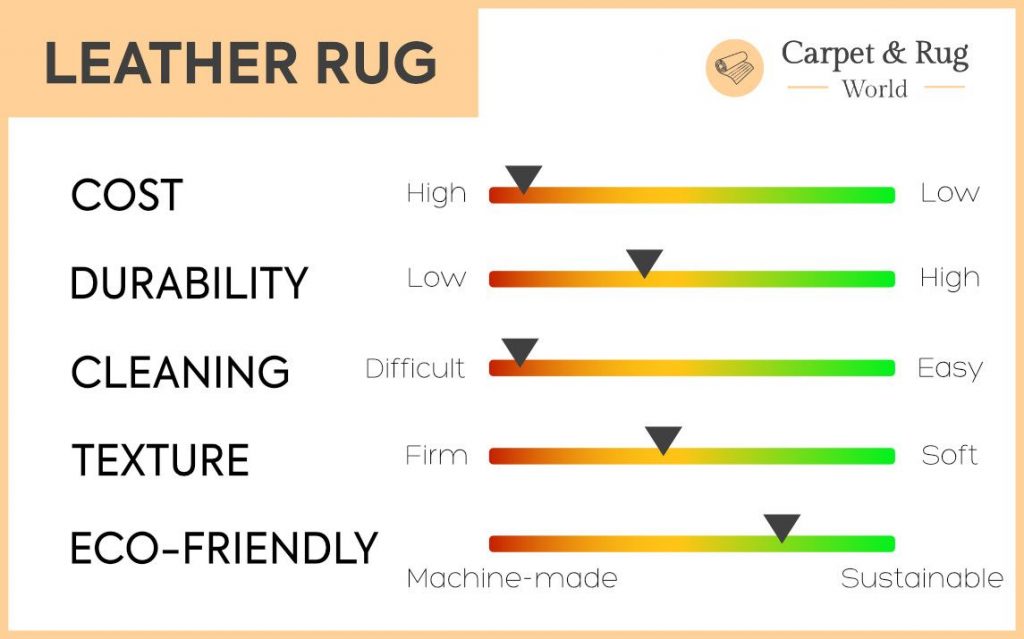 Silk Rugs
This type of rug material will give a luxurious look to your home. But when looking for a good quality-price rug, this isn't what you're looking for. they are incredibly difficult to clean and maintain. And they're also less durable.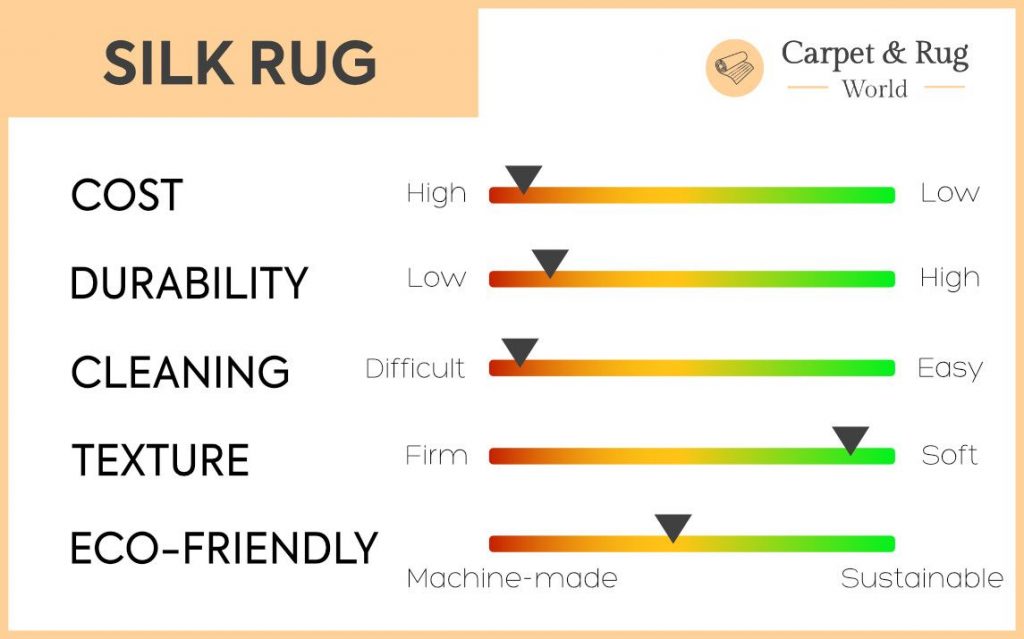 Synthetic Rugs
Widely known for imitating other "more luxurious" materials such as silk or wool. They tend to be more durable than natural fibers and offer a greater variety of colors and styles (as they are all man-made or machine-made)
Viscose Rugs
This type of material tries to mimic silk rugs but at a lower price. If you want to extend its useful life, you'll have to place it in a low-traffic area and take it a professional to have it regularly cleaned.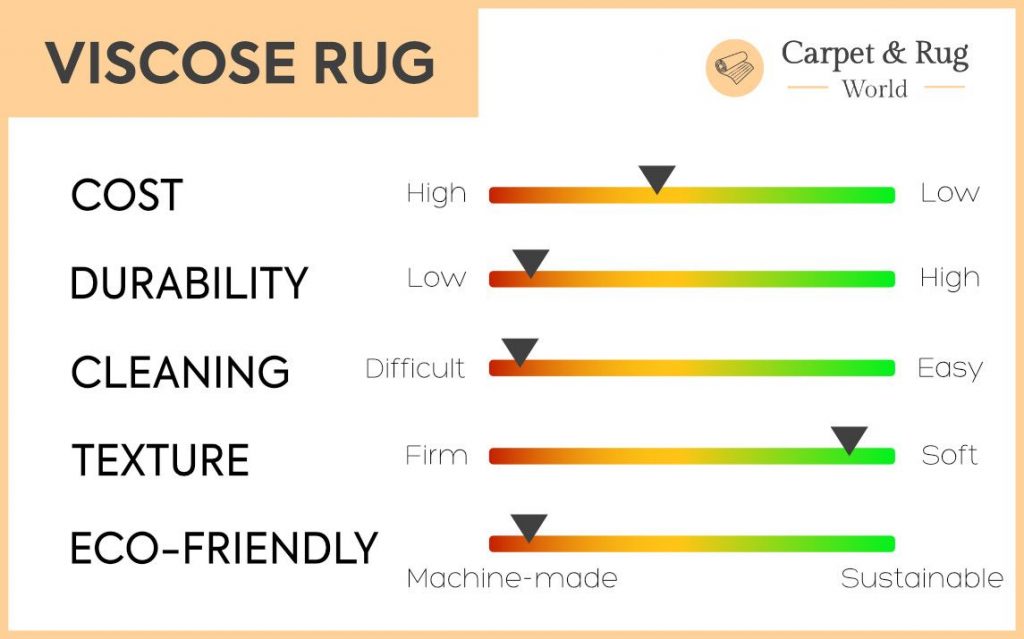 Nylon Rugs
They are widely known for their extreme durability. But they are also the most expensive type of material inside the synthetic rugs world. They are very easy to clean and maintain but they can be prone to shedding and if it is brand new, the first days at your house you may notice a bit of chemical smell. But don't worry, it should be gone in a few days!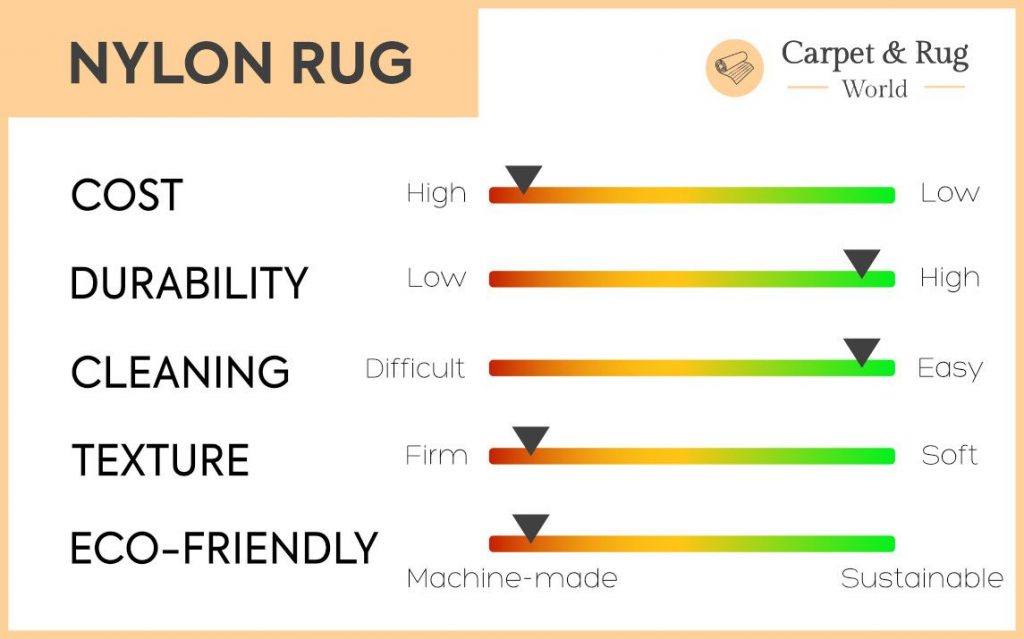 Polypropylene Rugs
They look very similar to wool rugs and are much more affordable! For a very low price, you get a long-lasting, water-resistant, and easy to clean rug. They are also strong enough to be placed outside!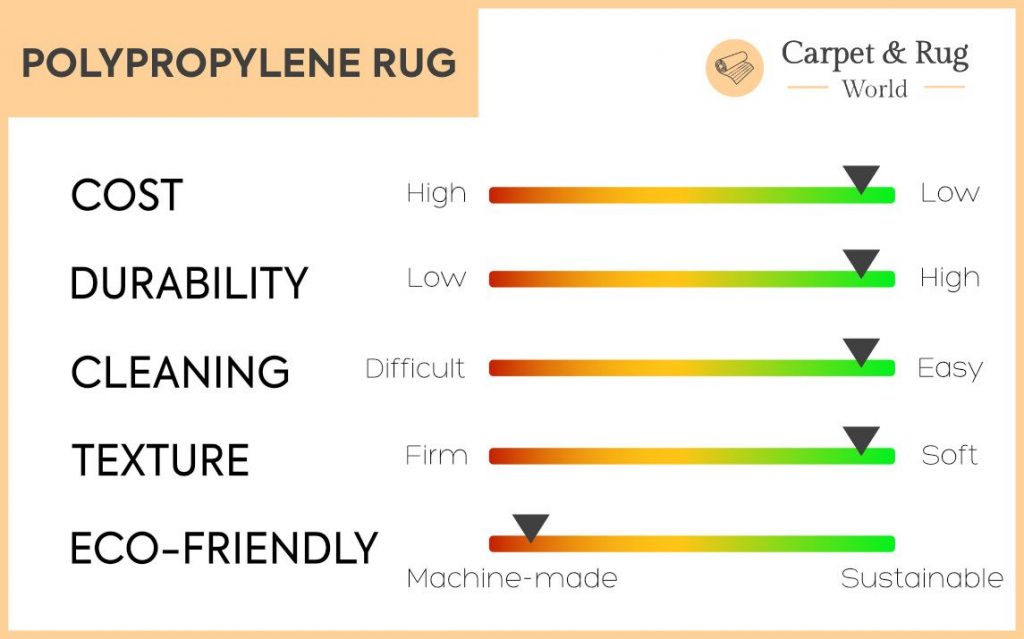 Now, how you select the best rug material for your home should be determined by where you'll be placing your rug. And that's what we are going to look at now.
Your Home Space
Before buying a rug you must have a clear idea of where you're going to place it.
But why? Well, rugs are made of different materials based on the need for that home space. For example, an outdoor rug will have more durable but less flattering materials to be able to go through bad weather without being damaged. And that's why you should buy your rug based on this if you want it to be durable.
As you know, rugs don't cover the whole room, "wall to wall". And compared to carpets, they're easier to clean and replace once you get tired of it. Now we'll see where you can place them all over your house.
Kitchen Rugs
The kitchen is one of the most dangerous areas in your home where you can place a rug. The best material for a kitchen rug is polypropylene as their fibers take more time to absorb spills and are the easiest to clean and maintain. But you can also go for a natural rug such as sisal or jute rugs, as they are also durable and can be spot-cleaned.
USEFUL TIP

As the kitchen is a place where you move around a lot, you should look for a rug with a non-slip backing, or place a non-slip rug pad under your rug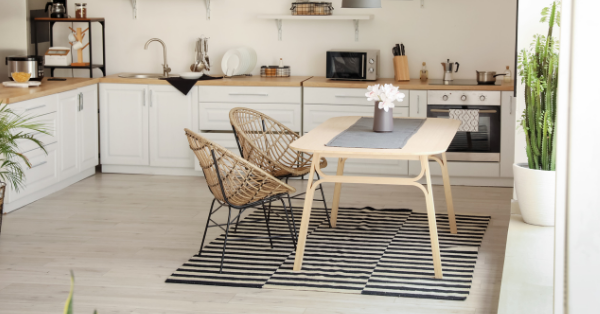 Living Room Rugs
Here you'll want to choose a high-quality rug to have a good-looking, long-lasting rug. The best type of material would be wool or natural rugs such as sisal, jute or seagrass.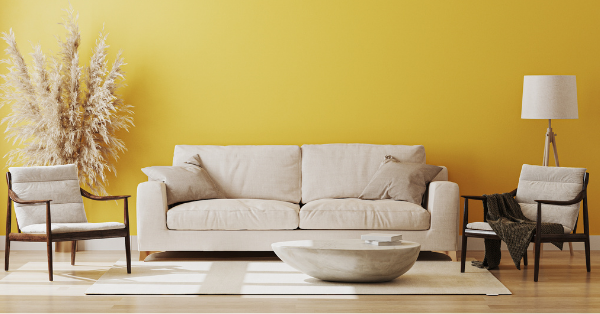 Bedroom Rugs
This area can be a bit tricky as you may want to style it but also to have a durable rug. Therefore, you can go for a leather or fur rug. But remember! Here the price will substantially affect the durability and quality of the rug.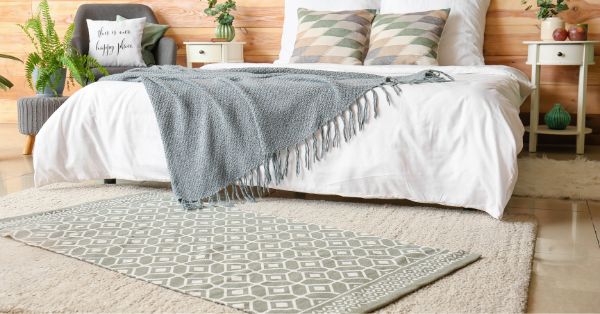 Bathroom Rugs and mats
As you know, a bathroom is a place where water gets everywhere, especially if you have kids. The best material for your bathroom rugs is cotton or chenille (synthetic rugs made from acrylic, polypropylene, rayon, etc…).
USEFUL TIP

It will also be very useful if the rug is washable and fits inside your washer. This will make it easier to keep it clean.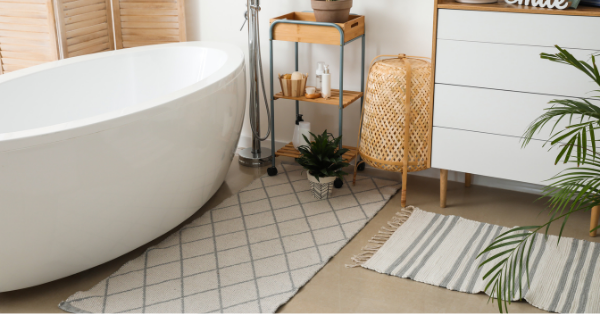 Kid Rugs
As this is an area with lots of "traffic", cotton is the best way to go. They are easy to clean and a very affordable option!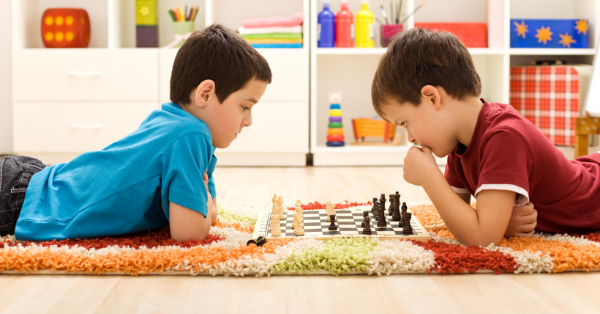 Outdoor Rugs
When buying an outdoor mat, going for a synthetic rug will always be a safe choice, as they are designed to be weatherproof and durable. Another great thing about synthetic rugs is that you have lots of different options to choose from and style your porch or home entrance!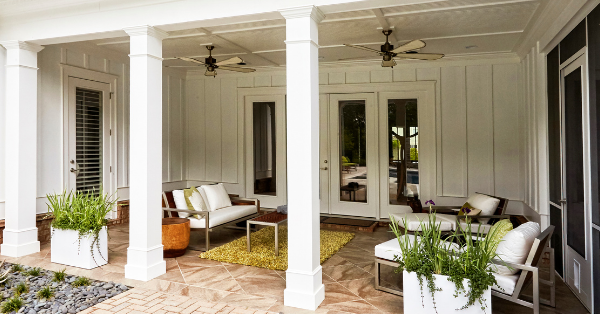 Runners (stair or hallway) Rugs
Here you'll need to determine if it's a high or low traffic area. If you're willing to pay for it, wool is a great investment as it is very durable. If you're going to place it in a high-traffic area then polypropylene will be the best option for sure, as it is very easy to clean and durable.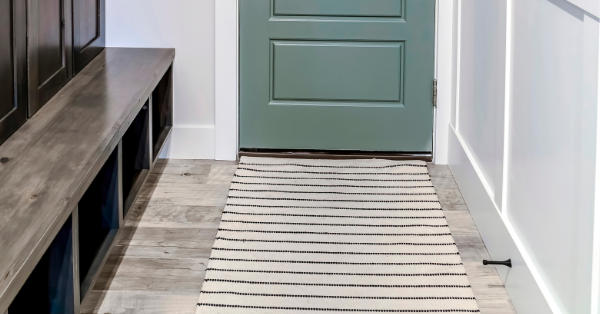 Their Production Method
There are many rug production methods, but to leave simple let's talk about 3 generic production methods: handwoven and machine woven.
Hand-Knotted: as the name says, everything is knotted by hand. And it can take years to finish one rug. That's why they're so expensive. They can last many generations if they're made of high-quality yarns. They can be made from natural fibers such as cotton, wool, silk, jute, etc.
Hand Woven: similar to hand-knotted. Also called flatweave rugs. Cotton and wool are the most typical fibers used to produce them. They are usually very thin and durable. This type of production method is widely used to produce these types of rugs: Kilim, Soumak, and Dhurries.
Handwoven and hand-knotted rugs are also called Oriental Rugs.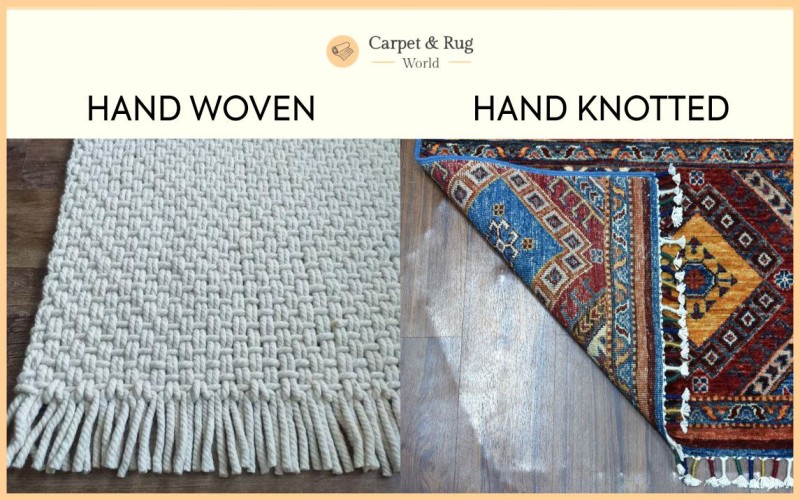 Machine Woven: machine-made rugs are cheaper than hand-made rugs as they take less time to make and synthetic fibers can be used (such as polyester, polypropylene, acrylic, nylon, etc.). But they are less durable depending on the quality of the machine and the material used.
To differentiate them, look at the backside of the rug. When looking at a handmade rug, the knots should be uneven. They won't always be exactly the same size. While a machine-made rug will always look almost perfect. Always even because the knots aren't really knots!
Their Shape
Choosing the shape of a rug can be tricky! It will make your room look smaller or bigger… so you should definitely take this section into account! As well as the size. But that is something that we'll cover later on.
– Rectangular Rugs: this shape is the most traditional one. It works very well in large spaces and hallways such as living rooms, offices, kitchen, etc.
– Square Rugs: in my opinion, the trickiest shape to place in a room. It will look great inside a square room, or if you pair them with square-shaped tables. If you don't do this, then they'll probably look weird.
– Round rugs: you may think these are hard to place but not at all! They'll make the room more cozy and soft. Use this type of shape in a small room to make them feel larger and try to pair them with similar furniture shapes.
– Asymmetrical: more modern and unique. It's a great option if you want to add some style to a room!
Their Style
– Traditional Rugs: they have decorative motifs such as flowers, vines and medallions. They are usually handmade and therefore, more expensive. The origins come from Persia and they're usually made of silk, wool or cotton.
– Kilim Rugs: they are considered to be a type of "oriental rug". Widely known to have beautiful diagonal and geometrical designs. But you can also find them with flower designs. Their primary material is wool but they can also be made with cotton and silk. They are great for high-traffic places.
– Ikat Rugs: originated in Asia and Indonesia. The main difference is they dye the threads beforehand. Due to the variety of colors, it can bring a more relaxed, bohemian feel to your room. They also try to recreate mora traditional prints and use almost all kinds of materials. If you want to add an exotic look to your room, this is your best option!
– Overdyed Rugs: this is actually a multi-step process to obtain bold, bright and deep colors into your rug. It's actually getting pretty common to take a vintage or old rug and dye it to give them a second life. So if you have an old rug you're tired of, this may be your chance to change it without having to replace it!
– Natural-Fiber Rugs: as said earlier, natural fiber rugs are made from natural plants such as jute, sisal or seagrass. The best thing about this type of rugs is how eco-friendly they are and they can also be durable. Plus, they go everywhere!
– Dhurries Rugs: its origins come from India. As they're mostly hand made they tend to be long-lasting and very decorative. Most traditional ones use cotton or wool, but nowadays you can see other materials such as silk, jute or a combination of all the fibers just mentioned. They usually have geometrical designs and stripes in a great variety of colors and, they are also pretty affordable!
– Moroccan Rugs: as the name already reveals, these are hand made rugs in Morocco. The materials used are wool or cotton. They will give a cozy and exotic feel to your room.
Choose the perfect rug size
Now, you may think that you have all covered if you have all the above clear but when choosing a rug for your home, all professionals agree on this one: the size REALLY makes the difference!
We'll go room by room to see which size fits best for you!
Living Room
When choosing a living room rug the typical sizes would be 5×8, 8×10, 9×12 and 11×14.
Big space: for large rooms, the best option is to cover it all with a rug big enough so that all the furniture fits completely on top without feeling too crowded.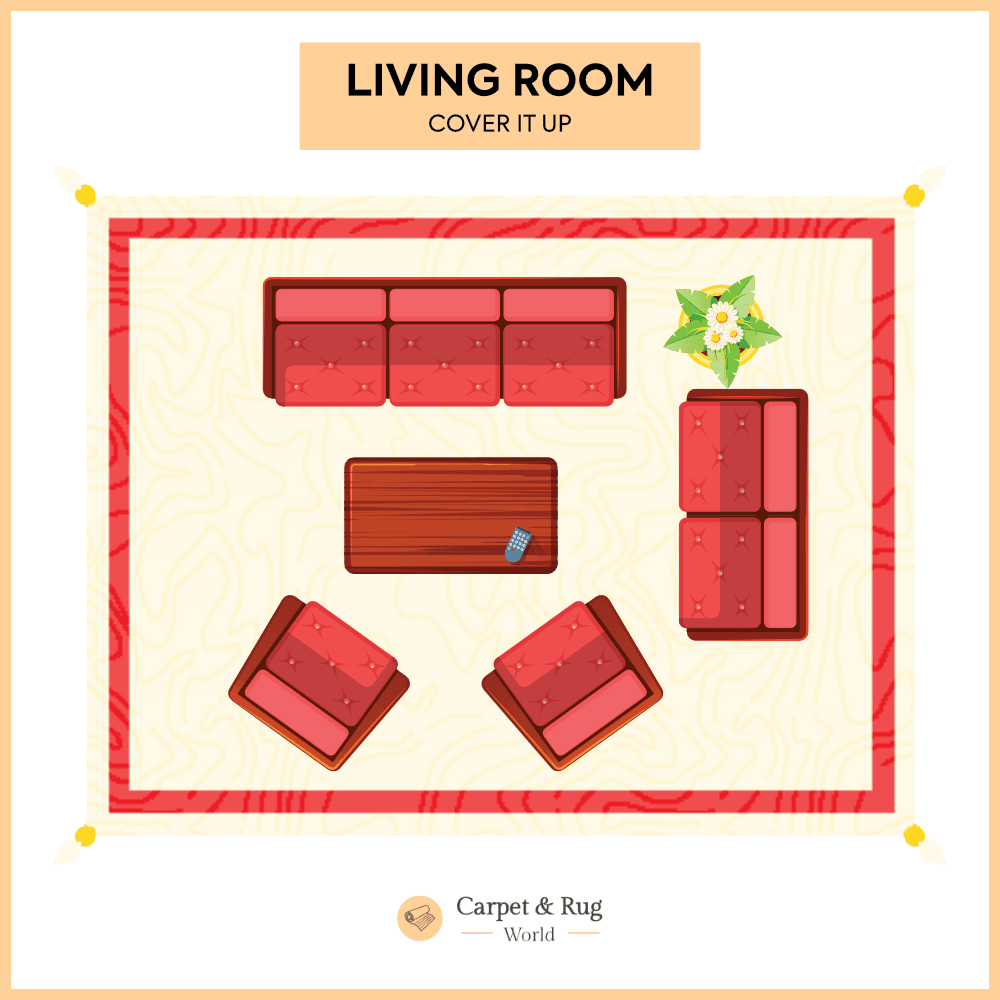 Furniture touching the wall: with this setting, you should at least try to have the front legs of all the furniture on the rug.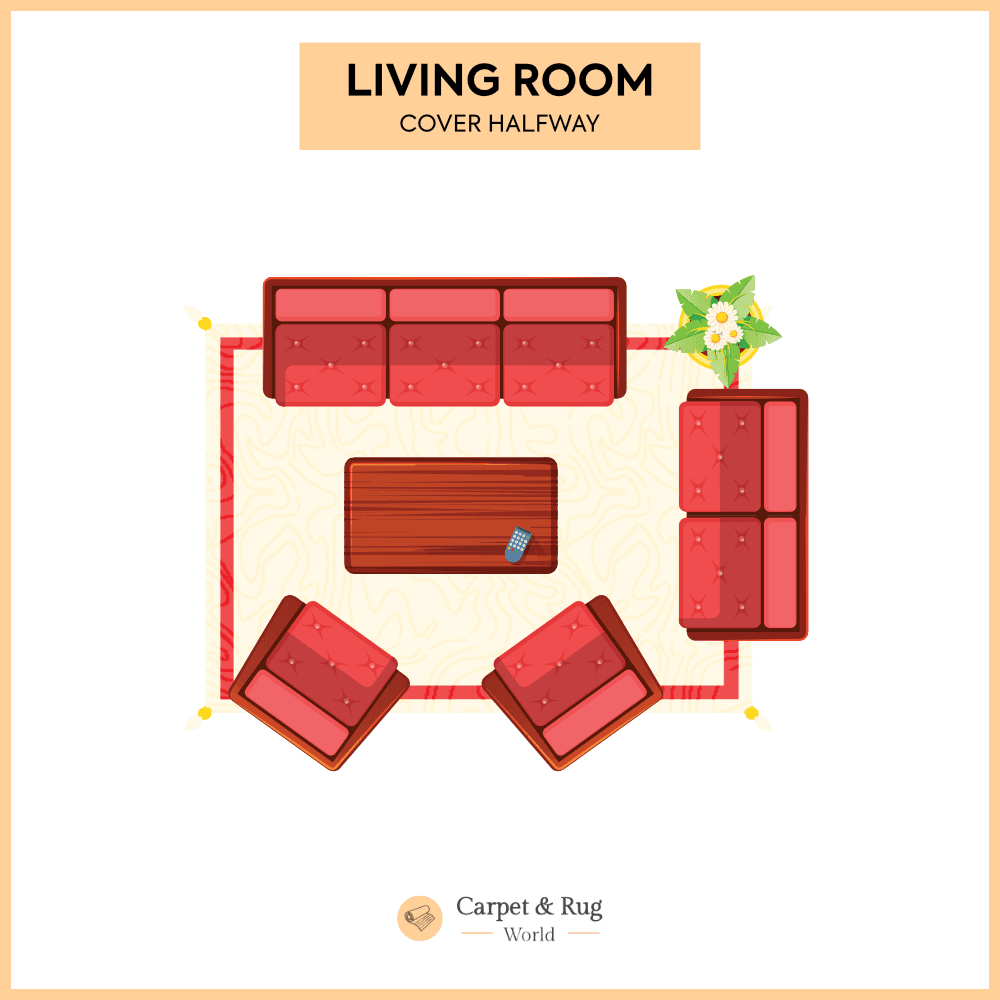 Small space: use a smaller rug to put under the coffee table or to mark a specific seating area.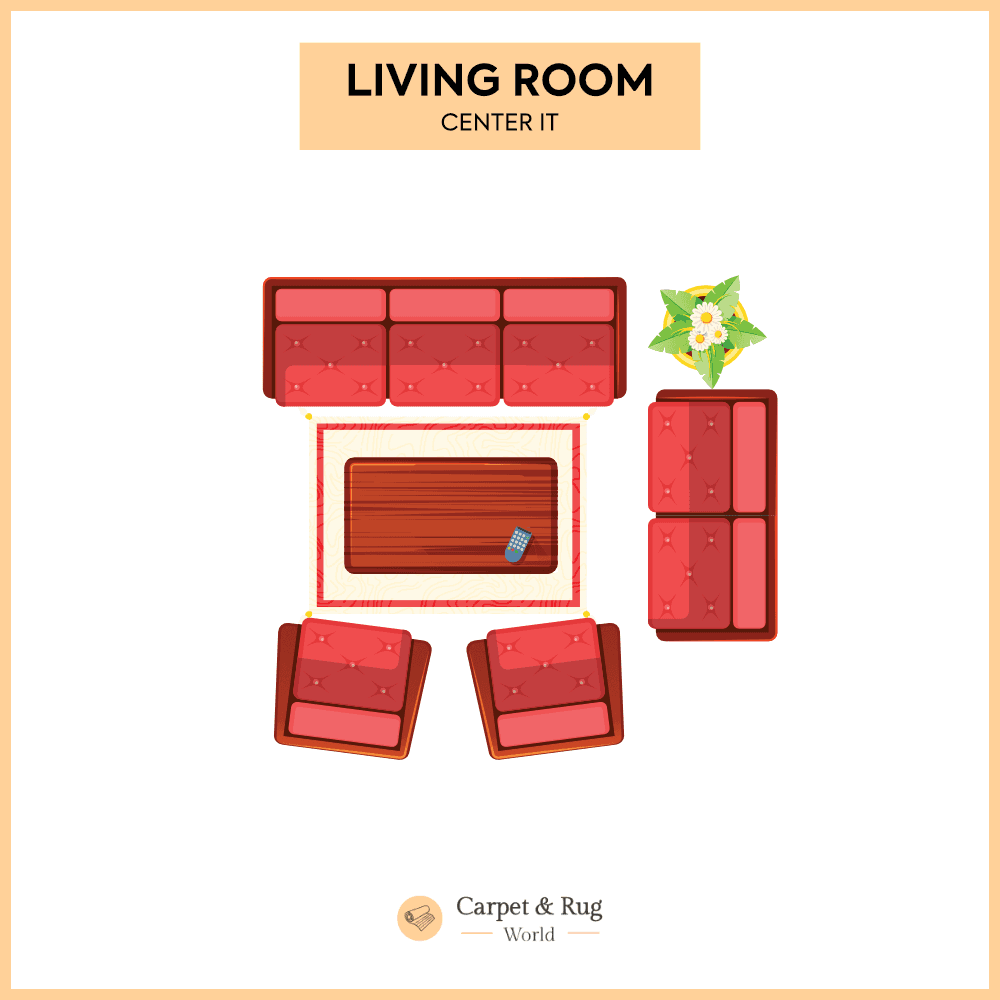 Hallway
Surround it by furniture: surround the long central runner with furniture on the sides without touching the rug.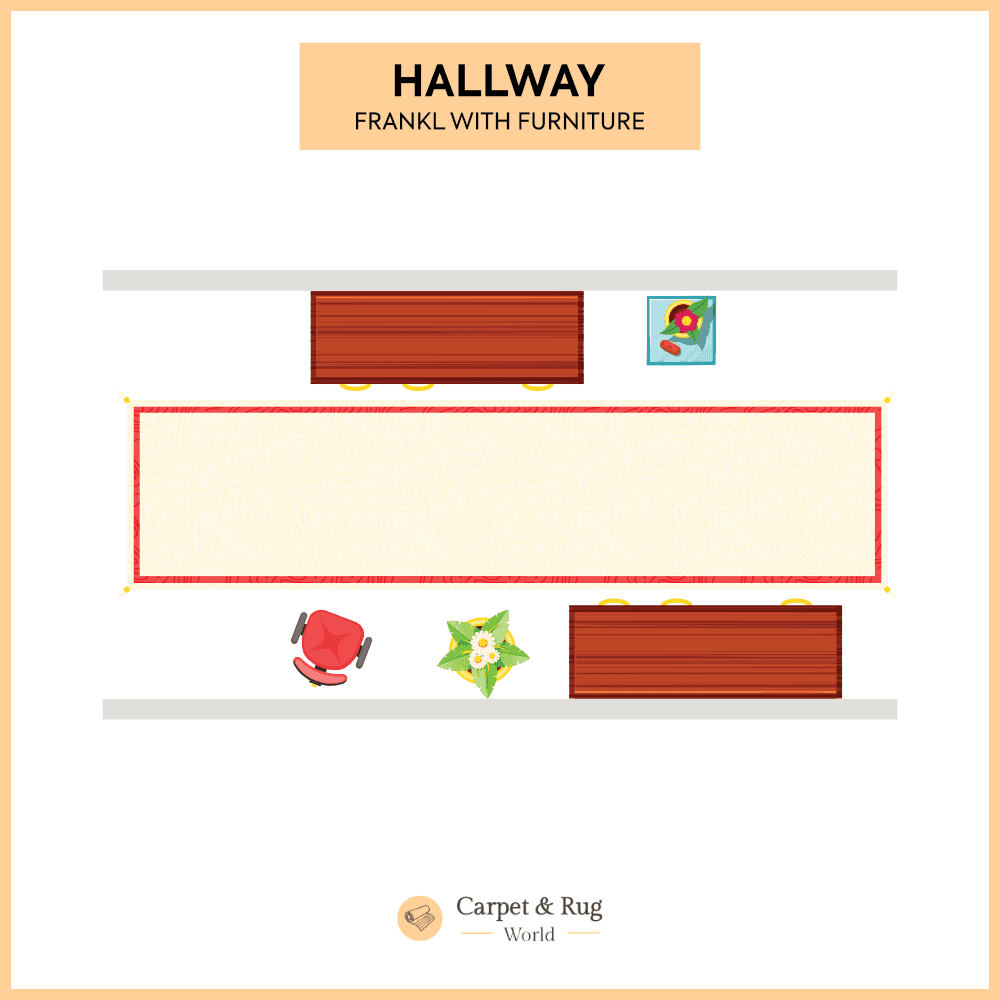 Keep it one-sided: the most common option. Just place the runner right next to one of the walls and the furniture against the opposite wall.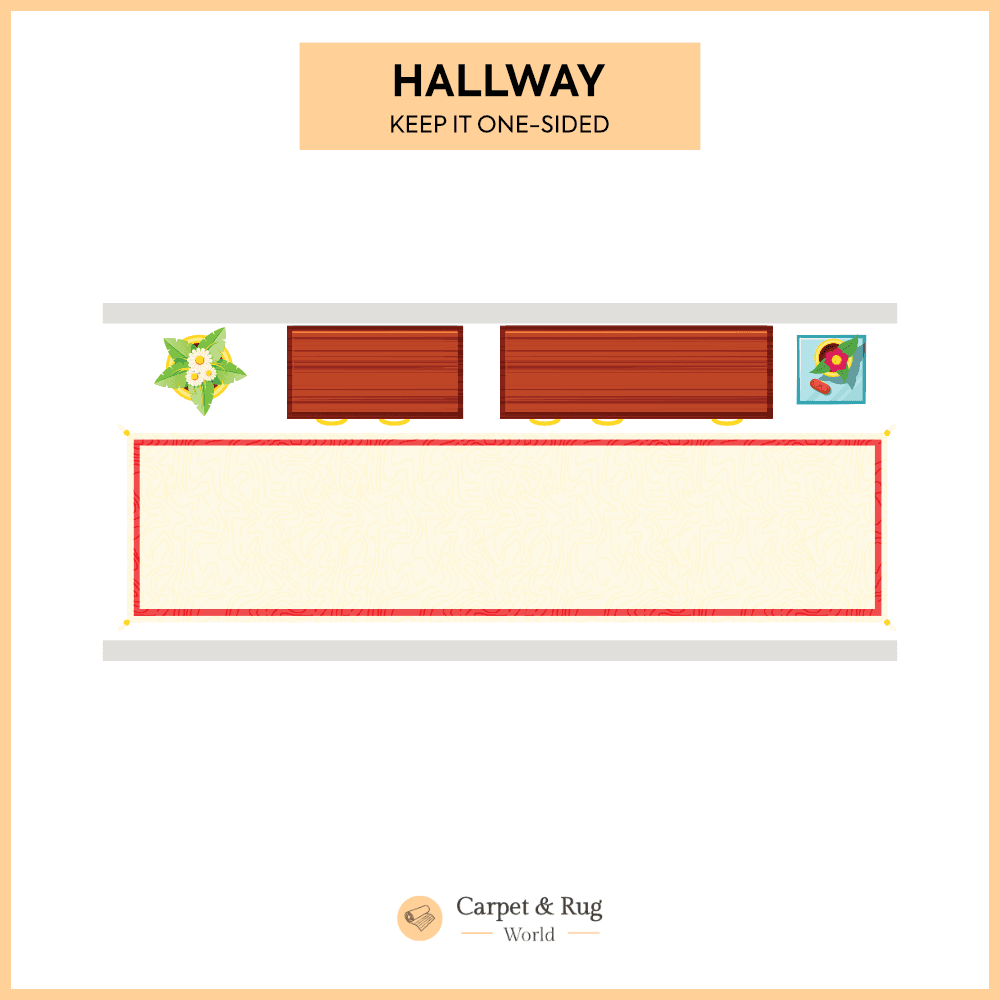 Kitchen
Big space? A small rug works best: with all the movement going on, a small rug right next to the sink will be the best option.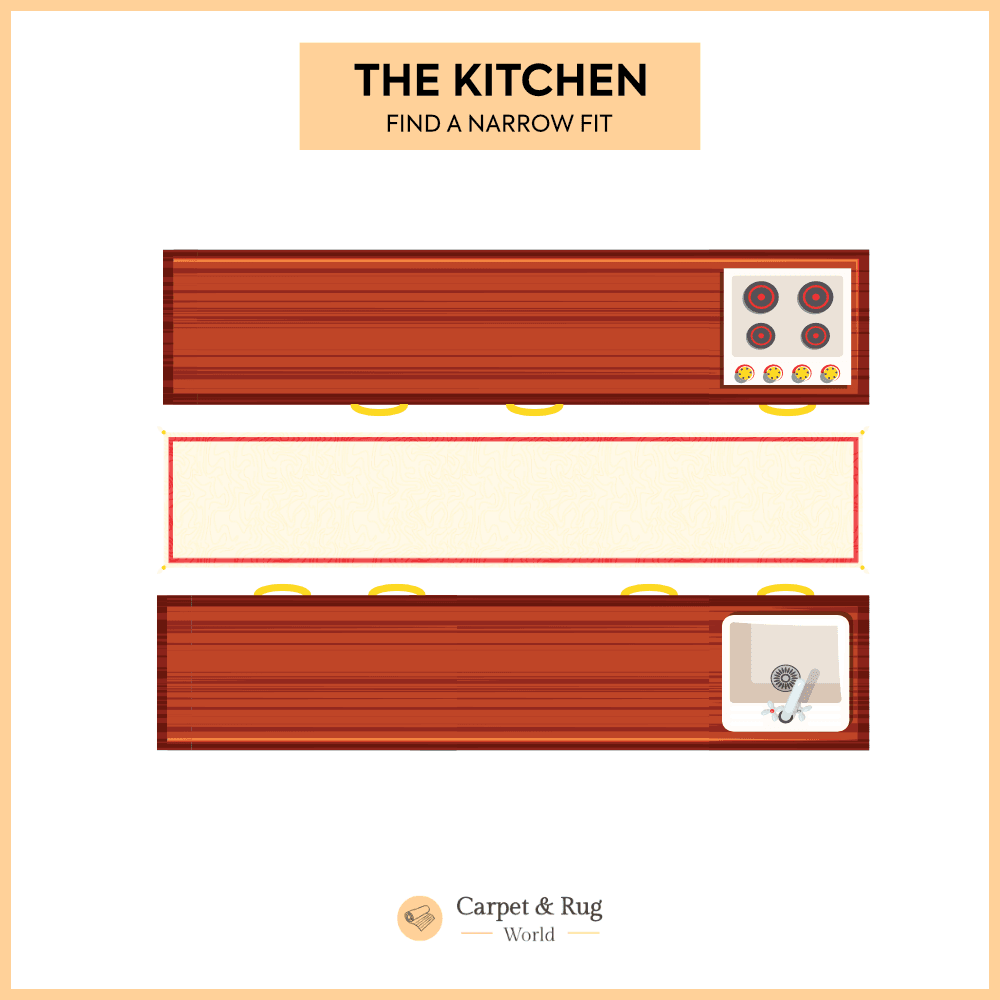 Narrow fit perfect for runners: if you have a narrow kitchen or a center island, runners are great to fill up the space.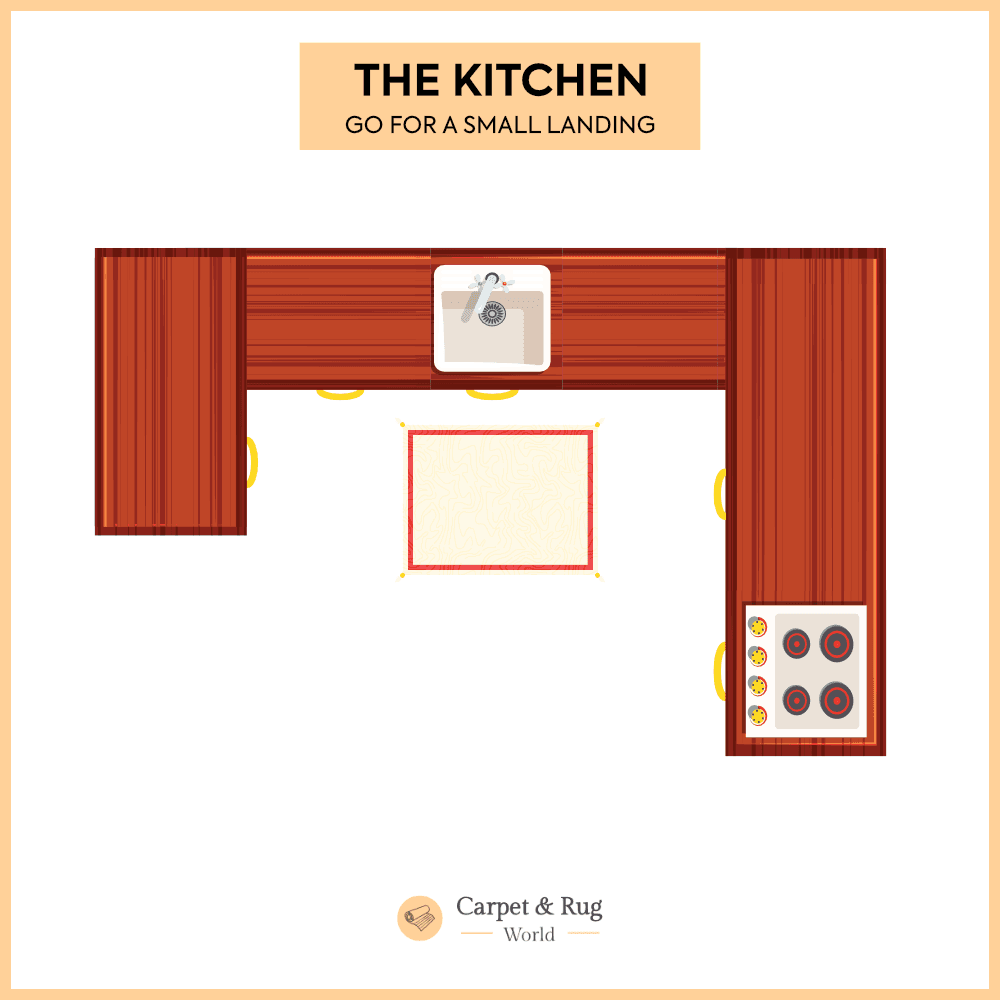 Dining Room
Choosing a dining room rug should be as easy as deciding between a rectangular or round rug. And it should be large enough to fit all the chairs comfortably inside the rug. That means it should be at least 24'' large.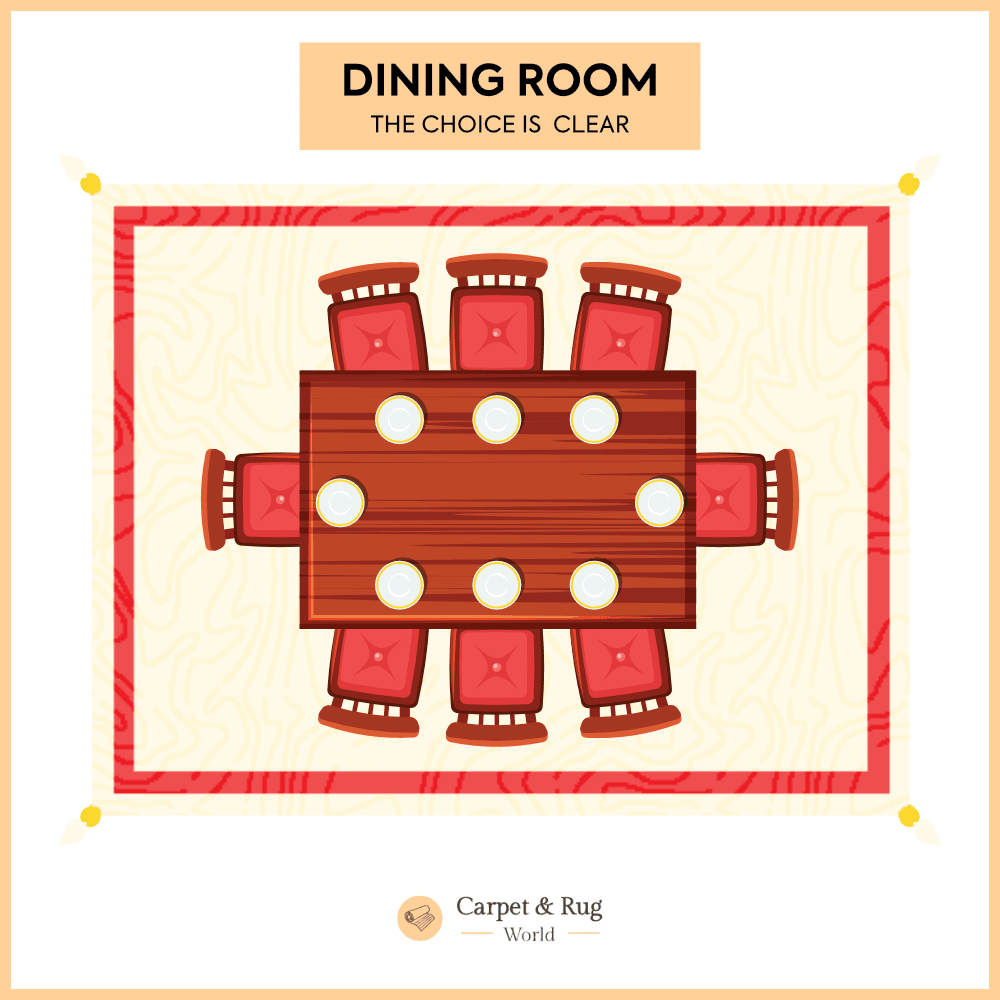 Bedroom
Frame your bed: to be able to cover the whole bed it should be at least 36'' or so. You could also go for an 8×10 for a queen bed or a 9×12 for a king bed.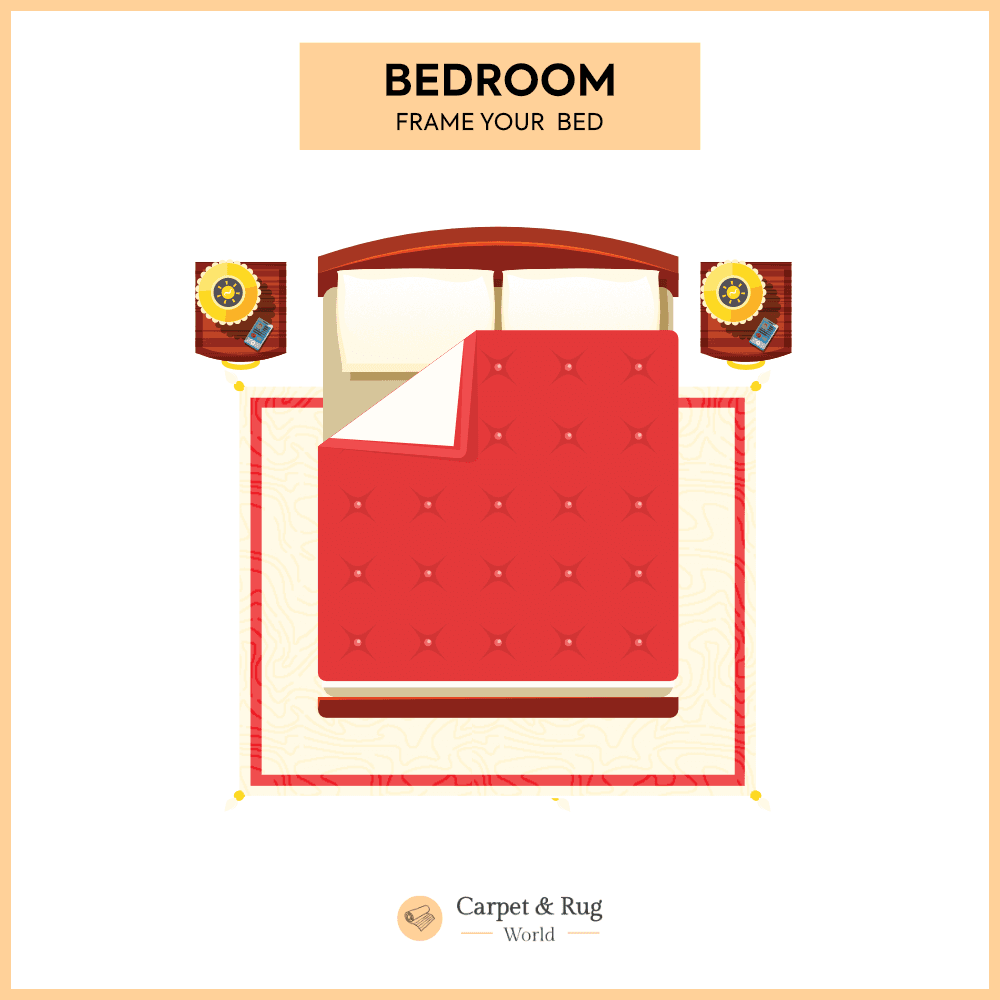 Runner on the sides: this option is a great alternative if you have a wall-to-wall carpet. It will definitely add a cozier look to your bedroom!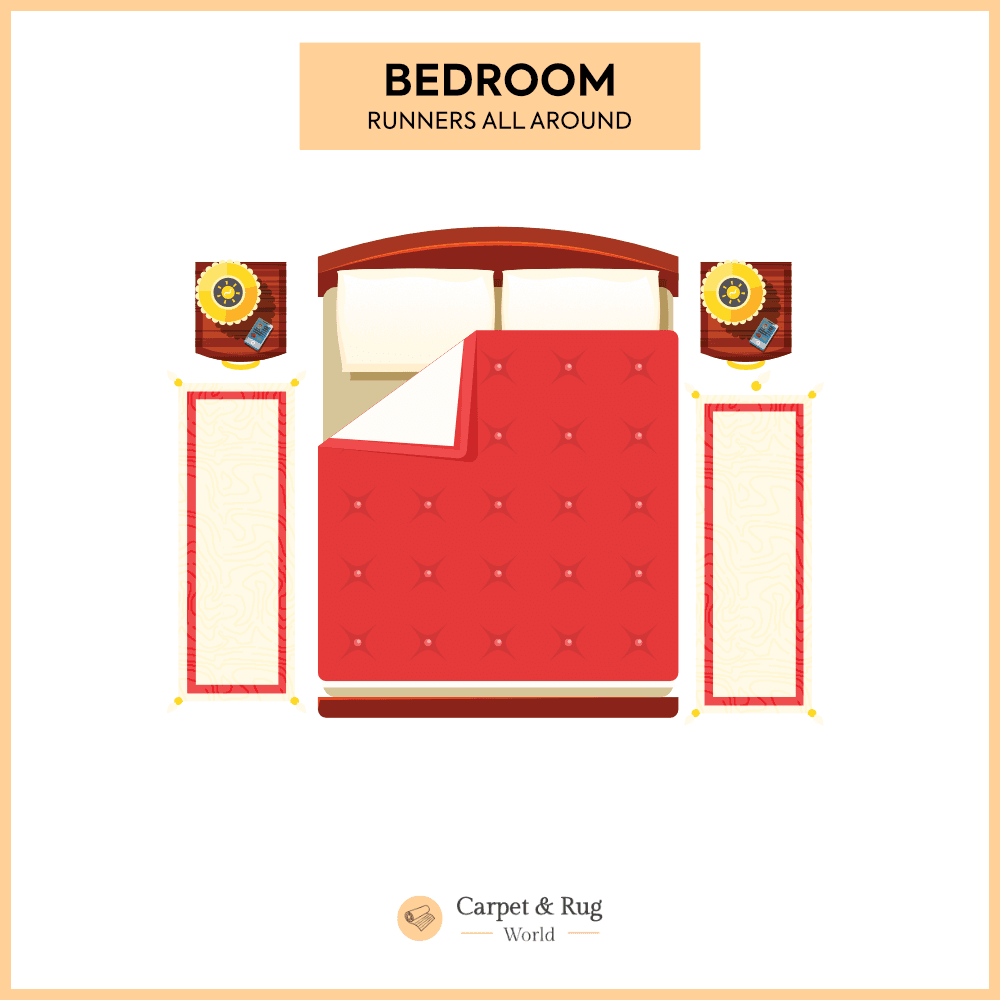 Other tips to remember!
1. Larger rugs will always work better as they'll make a room feel bigger.
2. Keep at least 18 inches of bare floor exposed between the rug's edges and the walls.
3. Always place it echoing its dimensions (i.e. if you have a long room, place the rug orient lengthwise).
4. Before buying any rug, it helps to visualize the size by using painter's tape to mock how it will look.
Let's talk about… Price
First, you need to keep in mind the following, when looking at the price of a rug:
– The material from which the rug is made of.
– The dye used on the rug (natural or chemical).
– How it has been made (hand or machine).
Now, before going into it I would like to recall that vintage rugs may have a greater variety of prices due to their origins, materials, rarity and other factors.
Here you'll find what a rug should cost based on what the material, production, size and durability.
Hand-Knotted Rugs
These rugs are the most expensive ones because they're time-consuming to produce, but it also makes each rug unique and long-lasting.
– Materials: wool and silk
– Production time: 9 to 12 months
– Durability: over 100 years
– Price per square foot: from $20 to $100
Hand-Woven Rugs
They are also hand made but definitely a more practical and affordable option.
– Materials: wool, cotton and jute
– Production time: 3 to 6 months
– Durability: between 10 to 50 years
– Price per square foot: from $6 to $15
Machine-made Rugs
Modern machines and technology have made the production of rugs inexpensive and incredibly fast. They also tend to use synthetic fibers. That's why this option is the cheapest of all.
– Materials: mostly all synthetic materials
– Production time: less than 1 month
– Durability: between 1 and 3 years
– Price per square foot: from $3 to $10
Conclusion
Hopefully, what seemed like a daunting task has turned into an easy step-by-step process to buy the best rug for your home!
It may be a lot of information to digest but I promise you, this guide will lead you to the best decision, whether it's a natural or synthetic fiber, hand-made or machine-made, etc. And ultimately, while there might be many factors to take into account, you are the only one that really knows what's best for you and your family. So trust yourself!
Check our guide on what rug to buy and If you have a tight budget go for a synthetic rug. They look great and won't make a hole in your pocket. If you're looking for a stylish rug leather or faux fur is a great option.
Doesn't matter what your needs are, there will always be a perfect rug for you!