Have you ever walked into the rug and carpet section of a furniture store and breathed in the smell of freshly unfurled carpet? Rugs breathe life into your surroundings by uniting a home's flooring with the rest of the objects in the house.
A rug is essentially different from a carpet in the sense that it is a partial floor covering that can be used by people to protect or decorate particular areas of their floor, unlike a carpet that usually is tacked down or glued to the entire surface of a room's floor. Read this to know more about the difference between a rug and a carpet The portability of rugs is what makes them a fun and durable addition to people's flooring needs.
There are various styles of rugs that come from different parts of the world, made of common or unconventional materials whose construction and design serve particular purposes. You can select from the myriad of rug styles for your home from Lumens that will go with the rest of the furniture and your general home aesthetics that we will explore in detail in this article.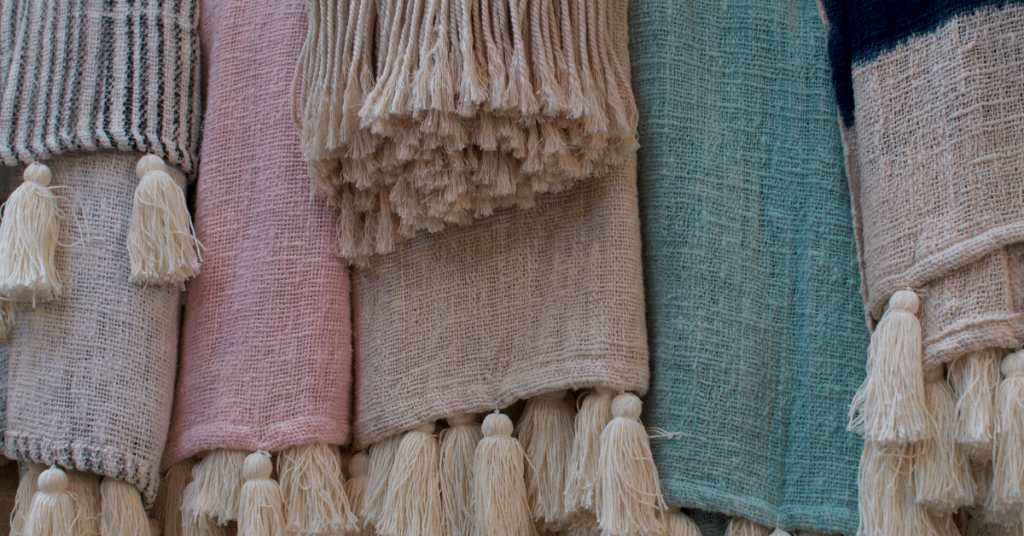 Different styles of rugs
Rugs help us connect to the space we live in while providing us with comfort, style and protection. Area rugs are made in various styles by adding texture, colour and accent to define spaces in a home. Down below is an ultimate guide to major rug styles that I classified based on their visual style, the material used to make them and the construction of the rug itself.
On the basis of visual design : origin
These rugs differ according to each other on the basis of their visual properties – colour, motifs, textures and design. They are further classified into rug styles with origins from particular parts of the world and those defined by time periods of development and popularity.
Oriental
In the Western world, patterned rugs coming from Afghanistan, India, China, Pakistan, Morocco, Egypt or any other non-European country are collectively called "Oriental Rugs". Oriental rugs are well-known for their detailed and almost-hypnotic medallion and symmetrical carpet designs. These rugs are usually large in size and heavy and they usually go well with all kinds of room decor, including traditional and modern design.
Dhurries
Dhurries are a style of flat-woven rugs that come from India. They have geometrical and symmetrical designs featured on the surface and come in a range of bright, pleasant colours. These rugs are usually light in weight, affordable and made of wool, cotton, silk or jute. They have the same patterns on both sides so you can flip them in case of bad damage or wear and tear on one side.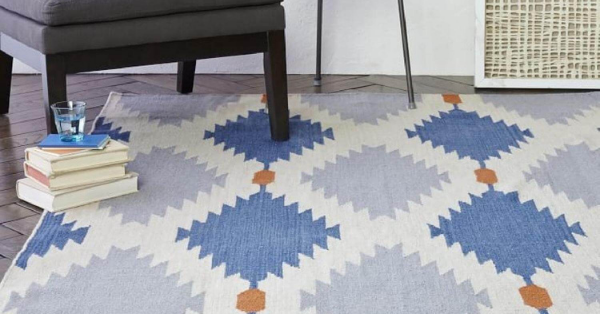 Kilim
Produced in the Balkans and in Pakistan, A kilim is a flat-woven rug that is slightly more tightly-woven than a dhurrie. Traditional kilims have narrow stripes in green, blue, mustard and red with tiny geometric designs on them. Like other flat-weaves, these rugs provide protection for carpets underneath them in high-traffic areas and also can be used as a beautiful piece of decor on the floor or the wall! Genuine kilims can add homely aesthetic value to your home!
Ikat
Originating in the Indonesian Archipelago, Ikat is a style of textile-dyeing. These patterns are applied on fabric before the weaving process using a method called "resist dyeing". Traditional Ikat designs can not be found in any other style of dyeing which is why they are one of a kind and uniquely beautiful. Ikat is recreated on a range of materials, from wool to polypropylene.
Moroccan
Moroccan rugs are made in, you guessed it, Morocco! They are manufactured with utmost care and passion for the craft by artisans who originally used to make it for people living in the mountains to help keep them warm during the harsh winters. There are also lighter styles of Moroccan rugs that are used in arid and hot regions.
Southwestern
Southwestern rugs are flat-woven carpets with Native American motifs and patterns. They feature heavy geometrical patterns and earth tone colours and are used as decor to improve the rustic look of a house. Support Native American artisans who use high-quality wool and natural dye and invest in authentic art that complements contemporary decor and furnishings well!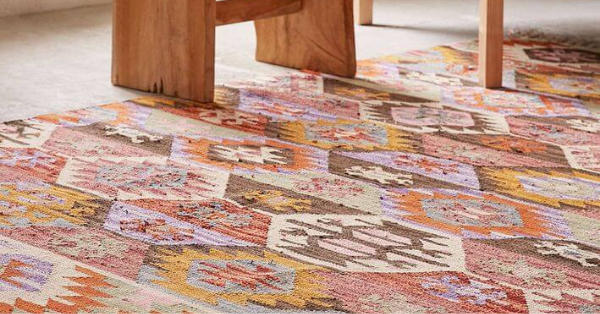 On the basis of visual design : Time Period
Classification of area rugs based on the era of the style and the overall aesthetic you want for your home!
Vintage
Vintage is a trendy fashion for home decor that has never gone out of style. Vintage-design area rugs and carpeting are sought after to this day as they have the allure of antiquity and bohemian charm. These rugs are usually more expensive than other rugs but are a reliable, quality investment that can improve the look of your home by making a bold retroactive statement!
Traditional
Traditional rugs are more easily recognisable as they have been a popular staple for American home decor in the last few decades. These rugs carry intricate Persian motifs like scrollwork, flowers, vines and leaves. They are also usually surrounded by a heavy border with a contrasting colour. Traditional rugs are good for spaces that have well-defined centres, like a dining room or the centre of the living room on which you can place a coffee-table.
Transitional
With elements from classic carpet design and more contemporary styles, transitional rugs are subtle and sophisticated with softened colour palettes and slightly distressed versions of traditional patterns like scrollwork and big vines. Rugs from this style fall right between traditional and contemporary-style rugs.
Mid-Century
As a result of the trendy interior design style, rugs were made in Mid-Century Modern style with bold and bright patterns and colours that are designed to stand out in a room full of neutral and muted colours. These rugs have low-piled hair and abstract or geometrical shapes with highly-saturated colours in a cool, retro style!
Contemporary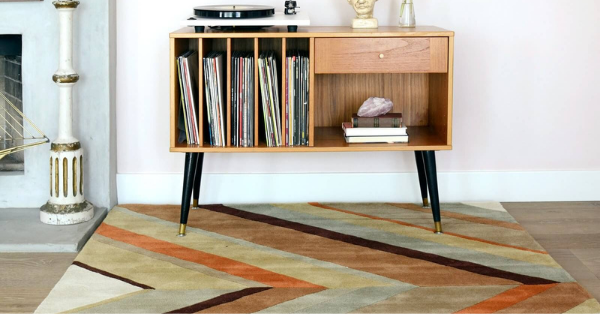 Low-pile rugs with rhythmically linear and geometrical prints and muted, softer colours compared to the stark contrast in modern designs fall under contemporary rug style. These include fashionable patterns like chevron, trellis, graphic prints and abstract design. Contemporary design also reinvents traditional motifs by changing their scale and colours.
Modern
With roots in Scandinavian design, modern design gained popularity during the first half of the 20th century, and with it came innovation in rug styles. Modern rug styles usually have a combination of low-pile cut and loop construction techniques and neutral colours with solid and sharply contrasting patterns. Some modern rugs also have neutral and subtle patterns and help you compliment your furniture with them without overpowering the room.
On the basis of visual design
Shag
A shag is a fluffy and luxurious high-pile rug with large threads of hair on it. These are soft and plush rugs that are most suitable for low traffic areas like under tables or near a fireplace. An iconic rug of the 70s, shags use various materials and come in different designs and patterns that can add some much-needed complexity and texture to spaces in your home.
Bohemian
These whimsical and stylish rugs come in colourful and vibrant patterns with distressed and fringy details. Bohemian rugs are usually flat-woven with natural fibres, light in weight and easily movable. They can be used as accent pieces to add an effortlessly-beautiful bohemian vibe to your living room with its lively and vivid hues!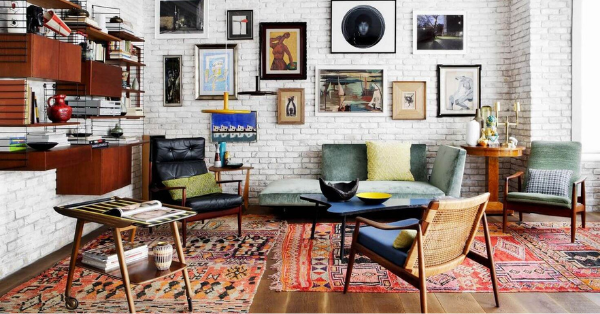 Border
As the name suggests, Border rugs come with heavy attention and detail to the external boundaries of the rug, often with contrasting, thick borders. Borders are sometimes inset and patterned and they help guide your eyes across the entirety of the rug.
High-low
High-low rugs use tufts of high and low piles to create different visual textures on a single surface. This creates an interesting multi-dimensional look that can be manipulated by carpet producers to create patterns and designs that go well with it.
Novelty
Novelty rugs consist of themed rugs with patterns, images and designs that fall under any particular theme like children's toys, world maps, clocks, etc. These rugs feature imagery and bold visuals that are not confined to patterns.
Distressed
Distressed rugs have a naturally worn-out and used look that fits into a very rustic and casual decor style that a lot of individuals look for. These have colours and patterns that are muted and not entirely visible, along with incomplete parts in the fabric itself.
Overdyed
Traditional handmade rugs made of wool that are re-dyed with a bright, contrasting colour tend to create a unique design that can not be seen in any other style of rug. The original design peaks through the dye and shows in a faded style.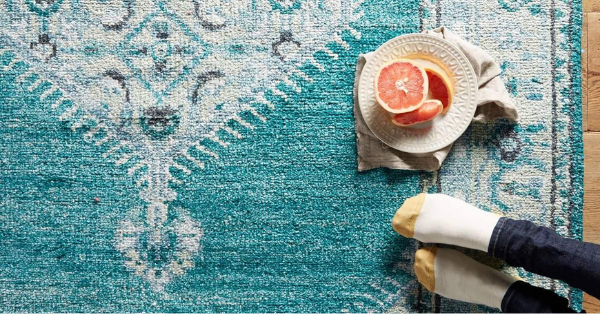 Floor cloth
Floorcloths are very light and portable rugs made of gesso-treated canvas. These are painted on with bold and bright colours with vibrant patterns and are hemmed on the edges. Since they are made of canvas, they can be easily washed and maintained and they dry easily. This is why floorcloths are the perfect choice for entryways in front of bathrooms and near a kitchen sink, areas that tend to get exposed to moisture regularly.
On the basis of material : Natural rugs
Now that I've covered rugs on the basis of their visual elements, it's time to look into the different rug styles on the basis of the material used in making them. These are further categorised into rugs made of natural materials and synthetic rugs.
One-of-a-kind rug styles that are made of natural fibres and hides, plant and animal-based!
Wool
This natural fibre is the most popular option among homeowners for hand-woven, knotted or loomed rugs! Wool rugs are very versatile and durable and they stay in mint condition for decades and are passed down generationally if they are taken care of and maintained properly.
The strength of the fibre makes it a good choice for high-traffic areas like entryways and passageways in the house. The material is super comfortable for walking on and also has the ability to repel liquids. You don't have to worry about spilling water on your wool rug as long as you clean it up on time!
Read this to find out more on how you can remove stains and clean spills on your carpet
It is slightly more expensive than other materials, requires some regular vacuuming in the first few months to get rid of shedding fibres and yearly professional cleaning as your floor carpeting does but it is worth it as it is a long-term investment!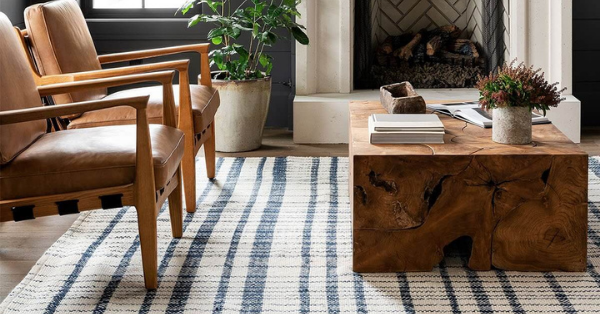 Silk
Silk is well-known as an opulent and luxurious material with a sheen like no other fabric on earth. Rugs made of silk look rich and add a distinctive delicacy to your home and are soft and smooth to the touch. Silk-Wool blend rugs are more durable than pure silk rugs. However, this comes at a high price, in terms of cost and maintenance.
It's best to place silk rugs in low-traffic areas as purely decorative pieces that one can admire at a distance, or with their shoes off! Silk rugs are not easy to clean but here's a comprehensive guide on how you can do it: click here to go to the post. There are less-expensive synthetic alternatives to silk that I'll talk about below!
Cotton
Cotton is a highly versatile and durable fabric for rugs. Cotton rugs are inexpensive, easily washable and they come in various colours as they absorb dye very well. They are typically flat-woven or braided and have a more casual look than other materials do. Cotton rugs can be placed in locations with heavy footfall as they can be cleaned with less effort.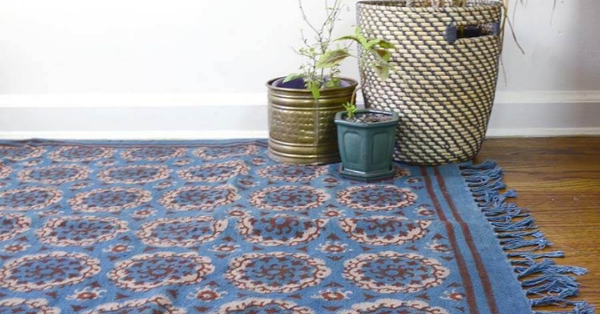 However, cotton rugs absorb spills and stain quickly. They also fade in time and do not look brand-new for a long time. Cotton rugs are a good option for people who look to spruce up their interior decor every once in a while without wanting to invest in something expensive.
Coarse rugs
I would classify Jute, Bamboo, SeaGrass and Sisal into the coarse natural rug materials category. These natural rugs are economical, add texture to your space, and a beachy, coastal vibe to your house, perfect for the summers when you miss the balmy, beach sun on your face. They come in different sizes that you can choose from according to the space you have.
The only issue with coarse rugs is that they may absorb liquid depending on their finishing and are slightly difficult to clean. Make sure you do your research on the particular rug you're interested in before purchasing it and you can enjoy your uniquely textured and beautiful rug!
Animal Hide – Leather/Sheepskin
Another natural material that is used to make rugs is animal hide! Rugs made of Leather and Sheepskin are very popular among homeowners who go the extra mile to keep their interiors decorated in a luxurious and indulgent way. These pieces are often artfully crafted and can turn your space from a regular room to an exciting collection of furniture and walls.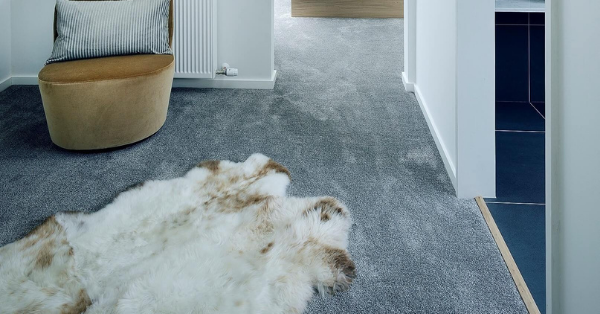 However, most hide-harvesting and sourcing processes are infamously inhumane and unethical. Leather rugs are highly expensive and also require extra care and effort during their upkeep. They are, nevertheless, a great long-term investment because of their durability and striking look. I will list down a few synthetic alternatives to animal hide rugs in the following paragraphs.
Here's an in-depth guide to natural rugs
On the basis of material : Synthetic rugs
Rugs made of synthetic materials, some of which serve as substitute options for a few of the natural fibres mentioned above. Synthetic rugs are usually machine-made on a power loom!
Polyblends
Polyblends are materials made of a mixture of two or more polymers, especially recycled plastic or other man-made materials. Some of these that are petroleum-based are not environmentally-friendly. The most commonly-used polyblends in rug manufacturing are:
1. Strong and durable Nylon rugs that can be used in heavy-traffic regions;
2. Resistant and inexpensive Polyester rugs that also includes Microfiber;
3. Enduring and colour-resistant Olefin rugs that are ideal for high-traffic areas; and
4. Soft and luxurious Rayon (Viscose) rugs that are a synthetic alternative for silk.
Faux Fur/Hide
For anyone who doesn't want to keep animal fur or hide in their house, faux fur and hide is a good substitute for animal-based rugs. These power-woven rugs are great for someone who wants to enjoy the appearance of hide or fur while enhancing the overall aesthetic of your decor! However, upkeep is not an easy task, especially in the first few months. Faux fur/hide production also negatively impacts the environment, not as much as the real deal, though!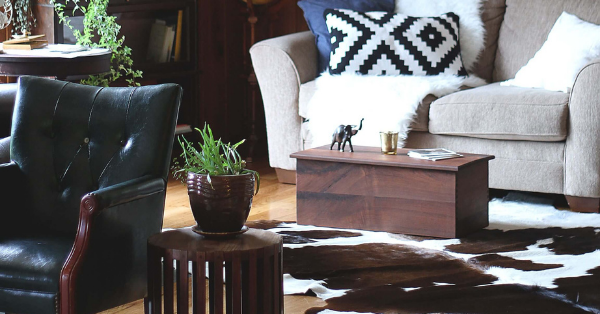 On the basis of construction
These rugs are classified on the basis of the methods used to make them – machine or hand-made!
Hand-loomed
A variety of unique textures are achieved by using a hand-loom to make rugs. Hand-loomed rug-making starts with the process of picking out select yarns of diverse lengths and colours to end up with an intricately-woven rug with patterns and design of the skilled artisan's choice. Hand-loomed rugs range from luxurious shags to simple flat-weaves like Dhurries and Kilims.
Machine loomed
Machine-loomed rugs are usually made with synthetic materials to ensure an efficient and even piling of fibres while maintaining the desired patterns. These include the luxurious cut pile rugs that are commonly made of nylon, olefin and wool, long-lasting and rough-use loop pile rugs and stronger dual-coloured rugs with a cut and loop combination.
Hand-stitched
Intricate design on hand-stitched rugs is achieved by using the elaborate needlepoint method. These rugs are very delicate and can not be placed in high-traffic areas in the house, only as decorative items. Admire needlepoint rugs from afar and make sure you take care of them well.
Hand-tufted
Skilled craftsmen use a tufting tool to pass yarn through fabric that is stretched by a frame. Hand-tufted rugs can have detailed work and patterns on them, along with either cut piles or loop piles, or both. The pile of fabric is also sometimes backed with latex to make a sturdy rug.
Hand-knotted
This generationally passed down technique of making rugs involved the wrapping and knotting of yarn around each individual warp thread. Because of the tight construction of hand-knotted rugs and the craftsman's attention to detail, they are tough and durable for a long time.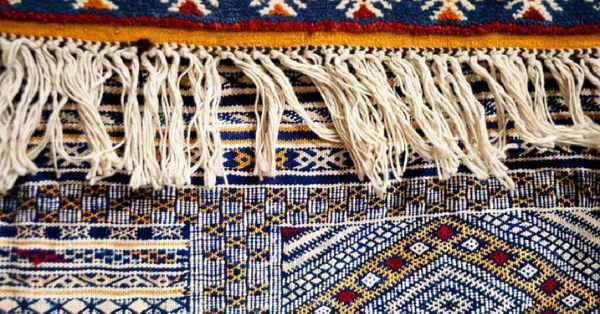 How you can pick the perfect rug for your home
With all this new-found knowledge on the various rug styles that exist in the market, you may be feeling a little too overwhelmed with the pressure of picking the best one for your sweet abode! Worry not, you just have to keep a few things in mind before finalising the perfect rug! Colour, patterns and texture are important visual design elements to think of while choosing a rug.
Make sure the one you pick doesn't create a visual clash with the rest of your furniture! You also need to think of the dimensions and shape of the rug that you want, and the placement – indoors or outdoors. Based on this, the inhabitants of your house, the time period you want to keep the rug for and its purpose, you'll be able to settle on a material. Well, isn't that easy?
click here for more help with picking the perfect rug.
Conclusion
Now that you know all about rugs and probably have a rough idea of the kind of rug that will look good in your house, what are you waiting for? Add rugs to your space to accentuate the rest of your furniture and add that special something that has always been missing! Find a rug that matches your idea of a perfect rug style and make your house look better than it ever has.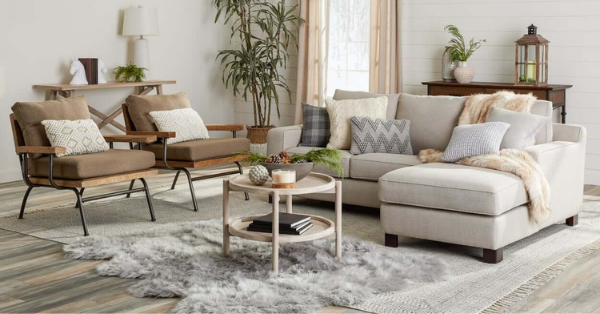 A quick read that'll help you understand the main differences between Rugs and Carpet and choose the best floor covering for your home while explaining the pros and cons of both options!
Have you ever wondered how to get out stains in a carpet? This guide covers everything… coffee, wine, dirt, pee, food, nail polish or even glue!
Silk rugs can make any room look sophisticated with their sheen. However, this depends on how clean you keep them. Read this post to learn how you can better maintain your floor coverings.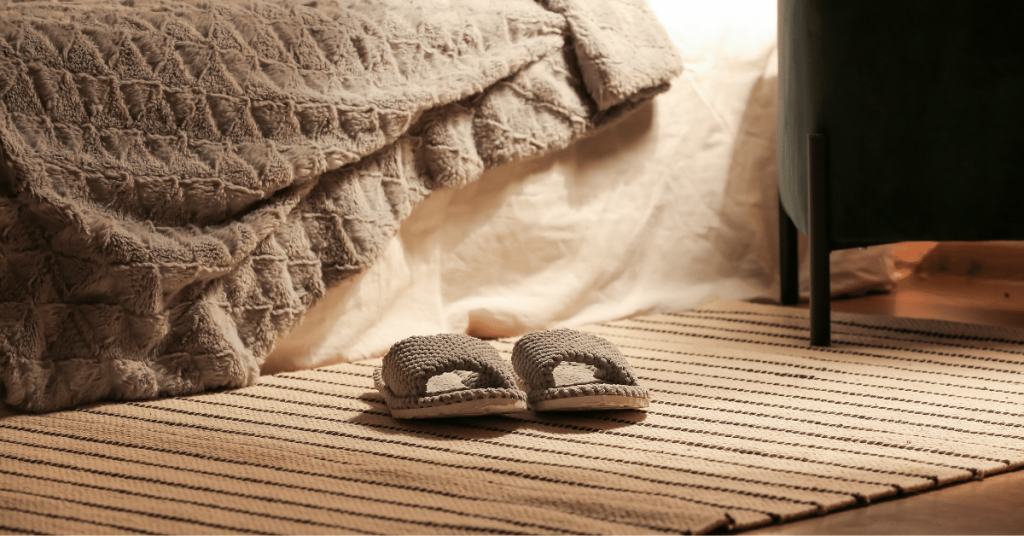 which natural fiber rug is most durable? Do they shed? There are lots of questions that need answers before buying a natural fiber rug and that's what we're here to answer!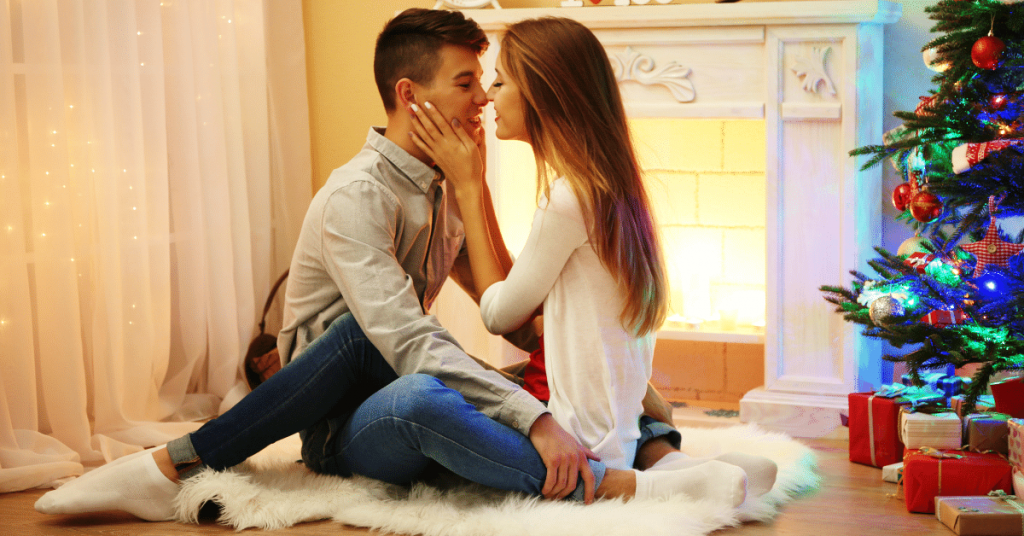 With so many rug options available in the market, it is easy to get overwhelmed as a buyer. Check out our guide to figure out which one is right for you