As I'm sure you know, rug pads are necessary when having area rugs at home. They provide protection and increase their useful life.
We could only talk about the benefits rug pads have but then we would be here for a very long time. So, if you want to learn first more about all the great things rug pads can offer you here you have a great article: 5 Reasons why you NEED a rug pad.
The tricky part comes when you have choose the right rug pad. Because not all rug pads are equal and some can even end up making more damage to your rugs and floors.
When looking at rug pads, you'll have to take into account some characteristics that will help you find the best rug pad for your home.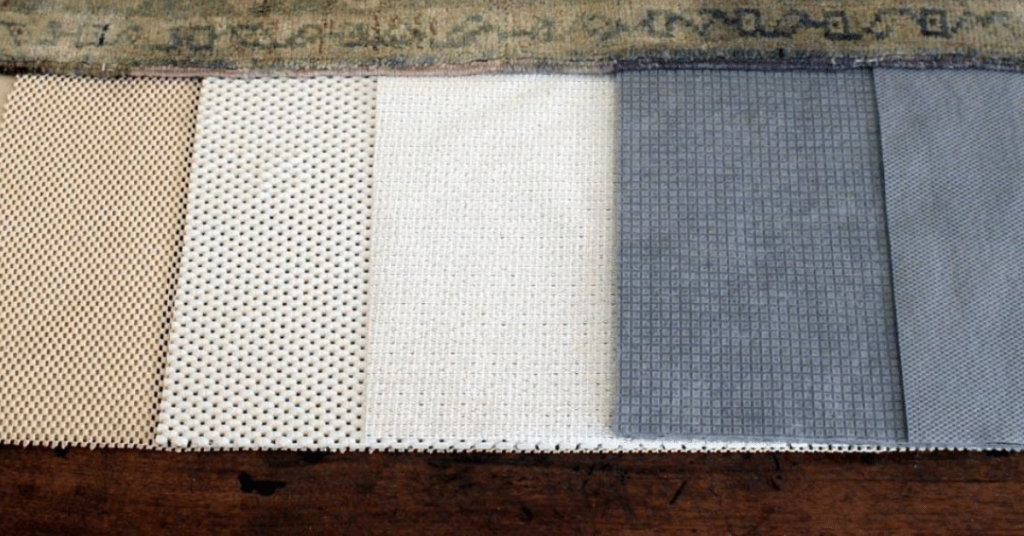 But first, you need to understand what a rug pad really is and what their purpose is.
What is a Rug Pad?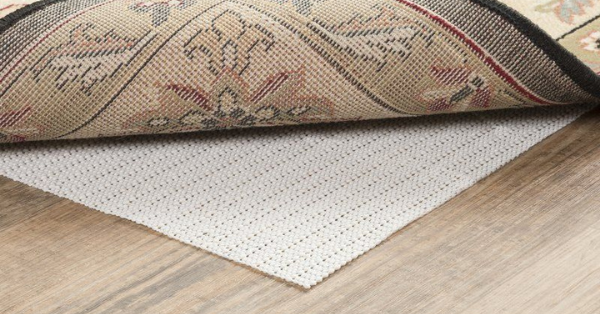 A rug pad is a sticky buffer that you place underneath a rug to protect both the rug and the floor.
The right rug pad should be capable of protecting your floor from any scratch, spill or stain, while stabilizing the rug to make it less slippery and make it easier to clean and vacuum. It should also increase the useful life of the rug by minimizing the wear and tear, and reduce the noise when walking on it.
Here are some of the benefits rug pads have:
– Protects the floors
– Prevent slippery accidents
– Improve the airflow
– Provides comfort and soundproofing
– Increases a rug useful life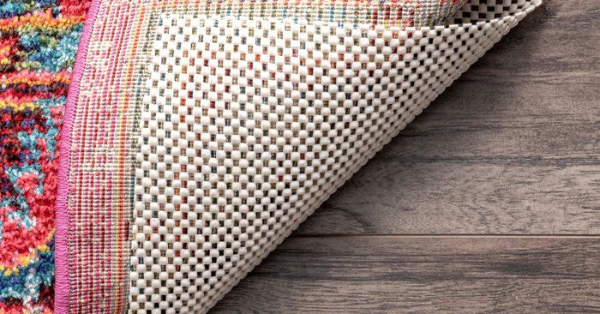 As you see, rug pads have lots of good things you can benefit from, but you'll only be able to do so if you buy the right one.
How to choose a Rug Pad
Rug pads may be invisible to your eyes, but that doesn't make them less important.
We are going to look at some characteristics you should look at and take into account when buying a rug pad.
Here's all you ever need to know!
– Material
The material used to make any rug pad will make a great difference on their performance.
Here are the 5 most common types of rug pad materials in the market with their pros and cons:
1. PVC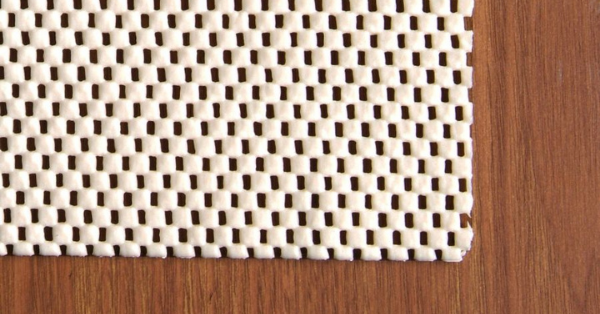 Pros: Less expensive.
Cons: Can release chemicals that will damage hardwood and vinyl floors.
Our recommendation is to try and avoid this material as much as possible.
2. Felt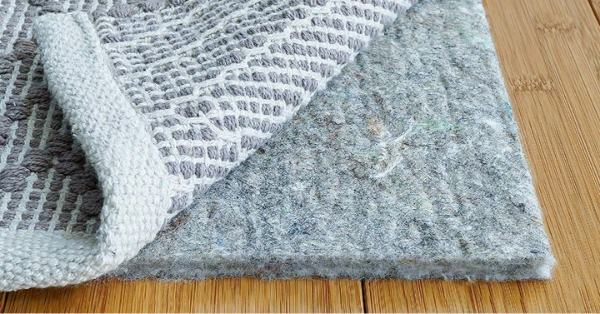 Pros: Great for extra cushioning and comfort. As they tend to by pretty thick, they provide extra protection to the floor also and are great for insulation too.
Cons: Won't keep a rug in it's place too well.
If you're going to place a large and heavy rug on top, then you don't have to worry about the rug moving out of place or slippery accidents.
This is one of the best rug pad materials you can buy.
3. Rubber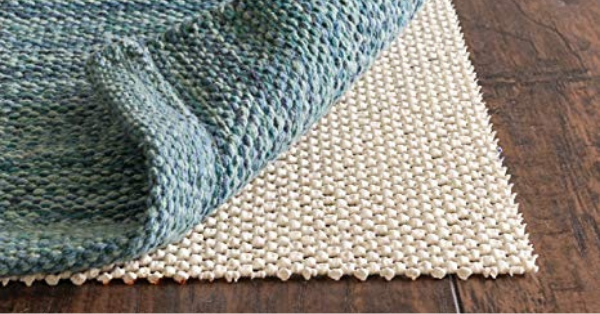 Pros: They tend to be thin and sticky, which allows to keep any rug at place. It is also pretty cheap.
Cons: They provide very little comfort and insulation.
Contrary to felt pads, rubber pads work great with small rugs that move easily out of place.
This is your go-to if you have a small rug, if not, I would rather go for another material.
4. Felt-Rubber Combo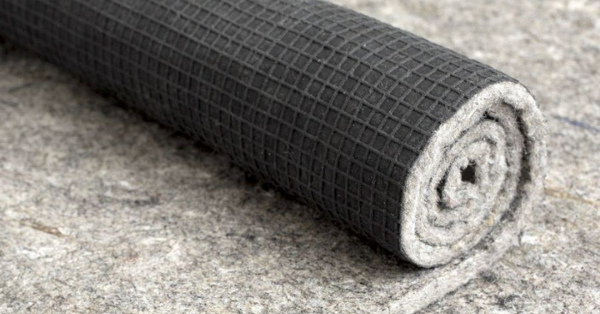 As you may deduct form the name, this type of material combines the qualities of both felt and rubber.
There's no pros or cons here. They are made with felt on top which will prevent the rug from abrasions, and rubber on the bottom to keep the rug in place.
Anyone who has a decent quality rug should go for this option.
5. Polyester and Vinyl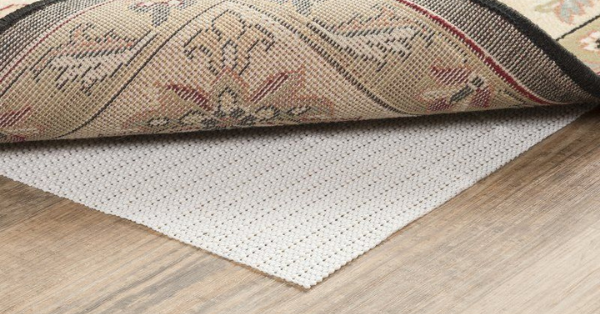 This two work well if you're going to place the rug on a carpet, to prevent it from bunching and damaging the carpet.
The most common natural rug pad materials are recycled felt and natural rubber. But you can also find some made of wool (great option for those allergic to latex!). What you can be sure of is that they won't harm your rugs and floors.
– Size
Depending on the size of the rug, you'll need to determine 2 things: the size of the rug pad and the type of rug pad!
Here's what the sizes should be generally speaking, depending on the size of the rug:
– Small rugs (3×5 and smaller): you'll need a thin, nonskid rug pad. Rubber would be a great choice as it will prevent slippery accidents.
[amazon link="B007T58N6M" title="RUGPADUSA, Nature's Grip"/]
[amazon box="B007T58N6M"]
– Medium rugs: here a blended material, such as a felt and rubber combo, will work best as it can still be a bit slippery if you don't have a heavy furniture on top pressing it.
[amazon link="B01HN805U6″ title="RUGPADUSA, Contour Lock"/]
[amazon box="B01HN805U6″]
– Large rugs (8×10 and larger): in this case you don't need a non-slippery rug pad. You can go for a felt pad to protect the floor and provide more comfort.
[amazon link="B007T58N6M" title="Mohawk Home Dual Surface Felt and Latex"/]
[amazon box="B007T58N6M"]
– Thickness
This combination can be a bit tricky. Thick rug with a thin pad, or viceversa?
The thicker the pad, the more comfortable it's going to be. But that doesn't mean you should always go for the thicker one!
It may seem an irrelevant decision but it can truly affect its performance, safety and functionality.
– Thin rug: you should pair it with a felt-rubber combo pad and the thickness, well, you shouldn't go for a very thick one as you don't want it to be seen and get more attention that the rug itself. Try not to go further than 1/8" or ¼" thick. Also think about where the rug is placed. If it's near a door that needs to open with the rug underneath, it can be to thick or the door won't open correctly without dragging the rug.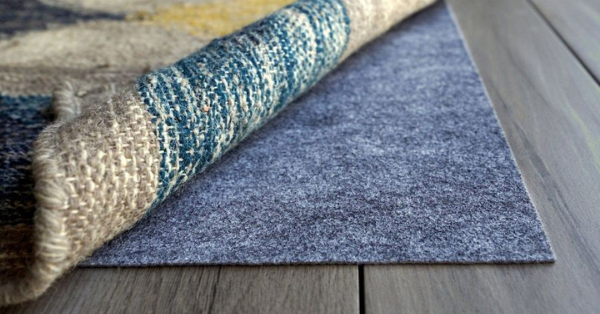 – Thick rug: if you have a thick rug, such as an oriental rug, you'll want to protect it with a thick rug pad but not too thick as it could lead to tripping hazards. Pads with ¼" or 3/8" thickness work pretty well.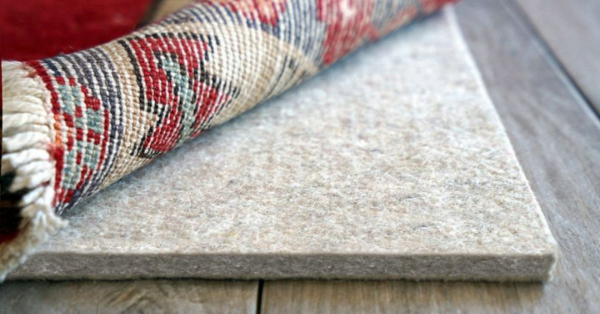 – Flooring
We've already mention it when talking about rug pad materials but this is another thing you should have in mind: the rug pad compatibility with your floor.
As you already know, some materials can be harmful and damage your floors. The best way to go and be safe is to avoid any type of plastics and adhesives, which will definitely leave stains.
– Hardwood floors: here you should always try to go for natural options such as natural rubber and felt. This will be the only way to avoid 100% damaging your floors.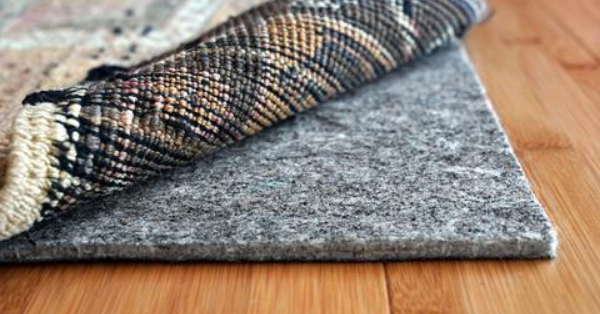 – Laminate and vinyl floors: they don't work well with synthetic materials, such as PVC.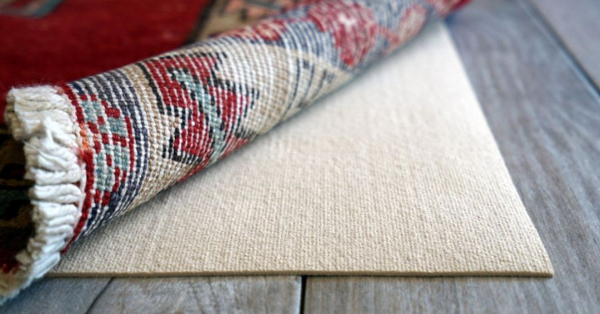 – Carpets: there are specific rug pads for this situation. Don't go for any type of rug pad, as it can wear out your carpet in no time. Especially rubber.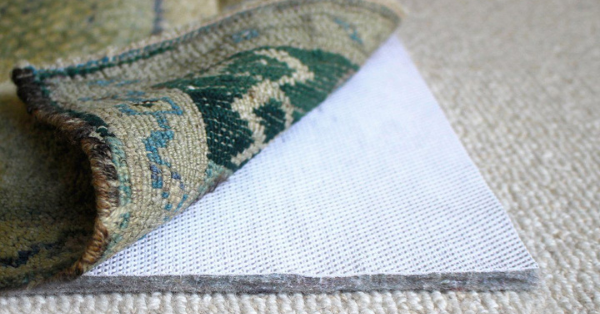 – Function
Now that you may have it all narrowed down and have your best option based an all the above characteristics, the last thing you should think about is the use the room you're going to place the rug pad has.
For example,
– If you have neighbours downstairs and there's going to be a lot of traffic there, you should make sure it is a soundproofing rug pad.
– If you're going to place it somewhere prone to spills, such as the kitchen, dining room or bathroom, look for a waterproof rug pad. You won't regret it!
Conclusion
Rug pads can be an investment. But trust me, it will be money well spent if you choose wisely!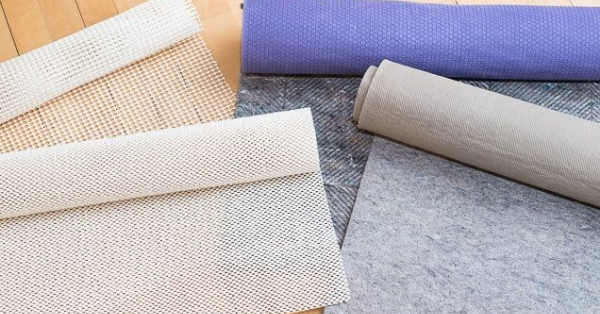 They will prolong the useful life of your rug so much you'll get tired of it before having to replace it. Your floors will also look brand new if you move a rug to another place. You won't have to worry about scratches, spills, etc.
And last but not least, think of all the times you have tripped and slipped because a rug was badly placed… well no more accidents like that!