More than 50% of households in the US have a pet as a part of their family.
Now, even though you love your pet, you may feel like you're constantly cleaning what they mess up instead of enjoying having them around.
Rugs and pets don't seem to get along very well. It seems like they're an impossible combination to have. And you're always bound to choose between having a beautiful rug or a pet with dirty rugs…
Well, I'm telling you, you can have both. You just have to buy the right rug with the right material and characteristics. You don't have to give up having a pet nor having a gorgeous rug at home.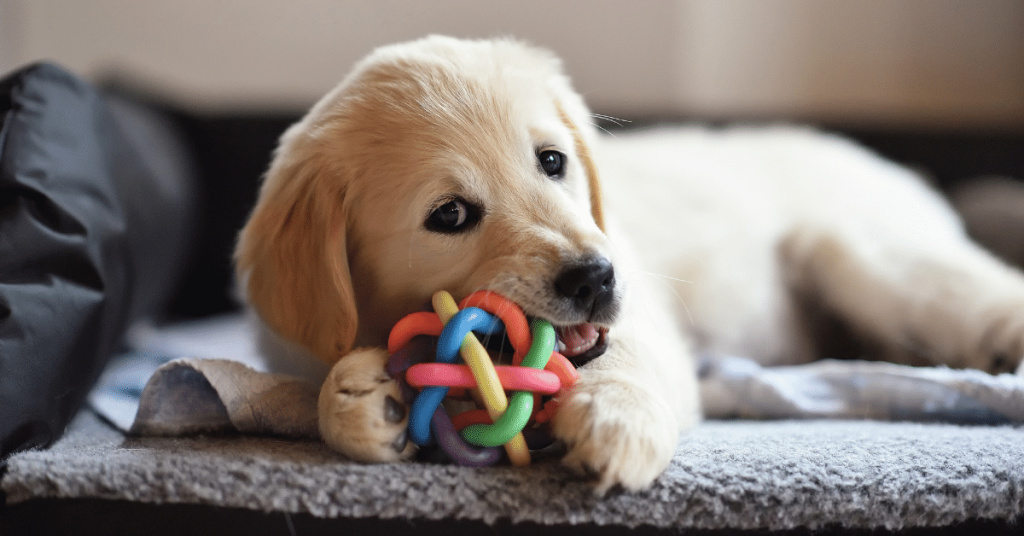 Don't let the fear of pet stains, hair and bad odors kill the mood. Pick the best pet friendly rug of all with this guide!
How dogs and pets can harm your rugs
Pets, especially dogs, can really put your rugs to the test. Here are some situations that usually happen when having pets at home:
– They trap all the dirt, and dust from outside and spread it all around the house with their paws.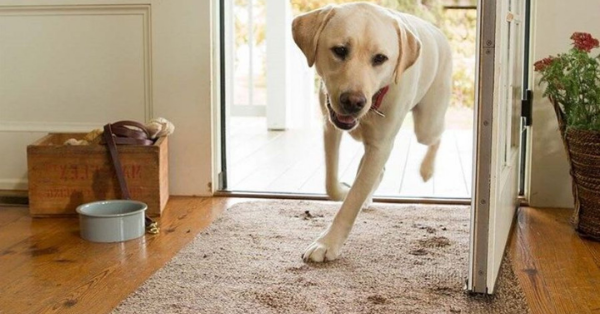 – Pets, especially dogs, love chewing rugs and tugging all the loose threads. This can lead to an unraveled mess (you can end up with a rotten rug) and a health problem (if your dog ends up swallowing the threads!).
– If you have a cat, look out especially for scratches.
– Furry pets are adorable but also very dirty… they tend to shed a lot. And it gets everywhere!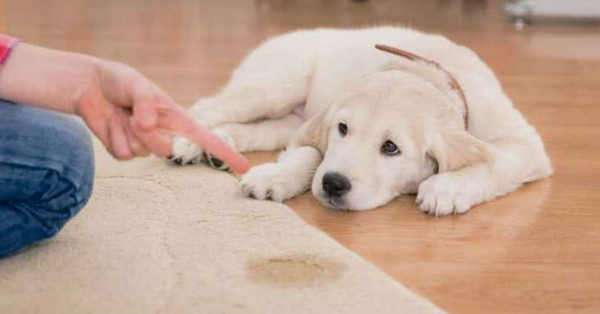 – If not trained, your pet will pee and poop on your rug. Believe me, they love it! It's like the best place ever to do their need. So get going on that potty training lessons! If not, prepare for bad odors and urine stains that won't easily go away.
– Pets can vomit everything they eat and cough up bile which will probably discolor your rugs and add more bad smells to your rug.
– Pets odors attract fleas. And these will lay their eggs wherever they smell it…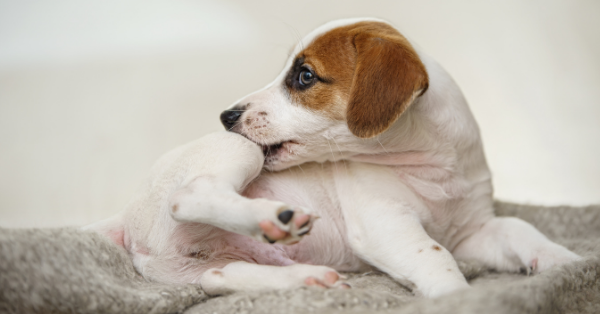 Nothing sounds too hygienic right? Well, there are many ways to prevent all these from happening. But the most effective one is choosing the best pet-friendly rug for home.
So let's get to it!
Best pet friendly rug materials
The first thing you need to have in mind when choosing a dog rug or pet friendly rug is the material from which its made of.
The material of your rug will determine how easy to clean it will be and how well it will resist your pet paws, stains and all we talked about before.
The 2 qualities that any pet-friendly rug should have are durability and stain resistant.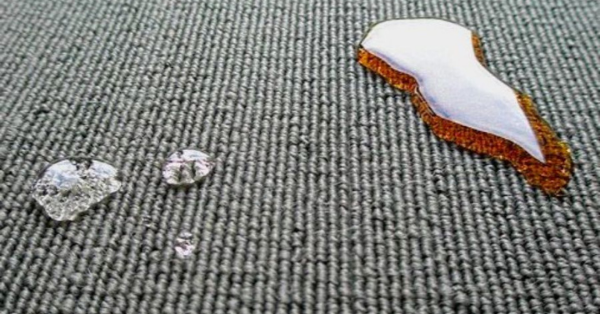 When talking about the most preferable materials for pet friendly rugs, there are two schools of thought: the synthetic and the natural. We'll be talking a bit about both and the different options inside each group, si you have all the information you need to decide which one to go for.
Synthetic Rugs
They are a great choice for anyone that has a pet. Inside this category, you can find: acrylic, polyester, nylon, olefin, and polypropylene.
I recommend you choose one of these if you have a pet which isn't trained and will pee and poop everywhere, or if it likes to chew everything it sees on its way.
– Nylon rugs (or nylon-blended)
They are one of the most durable and stain-resistant rugs, so clearly a great choice for pet owners.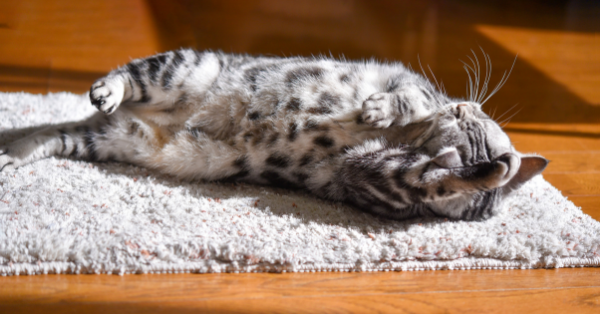 – Polypropylene and olefin rugs
These materials are also highly durable and stain-resistant. But they won't work well with oil-based stains. They are a very popular option as they are very easy to clean (just grab soap and water and scrub!), and extremely affordable compared to other materials.
Polypropylene is also non-absorbant, so that's a plus!
Natural Fiber Rugs
Natural rugs may look more delicate but what people don't know is that they are good pet-friendly rugs.
You have sisal, jute, seagrass and hemp rugs to choose from.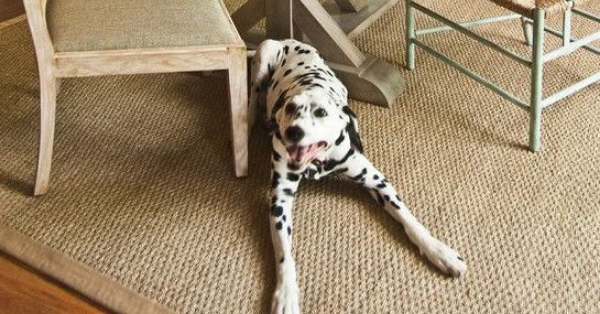 They should be easy to clean as they catch all the dirt and dust from the paws. The downside is they show liquid stains and they're quite impossible to remove. not to talk about the urine odor they absorb…
So I only recommend buying natural fiber rugs if you have a well-trained pet and you'll make sure they don't try to chew it or scratch it. As they shed a lot, it could cause health problems on your pet if you're not careful enough.
Other materials
– Wool and tufted rugs
These types of rugs are very easy to clean and vacuum, but you must be fast when cleaning spills and stains… they can get deep into the wool and ruin it.
Wool rugs can be a bit pricey if you're going to let your pets walk all over…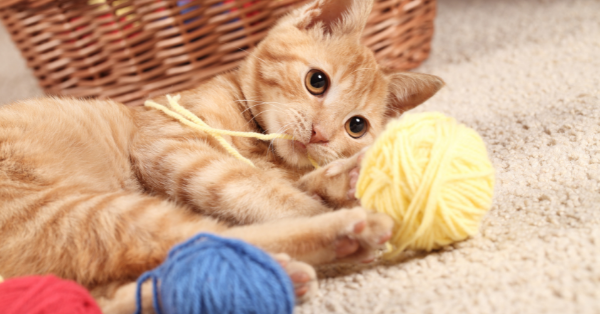 Cowhide rugs
You may not know this… but cowhide rugs repel pet hair! And their also long-lasting! What more are you looking for? I would say this is one of the best options for a pet friendly rug… you just need to be into this style.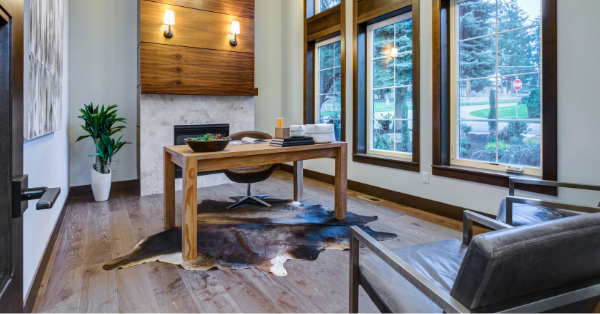 – Dhurrie rugs (woven cotton)
Also known as horse blankets, they are flat weave and hand woven and they've been traditionally used alongside animals. They are light-weight, easy to move around, and best of all, you can hand wash them.
They are another great option to go for if you prefer a more traditional style.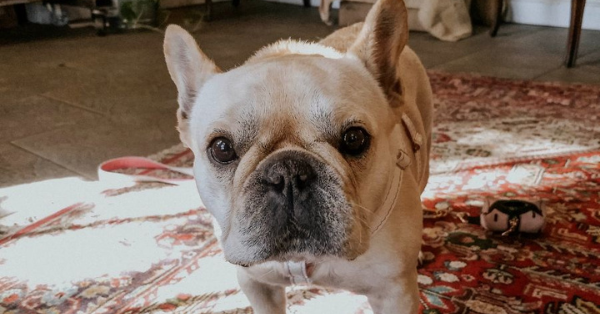 – Sheepskin and cotton rugs
Your pet will love to sleep on it. It will attract more pet hair than others but they're easy to clean with a vacuum. They are also very stain resistant but not that durable… they're perfect to place on the sides of your bed.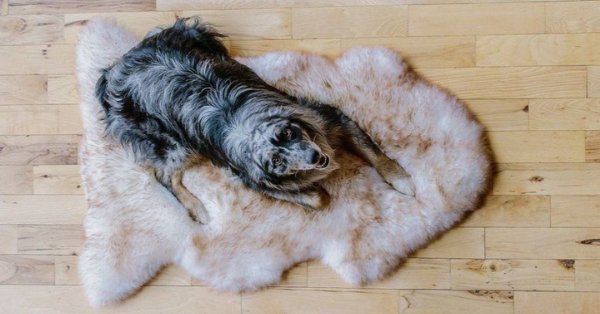 Other factors to have in mind
Once you have the rug material chosen, there are other things you should keep in mind regarding the style of the rug.
1. Color: try to coordinate with your pet's fur color
In most cases, it'll be best to go for a dark-colored rug if you want stains and fur not to show that much. Light colors will show the dirt and stains much more.
But most importantly, you should take into account your pet's color, to avoid freaking out about all the hair and fur falling off. So if you have a white fur dog, don't buy a darl colored rug.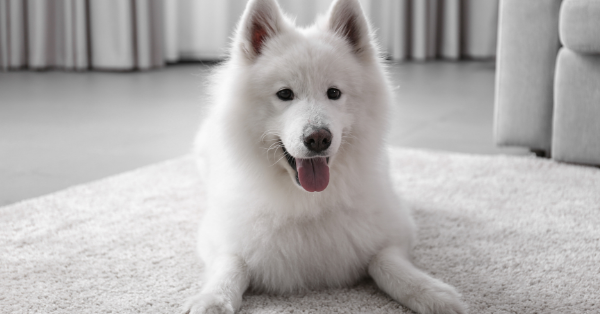 2. Go for traditional patterned rugs
The pattern will also affect the way your floor looks. A patterned rug will hide pet stains better than solid or plain colored rugs. That being said, traditional rugs will work miracles!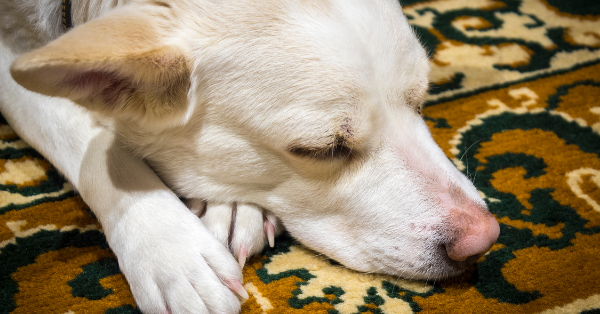 3. Avoid fringe, tassels and loose threads
Fringe, tassels and loose threads are the best attraction for your pet. They are the perfect thing to chew and scratch. But also a great problem, as it could cause health issues to your pet if they swallow any of the threads or get their nails caught up in the loops.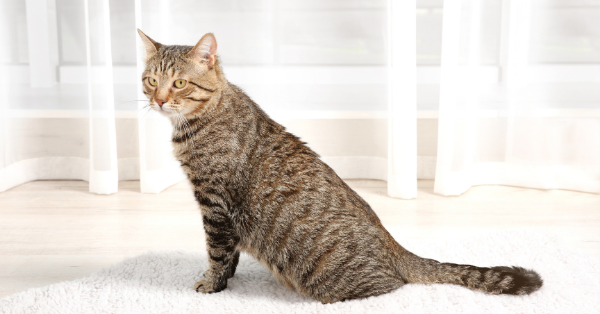 4. Smaller sizes work best!
This factor will be determined by your room size and, of course, your budget. But when having pets at home, small rug sizes work better. They are easier to move, roll, clean, etc. And cheaper to replace also if necessary!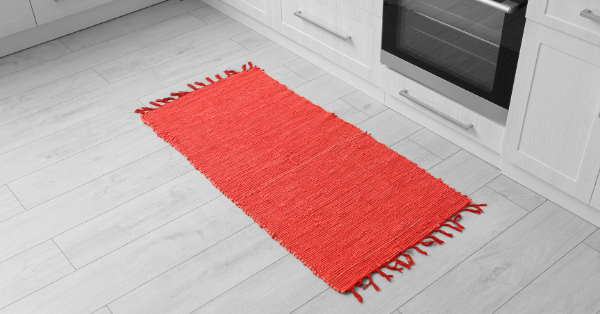 5. Pile
In case you don't know what the pile of a rug is, it is the number of threads used to make the rug. And it can be made using different methods. The 2 most common are loop and cut.
With a loop pile, you'll have a wonderful rug to walk on but it'll be easier to get it caught up in your pet's claws. Not to say, how hard will be to clean them, as they trap all the dirt and dust easier than other rug materials. That's why, when having pets, cut low pile rugs are the only answer.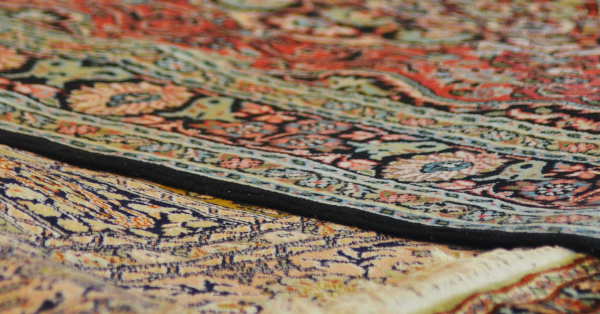 Overall, a pet friendly rug should have the following characteristics: low pile and no loops, flatweave, tightly woven, small size, small traditional patterns, and colors according to your pet's fur.
Conclusion
I know you love your dog or your cat. Pets are great to have. They cheer up the place with their company. But they can be a lot of work too, especially when having rugs or carpets around the house.
Is seems like pets are attracted by them and they go there to make their needs. But don't worry, there are two things you can do to prevent this type of "disaster" from happening…
1. A pet well trained will mean less time to clean up after it. That's for sure. Investing in a potty training course can be a life-saver. You won't feel like you've thrown your money away!
2. Choosing the right rug for the right place. The best combo when choosing it is the following: it has to be stylish and go with your home decor, easy to clean, and pet friendly. This last one may seem a bit vague but the thing is… if your pet hates the rug, they will definitely try to tear it down. So better if they love it!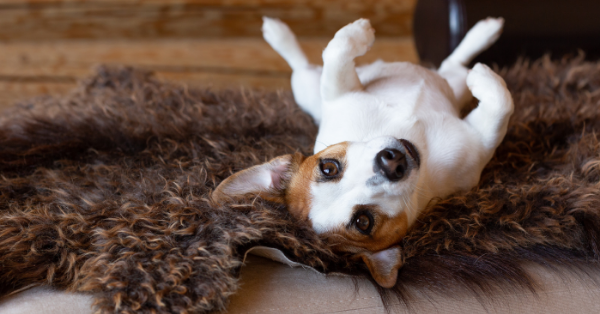 Now you're ready to pick the best pet friendly rug for your home and start enjoying without having to worry about it!
This way you'll have a home full of pet stain, hair and, odor-free rugs! Enjoy it!