Natural fiber rugs are great to have. They can take your home decor to another level. And that's why they have become a common go-to favourite nowadays.
They add lots of texture and can have beautiful colors. But their natural tan color is what makes them go with almost anything!
There are lots of reasons why you should go for a natural fiber rug at home. But there are also some drawbacks you need to take into account when choosing a natural fiber rug.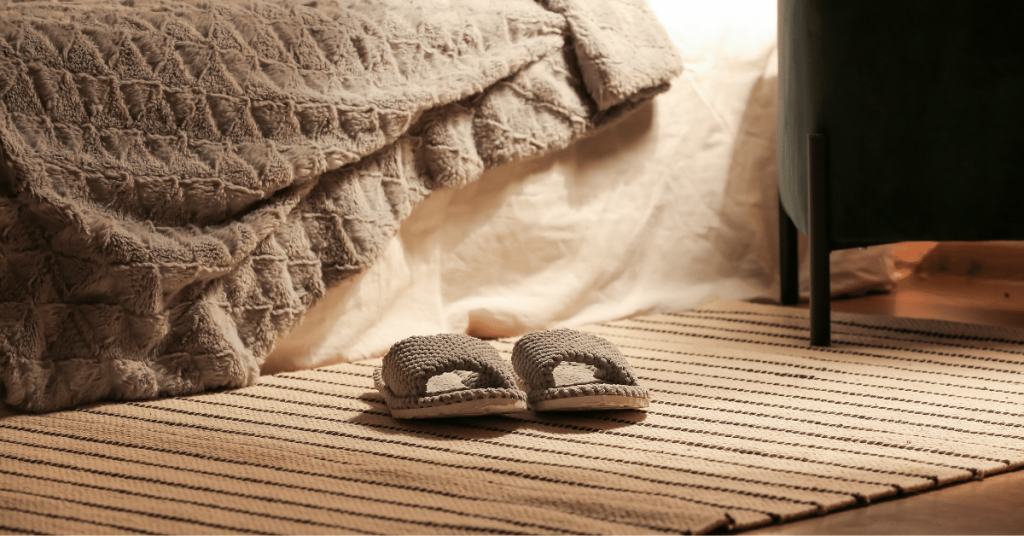 As you already know, natural fiber rugs are made from plant fibers. The four most common types are jute, seagrass, sisal and hemp. And even though they share many similarities, there are also some differences that need to be taken into consideration when choosing one of them.
Jute may be more suitable for low-traffic areas while seagrass rugs are great with high-traffic but are more expensive. This type of characteristics is what you'll find here to help you decide which one fits best for you!
Determine your rug needs
When buying a rug, or more generally speaking, when decorating a house, you need to determine first what your needs are and what will be the use you'll give to each of the rooms you have.
The one factor that matters the most when choosing the best rug is the traffic that area will have.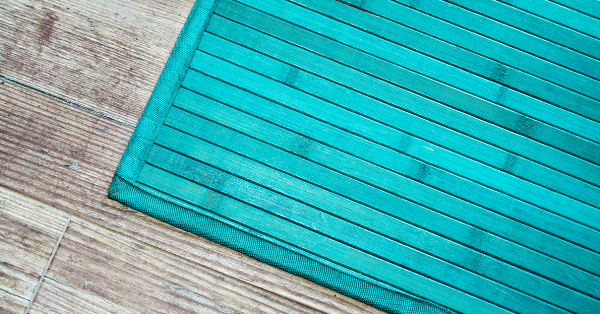 That is because some rugs are more durable than others and the resistance of the material will make a huge difference. Choosing the right rug will determine having a beautiful, brand new looking rug after a long time or having to throw it away because it looks all worn out.
To make it easier for you will classify all the room you can have at a house based on the traffic: high, medium and low.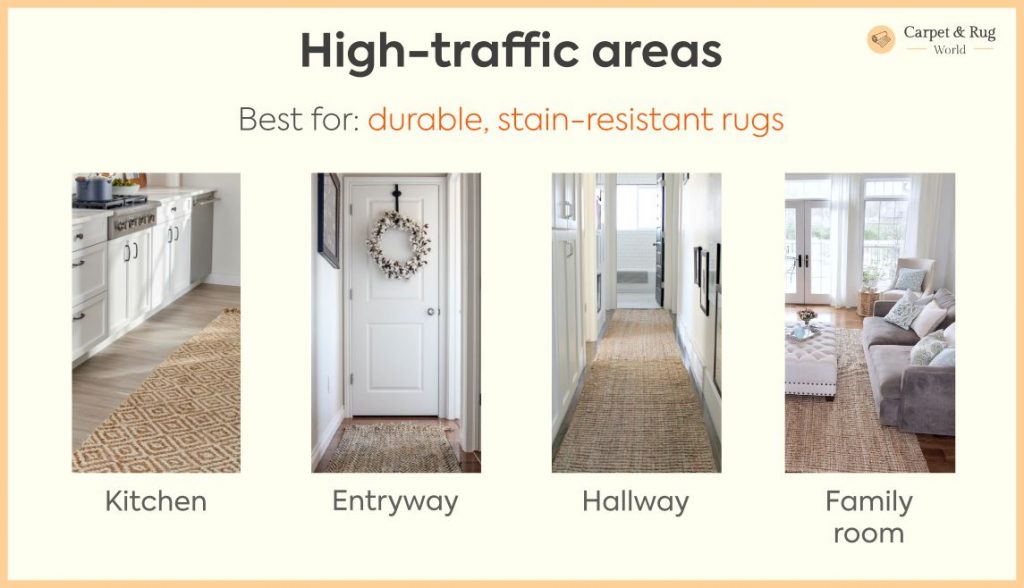 – High-traffic areas: hallways, entryways, kitchen, family room. The best rugs for this kind of spaces are durable and stain-resistant ones.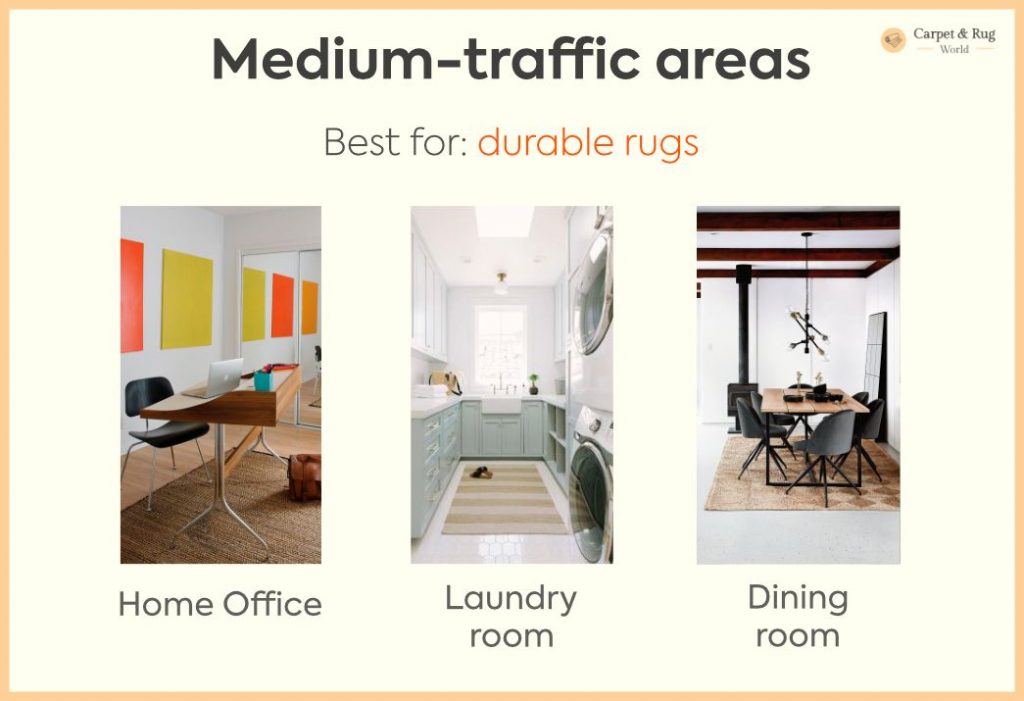 – Medium-traffic areas: home offices, laundry rooms and dining rooms are the type of areas where there can be some traffic but aren't the main rooms where people will spend their time at home.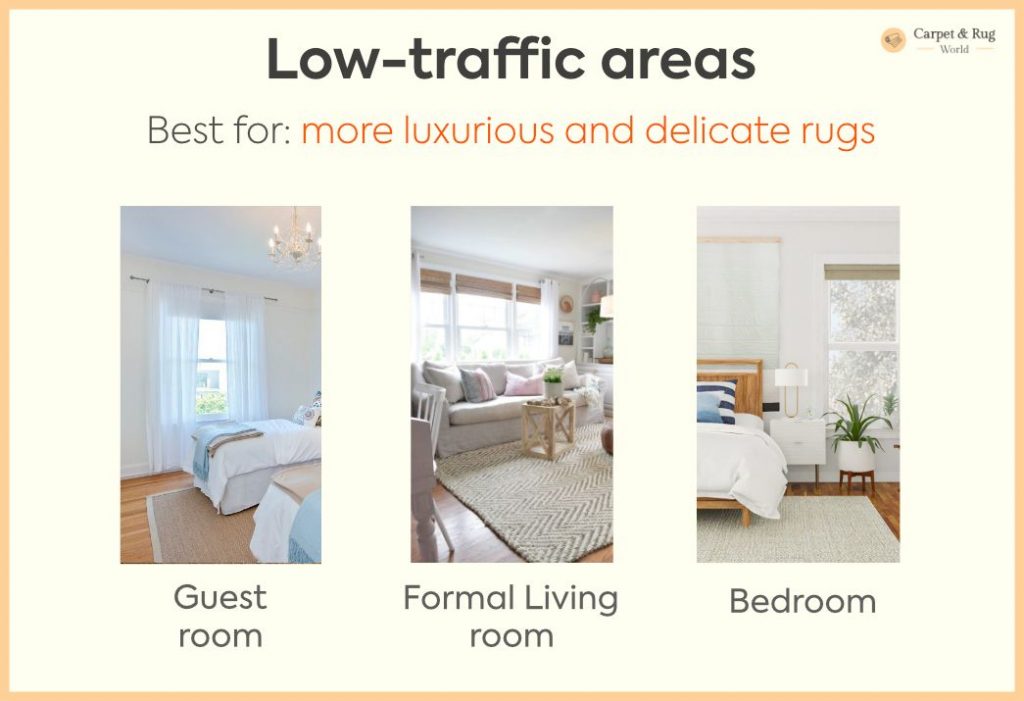 – Low-traffic areas: think of guest rooms, a formal living room and the bedrooms. Rugs in these rooms will get less use, and therefore, are less prone to tearing and wearing out. Don't be afraid to go for a more luxurious type of rug material such as leather or silk.
Once you have it all clear, it's time to search for the best rug out there
5 reasons to have a Natural Fiber Rug
There are many reasons why you'll love having a natural fiber rug at home. I'm sure you already know the good stuff but just to make it more attractive to you let's talk about the 5 main reasons why you should totally have one!
1. PRICE: they can certainly be less expensive than other types of rug material without having to give up on quality or price. You can find considerable big rugs (i.e. 8×10) for less than $150! There are some great prices at Rug USA, Overstock and Amazon.
2. DECOR: due to their neutral color they go with almost any decor style and they're easy to match with any other colors and patterns! And they will definitely provide texture and warmth to your home.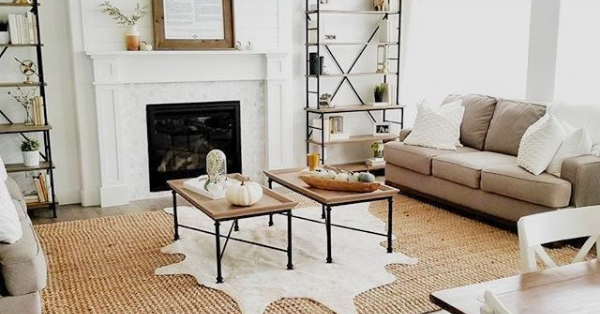 3. DURABILITY: natural fiber rugs are widely known to be quite long-lasting if placed correctly at home. And depending on the type, they can also be stain-repellent!
4. KID AND PET-FRIENDLY: kids and pets cause lots of accidents and move around a lot. That's why natural rug fibers are a great option for a kid's room, as they can be pretty durable and soft to be in. Not to mention all the stains you'll avoid cleaning!
5. ECO-FRIENDLY: as their made from natural plant fibers, they are biodegradable and recyclable!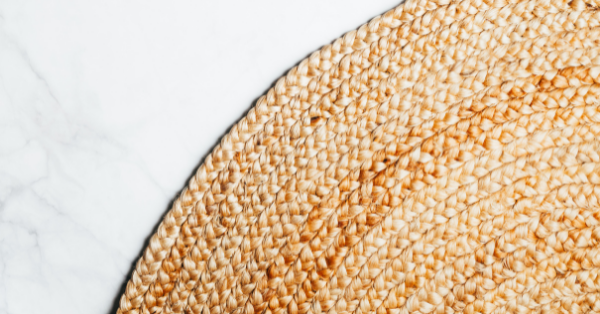 Jute Rugs
Jute rugs come from plant stem fibers that grow in warm and humid places such as Bangladesh and India.
Jute is a smooth and shiny fiber with a natural bown hue, wich makes it the softest choice to walk on. It can also be dyed with lots of colors.
If you want an even softer jute rug, look out for one that is made from a blend between jute and chenille. This type of rugs are perfect for a kids' room!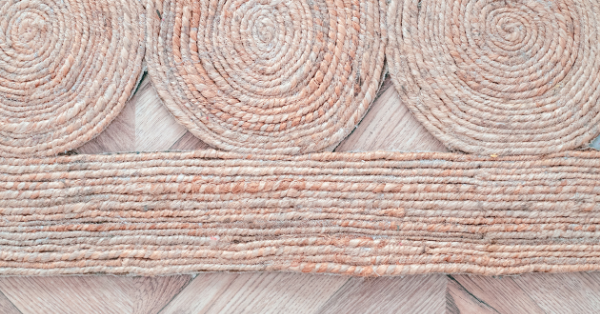 If you want to learn more about jute rugs and how to clean them you have the following articles:
– All you need to know before buying a jute rug
– Clean jute rug with baking soda
Pros and cons
I would say the 4 main characteristics of jute rugs are the following:
– Budget friendly
– Imperfect texture
– Least durable
– Very soft
Pros: is has a perfectly imperfect texture that adds that free-style look to any room and stains aren't as easy to see as in other types of rugs. It can be found in a great variety of colors or blended with other rug materials such as cotton. It is so soft, it almost resembles wool. It is the most affordable natural fiber rug option.
Cons: the softer the weaker. This means it is the less durable option of all the natural fiber rug types. They also tend to shed a bit when they're brand new. It also unravels easily. Color and texture will also be different from rug to rug. So for some, this may be a pro thing as this means each jute rug is more unique.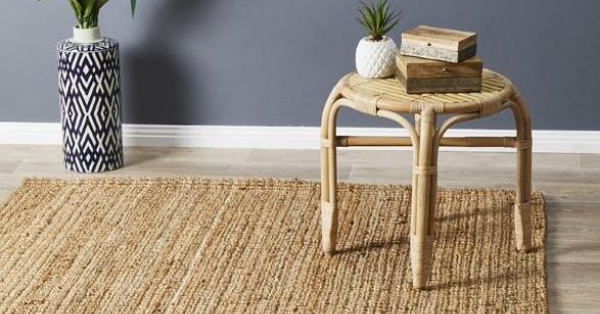 What are Jute Rugs best for?
Due to it's softness, and therefore, less durability, it is best to use them in medium to low-traffic areas: such as a home office, guest room, a formal living room, the laundry room or your bedroom.
Sisal Rugs
When talking about sisal rugs, durability is the first thing to have in mind. This is because the fibers of this plant are the toughest of all.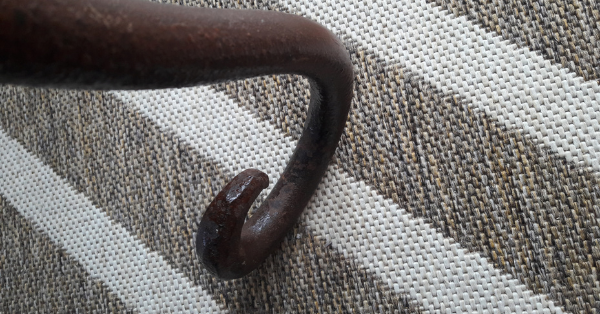 They are made from a plant called agave, which is native to Mexico, Brazil and Africa.
Just like jute, the can be dyed but its original colors come in a range of neutral brownish hues.
Pros and cons
The 5 main characteristics of sisal rugs are the following:
– Most durable
– Less comfortable to walk on.
– More pricy
– Stains easily
– Slippery
Pros: due to the toughness of its fibers, it is the most durable of all natural fiber rugs. They can still look great after pet-scratching! You can find it in a great variety of colors also.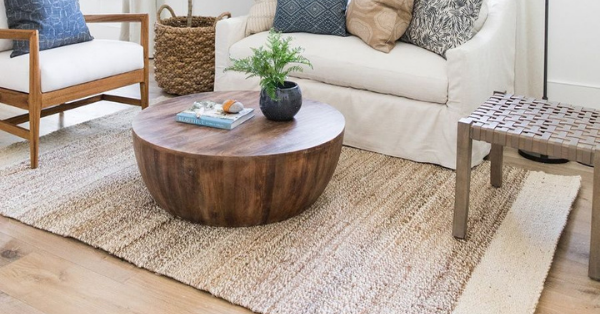 Cons: what is a pro it's also a con… tough fibers means less comfortable to walk on. It is also a very absorbent fiber so stains and odors can be tricky to get out. Water can also leave stains on it! And with time and use it tends to become a bit slippery, so avoid placing sisal rugs on stairs. This kind of material can also be a bit pricy.
What are Sisal Rugs Best for?
Due to its tough fibers, high-traffic areas are the best option to place them. The entry, hallways and family rooms are great areas to place them. But try to avoid food spill on them… you won't be able to get them out 100%.
Seagrass Rugs
Seagrass is a very fast-growing marine plan native from the Asia-Pacifi region.
They are very similar to sisal rugs but the main difference is that they are stain-resistant! That's due to a natural wax that they have and it is why they are the most expensive from all natural fiber rugs.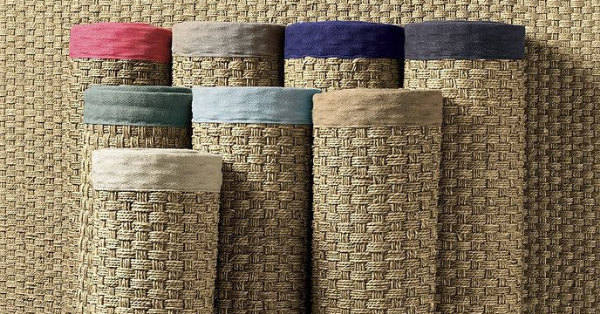 Seagrass fibers are also very durable and have a coarse texture. They start with a light-green shimmer and end off with a khaki color. It is usually blended with cotton or leather and are usually backed with latex. That is why they don't move from where you place them.
They are usually made with a colored border that makes them stand out in the room.
Pros and cons
These are the main characteristics of seagrass rugs:
– Most expensive
– Most durable
– Limited color options
– Stain-resistant
– Non-slippery
Pros: it's durable and most of all, stain-resistant and they repel water! It's also great for stairs as they usually have latex backing, which makes them non-slippery. It's a bit hard but feel softer than sisal rugs when walking on top of it. It is also an eco-friendly choice as it is very easy and fast to harvest.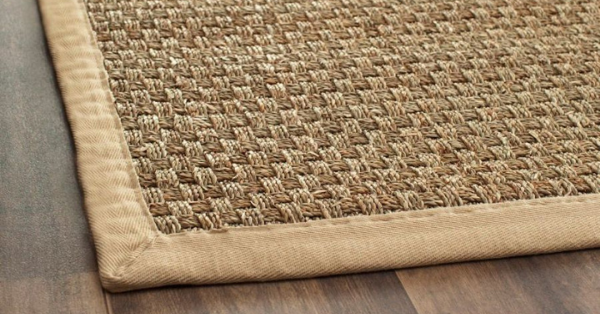 Cons: it is a complete no-no placing them outside. And there aren't that many colors available as it doesn't dye well. It's the only natural fiber rug that's not reversible due to the latex backing.
What are Seagrass Rugs Best for?
Seagrass rugs are great for any type of traffic and place! Well, everywhere except outdoors. They are very practical in all those areas where water can get spilled easily such as kitchens and bathrooms.
Hemp Rugs
Hemp may be the least known of all natural fiber rugs but it has been used for more than a thousand years. You might have bought it without knowing it was hemp.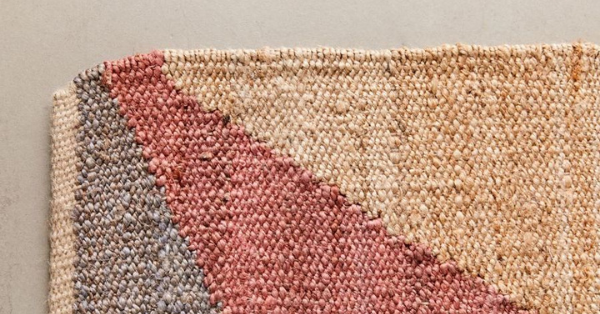 It comes from hemp grass and it is also called mountain grass. Due to its fast production, it can be very affordable.
It is as durable as seagrass, and also has a brown hue.
Pros and cons
Pros: it's starting to be recognised as one of the most sustainable natural fibers, even more than cotton! It is mold and mildew resistant, and incredibly soft yet strong at the same time! It will soften with use. It is also less prone to dirt sticking onto it.
Cons: hemp rugs shed easily and require lots of vacuuming and spot cleaning.
What are Hemp Rugs best for?
It is great for high-traffic areas. This material easily absorbs sound so it will reduce the noise noticibly.
They also work great outside as they are very resistant to mold and mildew.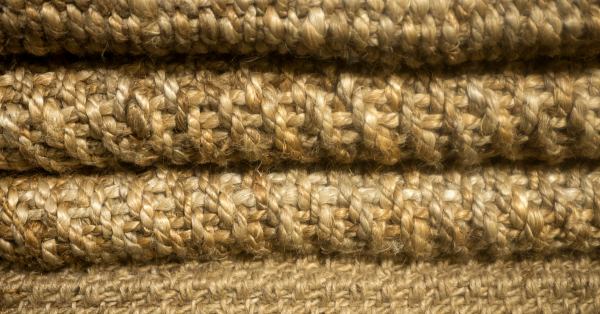 9 tips for better-looking natural fiber carpets
Here are some maintenance and cleaning tips for your jute rug to last longer:
– Vacuum regularly with a strong brush suction. And don't ever use the beater bar!
– To avoid shedding at the beggining, don't use the rolling brush when vacuuming!
– Blot spills right after they happen.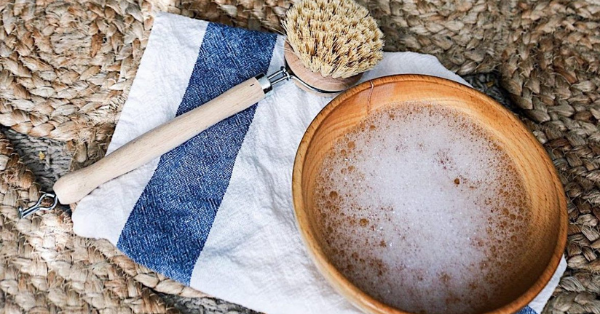 – If they get too dry, you can damp them little bit to add a bit of moisture to it. This will definitely help with bubbling and loosness, as they tend to tight up once they're dry.
– An excess of moisture can damage completely your sisal rug, so avoid any type of steam or wet cleaning method.
– You can also use a sisal fabric protector to decrease the rugs capacity to absorb. It will also help lengthen the time between cleanings! So it's a real time saver!
[amazon link="B0087DVL8C" title="ForceField Fabric Protector"/]
[amazon box="B0087DVL8C"]
– If a specific area is curled, use a damp cloth to apply moisture to the area and place a heavy object on top an leave it overnight. Repeat the process as many times as you need.
– Cut the loose fibers without pulling! That way you'll prevent your natural fiber rug from tearing apart.
– Make sure the rug gets an even amount of sunlight all over it. If you can't, then rotate the rug so that it get sun on all areas. This will prevent color fading.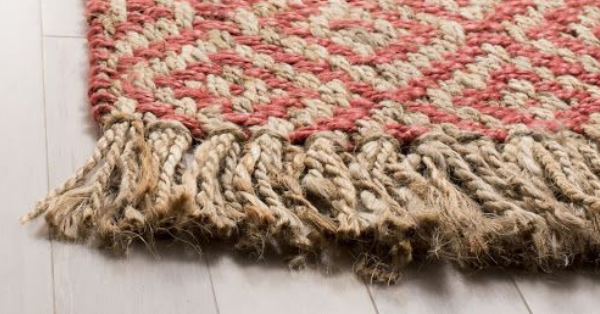 Now, if you want to deepen your knowledge in how to clean jute rugs, here's a post just for you!
Conclusion
You've seen all the great things natural fiber rugs can offer. From their durability to a large range of colors you can find. They are amazingly versatile and the add a neutral foundation for any home decor you may want to do.
So one thing's for sure… you won't go wrong buying a natural fiber rug.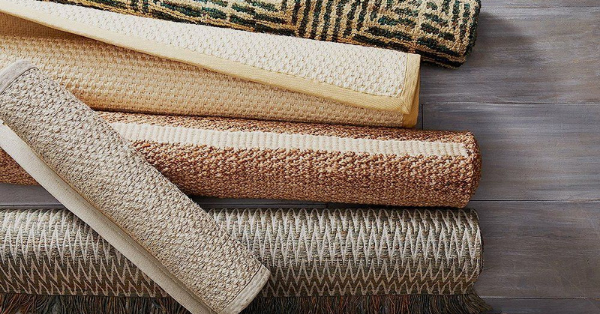 That's right! You won't regret it.
Here we helped offering all the information you need to make the right choice. Now it's your turn to decide! Which type of natural riber rug will you go for?