If you are someone who is building a new home in 2021 or just trying to revamp your old place, you must know that choosing your kitchen floor is a hard decision. The kitchen is undoubtedly the heart of the home, and as suspected, it undergoes the most wear and tear. Whether it is spills, stains, hot liquids, or just random running around, the kitchen floor endures it all.
Keeping all of that in mind, the kitchen floor must be extremely durable and waterproof. It must be according to your overall theme, like contemporary, farmhouse, coastal or vintage, etc. and it must match your color selection of the room. With advanced new technology, you can make artificial materials look original and natural, as well as get new benefits like waterproofing and non-slip material.
The main kitchen floor qualities trending are minimalistic, practical, and environment-friendly. When choosing a kitchen floor, you must keep in mind that it must be durable and waterproof, as well as modern and trendy.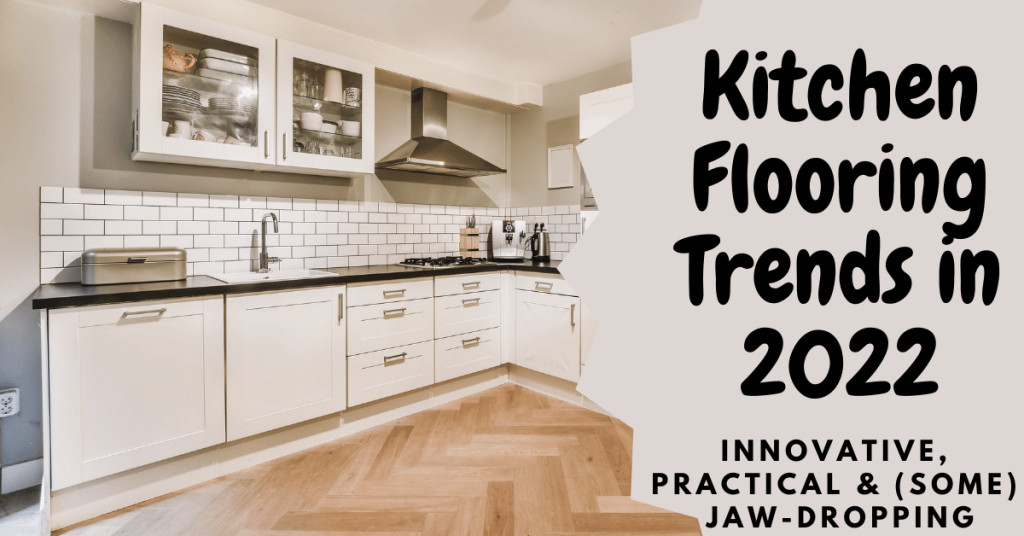 These are the top trends that are hot in the market right now, including everything from the material to the color schemes of the floor:
1. Eco-friendly:
For many years, humans have taken the environment for granted and chosen their comfort over everything else. But as the price for that is becoming clear, people are becoming aware and choosing environment-friendly options for everything, and this includes kitchen floors.
People are asking for eco-friendly options which come in many varieties now. Some top varieties include engineered boards, ceramic tiles, and laminates. Natural ingredients are so hot right now, with little or no desire for artificial products. Fortunately, in this category the options are endless.
2. Waterproof Vinyl:
Vinyl is one of the most used materials in kitchen floors and bathrooms in recent years. This is because these are water-prone areas and vinyl is a 100% waterproof option. It is softer than tiles but gives you the desired look because they come in different patterns and colors.
Waterproof Vinyl can come in the form of planks and tiles. There are two options available in the market:
WPC Vinyl (Wood Plastic Composite)
SPC Vinyl (Stone Plastic Composite)
There is not much difference between these two options but structurally SPC Vinyl is more rigid than WPC Vinyl. Both of their use has been growing in the past few years, and they won't be running out of fashion anytime soon.
3. Vinyl Sheets:
Apart from Vinyl tiles and planks, [amazon link="B07RJ495DQ" title="vinyl sheets"/] are also available in the market. These have been the hottest trend among people who are renting an apartment and want something temporary.
[amazon box="B07RJ495DQ"]
Vinyl sheets are not very expensive and are easy to install. You can easily do it yourself at home: all you have to do is spread it out in your kitchen. They come in beautiful patterns and textures, often mimicking natural materials like wood and stone. It is probably the most cost-effective option that does not look cheap at all.
4. Tiles:
Tiles have been around for decades, and they are not going anywhere any time soon. With many new materials coming out in the market, many people still tend to go for tiles. Nowadays tiles are available in a vast variety of looks and patterns, and it is safe to say that they look very realistic.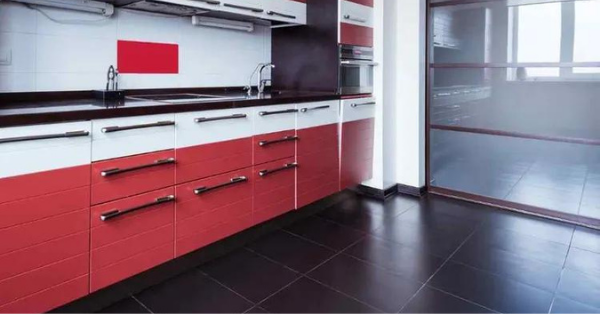 Some of them are described below:
Wood-look tiles:
Instead of going for wood, wood-look tiles are more in trend because they are low maintenance but still retain the beauty that wood has on the look of the room. They look realistic, are durable, 100% waterproof, and low maintenance. What more do you need?
Wood-look tiles come in different patterns and colors including white-washed wood and blonde wood. Some of the most sought after finishing of wood looks are:
Hand-scraped wood
Wire brushed wood
Distressed wood
Marble-look tiles:
These look amazing (I cannot stress this enough) and are so realistic you would hardly be able to tell the difference yourself. Marble tiles come in different patterns and colors, from beautiful swirls to the classic black and white pattern. They will immediately give your kitchen a contemporary and expensive look.
Terracotta Tiles:
Terracotta translates to "baked earth" which depicts how this material is made. When you hear this word, you probably think about terracotta pots and become confused about how they can be made into tiles. Well, terracotta tiles are all in right now and once you see the finished look, you will fall in love.
5. Engineered Wood Flooring:
For people who love the look of original wood, engineered wood flooring is the best option. It is less expensive than solid hardwood and offers 100% water resistance. You can even install this yourself after watching a video or two.
Engineered wood has a thin top layer of solid wood, which gives it its beauty. Underneath, there are layers of artificial materials, either plywood or fiberboard, which are arranged in alternating directions to give it its durability. It is available in different looks and you will not be able to distinguish it from real wood.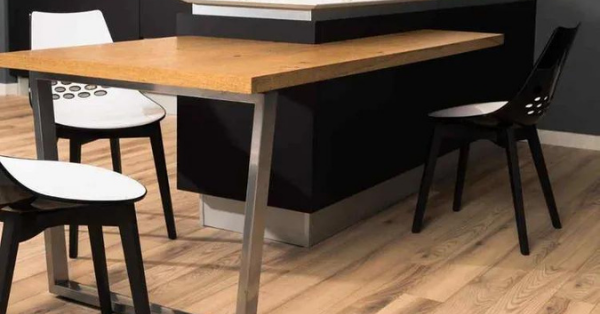 MAKE YOUR ROOM APPEAR LARGER
USE LARGER PLANKS
Using larger and wider planks will make your room appear larger than it is.
6. White and Gray tones:
White and gray tones have been hitting the market in recent years and will be a super-hot trend in 2021 and many years to come.
White is becoming more and more popular due to the neutral and minimalistic look. Everything from white tiles to whitewashed woods to white marble is used in the latest homes. White also offers a variety of options that go along with it since there is probably nothing that looks bad with white.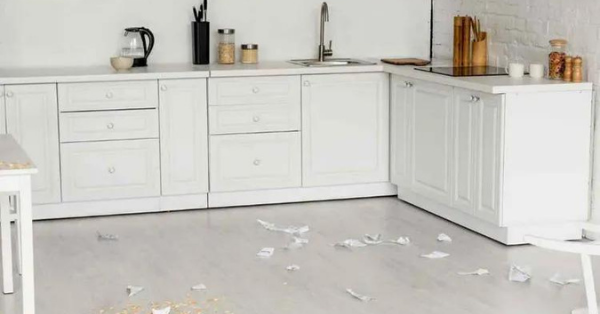 Gray is another color that is in fashion right now. Gray color offers a neutral backdrop so there are numerous décor options with gray. You can play with bold colors over a gray floor and it will look amazing. It is also easier to clean that white floors.
7. Patterns:
Patterns look pretty, and they give your space a unique touch. Patterned tiles or vinyl are easily available, and they are preferred over solid colors. Another unique trend is to buy tiles without patterns and arrange them uniquely. This way the pattern does not come from the tiles themselves but from how they are laid out.
Two common patterns that are in trend right now are Chevron and Herringbone:
Chevron:
Chevron pattern means tiles are arranged in an angled manner where they come to meet at a point. It can be bought built-in or can be made by laying out the tiles in this manner.
Herringbone:
The herringbone pattern is a zigzag-like pattern that gives your space an extraordinary look. Tiles are arranged at 90 degrees angles with each other consecutively. It is easy to DIY if you do not want to spend money on expensive built-in options.
8. Stained Concrete:
You must be thinking concrete should be out of fashion in 2021, right? Well, that is not true. Concrete can be stained to look like marble, wood, or traditional ceramic. It is the most durable material you can choose for your kitchen floor.
If you are on a budget, you can choose stained concrete and make it look like any other material. The slabs are sealed together to make it waterproof for your kitchen floor, and voila! You have a durable yet aesthetic kitchen floor for yourself.
GO FOR A NON-SLIP FINISHING
Stained concrete can become very slippery after it is furnished. Make sure you go for a non-slip variety.
Conclusion:
If you are looking to upgrade your kitchen floor, you now have a huge variety of options laid out in front of you. You can choose from different looks that go according to your theme, and then you can find durable materials that provide you with that desired look. The above-mentioned trends will make your kitchen floor durable, practical as well as modern.
If you want to learn more about floors, I recommend our awesome post about floating floors!
Floating floors can be a trendy addition to the décor of your home. There is much to know about these delightful floors that you can read about!