Aren't pets a pleasure to have? Four-legged traffic running around, giving morning snuggles, and showing cute mischiefs. Sometimes they choose to do stuff that isn't quite ideal. Pets can scratch on your carpet and pull some threads. They sometimes have "accidents" where they relieve themselves on your beautiful hundred dollar carpet.
That doesn't make them any less cute, though. However, it is completely understandable that you shouldn't have to replace your carpet time and again just because you have pet/pets in your house. There are measures you can take to protect your carpet from any damage. Providing a 'pawternative' to your pet is one of the general rules. Keep a scratching post for it, so it doesn't claw on your carpet.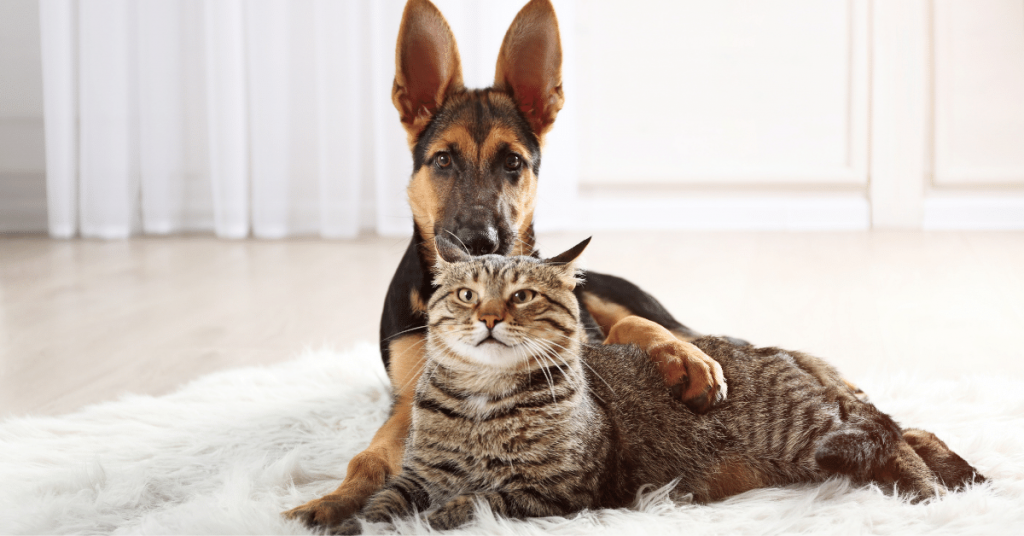 Are you wondering what type of carpet can have a non-toxic relationship with your cat? Keep reading to learn about 4 such kinds of carpets and relevant details.
How to protect carpet from pets?
You have to safeguard your carpet from your pets. It is often very attractive for pets, and they love to satisfy their clawing needs on it. Oh, and not to forget, they can accidentally or intentionally pee/poop on it too.
There are certain methods to remove the stain. But why encounter an avoidable situation? So, let's take a look at 8 of the most helpful tips you can follow to protect your carpet from pets.
Tip 1: Buy stain-resistant carpet
Stain-resistant carpet should always be your first choice when you contemplate a carpet purchase. It is very helpful in preventing stains, just like its name describes. It is a costlier option, but worth it.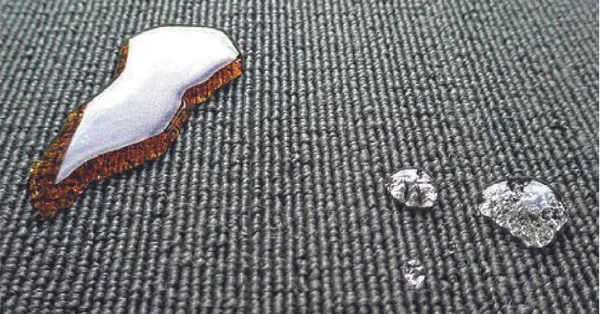 This type of carpet already has a protective layer applied to the fibers. You don't need to spend on extra protection. A stain-resistant carpet can bear vacuuming, spills, and deep cleaning without losing its original look.
Tip 2: Scotch-guard non-stain-resistant carpet
I understand that stain-resistant carpet is heavy on the pocket. Hence, it might not be a convenient purchase. Don't worry! There is an alternative available. You can scotch-guard your carpet that will act as a protective guard for it.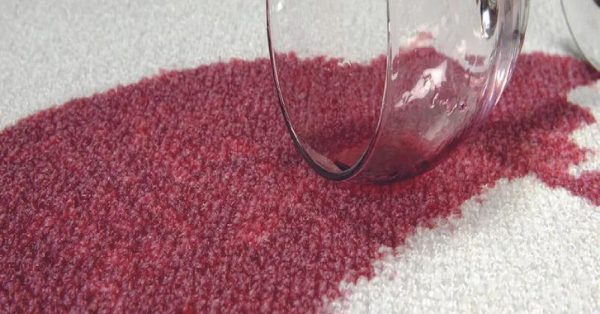 This is a process that needs to be repeated as it will start wearing off when it has completed its term of service. It is better if you let professionals scotch-guard your carpet. It requires expertise as every fiber needs to be treated.
We have a professionally compiled list of the best carpet cleaners in over a hundred cities. You should try to find the pro in your area.
If any spot is missed, the spill can penetrate the untreated fiber and reach under the treated fiber as well. Stains that get past the scotch-guard are even harder to remove.
Tip 3: Prevent your pet from scratching on the carpet
Cats and even dogs love to scratch. It's safe to say that they have needs for their claws. They won't shy from satisfying those on your beautiful carpet. There are a few tips worth mentioning. You can follow them to prevent your pets from scratching on your carpet.
A pawternative is important, as I mentioned above. Make sure that your pet has a scratching post that it can use. Clip your pet's nails timely. Longer claws can pose a bigger threat to the carpet. Whenever your pet runs around excitedly on it, the claws can get stuck in the carpet thread or loop. The surface can be snagged.
You can also assign a dedicated play area to your pet. It will use it as a playground and will hopefully stay off your carpet when in a playful and active mood.
Tip 4: Clean after pet accidents
I agree that pet poop or pee is a tough thing to battle in terms of carpet care. It is not impossible, though. You should probably get to cleaning it right away to maximize the chances of removing stubborn stains and odors.
Did your adorable cat start peeing on your carpet? That's concerning. I have made a list of possible reasons and some tips to prevent the cat from doing so.
There are some easy DIY methods to get pet urine or poop out of the carpet. You can use off-the-shelf cleaning products too. Both ways are effective.
We have step-by-step guides for removing cat pee and cat poop from the carpet. Give those a read. I am positive that you will find the guidelines pretty helpful, even if you have a dog.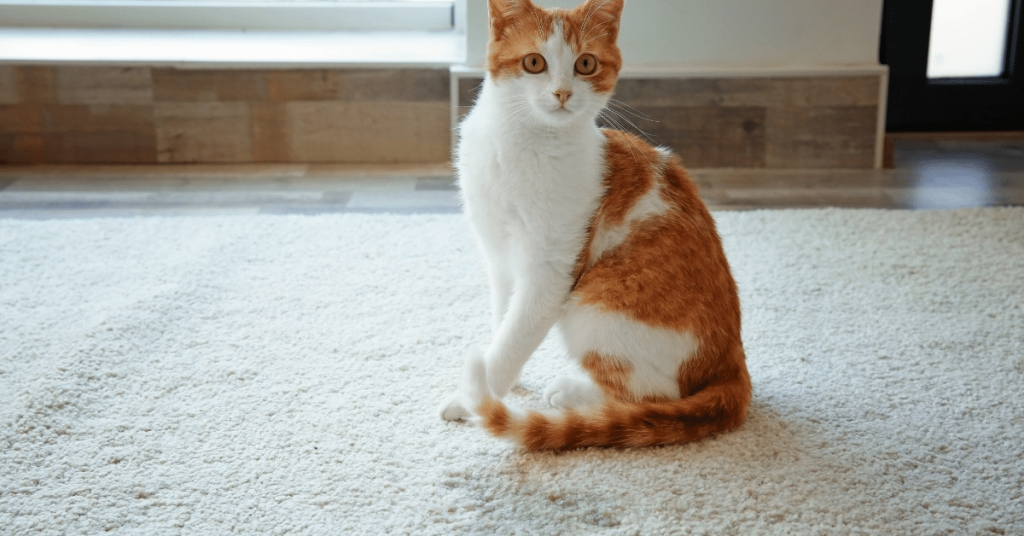 Do you want to remove cat urine from your carpet but are wondering how? This is just the post for you. Learn how to do so in a few simple steps.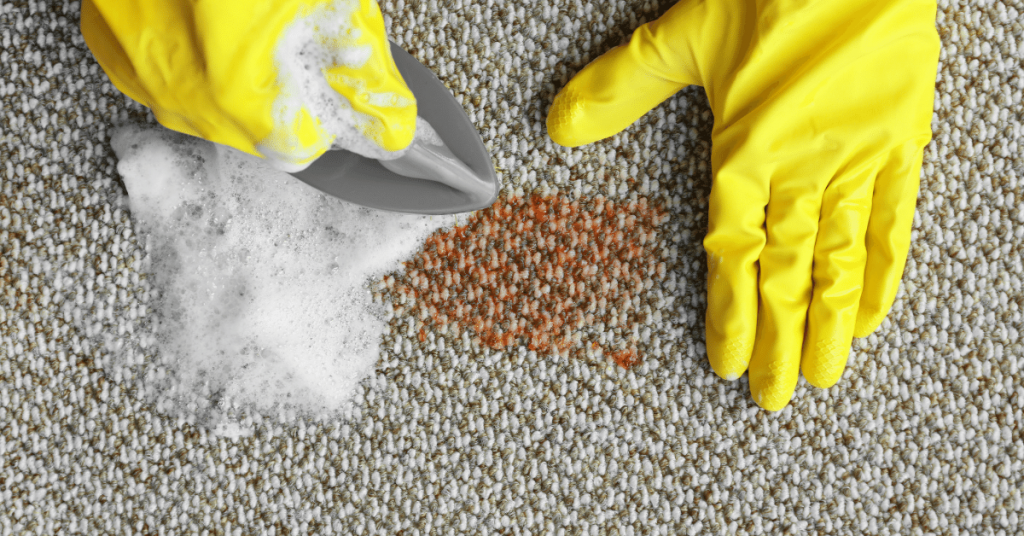 Are you wondering what's the best way to get cat poop out of the carpet? This blogs has two effective yet easy methods that you will love.
Tip 5: Vacuum regularly
One of my favorite tips to give is, "Make vacuum cleaner your best friend". I cannot emphasize this enough. Regular hoovering provides you protection from pests. It also picks up pet fur that has been shed. Are you thinking "My pet doesn't shed a lot"? Well, that's good.
However, dander can still accumulate on the carpet surface. It can not only cause the carpet to be weighed down but also have a pet odor in it. Regular vacuuming is the key. Don't forget to thoroughly vacuum once a week. This means you should move the furniture and make sure no spot is missed.
KEEP IN MIND
Remember to vacuum your pet's play area as well if it's carpeted. Saliva from the toys can drip and get into the carpet. That will result in an unpleasant odor if not cleaned.
Tip 6: Use a carpet powder or spray
It is essential to use a tried and proven carpet powder or spray if you have a furry bundle of happiness in your house. Sprinkle the powder or use the spray generously on your carpet before you vacuum. Try to vacuum twice in one session.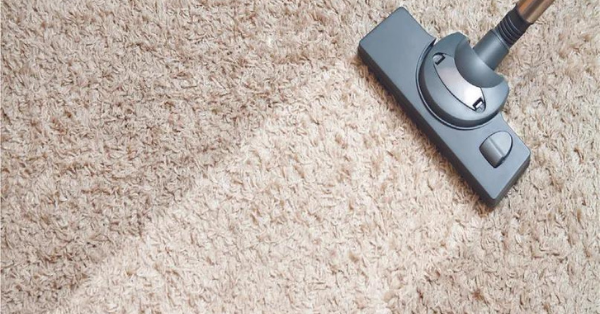 The cleaner and other particles on the surface of the carpet will be cleaned during the first time. When you vacuum again, the fur, dander, and powder/spray that has gone deep through the fibers, will be removed.
I wanted to help you find the best handy spray for pet stain and odor elimination. I came across "Rocco & Roxie Professional Strength Stain & Odor Eliminator". It is not just any cleaner. It's an enzyme cleaner.
Enzyme cleaners are specifically formulated to break down organic stains like blood and urine. They do this pretty fast as compared to other mainstream cleaners.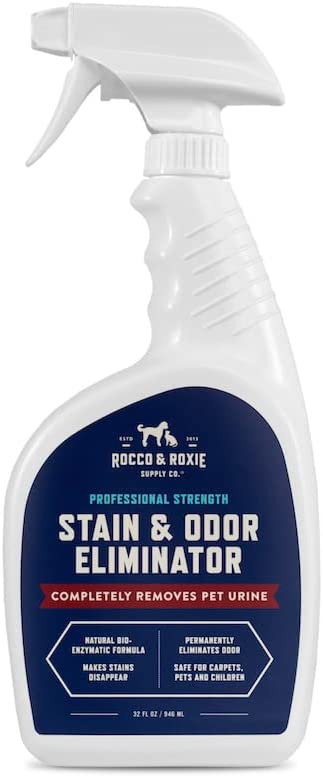 Rocco & Roxie Professional Strength Stain & Odor Eliminator
[amazon fields="B00CKFL93K" value="button"]
You should check this amazing product out on Amazon. [amazon link="B00CKFL93K" title="Take a look."/]
Tip 7: Use hardwood or tile entrance
I want you to ask a question from yourself. Where does your pet clean its paws after it comes back from a walk? Is the answer, "On a rug or mat"? Excellent, then. If it's not so, that means that you are guaranteed to have dirt paw prints on your carpet.
Choosing hardwood or tiles for the entrance of your house will be helpful to prevent this. It will give your pet ample space to walk on and dust their paws off when they come inside.
Another suggestion is to keep a small towel near the entrance. If, for instance, your dog comes with muddy paws, you should wipe them clean before he steps in. Otherwise, you will be staring at muddy paw prints on your carpet.
Tip 8: Steam clean monthly
Do you know what does wonders on your carpet in terms of cleanliness? Steam cleaning. It is an effective method to get dirt, hair, dander, and allergens out of your carpet. It can even pull out particles accumulated deep in your carpet. Steam cleaning also helps you get rid of unpleasant pet odors.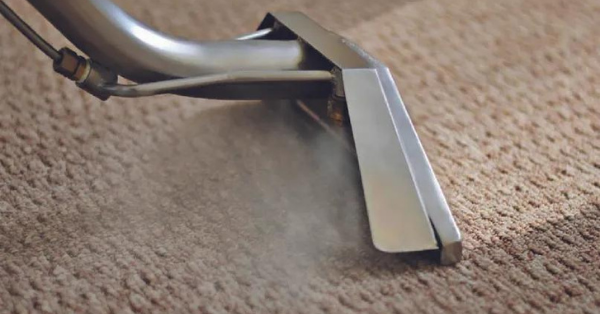 Conclusion
The bottom line is that carpet protection requires carpet maintenance as well as pet maintenance. You can rely on the tips explained above to ensure the freshness, cleanliness, and longevity of your carpet.
Take pride in having a clean carpet even when you own pets. You shouldn't be making a compromise on the lifespan of your carpet just because you are a pet parent.
There is a carpet repair kit that you can keep in your house to take care of little issues that may occur with your carpet.