Don't you just admire a rag rug? It is remarkable how the combination of a few hours, some fabric, and a whole lot of recycling can create something so beautiful. You can do it if you firmly aim to do so. There are many tutorials online, but each one is not worth watching. Once you're done with crafting a rug, you will fall in love with the floor covering you so meticulously created.
The internet is full of different rag rug crafting guides. If you're on your way to make your first one, choose a tutorial that is for beginners. Generally, the most straightforward sort of rug to make is the no-sew braided rag rug. Whatever you do, don't stop experimenting, and you might even make crocheted ones someday.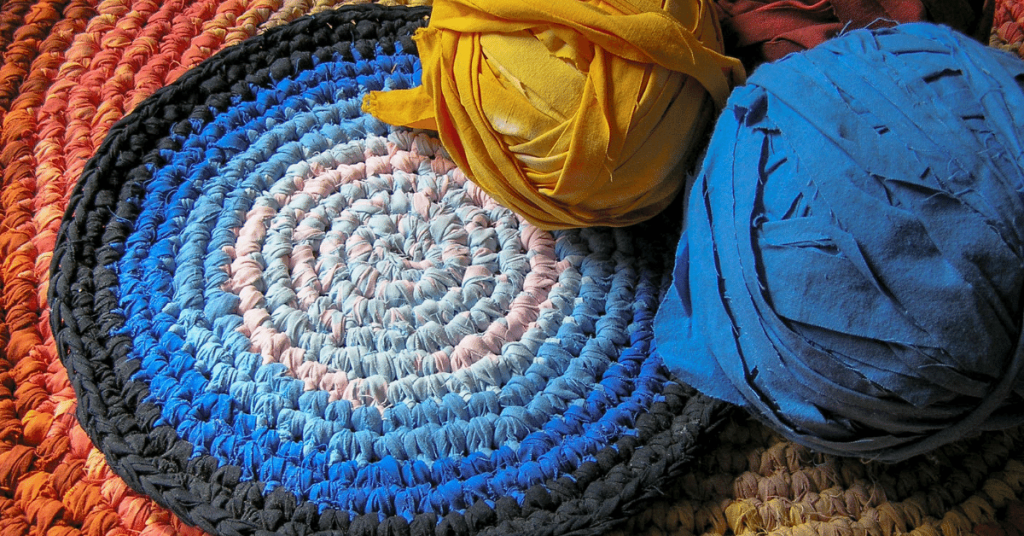 People often underestimate how beautiful rag rugs can be. They are incredibly durable and can look stunning! Apart from that, building them can also be therapeutic. You save money, you protect the environment, and you create something artistic at the same time. Could you think of anything more meaningful to do?
If you're interested in learning more about rugs, feel free to head to our comprehensive guide. It will highlight everything there is to be known about rugs.
There are many types of rugs. And you need to know which is which before you buy. Read this to know everything there is to know about all types of rugs!
Let's have a look at the tutorials!
Top 7 Rag Rug Tutorials
I've picked out seven incredible tutorials for you to cherish. I hope you have fun making your rag rugs!
Tutorial 1. Rag Rug Made With Old Sheets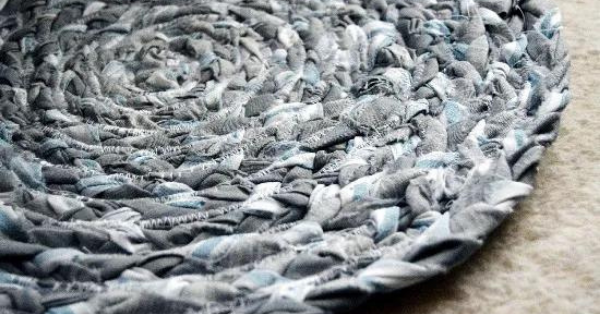 If you're up for a challenge and don't mind stitching, this is the tutorial for you. The classy black and grey rag rug is a sight to behold!
Merissa only spent about $1.50 to acquire a king-sized bed sheet for the rug. However, you won't even have to spend that much to make this rug! Just use whatever fabric you can find at your home, and you're good to go.
While this tutorial does involve the use of a stitching machine, it isn't mandatory. You can even hand sew the braids together!
Tutorial 2. DIY No Sew Rag Rug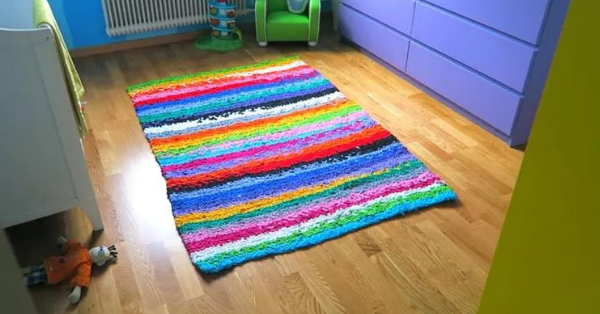 If you're making your first rug, you should probably consider this tutorial. It's posted on YouTube and is incredibly easy to follow. Moreover, it also doesn't involve the use of any needle or thread. Phew!
This rainbow rag rug is alluring to the vision. The best thing about making it is all you need is fabric and scissors! If you want to funk up your space and add a pop of color, try to create a vibrant floor covering like the one above.
The benefit of following this tutorial is that it presents what to need to do and how to do it.
Tutorial 3. Braided T-Shirt Rag Rug (No Sew)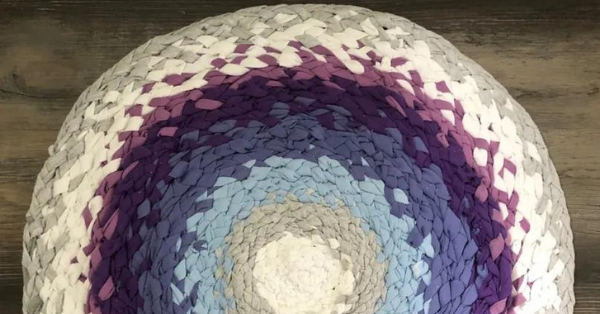 If you're not into a rainbow rag rug, consider this circular beauty! The tutorial teaches you how to braid this floor covering into existence effortlessly.
Meredith acquired various t-shirts from a flea market for $5.00, which she used to make the rug. You can play around with the color palette and make one that suits you best. Her detailed post has strong visuals that will help you cruise ahead each step! Don't be too overwhelmed when you attempt to make this rug. You'll do just fine.
Tutorial 4. Crocheted Circular T-Shirt Rug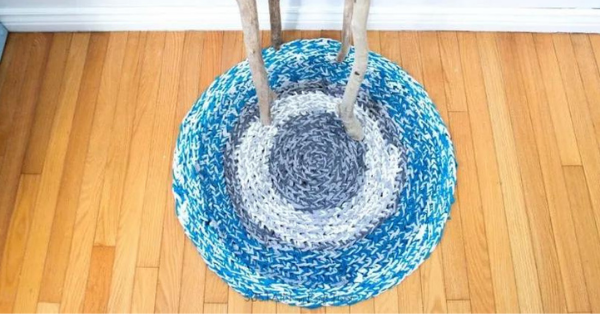 If crocheted rag rugs mesmerize you, this tutorial will help you make one for yourself. This blue masterpiece is strong enough to last long and beautiful enough to be unforgettable.
Jane and Sonja have done a phenomenal job in crafting such an exquisite rag rug. Since making it involves the art of crocheting, it is a little more challenging to make. Nevertheless, if you experiment a bit here and there, making this won't be too difficult. You can use the old spare t-shirts lying at your place to craft this rag rug.
Tutorial 5. Woven Rag Rug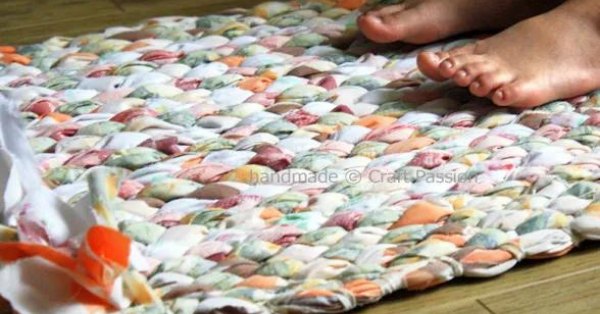 This cream and pastel rag rug is elegant yet sweet. Building it is a little more demanding for the beginner rug crafter.
Being able to weave a rug that looks anything close to the one in the picture is monumental. You need some experience of braiding to be able to do this beautifully. While the tutorial is detailed, it may have to be read multiple times to glean what you have to do. Regardless of how long it takes for you to get the hang of making this floor covering, it will be worth it!
There are some extra materials that you will require to build this rug. So keep an eye out for those before you jump into crafting mode.
Tutorial 6. Beautiful Rag Rug Made With Old T-Shirts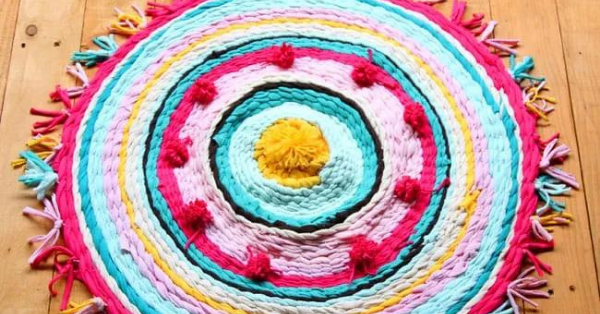 This sweet rag rug rocks the combo of blue, yellow, and pink effortlessly. The fringes at the end are pretty alluring too. I would not be surprised if this symmetrical floor covering is your favorite on this list!
The process of this rug includes creating a loom with cardboard and making yarn balls with old t-shirt strands. It is a demanding tutorial, albeit a rewarding one too. The pattern is lovely enough to make you want to smile whenever you see it. If you do end up making this particular rag rug, you will be proud of the result for sure.
Don't forget to take the required precautions while you use the rotary cutter. Don't end up cutting yourself!
Tutorial 7. Toothbrush Rug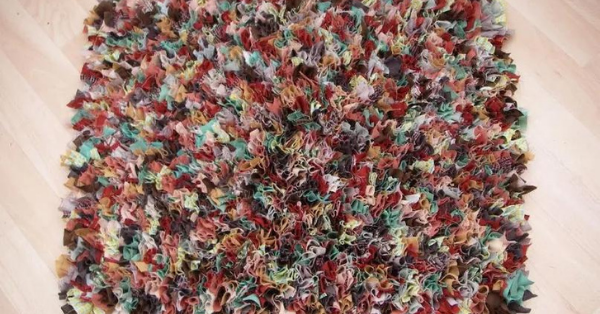 You might be interested in using your time to build a toothbrush rug. This beautiful blue and green beauty can become the focal point of any room.
You might be interested in using your time to build a toothbrush rug. This beautiful blue and green beauty can become the focal point of any room.
Conclusion
Rag rugs are beautiful yet sturdy and economical yet priceless. If you wish to make one for yourself, pick a cute tutorial, and follow it. You'll be able to produce a gorgeous floor covering in no time. Different rug crafting techniques include weaving, knotting, and braiding.
The best thing about making your rugs is how much money you save. Moreover, you also do good for the environment by recycling old fabrics.
If you think you're better off buying a rug online don't be too upset about it. The important thing is that your beloved home should look presentable!