Cleaning your garage floor may not be something that's on your to-do list of house chores often, but it's definitely something you can't ignore for too long.
If you're like me, having a cluttered garage isn't something that you like and maybe you have even tried to clean your garage floor before, but you didn't get the outcome you'd like. In this blog post, I'm teaching you all that I've learned about cleaning garage floors and making them look bright new.
Garage floors are many times neglected when it comes to housekeeping but this isn't good not only because of the aesthetic but also because of the risk of accidents. Fortunately cleaning garage floors will take water, a broom, and something specific to any stain the floor may have.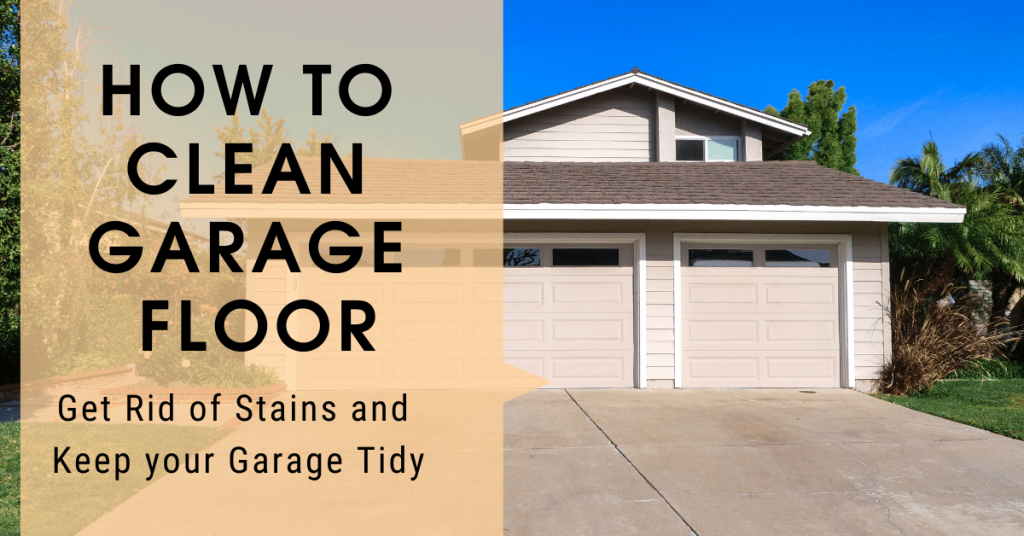 Preparing your floor to be cleaned
The first thing to clean the garage floor isn't about the garage floor. It's about setting up the garage to be cleaned. This means taking everything that's possible from the floor, cleaning the dust from any shelves it may have, covering the drywall and any electric outlets with plastic to avoid damages and accidents.
Once the garage is ready to be cleaned, you'll take the equipment to do so. This is basically a bloom, a mop, some hot water, a power washer (optional), a buffer (optional), a detergent, pressure hose.
The first step is to sweep the floor with a broom, then mop. After these initial steps, you're set to dive into a deep garage floor cleaning.
PRO TIP
The broom should be nylon scrub to avoid damaging the floor
Deep cleaning garage floor
The first option to cleaning the floor is to use a degreaser – or a tide laundry detergent – a deck brush, a garden hose with high pressure.
It'll be easier for you if you separate your garage into sections and start from the bottom to the front, this way you won't be stepping on the wet floor.
Soak each section with the soapy solution and start scrubbing. The solution may sit for a few minutes after it, and add a little more solution. Scrub again then clean with a pressure hose and move to the next section.
This process may be enough to clean the concrete floor from the dust that has been settled there for a long time but to get rid of stains you'll need dedicated care to each kind of it.
IMPORTANT
Don't let the solution dry before you rinse it away. If this happens maybe the solution will turn into a stain
Cleaning Stains
Garage floors easily get stains of different materials. The good news is that for each of them there's a recipe to get rid of them when they're already settled even though the best option is always to clean them as soon as they happen.
Tire stains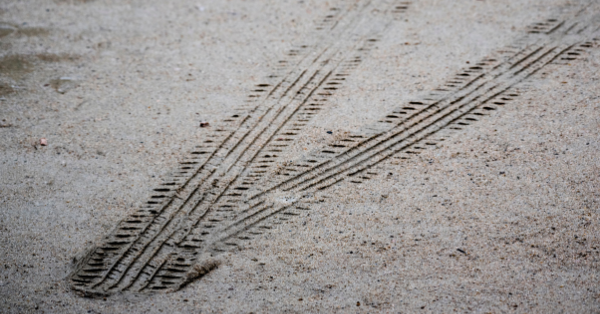 Tire stains are really common to have on garage floors and the best way to remove them is to prevent them. If you let them settle on your garage floor, it would cause a buildup and make it harder to remove.
Rust stains
Having shelves and other objects in the garage can leave rust marks on its floor. They are fairly easy to remove.
If the stain is a small spot the best solution is to use lemon or white vinegar. Let it sit for at least 5 minutes above the stain and then scrub and water. You can repeat the process as many times as necessary.
Grease stain
These stains are really common, just like the oil ones. To de-grease, you'll wet around the stain and apply a degreaser, scrub it and let it sit for a while, apply more degreaser, scrub, and then rinse with your high-pressure hose.
It's important to pour water around the stain to avoid the grease to spread and become a bigger stain.
Oil stain
Cleaning oil stain is different from cleaning any other stain on your garage's floor. For this, you'll need kitty litter. Spill it and leave it alone from some hours to the other day to absorb the oil.
This process can be repeated as many times as needed and will work better if you apply the litter in the oil before it dries.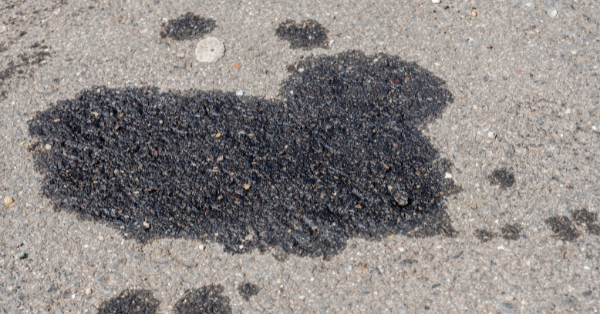 Cracks
Cracks are common in garage floors and easy to get rid of. To do this i'll just need to clean the crack and fill the crack with epoxy paste.
Winter cleaning
Winter is probably the time of the year where the garage gets more filthy, there's snow and salt to deal with and cleaning it requires a lot of work. In winter another kind of stain will also happen – salt stain.
Fortunately this isn't the end of the world and you'll get rid of the salt stains in no-time using this step-by-step:
Mix white vinegar and detergent in warm water
Scrub the mixture into the salt stain with a broom ultil the salt is loosen
Remove the excess water with a mop
Rinse the area with clean water and let it dry completely
Maybe you won't get the best results on the first try, but just keep repeating the process until the stains are gone.
Epoxy floors
Epoxy floors are made by a combination of resins and hardeners. They are easier to clean because of their plastic-like surface and are commonly used in garage floors.
You'll notice some differences between cleaning epoxy floors and concrete floors because since epoxy has a plastic surface, the dirty won't settle on it so deep.
To a satisfying cleaning you'll need to mop the floor around every 3 to 4 months with a mix of ½ cup of ammonia a gallon of hot water and let it dry.
Epoxi floor won't need a lot more care than this, and you may want to avoid vinegar and citrus because they would damage your floor. Soap and soap cleaners should also be avoided since they can create a slippery surface on the floor and cause accidents.
For epoxi floors, as for concrete floors, the best cleaning you can do is prevent the stains to settle.
Conclusion
The most important thing is to keep your garage floor in your cleaning schedule so it won't take so much effort for you to clean it when it's time to get a deeper cleaning. It may take a lot of effort, but worth it when you see your garage spotless.
It's a necessary effort too if you're about to cover your floor with any kind of coat.
To minimize the effort when cleaning your garage floor never let a stain sit. Clean it as soon as you realize it's there and you'll be making your life a lot easier. Other option is after a deep cleaning applying a sealer or even epoxy to make it easier to cleaning in the future.
Tools you may need
As I mentioned above, cleaning your garage floor will require some tools that you can easily have on your home. Just in case there's one missing, I made a list with them and the Amazon links to it.
[amazon box="B07WP6N5GH"]
[amazon box="B07DLRWFC3″]
[amazon box="B07N8SJ5GF"]
[amazon box="B089PM6FRC"]
Keep reading
Now you know how to clean and maintain your garage floor but this blog has a lot more to contribute to your home, read these posts and learn more about how making your home coziest.
Are you searching for the best carpet stain remover? In this guide, we review the best overall, the best value for money, the best for pet owners, the best multipurpose, and the most eco-friendly ones.
Your bathrooms can be adorned with stunning and sturdy rugs that stand the test of time. Read this post to learn how to get the right one for your home.