Let's start saying that, for the sake of all, whenever I say rug in this article I also mean carpets, as it works for both and usually professional cleaners offer both services!
Now, let's get down to business…
Everyone has a least favorite chore. Some chores are more dreaded than others, and when it's time for you to get to work on the chore you hate most, procrastination sets in.
Specially when talking about rug cleaning… who on earth has the time or the will to do it? Do you even remember at all to clean your rugs? Well, it won't happen again (for sure!) if you look under a rug that hasn't been cleaned in a while…
Now, it would be lovely if you could just wave a wand and absolve yourself of your cleaning duties, but it doesn't work that way.
Unless you hire a Professional Rug Cleaner. 
If you're reading this is because you have almost made up your mind about hiring one. But it's easier said than done, right?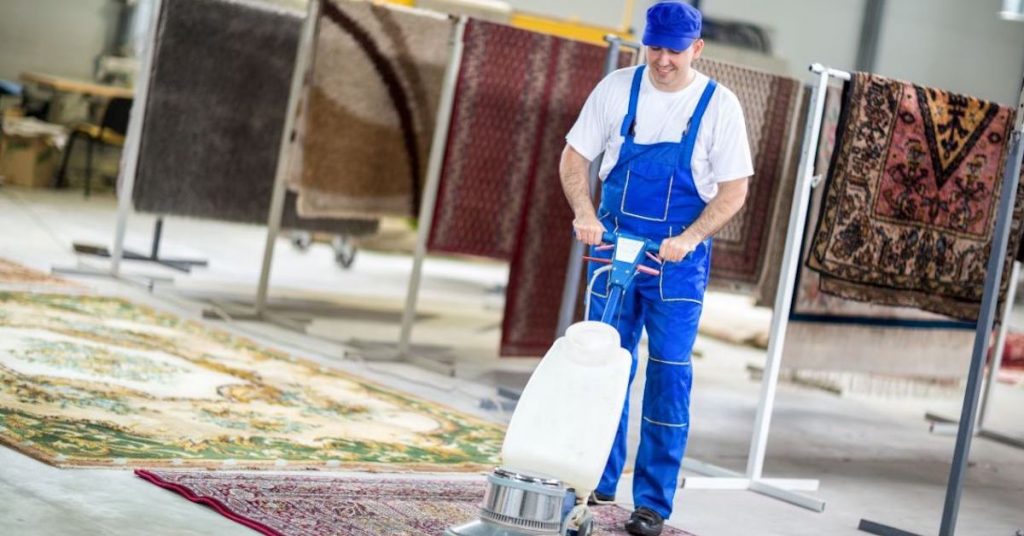 That's right— approximately 60% of consumers never hire a professional rug or carpet cleaner. If you are one of those, don't worry. It's perfectly understandable why you may be apprehensive about paying for a cleaning service. On the same token, there are plenty of benefits of hiring professionals to clean your rugs and carpets. We'll cover the benefits first, and once you're sold on the idea of a professional carpet cleaner, we'll walk you through the process for choosing the perfect service for your needs. Ready? Let's get to it!
What Should You Look For in a Carpet Cleaning Service? (7 Things to Consider)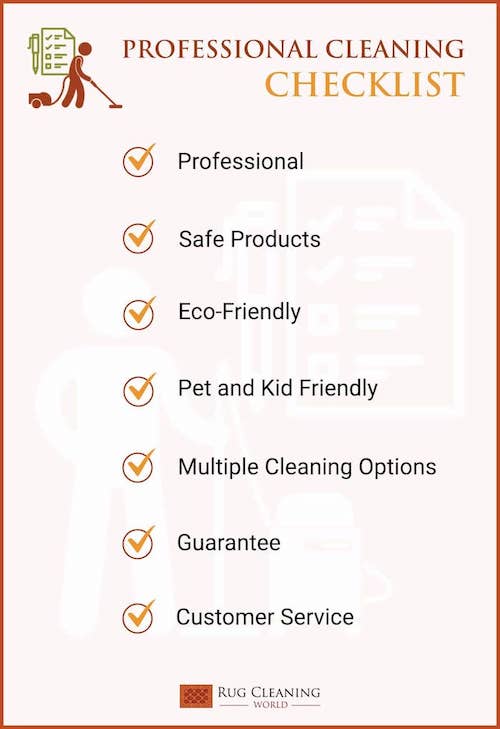 As with any company that offers services, there's a certain level of research that goes into your decision. You have a lot of options, which can be overwhelming. With that said, there are a few ways to whittle down your list of options so that you can pick one or two frontrunners.
Before we dive into that, the first thing to keep in mind is the importance of this service. Over time, carpets trap dirt and bacteria in their small fibers. This poses a threat to your overall health and safety, so if you don't do anything about it, you could end up with allergies or polluted air in your home. While you're researching different cleaning service options, make sure this is at the forefront of your mind. The company you hire needs to be serious about keeping your home sanitary. If "clean" isn't part of the pitch, run away and don't look back!
After you've checked that box off, go through this list of factors you should consider when hiring a Professional Rug Cleaner:
1. Professionals
The company you hire should be comprised of a group of professionals. Just like you wouldn't hand your mail over to someone who isn't a mailman or mailwoman, you shouldn't hire a cleaner that isn't a professional. And the case of Professional Rug Cleaners its easy to check: it's a good sign if the rug cleaner you're looking at has the IICRC (Institute of Inspection Cleaning and Restoration Certification). This certifications sets the industry standards, in terms of equipments needed, latest techniques and knowledge.
2. Safe Products
Look into what types of products you're okay with being used on your carpets. For example, you may have an aversion to products with strong chemicals or strong odors. If that's the case, you'll want to ask this when you're talking to a potential cleaning crew for your home.
3. Eco-friendly options
Are you hoping to invest in an eco-friendly service? Not all companies are environmentally friendly, so this may be something you'll want to research beforehand.
4. A pet-friendly and kid-friendly service
Depending on your situation, this could be a make-it-or-break-it factor in your decision-making process. If you have pets and/or kids in the house, you should bring this up when you speak to various cleaning services. Some products don't mix well with pets and kids, so you'll want to make sure you don't hire a company that uses these products, or arrage the day off and go out with your kids whle they deliver the cleaning service.
5. Multiple Cleaning Options
Make sure you hire a cleaning service that offers all kinds of options. The hope is that you'll find a company for the long term. One session you may want a steam cleaning service, and another session you may want something different. Try to think about it ahead of time to make sure you're hiring a company that can take care of all your needs. An even better service would be if they offered you a personalized cleaning plan after evaluating your home and rugs! Because we aren't professionals, we could be leaving something out without noticing, and you don't want that!
6. Look for a guarantee!
Not all Rug Cleaners will offer a guarantee but its something to have in mind and ask. It could be getting your money back of a satisfaction guarantee, which means they will continue working on your rugs until you're satisfied with the result. While it may seem impossible to judge the quality of the cleaners in advance, there is something you can look for and its a bonus!
7. Customer Service
Because you're hiring a company that provides service, customer service is a given. With that said, some customer services are better than others, and it's a good indicator of the value of a company. You can gauge the customer service when you first speak to them on the phone. Are they friendly? Are they attentive to your needs? Do they ask clarifying questions to understand what you're looking for? Are they transparent about their cleaning techniques and products? The way a company treats you at the beginning of the process is a good way to tell how you'll be treated throughout the process. Take this into consideration before committing to a company.
And, last but not least, because we live in a world with great tools such as Internet, look out for client reviews and past experiences. They should give you the final call before hiring a Professional. If you want to make sure you're hiring a great professional, take a look at our trusted partners.
As I said earlier, choosing can be a bit overwhelming. Too many thing to have in mind. Well, don't worry! We have the solution to your problem. Find a Profesional Rug Cleaner near you here!
Benefits of using a Professional Rug Cleaner vs DIY
The thought that you are capable of cleaning your own rugs may have crossed your mind. And it's true! You certainly can. That's why I prepared an Ultimate Guide to Rug Cleaning at home you can check out, but…
Let's face it: it takes a lot of time. And usually, we have let so much time pass by, that cleaning it at home isn't enough to get that dirty old rug "back in shape". There's nothing to be ashamed of. Despite what a lot of people say, rugs only need a deep clean once every 4-5 years if you vacuum it regularly and remove any stain it might have before it's too late.
So if you haven't cleaned your rugs in a while now, my recommendation is to hire a Professional Rug Cleaner now and start counting down the years till the next deep clean is needed by cleaning your rugs on a regular basis.
Here are some reasons why it's a good idea to hire a Professional Rug Cleaner, and why the money you invest on it will have a good use.
1. Avoir mishaps! They're professionals.
Attempting to clean your rug all by yourself, although commendable, is risky. Unless you're an expert on carpet cleaning, you may have a few instances of trial and error before getting the job done the right way. With so many types of cleaning products on the market, it's hard to choose which one(s) to use for your carpet so they don't end up ruining your rug.
The foolproof way to avoid cleaning mishaps is to hire professionals who know what they're doing. The extra money is worth the peace of mind! They clean carpets and rugs every day, so they really know how to do it best.
Of course, you could learn how to clean your carpet on your own—in fact, that's probably what you've been doing so far. But that doesn't guarantee that you're doing the best thing for your carpet.
Think about these professionals as if they are carpeting surgeons. Like a surgeon, they have an eye for details, and they work within a specific niche to focus on these details. Their niche is your carpet. Instead of worrying about what products to use on your carpet or what kind of vacuum to use, you'll leave that to the professionals. You can wash your hands of any rug-related worries and get on with your life—with a soft, clean good-as-new rug at your feet.
2. Additional services and customer support.
Typically, a professional rug cleaning service is part of a broader, overarching company that includes many different types of cleaning services. If you're tired of cleaning other parts of your house, you may opt for multiple cleaning services. It's convenient for you because you can schedule a time for the cleaners to come to your home and knock it all out in one day.
And a cleaning service usually offers customer support, meaning they will answer all of your questions, follow up with you to make sure you're satisfied with the service, and be on-call should anything else come up. If you happen to hire a company that doesn't come along with superb customer service skills, you may consider hiring a different rug cleaner. We'll cover that later, though!
3. Invest in a Tried-and-True Process
By choosing to hire a professional rugcleaning company, you're making an investment in the quality and cleanliness of your rugs. It's recommended that you do research on the companies you're considering so that you can get an idea of their years of experience and the process they use to clean carpets.
Every company has a set of values, and you'll want to find a cleaning company with values that align with yours. If you look for a company that doesn't use any harsh chemicals, look into this when you learn about the company's process. Or if you want a company that offers add-on services for low costs, this is another thing to look into as you do your research.
The bottom line is every company has a process that has been done over and over again. Unless you're hiring a brand-new cleaning crew, you're investing in a company with a tried-and-true process, which should ease your mind about paying for their services.
4. They Have the Gear
If you opt for a DIY approach to cleaning your rugs, you're responsible for getting the tools and cleaning supplies to get the job done. That's a lot of extra work (and money) that people don't usually think about.
In order to clean your carpets well, you'll probably want to steam clean them. In that case, you have two options: rent a steam cleaner or buy one. Renting a steam cleaner isn't as practical, because you end up spending a big chunk of money every time you decide to clean your rugs or carpets.
Buying a steam cleaner is a wiser investment, and that's definitely an option (check here to see the best steam cleaners of 2020. With that said, hiring a professional who already has a steam cleaner might make your life easier. It's another benefit of hiring a service—one less thing on your mind!
5. They will prolong your rugs useful life!
Rugs age. No one doubts that. And a wrong cleaning method can lessen your rug lifespan. Professional Rug cleaners will analyze your rugs fabric before choosing which detergent and cleaning equipment they'll use. And the use of a good detergent and cleaning process will not only preserve your rugs fabric but improve its lifespan!
As you can see, there are plenty of benefits of hiring a professional carpet cleaning service, so if you're having a hard time justifying the extra expense, you may have a new outlook on it. Now that you know why a professional cleaning service might be your best bet, it's time to go over what you should look for when you decide to hire someone!
How Much Does Rug Cleaning Cost?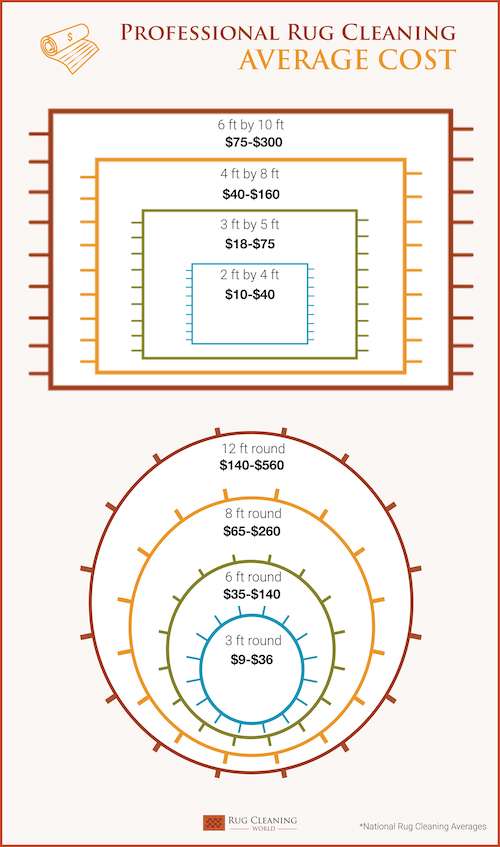 Like most things, the cost depends on a variety of factors. Generally speaking, though, one of the best ways to estimate the cost of a rug cleaning service is by the size of your rugs. If you're having a rug cleaned, this will be based on the square feet. If instead, you're having all of the carpets in your house cleaned, the cleaning company may charge you a rate per room or per square foot. It depends on the company you choose to go with, so make sure to ask this question if it's a dealbreaker for you. Generally, it's a little bit cheaper to go with a per-room rate for larger homes and a square foot rate for smaller homes.
If you're looking for a cleaning company for your rugs and the prices seem all over the map, use the 2022 national rug cleaning averages to get an idea of how much you should be paying:
2 feet by 4 feet: $10-$40 per rug
3 feet by 5 feet: $18-$75 per rug
4 feet by 8 feet: $40-$160 per rug
6 feet by 10 feet: $75-$300 per rug
3-foot round: $9-$36 per rug
6-foot round: $35-$140 per rug
8-foot round: $65-$260 per rug
12-foot round: $140-$560 per rug
Each size has a fairly wide range, but this is useful for you to have a ballpark estimate of what you should be paying. If you're charged an amount that is significantly higher than the averages, ask the cleaning company for an explanation. You shouldn't be paying an outrageous amount for the same service!
Be sure to find a local company to clean your carpets. Most companies don't go beyond a certain mile radius, and if they do, they may charge you for it. That's a cost you definitely should avoid if possible.
How to Prepare your Rug or Carpet for Cleaning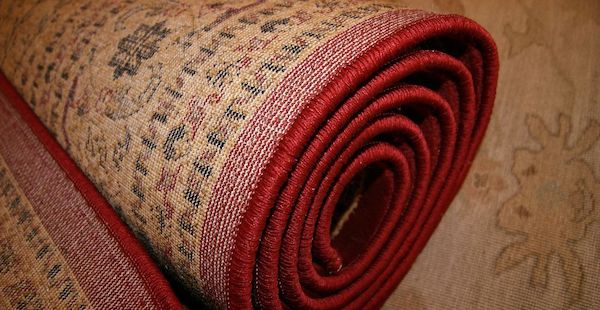 It may sound silly to have to prepare your Rug to be cleaned, but the good news is there's not too much you have to do. We'll give you the detailed step-by-step guide on what to do, but none of these steps are too involved.
1. Examine your Rug
If your rug is particularly dirty or it has noticeable stains, you'll want to tell the cleaning crew about this. Depending on how dirty it is, you may even want to vacuum it really quickly to get the first layer of dirt out of the way. There's no need to deep clean (that's what your cleaning crew is going to do!), but if your rug is filthy, it helps to do a light cleaning ahead of time—especially if your cleaning service charges extra for more time.
2. If it's a Rug, just Take it Out. If it's a Carpet, Clear out Your Room(s)
When you're having your rugs cleaned, the will take them to their installations. So, if you want to help, just roll them up and they'll pick them up. If what you're having cleaned are your carpets, then the cleaning crew is going to clean every inch of the room or rooms that will be cleaned, so all furniture needs to be moved out of the way. Most cleaning companies will do this for you, so it's entirely up to you if you'd like to do it on your own or ask for help. It may help to do it on your own beforehand so that you know where you put everything and you don't get confused in the process!
3. Take Pictures of Make Note of the Current State of Your Rugs
Especially when it's the first time you're using a service, it's important to make sure you're getting what you paid for. Before the cleaning crew comes over, take pictures of how your rug looks.
Make note of any stains or extra dirty areas, and when they finish the job, be sure to check on those spots to make sure it has been thoroughly cleaned. You can expect that most rug cleaning companies have employees with a relentless attention to details, but if not, you'll be able to spot it really quickly if they don't do a good job with your rug's pain points.
4. Keep your Pets and Kids in a Safe Spot
The carpet cleaning session may be noisy and scary, so if you have kids and/or pets, your best bet is to get them away from the area where the crew will be cleaning. This may be a great time to take them outside, or you could vacate to another part of the house with them.
Even if you're using a carpet cleaning service that is pet-friendly and child-friendly (which you should be), you still should keep your pets and kids away from the cleaning scene. It makes it easier on everyone, and you'd hate to have a mishap if they get in the way of the cleaning crew!
5. Make Sure There's Room for the Cleaning Vehicle to Park
This may sound like a no-brainer, but we still want to cover all of our bases. Chances are your cleaning crew will come with a large vehicle (or two). Make sure there's ample room for them to park so that you don't have to scramble when they arrive!
See? There aren't too many preparation steps for you to do! As you can imagine, hiring a professional carpet cleaning company is meant to alleviate stress and steps for you. Don't go overboard with preparing. If you follow these steps we discussed, you'll be more than ready for the crew to arrive.
The Cleaning Methods your Rug Cleaning Professionals Should be Using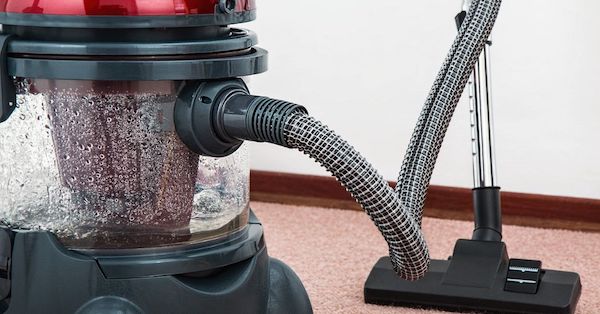 Rug and carpet cleaning isn't limited to just one or two methods. There are all kinds of methods that could be used! Generally speaking, the method depends on your carpet or rug and your expectations for it. That's because carpets and rugs come in all kinds of shapes, sizes, and textures.
We'll go over five common rug cleaning methods, but you should understand that it's not limited to these five. The company you choose may have its own unique method, so it's good to be open to all the possibilities.
1. Steam Cleaning
One of the most popular rug cleaning methods is steam cleaning. It's been around for years, and it's a tried-and-true way of getting grease, dirt, and other unwanted particles out of your rugs. It requires a steam cleaning machine, and it can take more time than some other methods because it's so detailed and precise.
How does it work? The machine uses hot water vapor to break down particles and extract them from the small fibers of your carpet. Then, the cleaning process continues when a brush is used to go through each section of the carpet.
2. Dry Cleaning
No, we're not talking about the cleaning service for your clothes. Dry cleaning on carpets and rugs is totally different. This kind of cleaning involves an absorbent compound and a mechanical brush. The absorbent compound clings to dirt and other particles in your rug, and then, the mechanical brush is used to evenly spread the absorbent compound throughout your carpet fibers.
The absorbent compound needs some time to settle in and separate the dirt particles from the fibers of the carpet. After that waiting period, the cleaning crew will vacuum the carpets with a professional vacuum. This is a great option for anyone who wants a deep clean without the wet carpet that comes along with a steam cleaned carpet.
(If you want to learn more about the differences between Steam Cleaning and Dry Cleaning)
3. Carpet Shampooing
This method used to be a lot more popular than it is today, but it's still a great way to have your carpet professionally cleaned. Carpet shampooing is exactly what it sounds like. A shampoo-like substance is applied to the rug in order to get deep into the rug fibers and excrete all of the dirt.
The cleaning substance should have anti-bacterial properties and should turn into a foamy texture once applied to the rug. It's usually applied with a big brush machine, and once the entire carpet has been cleaned, the cleaning crew will use a wet vacuum to get the soap out of it. It will take some time to dry, unlike the steam cleaner. With a steam cleaner, the water vapor comes out at such a high pressure and high temperature that it is able to dry quickly. The wet vacuum takes more time, so patience is key.
4. Bonnet Cleaning
Bonnet Cleaning is a great service for anyone looking for a speedy clean. This method targets the first few layers of the rug and doesn't get as deep into the lower layers. Because its main focus is the surface level, it's recommended that you use this in conjunction with a deeper cleaning method.
The machine used for bonnet cleaning is a spinning pad, and most cleaning crews have their own solution that the pad is dipped into for a chemical clean. The bonnet cleaning method is popular for hotels or businesses that need a deeper clean than a normal vacuum but not as extensive as a steam cleaner job. These types of businesses are likely cleaning carpets regularly (weekly or monthly at a minimum), so bonnet cleaning is an affordable and reliable option.
5. Encapsulation
If you like the idea of rug shampooing but you're not so keen on the idea of having a wet rug for hours after your service, encapsulation may be the next best option for you. Encapsulation sounds like an intense cleaning method, but it's fairly simple!
With encapsulation, your cleaning crew will use a brush machine to apply synthetic foam detergents to your rug. These foam detergents will puff up into a foam substance—again, very similar to the rug shampooing we discussed earlier. After some time, the foam crystallizes into a powder form. Cool, right? This is helpful because it gets rid of the wet residue from the "shampoo," and then it can be vacuumed up with a professional dry vacuum. You won't have to wait long before it's dry.
The encapsulation method is innovative, but it doesn't work in all situations. Because it's not as thorough, it may not pick up all of the dirt and bacteria from your rug—especially if it's really dirty, to begin with. If your rug is fairly clean and you don't have any stains, the encapsulation method could work well for you! Otherwise, you may want to use a more thorough cleaning method.
Questions?
We've covered a lot, so hopefully all of your questions are answered! Who would have thought there would be so much involved in hiring a professional rug cleaning service?
The bottom line is… it's about your home. When you decide to have your rugs cleaned, you're making a decision for your home, your family, your visitors, and of course, your rugs!
When you start looking for a carpet cleaning company, remember your "why." Remember your reasons for hiring them. Remember that they're offering a service to you. Remember that you're paying money for the value of their services. Here are a few other things to remember:
Approximately 60% of consumers never hire a professional carpet cleaner. It's not on everyone's radar, but rugs are so susceptible to dirt and bacteria, so it should definitely be on yours!
Carpets and rugs come in all different sizes, textures, and materials. Make sure to do your research before picking a carpet cleaning company.
Your rug cleaning company should be made up of a group of professionals that you can count on.
Don't be afraid to be picky, and don't hesitate to ask questions. As you can probably tell from this guide, there's a lot that goes into hiring a cleaning company. You should be more than satisfied with the outcome of your rug cleaning services, and if not, refer back to this guide and find a better fit for you. Enjoy the process of finding your way back to a clean, good-as-new rug or carpet for your home!