Every year we send a questionnaire to over 2,000 rug cleaners in the USA to find out how much they are charging for their services. This post is the result of that survey. Keep reading to how much it costs to clean a rug in the USA in 2022.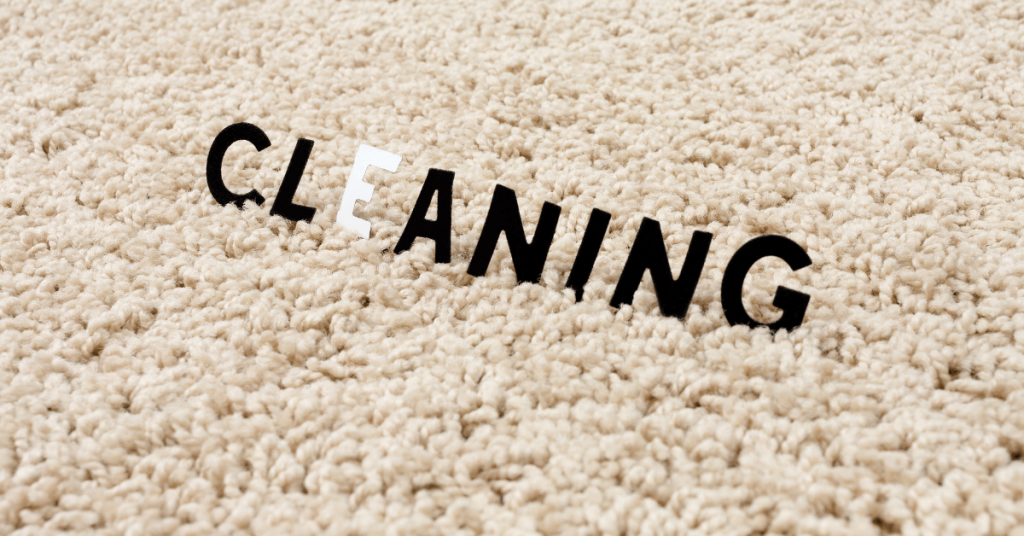 As you've probably imagined, the cost depends on a variety of factors (such as rug size, type, cleaning method, etc.). However, we have found that on average cleaning a rug costs between $1.5 and $5 per square foot. Or you can take a look at this image that illustrates the prices for both round and rectangular rugs: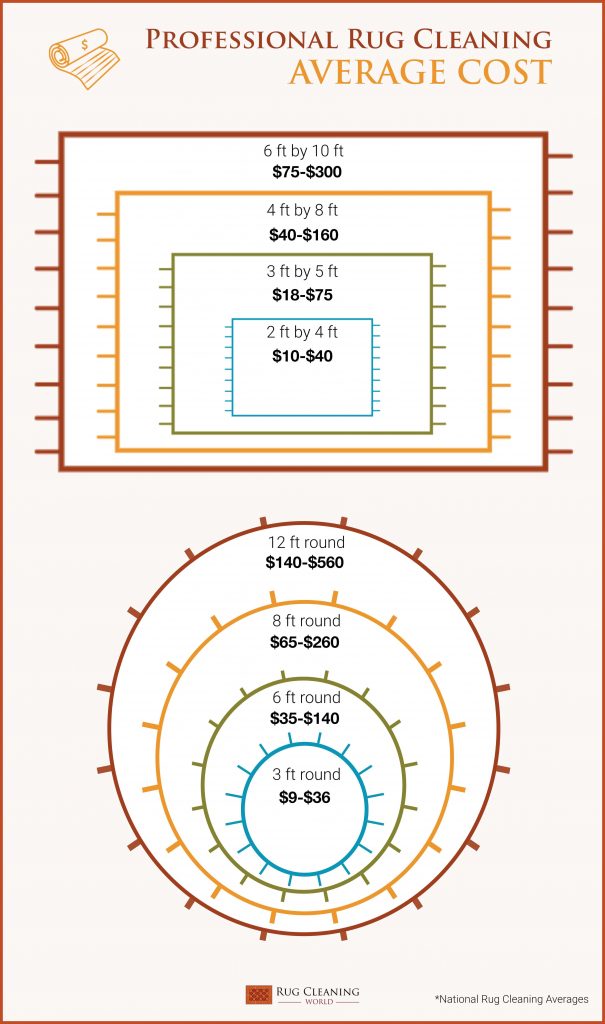 As you've seen the price variability is quite large. If you want pin point exactly how much it would cost to clean your rug, keep reading!
Deciding Factors
Through our surveys we have found that there are a lot of factors that determine how much it costs to clean a rug. However, we've narrowed it down to the 3 most important factors (besides location) to determine how much it costs to get a rug cleaned: Size, Type and Cleaning Method.
Rug Size
Size is actually quite easy to understand. The larger the rug, the more expensive it will be to have it cleaned.
PRO-TIP

KNOW YOUR RUGS SQ FEET BEFORE CALLING FOR A QUOTE

Most people who call a rug cleaning company don't know how big their rugs are.
Rug Type
Just like some rugs are more expensive than others, there are some rugs that are more expensive to clean. Usually, the more expensive a rug is, the more expensive it will be to have it cleaned.
On average:
– Synthetic area rugs the least expensive to clean.
– Natural Fiber Rugs (cotton, wool or chiffon are natural fiber rugs) are more delicate and are usually around 30% more expensive.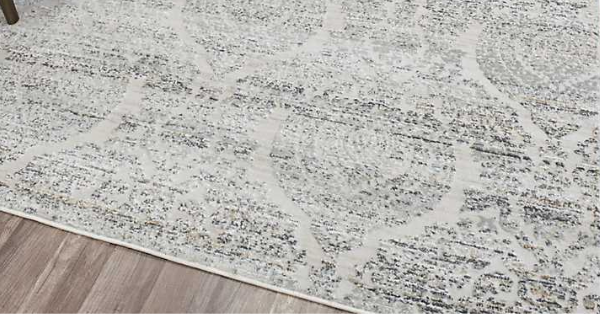 – Navajo wool or silk rugs can go up to 50%.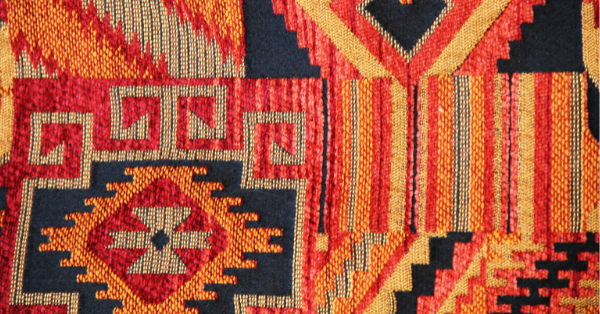 – Oriental rugs (and old rugs in general) can be even more expensive. Although it's impossible to know how much because the price can vary so much.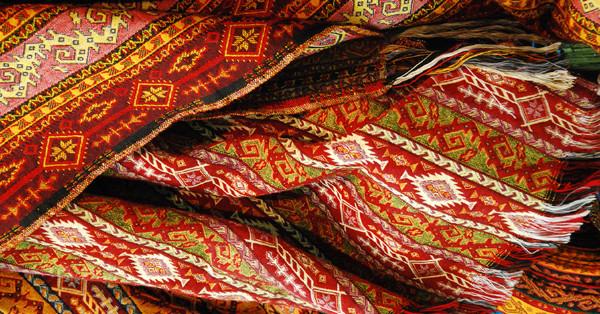 Rug Cleaning Method
There are multiple cleaning methods. Some of which are more expensive than others. The results are, of course different depending on what method you choose.
1. Dry Cleaning Area Rugs (aka Rug Absorbent Cleaners)
The method is called "Rug Absorbent Cleaners", although you might have heard of it as dry cleaning. And the reason is obvious… virtually no water is used during the Dry Cleaning process. It basically works by adding a dry detergent with solvent to your rug with a special machine. The detergent get's mixed with the dirt and the soil, and then it's vacuumed out thanks to powerful vacuums.
This method is only effective if the vacuum is very powerful and thorough. The more care and time vacuuming the rug, the better results the cleaner will get.
If the cleaner isn't thorough enough, you could end up seeing a very soft powder coming out of your rug for ever! That's the detergent that hasn't been vacuumed completely. And yes… it can be harmful for both pets and children. So make sure that your rug cleaner is a trained professional before going forward with this method.
This is the method that's used both for oriental rugs and wool (for different reasons). It's great for Oriental Rugs because since those rugs usually have lots of colors, you prevent decoloring by not adding any water. And it's great for wool too because they don't take steam.
2. Steam Cleaning or "Deep Cleaning"
This is one of the most popular methods because of how much you can see the before and after difference.
A high preassure water spray forces the dirt out of the rug and sucked into the vacuum slot (with the help of some detergent). Although the amount and type of the detergent may vary depending on the rug, this detergent is not as toxic as in the dry cleaning method.
It's a very popular method and it can be done by yourself using a machine at home. With one of those machines you can clean your rugs in a breeze! And if you own wall-to-wall carpets, those cleaners are going to be super helpful too.
Or you can hire a professional to do it for you. Naturally, the professional will do a better job because our machines have a lot more power. But if you steam clean your rug with a commercial machine, chances are, you won't need to call a professional ever.
It's all about being consistent and cleaning your rugs before they get too dirty.
3. Rug Shampooing
This is by far the cheapest method, although not as effective as the previous two.
The process is identical to "carpet shampooing". It basically works by generating a lot of foam in the rug. When the rug dries after a couple of hours, you vacuum the residue. And voilà! Your rug is clean.
The only problem is that it may produce wetting. Wetting is a dry and non-sticky residue that can happen if the shampoo isn't producing as much foam as it should. But this shouldn't be a problem as most professionals use shampoo that produces plenty of foam.
Extra Charges
This being said… sometimes cleaning your rug could be a little bit more expensive. That's becasue there're a couple of things that could make the process a lot more complicated. Let's take a look at the most common causes.
Rug Repairs
There're many times that before cleaning a rug, a repair must be done. Depending on the way the carpet cleaner is going to tackle the rug, he/she might need to repair the rug (especially the borders). If not, you risk having the machines ruining your rug.
This does of course depend on how skillful the rug cleaner is. But it's good practice to have the rug repaired before having it cleaned. Don't be surprised if your rug cleaner offers you a repair service too.
Stains and Odor Removal
If your rug has a stain or is particularly dirty on one spot, your rug cleaner might charge you more. The reason is that the treatment that's necessary to clean some of the stains is different than the treatment that's necessary to clean the rug overall. Since it takes more time, it will cost you more.
But don't worry! Most of the simple stains can be cleaned at home. Take a look at our Ultimate Rug Cleaning Guide to know how to clean your rug. Also, if your rug is dirty because of a pet stain (blood, solid, liquid, etc.), check out this article on the how to remove pet odor and stains to learn how to take care of those stains yourself. That way you can spare a few bucks 🙂
Travel Fees
Last but not least, many rug cleaners charge an extra for picking up and delivering your rug. While there's no problem with this practice, I find it unhonest to do so if the client doesn't know about the extra cost.
Most of the time it's a reasonable cost, but I would advise you to ask your cleaner before they come to pick up your rug.
Money Saving Tips
From what we have just said, we've unveiled a couple of saving tips (like asking for the travel fee or cleaning certain stains before handing in your rug).
However, I'd like to finish with a couple of pointers that could save you a lot of money!
Recurring Service Discount
Like in most businesses, it's great for rug cleaners to have loyal customers that can guarantee a future income. That's why most rug cleaners offer a recurring service discount. If you have a lot of rugs and you've already found a professional that's taking care of them, be sure to ask them for a discount! They might not be applying the discount because you haven't asked.
Military Members and Seniors
From the survey we conduted, we were surprised with the number of rug cleaners who offer a discount for members of the military. Not as many offer a discount for seniors, but it never hurts to ask!
How to Choose a Good Professional
Last but not least, the best thing you can do to safe money is to choose the right rug cleaning professional. There's nothing more expensive than having to pay for a service twice. Or even worst… having your rug ruined.
We also wrote an Ultimate Guide on how to find the best rug (and carpet) cleaning professionals. It's not be as intuitive as you might think, and selecting a good rug cleaner can be the difference between having a clean rug or a ruined rug.
Conclusion
As we have seen, rug cleaning prices can vary drastically (from $1.5 to $5) depending on the type of rug and the cleaning method that the rug cleaning company will use.
Choosing the least expensive option is not always the best option! That's why you need a Rug Cleaning professional who can help you decide what's the best for you and your rugs.