Are you in quest of the best cleaning method that will help you in keeping your carpet fresh and provide better indoor air quality? Steam cleaning is exactly what you need. However, it's important to understand the functioning of a steam cleaner. It will make you confident that you have chosen the right cleaning method for your house.
Steam cleaning involves extremely high temperature that shows no mercy to bacteria, allergens, and pests. It breaks down dirt and thoroughly cleans your carpet or any other surface that is being steam cleaned.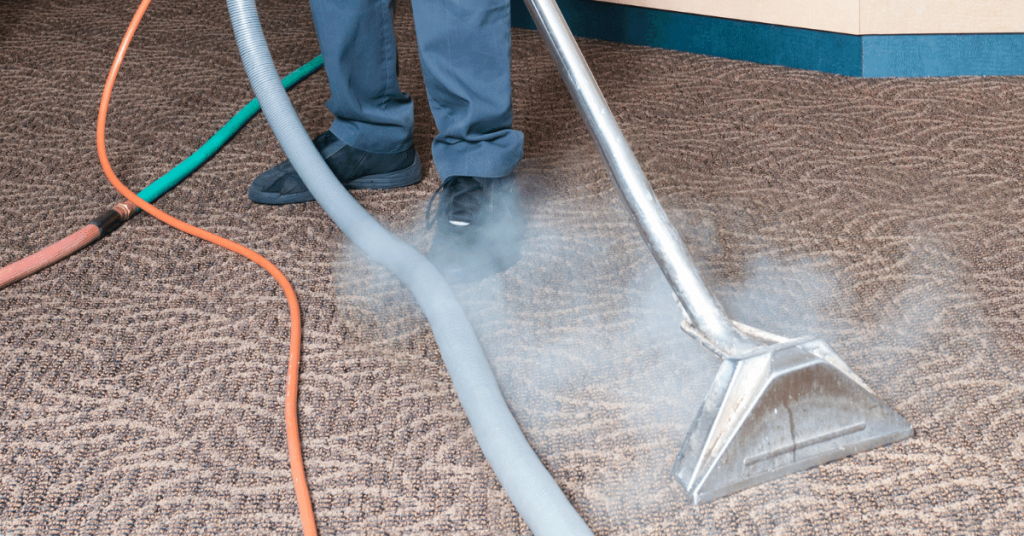 Do you want to deep clean your carpet but aren't sure how steam cleaning works? Here's a step-by-step guide for you along with benefits of steam cleaning.
How does steam cleaning work on carpets?
Steam Cleaning on carpets works by pouring hot water at an angle at your carpet. Because the water is pressurized, it removes all dust and debris. Immediately after the water hits the carpet, a powerful vacuum sucks the dirty water, thus leaving your carpet clean and dry.
The process starts when you pour water into the tank of the steam cleaner. A cleaning agent can also be added.
Water is heated past the boiling point in the boiler. This means we are talking about temperatures as high as 300° Fahrenheit. The steam tip temperature produced can be 245° Fahrenheit.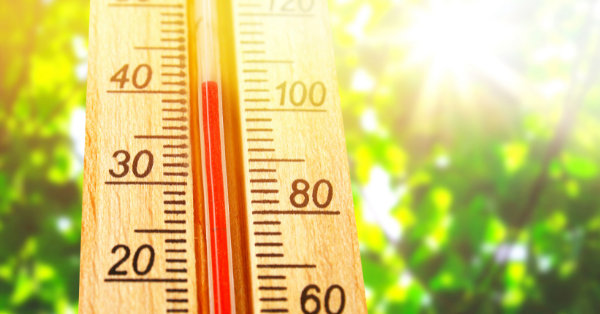 The pressurized steam is released through the nozzle or brush. It penetrates deep into the carpet and surrounds the fibers. The dirt and old stains are broken down.
Now, comes the suction part. Every steam cleaner has a vacuum-like component. It applies pressure to lift the dirt, allergens, and moisture.
Ta-Da! A cleaner and fresher carpet are ready. Oh, and not to forget a healthier house environment.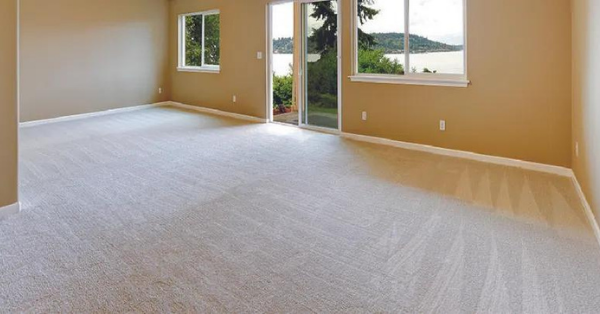 4 types of steam cleaners
There are various types of steam cleaners. Each of them is ideal for cleaning specific surfaces. However, the basic principle behind their working is pretty much the same. We are going to take a look at 4 different types of steam cleaners.
Type 1: Handheld steam cleaner
This particular type of steam cleaner is small, portable, and pretty affordable. A Handheld steam cleaner is ideal for removing stains from carpets. Also, the manageable size allows you to clean hard-to-reach spaces.
You can also get the dirt from underneath furniture that might have been accumulating since God knows when. One of the biggest pros of this steam cleaner is its affordable price. It's compact so you can easily store it in small spaces. It also is very lightweight that makes it easily maneuverable.
These are the ones we recommend all the time: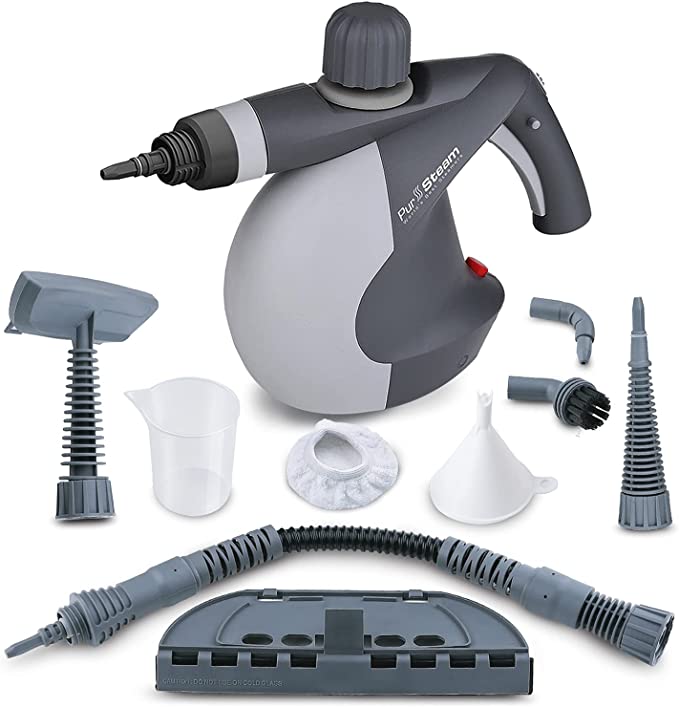 PurSteam Steam Cleaner
[amazon fields="B09FKBRNRG" value="button"]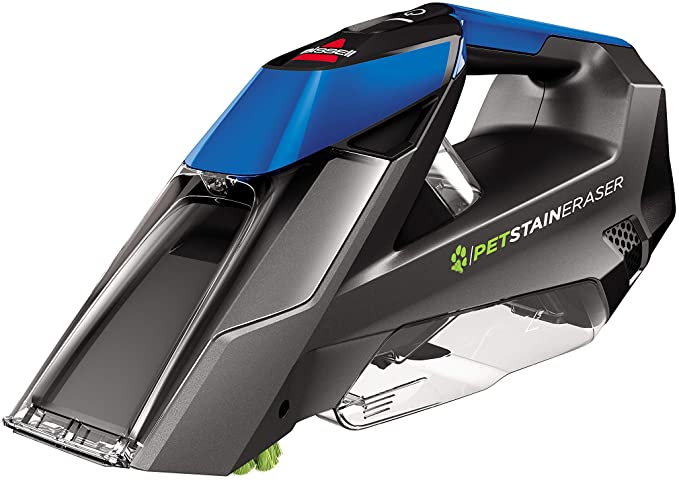 BISSELL, Portable Steam Cleaner
[amazon fields="B07X1ZM7HC" value="button"]
A couple of things you should keep in mind about a handheld steam cleaner is that it isn't made for cleaning large spaces. It also doesn't provide the same cleaning as the bigger steam cleaners.
Type 2: Steam mop
Have you ever seen a stick vacuum? A steam mop pretty much looks and feels like it. Not only is it upright and lightweight but also very easy to handle. This type of steam cleaner is much more efficient in cleaning and sanitizing floors than a traditional mop.
The steam kills bacteria, parasites, germs. No harsh chemicals are needed or used. This makes the cleaning session faster. A steam mop is not just physically lightweight but also light on your pocket. However, they cost a little more than the handheld steam cleaner.
These are 2 of the best options you'll find! And they're surprisingly quite inexpensive given how useful they are.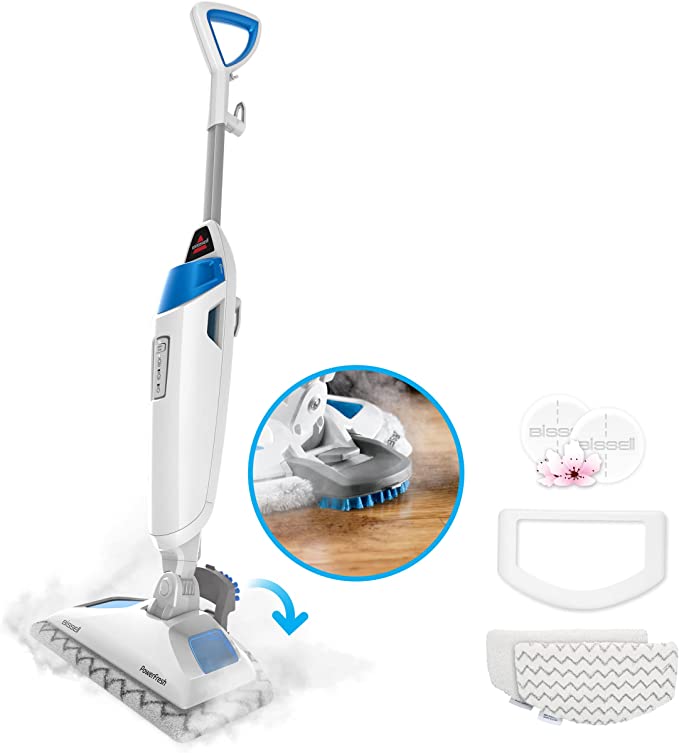 Biseel PowerFresh Steamer
[amazon fields="B0091YYUAM" value="button"]

Shark Pocket Cleaner
[amazon fields="B0028MB3HM" value="button"]
A steam mop is also eco-friendly. But the drawback is that it isn't the ideal cleaner for hard-to-reach spots. A special attachment is needed to use it on carpets.
Type 3: Canister steam cleaner
Also known as cylinder steam cleaners, these are larger than handheld steam cleaners and steam mops. Their size makes it harder to maneuver. However, don't get biased against cylinder steam cleaner. It is very efficient when it comes to cleaning.
The larger size means there is a bigger water tank. This will help you in cleaning a large area without having to refill the water unit. There are different attachments available for this cleaner that make it extremely versatile.
The brand we like the most is McCulloch. These are their 2 most popular canister steam cleaners by far!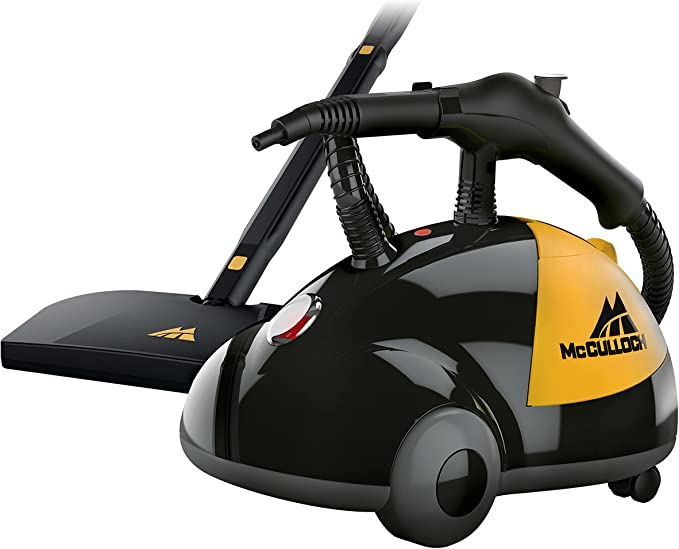 McCulloch Heavy Duty Cleaner
[amazon fields="B0000DF0RB" value="button"]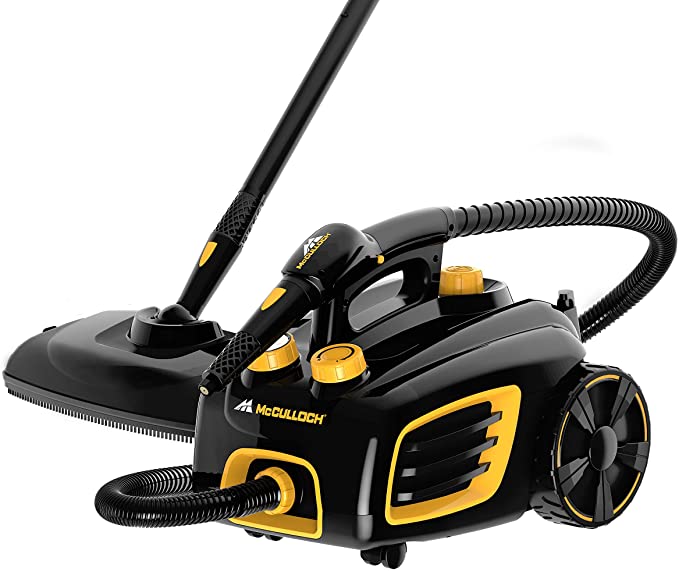 McCulloch Steam System
[amazon fields="B00G00BT72″ value="button"]
In regards to the price, handheld steam cleaner and steam mop are cheaper than a cylinder steam cleaner. It is worth it as you can clean pretty much everything in your house. Be it carpets, curtains, floors, or countertops.
Type 4: Vapor steam cleaner
This type of steam cleaner is pretty much similar to the cylinder steam cleaner that we discussed above. Vapor steam cleaner is also versatile. It comes with a variety of attachments that enables it to clean several different surfaces.
This type of cleaner provides dry cleaning. Steam cleans the surfaces, and no dampness is left behind. It helps you in cleaning your house without having to wait for anything to dry. As we all know, drying takes lots of time.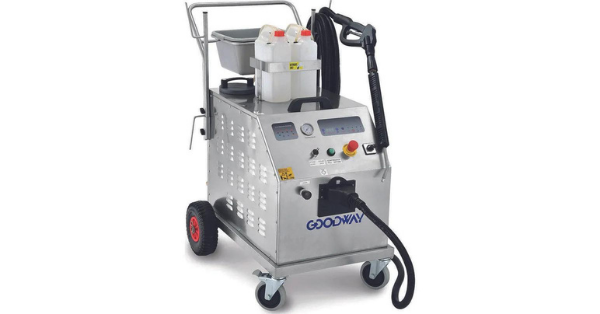 Vapor steam cleaner is more expensive than other steam cleaners, but the reliability, durability, and versatility make it worth the price. The size makes it difficult to store, though. That's why only professionals buy vapor steam cleaners.
Do you want to use a steam cleaner at home but have doubts about its effectiveness? Steam Cleaning is extremely effective, and this is why!
Guide for buying a steam cleaner
There are a few things you should consider when buying a steam cleaner. You need to have done your research thoroughly. One of the factors to keep in mind is the capacity of the boiler. If it doesn't take in much water, it means you will have to refill it again and again. That will hinder your cleaning process.
Secondly, you should see how many attachments and tools it comes with. It needs to have a sufficient variety of those if you have to clean different surfaces like windows, carpets, countertops, etc.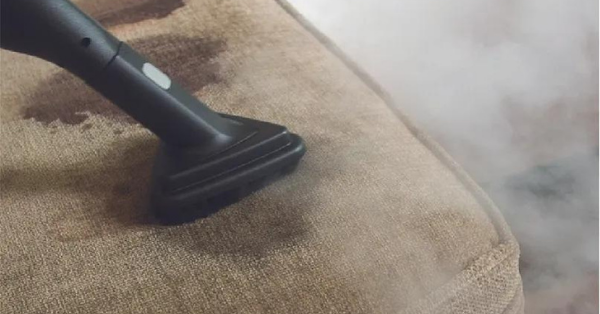 If you can get a storage bag in the deal, it's great. It is very helpful to avoid the hassle of storing cord set, hose, and attachments. You also should consider how mobile the cleaner is. It will be a trouble for you to manage if it's heavy and huge.
Oh, and it will not be very portable too. Compact steam cleaners can be portable and easy to store as well.
Are you tired of having bed bugs in your carpets? This post will explain how you can possibly get rid of these annoying pests.
Conclusion
In short, steam cleaners work efficiently with effective results. The heated water is released as steam that penetrates the carpet and breaks down dirt.
If you are contemplating the purchase of a steam cleaner, take a look at the list of some of the best carpet steam cleaners. Make sure you get good value for your money.
Keep in mind the guidelines for buying a steam cleaner. Don't neglect any factor as each one has its significance.
I hope your carpets become as good as new by the steam cleaning session.