I like open concept floor plans when there's lots of space without any walls. But in this case, the space is divided into different zones. And sometimes there are different types of flooring in these areas. To join these different types, floor transitions are necessary. If you need to know, what floor transition is and what types of them exist in the market nowadays, this post is for you.
Usually, 2 different types of flooring in 1 premise or between separate rooms have a gap in between. To cover it, there are 5 widespread ideas: 1. Installing the threshold, 2. Using a T-strip, 3. Using cork expansion joint, 4. Fixing the transition strip for laminate, 5. Metal transition strip, 6. Installing the 4-in-1 strip. Besides, the type of transition solution depends on the floor structure and thickness. To know, what floor transition is and the pros and cons of each idea, continue reading.
What is a Flooring Transition?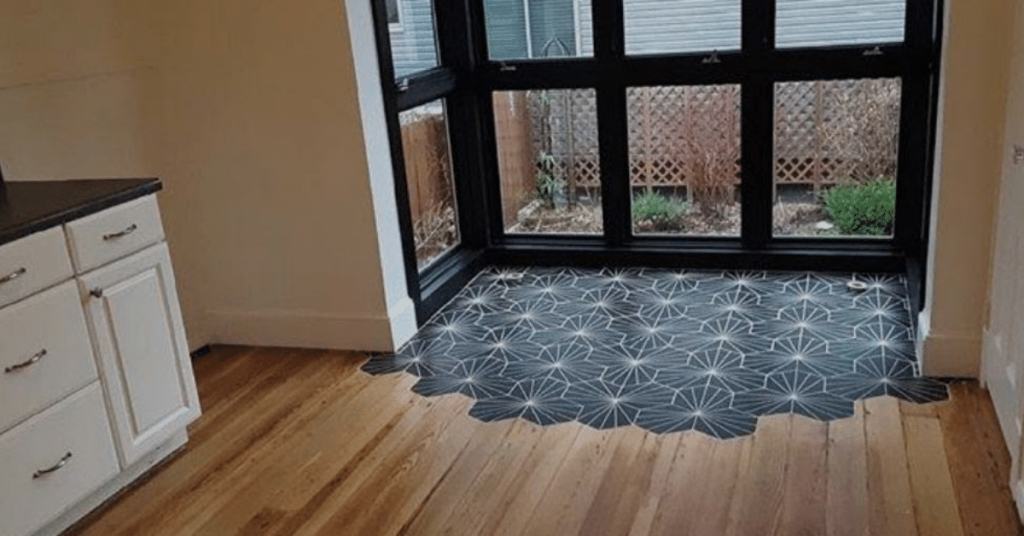 In any living space, starting from a small studio and ending with a huge mansion, there's a place, where one type of flooring is changed by another. Thus, you may have tiles in the cooking area in your kitchen and hardwood or laminate in the eating area in the same room. Otherwise, you may have a leather floor in the sitting area in your living room and hardwood in the other part of it. These 2 types of flooring have different structures and sickness. To create a smooth boundary in the place of their "meeting", floor transition is necessary.
So, to define this notion exactly, flooring transition is a boundary between 2 different types of floor materials. The floor transition has to fulfill the following functions:
It equalizes the different heights of floor coverings
It saves the people in the room from tripping
It joins different zones in the room in one and whole
Even if you don't have an open space in your house, I am sure you have floor transitions in your rooms. Thus, you probably have ceramic tiles in your bathroom and laminate in your bedroom.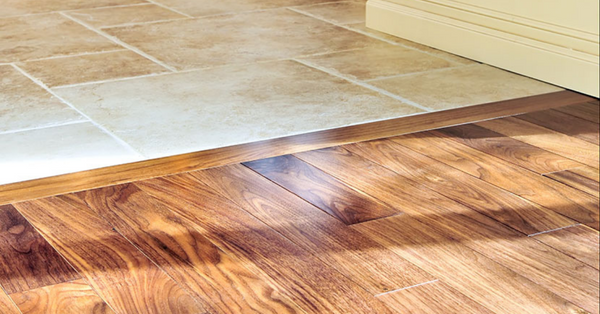 These types of flooring are divided by the threshold. By the way, it is one of the kinds of floor transitions. There are 5 other types. I am going to tell you about them in the next part of my story.
What Are the Different Types of Floor Transitions?
I am sure, in case you need to fix a floor transition in your house, you'll invite a professional for that. And he will define what type of floor transition works better in your situation. But I think you should know all the possible solutions to this problem to get that very finish you want.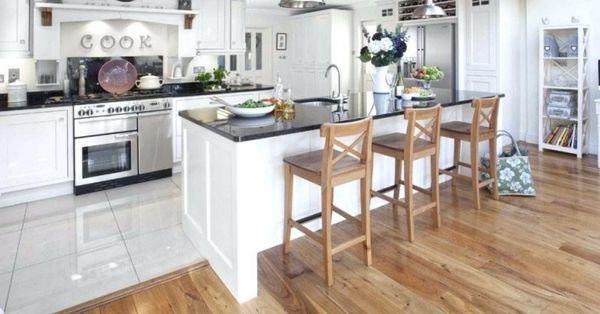 Before making the final choice for transition type, ask yourself several important questions:
Is it the transition from a soft floor surface to a hard one (like carpeting and hardwood)? Or is there a transition between 2 hard types of flooring (like hardwood and laminate)?
Do these 2 types of flooring have the same height?
Are these types of floorings lying in one room or different rooms?
After answering these questions in detail, it will be so easy for you to choose the appropriate type of flooring transition.
To help you develop your vision, I am going to give you the most widespread floor transition types.
Type 1: Threshold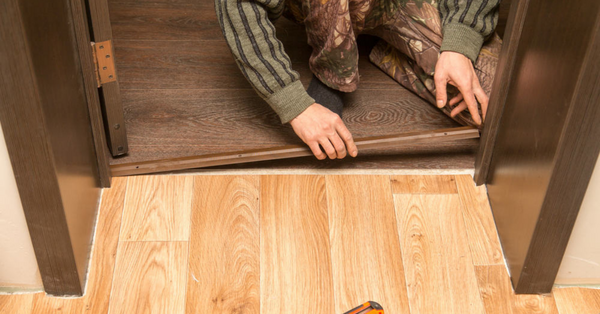 I've already mentioned this type of flooring as an example in my previous chapter. It is the most popular type of floor transition, which repeats the architectural pattern in your house. The threshold divides 2 different types of flooring in different rooms (for example, tiles in the laundry and laminate in the hallway). They fix the threshold in the doorway, so it looks very natural and doesn't catch your eyes.
They make thresholds from different materials. The most widespread materials as of now are:
The most popular material is wood, while the most durable is aluminum. The threshold, made of this material, serves up to 10 years in the high traffic areas.
It is necessary to install the threshold firmly for it to serve for years. The methods of installation are also different:
On the strip
On the glue
On screws
If you have 2 floorings of different heights, choose that kind of threshold, which can equalize them. It will offset the difference between height levels of floorings. So, the threshold is the popular and effective type of flooring transition.
Type 2: T-Strip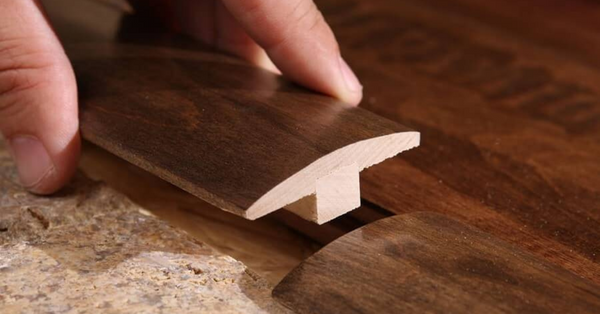 The T-strip got its name for its shape – it reminds letter "T". It is one of the most widespread and cheap solutions, which helps to join 2 different types of surfaces into one room covering. They make this strip from such materials:
Usually, this strip is of traditional metallic color. Nevertheless, you can paint it in any color you need. They install the T-strip with the vertical portion of it down. Sometimes adhesive or screws are used to fix it more steadily. The upper part of "T" lies on the floor surface. It looks like a curve, but it is very smooth, so you won't trip over it.
With T-Strip it is possible to equalize the height difference between 2 coatings. You can use this solution to join, for example, tile and laminate flooring. If the tile edges are not even, the T-Strip will hide them.
The T-Strip is a great solution, which has just 1 drawback – it is prone to scratches. So, I don't recommend you to use this strip in the room, where you walk in the street shoes.
The T-Strip price is very modest – just about $2 per 2.5 square meters.
Type 3: Cork expansion joint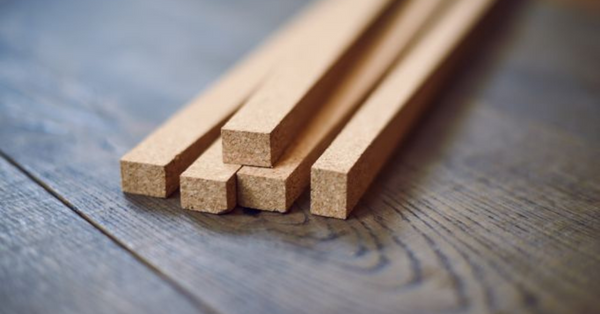 Cork expansion joint is another idea, how to join 2 different types of flooring. Very often it is used to unite laminate panels with tiles. But it is possible to use it with other floor kinds and it will work effectively as well.
Cork joint has some advantages in comparison with other types of flooring:
You can paint it in any color you like to match the general style of your room
The material it is made of is environmentally friendly and safe
The cork joint is durable and works great in high-traffic areas
It looks aesthetic
The only drawback of this floor covering is the hardness of its installation. If you fail to calculate its size correctly up to 1 mm, it may be squeezed from its place between 2 different floorings. In this case, it is necessary to replace the cork joint.
Cork expansion joint's price is $6 per 1 sq. m.
Type 4: The transition strip for laminate flooring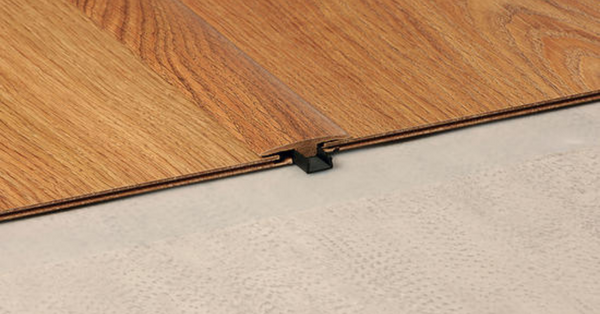 This kind of floor transition is more suitable for joining 2 different laminate floors. It is a great choice for the open floor space or a small studio, where you need to zone the separate areas. Although mostly it is used to join laminate floors, it's not forbidden to use the transition strip to unite different types of floors of the same thickness.
The transition stripes the following pros:
It is made of natural environmentally friendly material – wood
It is durable
It is resistant to scratches
The price of the transition strip is about $15 per sq. m.
Type 5: Metal transition strip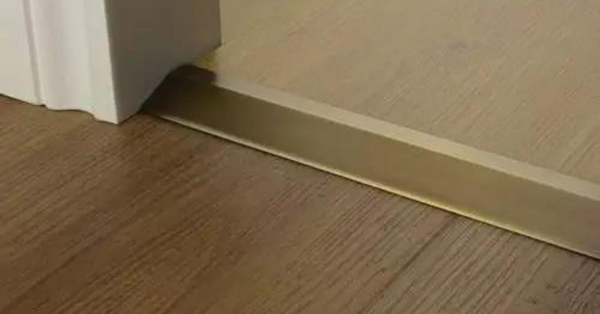 This type of transition strip they use to join the tile with a parquet of engineered wood floorings. The metal transition strip is made of aluminum and it is just 3-4 mm. The tile-to-parquet strip looks very classy. Such a solution is used in respectable houses, where the owners want to add some noble charm to their room. The price of this solution is $5 per sq. m.
Type 6: 4-in-1 Strip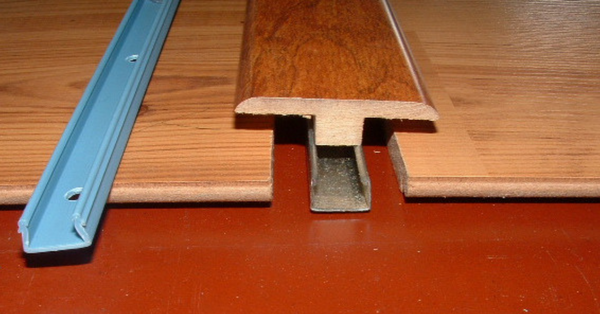 I put this type of floor transition in the 5th place as it is the most versatile on my list. This kind of floor transition solution is suitable to join different types of flooring. If you have just started the floor remodeling in your house, and you don't know exactly, what type of floor coating you'll choose, then 4-in-1 Strip is for you. This construction consists of 4 pieces:
The metal channel, which is used to fix the whole system
The T-strip
Carpet strip
End molding
These 4 pieces may be used in combinations with one another and separately.
These 5 types of floor transitions are the most versatile. But there are other solutions for more complicated situations. Thus, the interior designer can advise you to use the flexible strip to join the tile and laminate floor in the kitchen. The flexible mold can repeat the pattern of the tile edges. It is a difficult job for the contractors, who will fix it. But the result is perfect.
If you need some more detail on floor transition solutions, watch the video:
Conclusion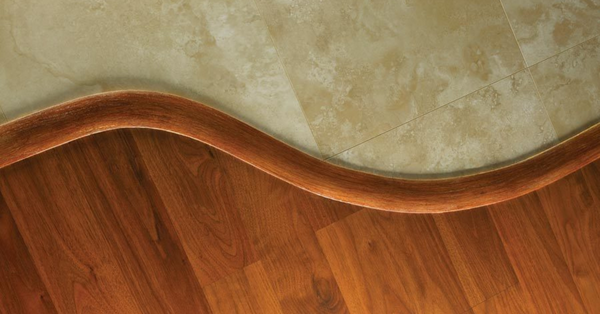 To wrap up, using 2 different types of flooring in 1 room is not an easy thing. Very often such a solution causes additional difficulties and expenses. Nevertheless, different types of flooring help to zone the space if the premise is very big. It is also a great idea for a studio apartment, where there are no walls between the eating and sleeping areas.
There are 5 widespread types to join 2 different types of flooring in the whole piece. I've described them in detail. The correctly installed transition strip will look aesthetic in your room. Besides, it will keep the gap between the two floor materials clean. So, don't hesitate, choose the solution, which you like the most and put it into practice!