My readers know that I love various kinds of carpeting, including car mats. I care so much about the mats under my feet while I am driving. I have been using Eva car mats for over 5 years now. In this post, I am ready to share why I like them so much. I want to tell you what I don't like about Eva car mats, too.
As a general rule, Eva mats get a lot of positive feedback from users. The main pros of these mats are long durability, stylish look, environmental protection, and the ability to keep dirt and water inside due to a special design. As for cons, there are the hard washing and drying. A detailed review of Eva car mats' pros and cons, as well as interesting facts about the material they are made of, read below.
Eva Car Mats Material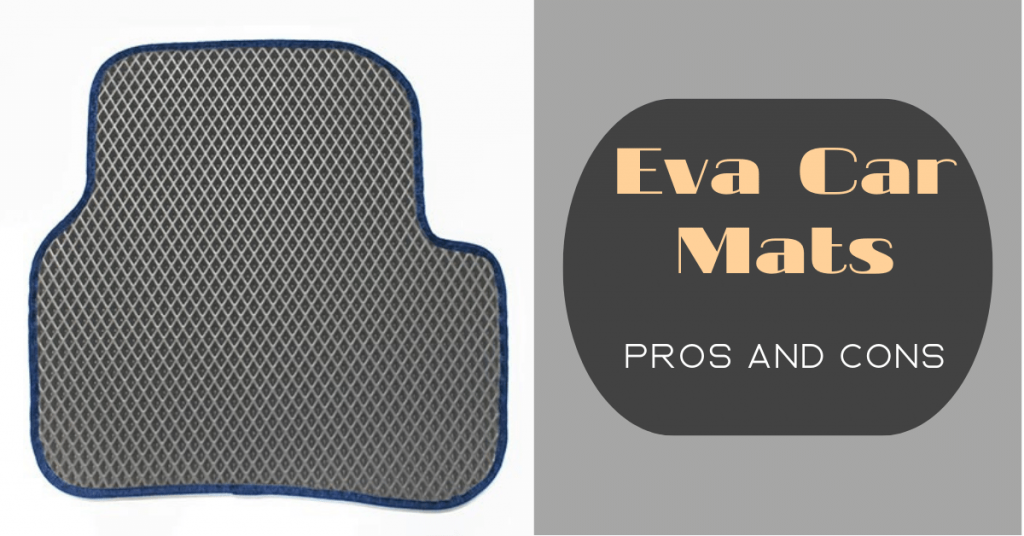 I decided to tell a few words about the material Eva mats are made of because it is really important. The car owners know that the mat is not just a stylish addition to the auto salon décor, but also the dirt barrier. As a little warrior, the car mat protects the salon from the moisture and dust, which the driver brings on his shoe soles.
Car mats come in different types. They are produced from different materials and have various designs. As an experienced car owner, I know that the material car mats are made of plays a key role in their quality. Car mats made of high-quality material do not slip and bristle underfoot during the ride. Also, they trap dust and dirt inside, preventing them from soiling the floor of the car. Thus they protect the car bottom from corrosion.
For the production of Eva car mats, manufacturers use the polymer material, called ethylene-vinyl acetate. My dear readers, I hate these long names of chemical products as much as you do, so I'll try to explain to you the properties of this material in simple words. This material resembles rubber as it has the same softness and flexibility. At the same time, ethylene vinyl acetate (which is usually abbreviated as EVA) has additional advantages in comparison with rubber. It is resistant to low temperature, UV radiation, and cracking.
That's why it is widely used for the production of many things, which are necessary to people. You can get various items, made from EVA, like hot glue sticks, football boots, sandals and slippers, rod-butt ends, etc. Lots of goods for kids are also made from EVA. Moms trust ethylene-vinyl acetate and order toys and kids' shoes, made of this material. Besides, some parents order floors made of EVA for children's rooms.
No wonder, that one day manufacturers started to use EVA for making car mats. They appeared on the market in 2009-2010 and since then lots of car owners all over the world have ordered these mats for their vehicles. I tried them, too. Now I am ready to tell you in detail, what I like and what I don't like as for Eva car mats.
Eva Car Mats Pros and Cons
You should understand that EVA is the material the car floor mats are made of. Many manufacturers around the world sell EVA car mats. The car mats' quality depends on the manufacturers' integrity as well. I used the products of the American manufacturer Dubllbee, headquartered in Miami. Your mats, dear readers, may come from Japan, China, Germany, etc.
Eva Car Mats Advantages
In general, I have had a positive experience with Eva mats. They are beautiful, light, durable, and comfortable. Here's the list of cons, which I noticed, while I was driving with EVA mats in my car.
Pro 1: Cells on the mat surface, which keep the dirt and dust inside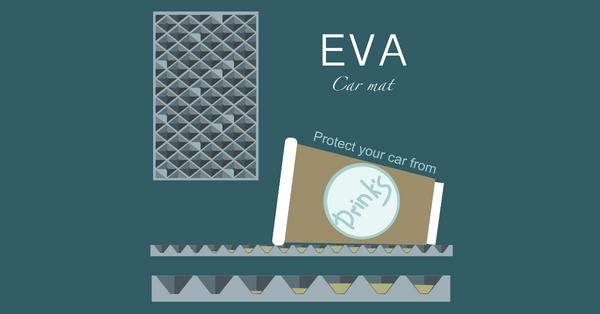 At the beginning of my post, I mentioned that Eva mats have a special design. If you look a little closer at the Eva mat surface, you'll notice small cells on it. Their aim is to keep water, snow, sand, and dirt inside. Thus, the car salon and car floor remain dry and clean even during the wet weather. The cells on Eva mats keep the water and dirt inside and prevent them from spreading in the car cabin. Even if you tilt the mat, the water remains inside the cells. To clean the mat surface from dirt and liquid, just turn it over and tap it several times from the backside.
Pro 2: Eva mats are eco-friendly
I am sure, many of my readers are reasonable consumers and they care about the environment. That's why they should know, that Eva mats are eco-friendly. After you wear them out and then throw them away, the mats will be recycled into Eva foam and some other things will be made from it.
Pro 3: Excellent durability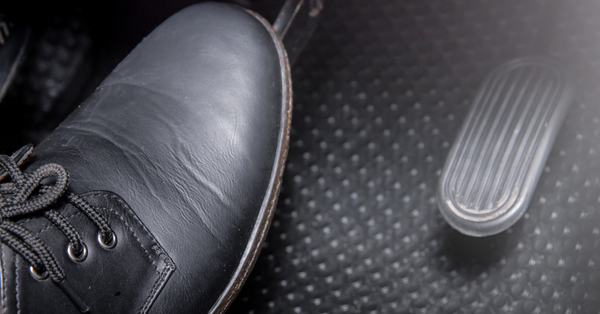 Probably, I should put this advantage of Eva mats in the first place. You can use these mats all year round and it remains good-looking and sturdy. These car floor mats serve their owners 2-3 times longer than those made of rubber. I have had Eva mats in my car for 5 years already and they are still great. By the way, Eva mats can never be affected by mold and mildew.
Pro 4: Individual design
This pro of Eva mats is one of the most important to me. You know, that I am very serious, when I speak about arranging the space around me. That's why I want the floor mat, which ideally fits my car salon. That's why I was happy to know, that Eva mats are designed individually for each client. Before making Eva mats for my car, the specialist from the manufacturing company took all the measures. Then they created mats, which covered 98% floor in my car salon. Thus, the floor in my car is clean and dry even during the rainy season.
Pro 5: Many colors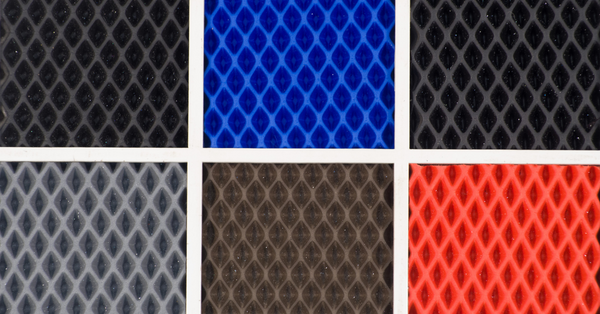 This point logically comes from the previous one. Eva mats are available in various colors. You can get mats of red, yellow, blue, black and other tones. Thus, you can let your imagination go wild and create a unique ambiance in the salon of your vehicle.
Pro 6: Lightweight
Eva mats are very light. They are 4-5 times lighter than rubber or textile mats. Thus, you can carry the whole Eva mats kit in your hand and don't even feel tired. Despite such lightness, Eva mats are very strong and waterproof. Besides, they don't lose their shape for years.
Pro 7: Eva mats don't slip
Eva mats have Velcro fastenings. With their help, you can firmly attach the mats to the car floor and be sure, that they won't slip under your feet while you are driving. Thus, you can be sure, that dirt from the Eva mats won't appear on the car floor. Besides, it guarantees you a safe ride.
Pro 8: 5 item kit is available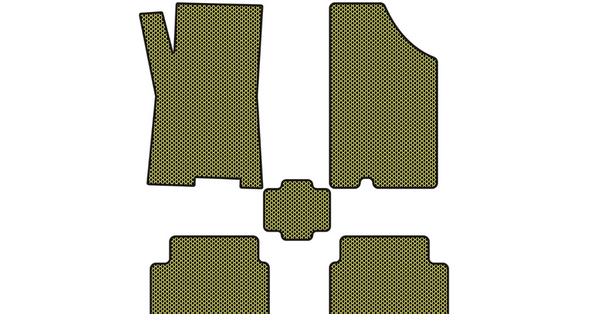 I was glad to know, that the kits of Eva mats consist of 4 items, which cover the floor under the feet of the driver and his passengers. Besides, there's the 5th mat for the car trunk. You may refuse from getting it and thus save some money. But I decided to get it and didn't regret it even a minute! I always put some cargo in my car trunk, like fishing rods, shoes, some food, and drinks. And I am sure, that the car trunk bottom is protected from all possible dirt and spills.
Eva Car Mats Disadvantages
I am always honest with my readers, so even though I like Eva car mats, I have to say about its disadvantages, too. So, here are some cons.
Con 1: Eva mats are hard to clean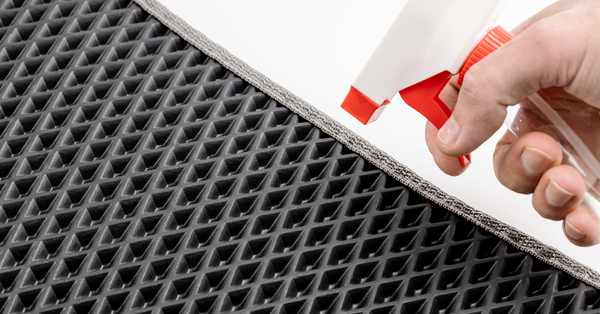 The cells keep the dirt inside so steadily, that sometimes it is hard to clean it away. I clean Eva mats by myself using [amazon link="B0017QFOXO" title="Kirby Foam"/] for it. Sometimes it takes several hours to wash all the dirt from Eva mats cells. Once a year I take them to a professional cleaning company. Thus, I am sure, that all the dust and sand are washed away from my car mats.
Con 2: They are hard to dry, too
Eva car mats have an edge, made of cloth. This edge dries during 1-2 hours in the sunlight or even longer if the weather is wet. Very often I clean my mats and leave them on a flat surface for a night to get completely dry.
Con 3: Eva mats surface can be damaged by high heels or firm shoe soles
Eva mats are very firm, but once I damaged its surface with high-heeled shoes. A long crack appeared after the high heels of my shoes touched the celled surface of the mat. So, ladies, I advise you to refuse high-heeled shoes while driving in the car with Eva mats on the floor. Otherwise, be ready to replace your mats quite often. The same happens, if you wear shoes with hard soles.
Con 4: They lose their flexibility if the temperature is – 4°F and lower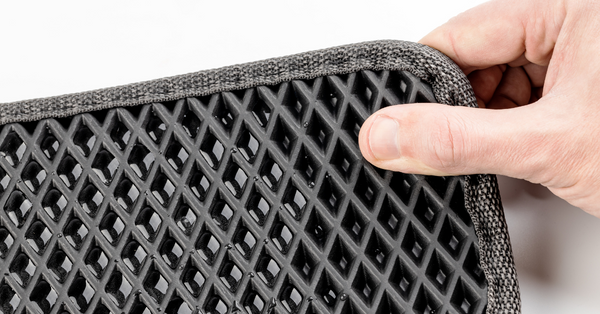 The manufacturers tell that Eva mats remain flexible, even if the temperature is extremely low, like -58°F. But my car mat got very dense even when the temperature was – 4°F. I was afraid to take it out of my car without breaking it. So, keep it in mind, if you live in an icy state.
Final Thoughts
As you see, Eva mats have both pros and cons. In general, I am very happy that I tried these great car floor mats. They add a bright touch to the interior design of my car salon. Besides, they keep the dirt, water, and sand inside well, so the floor in my car remains clean. I advise you to give these mats a chance and try them, too. Probably, you'll like it as much as I do.