Elegant and eco-friendly rugs can effortlessly accentuate the personality of any room. Not only are such floor coverings sustainable for the environment, but they also enhance the serenity. Apart from that, they allow you to be ethically responsible. What could be better than having something beneficial on so many fronts? Getting an eco-friendly rug is an excellent way to start the journey of making your home worth coveting.
The market is brimming with online rug stores that sell eco-friendly rugs. Since I have shopped from more than a dozen of them, I know which ones are the best! I recommend that you rely only on reputable online stores like Lumens Light+Living, Ecarpet Gallery, and Natural Area Rugs. All of these shops have something to fit your needs. There are various types of eco-friendly materials, like wool, cotton, Sisal, Jute, and Seagrass.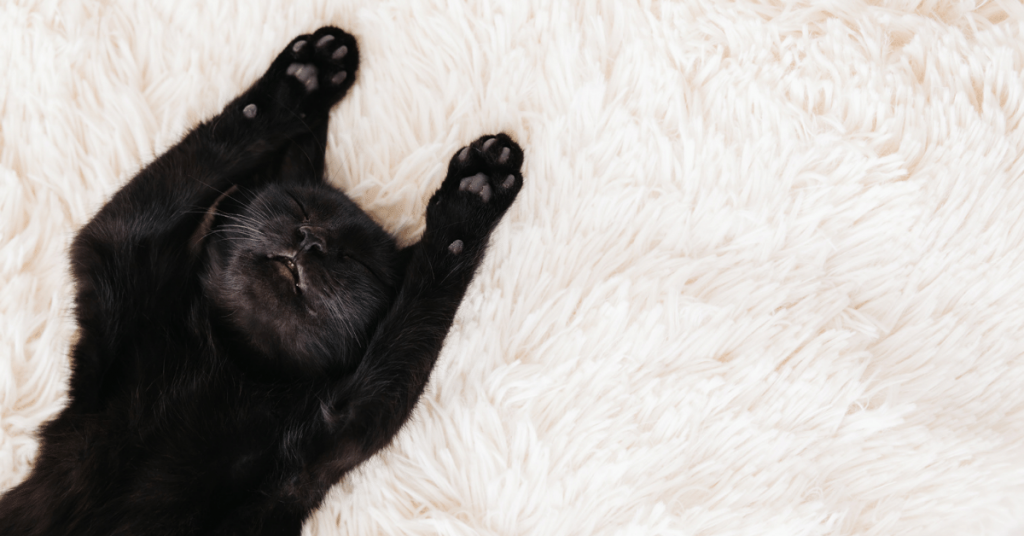 You may wonder whether you should buy eco-friendly rugs or let it be.
Why Should You Buy Eco-Friendly Rugs?
Have you ever been to an elegant home that makes you feel an overwhelming sense of peace? Observe carefully, and you will soon realize that it is the décor that exudes a natural yet compassionate presence. You can make your living space equally positive by decorating it with environmentally friendly décor pieces. In short, it is a terrific idea to get a natural and non-toxic rug that has an ethically sound production process!
Here are a few reasons why buying an eco-friendly rug should be attractive to you:
They are biodegradable and hence suitable for the environment.
They consist of natural rug fibers, which can be hypoallergenic. This nature makes them safer for homes with pets, children, and allergy-prone individuals.
They help you have a clear conscience, as having them is more ethical.
They aren't detrimental to the indoor air quality like synthetic fiber rugs tend to be.
If you find these benefits admirable, you should also opt to purchase an eco-friendly rug from a reliable store.
The Best Online Stores to Buy Eco-Friendly Rugs
While there are many online rug stores, not all of them sell top-notch products. However, there is no need to be anxious! To make things simpler for you, I have listed down the most reputable ones I know! Moreover, I have also shared a few screenshots that will make the purchase process easier for you.
Here are three reputable online rug stores where you can get eco-friendly floor coverings:
Store 1: Natural Area Rugs
Natural Area Rugs is the best place to shop online if you're searching for a rug that isn't harsh to the environment. They have a wide assortment of floor coverings that will never fail to amaze you. Being operational for more than a half-century, they are a true leader in the natural area rugs retail industry. They have earned and maintained this respect and appreciation from others since 2000. Tell me yourself, why wouldn't you trust them?
Unlike synthetic fibers, natural fibers are biodegradable and safer for the ecosystem at large. Since this online rug store specializes in floor coverings made with the latter, you can buy products without a second thought. After all, they are sincere with their business offering and never fail to amaze their clients.
If you visit the website, you will learn that its design is curated to optimize the experience for potential customers. So, visit the gorgeous Natural Area Rugs website with confidence and explore it.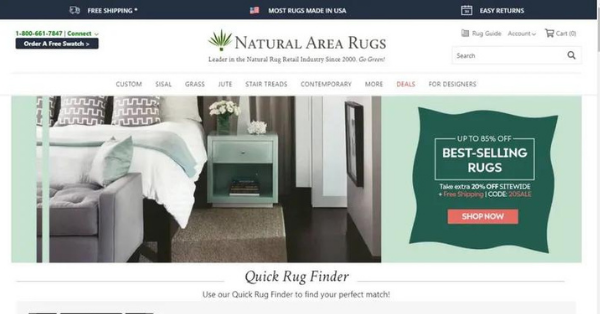 One of the most appealing qualities about Natural Area Rugs is how caring they are towards their customers. Go through the website, and you will be able to confirm this yourself. You will be highly pleased to know that there are a couple of fantastic deals that the store is offering. I strongly advise you to go through them to get something with excellent value for money.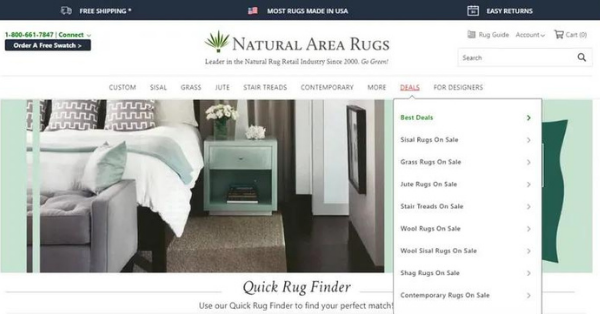 Regardless of whether you wish to buy a Sisal, Grass, Jute, or Wool Rug, this store has something for you! Therefore, assign some time aside to go through Natural Area Rugs thoroughly! Trust me, this reputable name of the industry will not disappoint you.
Lumens Light + Living is a sophisticated and stunning online store that offers modern décor items to its clientele. They have been operational in this industry since 2006. While they are not solely offering natural fiber rugs, they do have quite a few stylish ones on sale online. Therefore, if you adore a trendy and modern living space and want to purchase eco-friendly options, I advise you to explore their site.
When you visit the elegant Lumens Light + Living website, here is what you will see: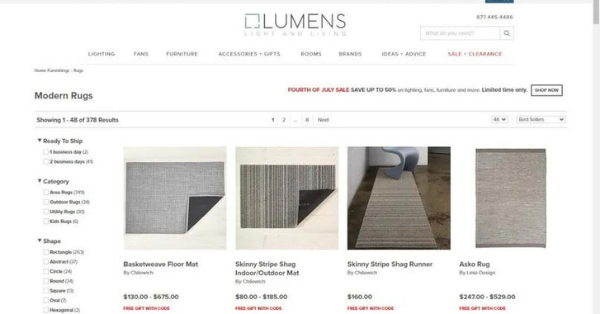 They give you a lot of power to alter the filters and find a rug that is suitable for your living space. Alternatively, you can also use the search bar to search for rugs in specific sustainable materials like wool and cotton.
The customer experience is smooth and satisfying on this site as it is genuinely a marvelous curation. You can easily select the desired shape, color, brand, or size and view relevant offerings. Other than that, there will be a more precise understanding of ratings with this store in your sight. The best purchase decisions occur with the light of the right information, and Lumens is committed to satisfying customers.
If you wish to see an example of the sort of magnificent rugs available at this site, have a look: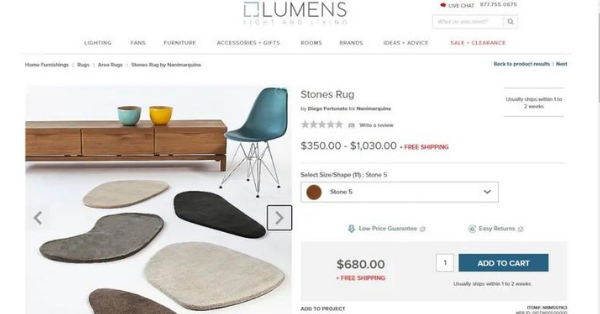 These stone rugs involve the use of 100% New Zealand wool, which is ethically sourced. Since it has a unique shape that can make any room look trendy, you might want to check it out. There are many other modern rugs made with natural materials available on this site. However, you must search for them. So I advise you to use a generous amount of time to explore Lumens Light + Living. The store will not disappoint you with its quality and style.
The site has an awesome Ideas + Advice section that might make your purchase process even more refined. Therefore, do give this online store a chance, especially if you have a modern sense of style.
Ecarpet Gallery is an online platform that presents affordable luxury rugs that are superior in quality. The store has an extensive collection with more than 100'000 floor coverings! Moreover, since it has a fruitful twenty years' worth of experience, they serve their customers magnificently. Don't overlook this online store if you're looking for eco-friendly rugs. You would be surprised by the sort of hidden gems available here.
Whatever style appeals to you regardless of whether it is Persian, Transitional, or contemporary, they will deliver. Not only does this site offer elegant and intricately crafted hand-knotted rugs, but they also let you explore different materials. You may have to be creative with the search option on the website to find suitable floor coverings.
You have to take out a reasonable amount of time to explore the gorgeous Ecarpet Gallery website. As soon as you visit the link, this is what you see: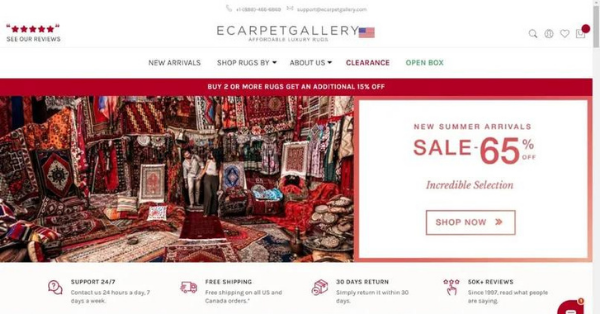 The website is incredibly easy to use and surf through. All you must do is roam it, and you'll easily find whatever suits your needs. Your specifications will be satisfied, and the offering will blow your mind away with its brilliance. Just be mindful of your requirements and search for materials that are not harmful to the environment.
When I searched for a cotton rug on this website, I found this exquisite beauty: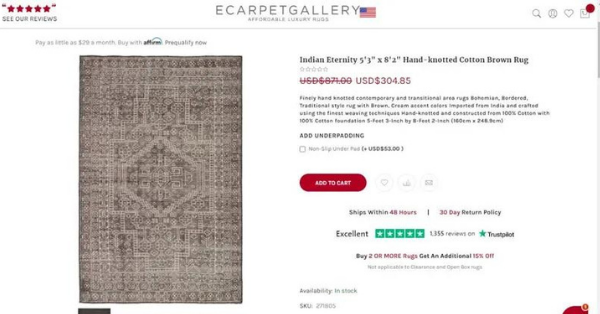 As you can see, the designs are intricate yet elegant and can add tonnes of personality to any room. You have to spend some time searching for other eco-friendly and traditional options. There is something for everyone in this online store if only they are willing to find it!
Types of Eco-Friendly Materials
Eco-friendly materials are sustainable, biodegradable, and ethically more suitable to use for your home décor. While there are many types of materials, I have listed a few for you.
Never underestimate the ability of eco-friendly fibers to create stunning carpets that take your breath away.
Wool
It isn't difficult to see why wool takes up a special place in everyone's heart. The acquisition of this natural fiber occurs when animals go through a shearing session. Shearing is an undeniably healthy activity that boosts the hygiene of these animals. Therefore, the sourcing of wool is generally eco-friendly and ethically sound.
Several qualities make wool a unique material worth your consideration. It has an aversion to water and flames; it displays hypoallergenic behavior and is resilient to shape distortion. Also, consider that it is a symbol of luxury, and you might feel the temptation to buy a wool rug!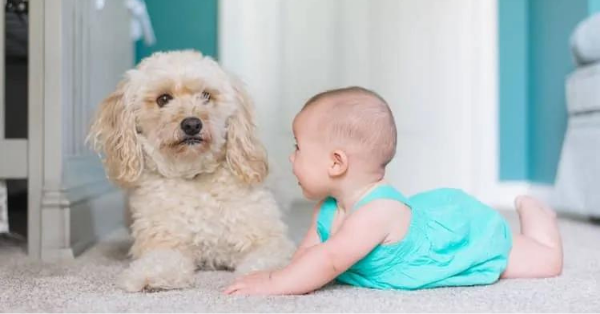 PRO TIP
IF YOU HAVE ANY VULNERABLE LIVING CREATURE IN YOUR HOME, WOOL SHOULD BE YOUR MATERIAL OF CHOICE.
Wool is hypoallergenic, which makes it an ideal rug material for homes with sensitive individuals or pets. Regardless of whether your home has allergy sufferers, kids, or pets, you can rely on this natural fiber confidently.
Since it is an elegant material that can withstand high footfall, it proves to be a meaningful investment.
Cotton
Cotton is a soft material found in its rawest form in cotton crops. This natural fiber has a reputation for being less durable than wool, making it suitable for low-traffic areas. Therefore, it may be found in bath, kitchen, or throw rugs. If you make the mistake of placing in a high-footfall area, be ready to say farewell to the carpet.
The best thing about a cotton rug is how cozy it can make you feel. So, if you want your home to feel warm and comfortable, you should seriously get one. Another factor that may make it appealing for purchase is the cost. Since they're not too expensive, you can easily find them within your budget.
Don't overlook cotton when it comes to the looks department. There is a wide range of weaves and fibers available in this material. Therefore, you would be surprised by the endless rug possibilities that can materialize. Even if you want unique color or print, the sky is the limit with cotton!
If you are conscious about the environmental price tag that is associated with rugs, cotton can make you feel comfortable. The material is organic and will decompose if you dispose of it.
Sisal
Sisal fibers are organically produced and are entirely biodegradable. Moreover, they have high durability and low tendency to enable shape distortion. In other words, this sort of material is sturdy enough to withstand heavy footfall effortlessly. You can use it under dining room tables and even place chairs above it.
Since it is an eco-friendly natural fiber, it is safe to place in a household with allergy sufferers. The non-toxic nature will prevent triggering an abnormal immune reaction. With it in your possession, you can take a breath of relief. Since the material doesn't incorporate artificial colors or chemicals, it doesn't fade in sunlight. In other words, you don't have to worry about drastic color changes. The shade changes so subtly that you'll fall in love with it.
WARNING
KEEP YOUR SISAL RUG AWAY FROM AREAS THAT ARE FREQUENTLY WET.
It is best not to keep your Sisal Rug near kitchens and bathrooms, which are often wet. You wouldn't want to risk damaging it.
Sisal is a low-maintenance material that is widely considered to be extremely easy to clean. You may want to consider placing it near the entrance. After all, it can withstand a lot of footfall and continue to look aesthetically pleasing. All you must do is regularly vacuum it so that it remains clean. The distinctive beige of Sisal will continue to beam with poise.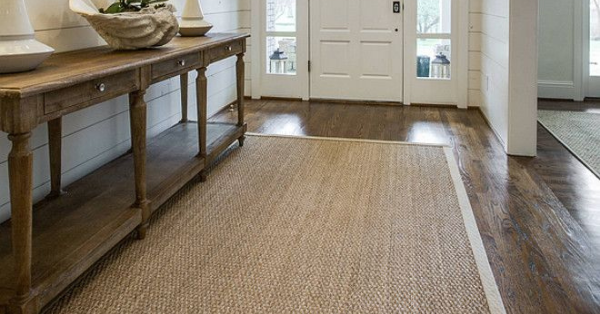 Jute
Jute is a delicate material that requires low maintenance. A rug made from it is undoubtedly a joy to keep as it isn't too demanding. It behaves a lot like cotton because it isn't a sturdy material. If you want a Jute rug, you should limit it to an area with low footfall. That way, you won't have to be upset when it gets damaged.
A Jute rug has a cozy and aesthetically pleasing presence that makes it ideal for bedrooms. If you're looking for an admirable and non-toxic carpet, I advise you to consider Jute seriously.
You might find it interesting that Jute originates from the continent of Asia. It is surprisingly soft to touch and is often used in the backing of carpets. While it certainly lacks sturdiness, that doesn't mean it has no place to be stored at your home.
If you have any animals at home, Jute is an excellent rug material to choose among other options. After all, it is a pet-friendly material that requires low-maintenance. You won't have to worry about excessive vacuuming, and that is priceless.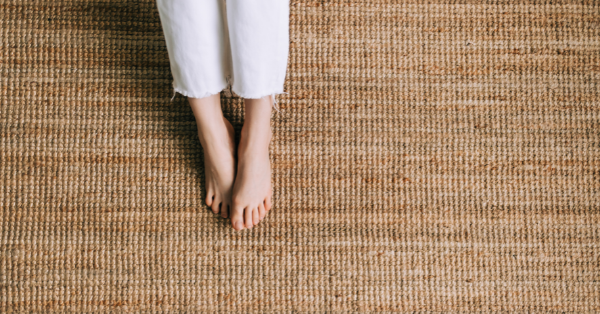 Seagrass
Your home might benefit from possessing a Seagrass Rug. After all, it is a sustainable and meticulously woven masterpiece. Not only is it friendly to the environment, but it is also gorgeous and highly affordable. You can find it in a range of colors that can range between khaki to sage green. All these factors make it worthy of your consideration.
PRO TIP
ALLERGY SUFFERERS SHOULD SERIOUSLY CONSIDER PURCHASING A SEAGRASS RUG.
Seagrass has hypoallergenic properties, which makes it incredibly safe for vulnerable groups. It contains no toxins or allergens, which would otherwise trigger an abnormal immune reaction.
Seagrass area rugs offer maximum comfort and are hence pleasing to touch. You will enjoy walking over them barefooted. What else would anyone want when it comes to their rug? A one made with seagrass is comfortable, safe, attractive, and friendly to the environment. If you're looking for a reliable option, I recommend opting for a seagrass rug. It will, without fail, never disappoint you with its brilliance.
A seagrass rug is easy on the eyes, kind towards the wallet, and friendly to the environment. It is no wonder that people around the world adore this rug material.
Peruse the Manufacturing Process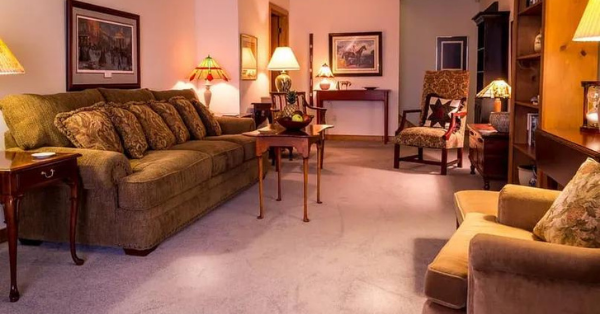 When possible, you should study the manufacturing process of the rug. Just because a floor covering is made from natural fibers, that doesn't ensure the absence of dangerous chemicals and compounds. Often wool materials have traces of pesticides on them because of the sheep's exposure to compounds. At other times, floor coverings are also treated with flame repellants. Therefore, you may need greater awareness of the rug.
It is crucial to ask the right questions when looking for an eco-friendly rug. Your commitment to choosing natural fiber rugs will give you a lot of peace. Therefore, you should make thorough efforts to purchase the right product! You wouldn't want to have the right intentions but end up with the wrong rug.
Conclusion
An eco-friendly rug can make a room more benign and calming. While buying one may seem like a daunting task, you can find plenty of them online. All you must do is figure out which stores are the best. Do consider the reputation of a business before you finalize a purchase. Three stores that have earned my trust include Lumens Light+Living, Ecarpet Gallery, and Natural Area Rugs.
I really hope you found this guide useful! And if you'd like to see more, we also have a similar guide on Ecofriendly Rugs.