Are you a proud cat parent? Aw, I am too. However, things can get a bit frustrating if the cat decides to pee on the carpet. The stain and disgusting odor come with it. Don't worry. We have got your back. This post explains two methods you can use to remove cat pee from your carpet.
If your cat urinated on your carpet, relax. You can clean it with an Enzyme Cleaner, or you can DIY it yourself. Not only the stain would be gone, but also the smell. You just need a few items to remove cat pee from your carpet. Let's take a look at how it's done.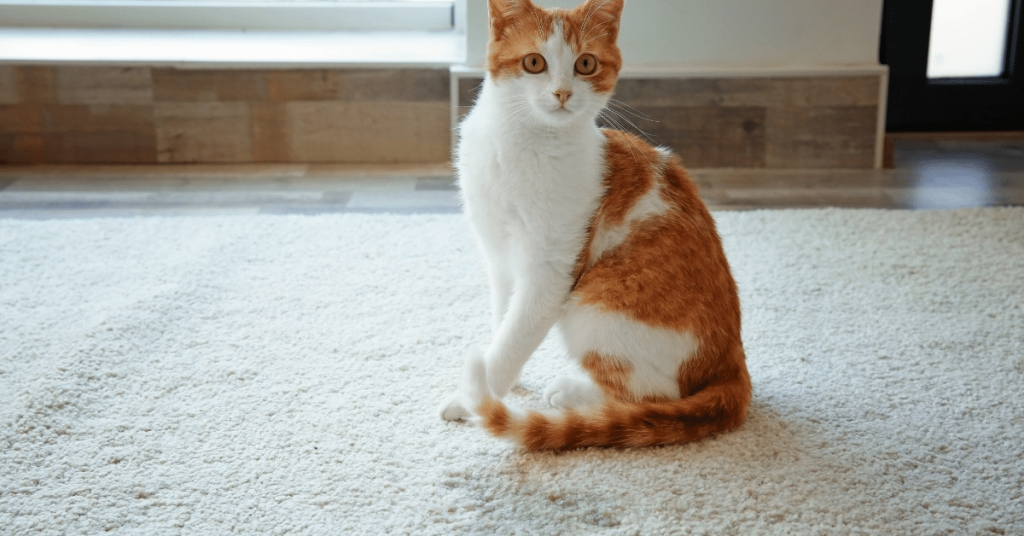 Do you want to get cat pee out of your mattress? You can do so in 10 easy steps. This post describes the entire process.
How to remove cat pee from the carpet?
You have options for getting cat pee out of your carpet. If you want to go with a DIY approach, well and good. If you don't, no problem. The homemade cleaner includes vinegar, baking soda, and a few other household products. The other method involves an industrial product. Let's take a look at both methods in detail.
Method 1: Use a DIY cleaner
This is the ideal way to get cat pee out of your carpet if you are a do-it-yourself kind of person. You need towels, vinegar, baking soda, hydrogen peroxide, dishwashing liquid, a brush, and a vacuum.
I know the list seems kind of long, but the method is not at all difficult or tiring. You will agree once you read the step-by-step guide for this DIY method to remove cat pee from the carpet.
–1. Absorb the excess urine:
Grab a towel and press it firmly on the area your cat urinated on. The purpose is to absorb the urine from the carpet as much as possible. Replace the wet towel with a dry one and continue. You should stop when the towel starts coming out dry.
PRO TIP
Soak the affected area with water if the stain has become dry until you started the cleaning process. Then, absorb the excess moisture.
–2. Make a cleaning solution:
Vinegar works great for killing bacteria. Mix equal parts of water and vinegar to make a cleaning solution.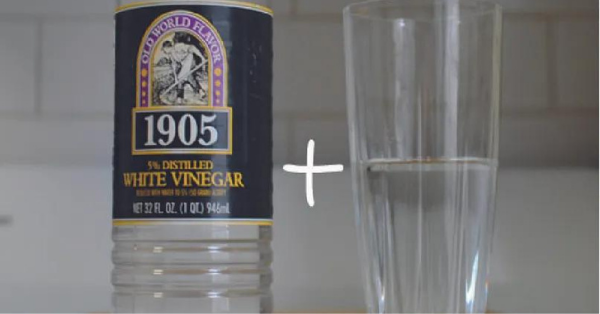 –3. Pour it on the stain:
Pour the mixture on the stain. Make sure it's concentrated on the affected area. You don't want the carpet around it wet too.
–4. Wait for it to dry:
Now it's time for the vinegar and water solution to work its magic. Just give it 5 to 10 minutes.
–5. Spread baking soda over the stain:
Take a box of baking soda and sprinkle. How much? A lot. Be generous in spreading the baking soda over the affected area.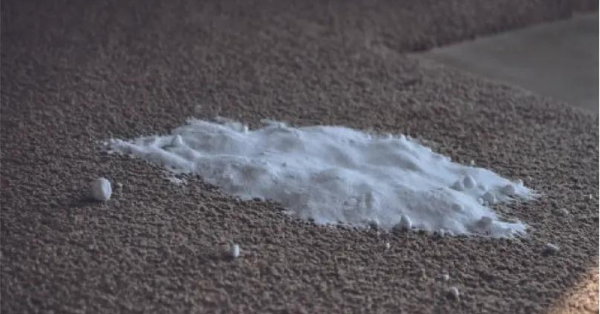 –6. Create another solution:
You have to make another solution while the baking soda sits in the carpet and does its job, particularly of eliminating the odor.
Mix 3/4 cup of hydrogen peroxide with a teaspoon of dishwashing liquid. Then stir it well.
–7. Pour the mixture on the stain:
Soak the stain with this cleaning mixture. The hydrogen peroxide will use its chemical properties to remove the appearance of the stain.
PRO TIP
Test the cleaning solution on a small spot first. Make sure it doesn't bleach your original carpet color. There are high chances that it doesn't. But it is a bleaching agent, after all. Be careful!
–8. Scrub the stain:
Grab a brush and start scrubbing. Scrub the stained area. Make sure the baking soda you sprinkled earlier also gets to the deeper fibers. You want the solution to be evenly applied to the stain as well.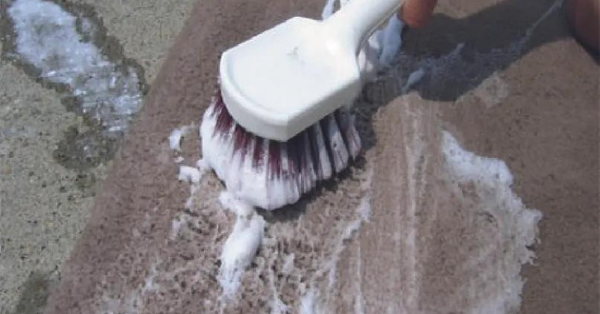 –9. Let the carpet dry:
It's time to wait! Rest time. Grab some chips or a healthy snack. Munch away. Let the carpet dry. You can speed up the process by using a fan. Otherwise, let it dry overnight..
PRO TIP
KEEP PETS AND CHILDREN AWAY
If you have to leave the stain to dry overnight, make sure that your children or pets do not have access to it.
You can do so by keeping them away from that particular room. If that's not doable, then cover the affected area with an aluminum foil and put a laundry basket over it.
Uncover it in the morning and let the carpet dry.
–10. Vacuum the area:
After the spot is dry, bring your vacuum cleaner. Hoover the affected area to remove the remaining baking soda. Vacuuming will also make your carpet look fresh.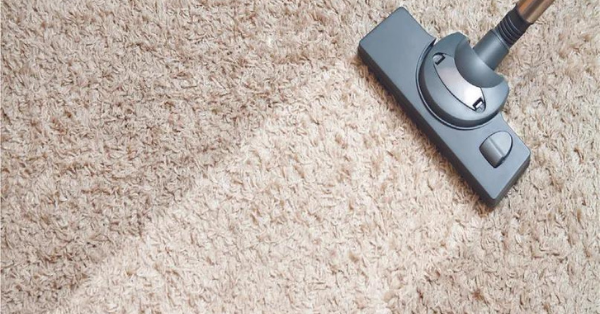 Method 2: Use an Enzyme Cleaner
This is the method for you if you don't want to get into making homemade cleaning solutions. All you need is towels, cleaning solution, baking soda, brush, and a vacuum. Let's see how you are going to use these items.
–1. Absorb the excess urine:
This step is common in both of the methods. Place a towel on the affected area. This will absorb the excess urine. You should continue with dry towels until the towel comes out dry and not wet.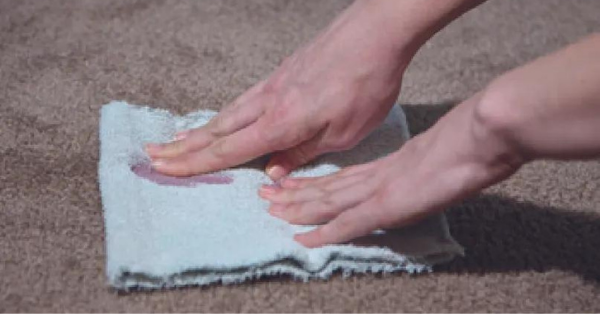 –2. Rinse the area in water:
Take some water, may be 2 to 3 cups and pour it on the stain. Once the area is soaked, use step 1 to absorb the excess moisture.
–3. Choose a cleaning solution:
This is something you should do very carefully. There is a variety of carpet cleaning solutions in the market. To be very honest, not all of them work as well as their label might claim.
For stains like pet urine, you should prefer enzyme cleaners. Those are specifically made to break down organic matter like urine and blood. You should choose a product that will give you good value for your money.
Are you tired of staring at pet stains on your carpets? We have listed the best carpet cleaners for pet urine along with their buying guides.
I did some research myself about enzyme cleaners for pet urine stains. I compared some and picked the "Rocco & Roxie Professional Strength Stain & Odor Eliminator" as the top cleaner. It is the top pick for thousands of people. Yup, you read that right. THOUSANDS! Its 4.4-star rating out of around 17,000 reviews makes it Amazon's top choice too.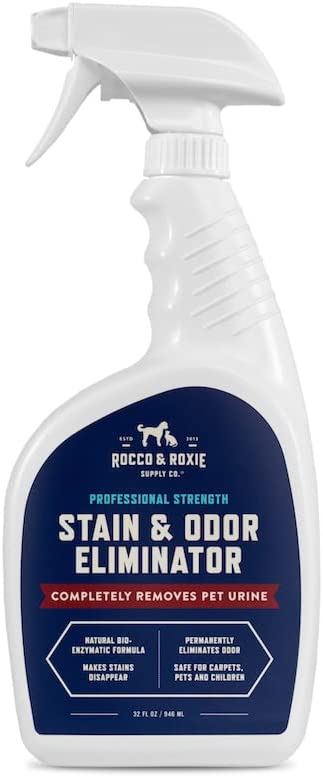 You can buy this amazing spray from Amazon. Just click here to take a look.
–4. Pour the cleaner on the stain:
Soak the stain in the enzyme cleaner. Often, the cleaners come in spray bottles. Make sure you remove the nozzle and generously pour the cleaner on the stain.
–5. Let it sit:
Sit back and relax. Let the cleaner do its job. You should wait for at least 10 to 15 minutes before the next step.
–6. Absorb excess cleaner:
Take a fresh towel and put it on the area under-treatment. Absorb all the excess cleaner from the spot.
–7. Sprinkle baking soda:
Here comes all-purpose baking soda. Spread it over the stain. It acts as a disinfectant to some extent and a deodorizer.
–8. Rub the stain:
Pick up a brush and scrub the affected area. This will cause the baking soda to go deep under and cling to the fibers.
–9. Let the carpet dry:
Now, you have two options. If you are using a fan to dry the carpet, good enough. Otherwise, let it dry overnight.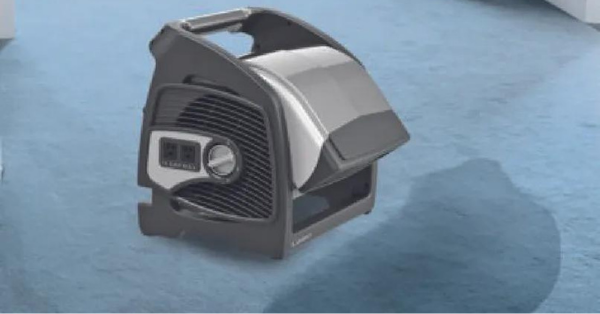 –10. Vacuum the area:
Hoover the carpet in the morning. It will not only suck the remaining baking soda but also restore the look of your carpet fibers.
Why does your cat pee on the carpet?
Multiple factors could be making your cat pee on the carpet. One of them is a medical problem like a bladder infection, kidney stones, etc. However, your cat might not be ill but stressed due to a social or environmental change.
If the cat's litter box is too small or remains dirty, then the four-legged cutie pie isn't the one at fault. I mean, it's on the owner to take care of the litter box issues.
There are a few other reasons too, as to why your cat might be peeing on your carpet. Check the post below to learn about those.
Did your adorable cat start peeing on your carpet? That's concerning. I have made a list of possible reasons and some tips to prevent the cat from doing so.
Conclusion
I think that's pretty much it. Now you are well aware of two common methods of removing cat pee from the carpet. Both of those work just fine, so feel free to pick any one of them.
If you are tired of staring at tough stains on your carpet that won't go away, click here to see a list of the best carpet stain removers.
Here's to hoping that your cat stays fit, remembers its bathroom habits, and never pees on your carpet.