Good carpeting has the ability to transform the look of your room and elevate your house's overall interior design aesthetic. Apart from serving the essential purpose of covering your floor for protection, insulation and easy maintenance, carpeting can accentuate the appearance of your space with unique colours, textures and patterns, combined with the rest of your furniture.
Over time and a lot of development in the interior designing industry, carpets have gone from basic floor coverings with the sole purpose of protection of hard-to-maintain floors to an important element in the visual style and design of a home. In this article, I will explore the different styles of carpeting based on their purposes, the materials used to make them and the way they have been made.
I understand the pressure of choosing the best carpet for your home, especially because it is an expensive, one-time investment, which is why I intend to make the carpet-hunting ordeal slightly easier for you by listing out each type's features. Carpet styles like Berber and wool low-piles are extremely popular among the different classifications based on Material, Construction and Pile Height. You can pick from the variety of carpet styles for your dream home, keeping in mind the rest of your furniture and the style of interior decor.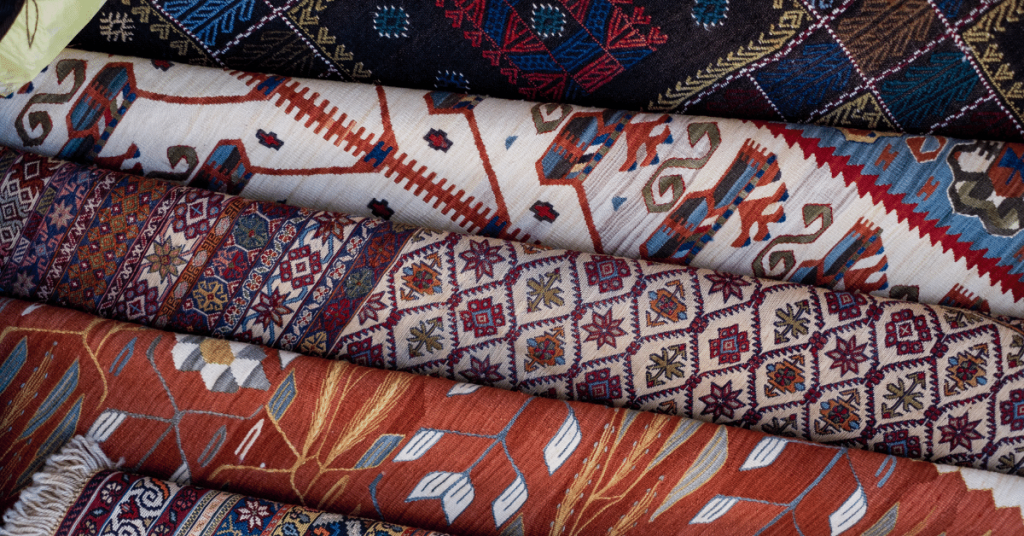 Different Styles of Carpet
Carpets can add an extra layer of protection to your flooring while also improving the overall style of your room. They add colour, texture and definition to your space and comfort in every step you take. Here is an ultimate guide to basic carpet styles that I categorised based on the material used to make them, the method of construction, and the carpet pile height.
Material : Natural
Each style of carpet is different from the other, with its own unique features and purposes. I will start with categorising popular carpet styles based on the material they're made with, natural and synthetic materials.
These plant and animal-based materials make natural carpets that are strong and long-lasting investments for homeowners.
Wool
Wool is a luxurious and fine fibre and the most commonly-used natural material for modern carpet production. This is because of the material's durability, versatility and comfort. When the natural fibre is combined with synthetic fibres like nylon or acrylic, its durability is improved greatly, suitable for high-traffic areas. Pure wool, when used to make carpet, uses very little or no chemicals, which is why it is a great option for families with sensitive individuals.
However, wool tends to absorb moisture faster than most materials, which is why it can sometimes be difficult to take care of. Wool carpets stain easily and are also higher in cost compared to carpets made of other fibres. As a natural material, wool can be susceptible to the growth of mold and mildew. People living in humid areas with high indoor humidity might want to avoid using wool carpeting.
Despite its limitations, wool is soft, comfortable and resistant, with great insulation and sound absorption qualities. Read this to find out more advantages of using wool carpeting for your home.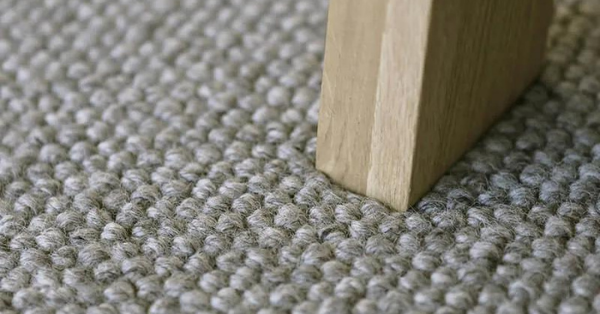 Sisal
In recent times, natural fibre carpets are seeing a great increase in popularity because of their unique textures and the high need for eco-sustainability. We do not live on a planet with renewable resources which is why a lot of carpet companies have started producing carpets with natural, durable, plant-based materials like Sisal.
This material is known for its strength which is why it is also used in the auto industry for many purposes. Sisal fibres are beige, tan and cream in colour and are woven into fabric that makes carpet. They also dye very well and you can purchase them in a variety of colours. The fabric is non-toxic and doesn't have any chemicals in it, hence, sisal carpets won't off-gas VOCs like most synthetic carpets.
The biodegradable fibre will improve the indoor air quality of your home and give your loved ones a good environment to live and work in. It is low-maintenance and absorbent, suitable for humid regions where there is a lot of indoor humidity. But this benefit sometimes comes with the limitation of easy staining. Sisal carpets also won't be the right choice for you if you're looking for a soft carpet with a plush and luxurious touch.
Seagrass
Growing in temperate shallow waters all around the globe, seagrass is a long, blade-like leaf that is used for roof thatching and insulation in local regions. This tough material is woven and backed with latex to make natural, strong carpeting that does not emit potentially harmful smells caused by Volatile Organic Compounds (VOCs) like most man-made carpets do.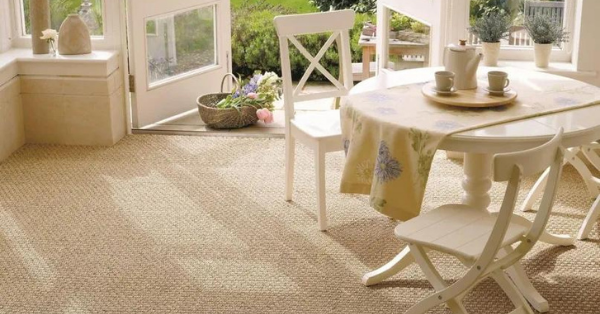 These tough flooring options come in a variety of unique patterns and mostly two colours, golden-brown or slightly green, depending on the harvest. Seagrass adds an accent to rooms with any interior decor style – from modern to mid-century, as they come in fairly neutral colours that go well with almost anything. The texture and colour will remind you of sunny days at the beach, adding a coastal, balmy vibe to your room.
The coarse fibre doesn't do well in areas with moisture, like the kitchen or a bathroom. Which is why you should stick to decorating your living areas and bedrooms with this carpeting. It is also recommended to not place chairs with pointy ends on these carpets as they could create permanent indentations on the surface. However, seagrass carpets have high durability which is why they can be placed in heavy-traffic areas of the room.
Coir
Coir is another tough and coarse natural fibre that is made from the husks of coconuts. The strong material makes for long-lasting sustainable carpets for homeowners with children and pets. Coir bristles are often used to make doormats because of how water-resistant they are. The material is a natural insect repellent because of the anti-pest properties in coconut oil.
It is also a great insulator of noise, comparatively inexpensive and low maintenance. Coir's unique texture makes it a great addition to a home with rustic and natural interior decor. Coir carpet can add charm to pleasant and neutral indoor environments with its unevenly beautiful appearance. However, these carpets are not very ideal to sit on because of their bristly texture.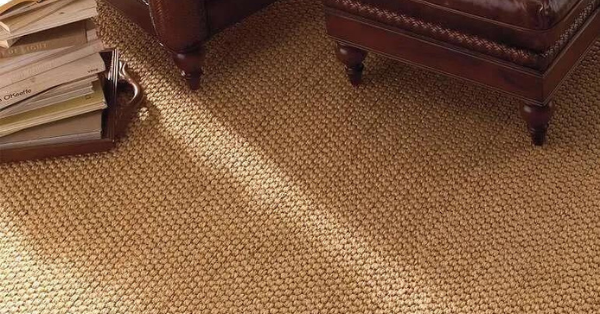 Which is why it is more suited for areas where people stand and walk on, like passageways, stairs and entrances. Coir is hardwearing and rough underfoot, slowly softening with regular use and maintenance.
Jute
Jute carpets are softer and finer than the other plant-based fibres I've talked about in the above paragraphs. This makes them more suitable for lounging areas of the house like bedrooms. The fibres are sustainably sourced and grown at low costs with very little or no use of fertilizers or chemicals, making them fully biodegradable and inexpensive, like Sisal, Seagrass and Coir.
Because of their uneven colour and unique texture, Jute carpets add a rustic charm to your space when woven plainly or creating elaborate patterns. They also slightly change colours when exposed to direct sunlight, like Sisal, making them more natural-looking and simple, complementing your room's well-defined decor. Due to its fine nature, Jute fibres absorb moisture and sometimes stain quicker than other materials.
Jute carpets require regular vacuuming and not a lot more in terms of cleaning for upkeep. It can make your room look homely and welcoming with its softer and comfortable appearance and texture. Find out more about this versatile, fine material on this post.
Material : Synthetic
Synthetic fibres are less expensive compared to natural fibres, more stain-resistant and versatile. These materials are the most commonly used ones in carpet production and some of them are alternatives for an expensive natural fibre like wool.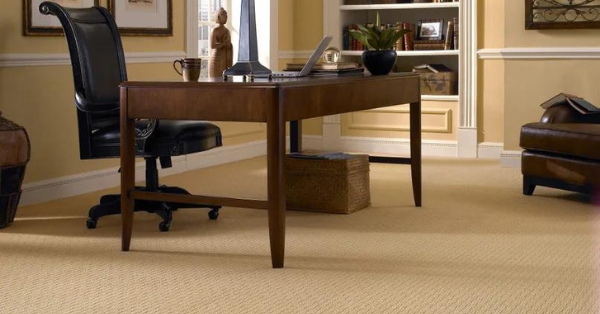 Polyester
Polyester is a synthetic material that rose to popularity among carpet manufacturers in the early 2000s when raw materials reached all-time highs and everyone was looking for a cheaper, more convenient alternative. Because this material looks and feels like wool, luxurious and soft, it is sometimes blended with wool or even just used as a substitute for wool carpets on its own.
It has the ability to resist liquid, which is why polyester carpets do not stain easily. The fibre is also known for its ability to hold bright and vibrant colours. You will have a myriad of colour options to choose from if you go for a polyester carpet. One particular kind of polyester known as "PET" is made of recycled plastic bottles, making it a highly sustainable and eco-friendly option.
However, this material does come with a few limitations. Polyester can flatten and dent under a lot of weight which is why it may not be the best option for high-traffic areas in the house. These carpets can fade under direct sunlight over time, too. Polyester carpets are still a durable and convenient synthetic option because of all their other benefits. These are perfect for homes with medium-traffic and a nuclear family.
Polypropylene
Used in constructing the popular Berber carpets, Polypropylene, also known as "Olefin", is the second-most popular synthetic fibre for carpet production. The material's low cost, stain-resistance and similarity to wool fibres make it a best-selling carpet fibre. However, Polypropylene is prone to oil stains which are very difficult to get out if absorbed.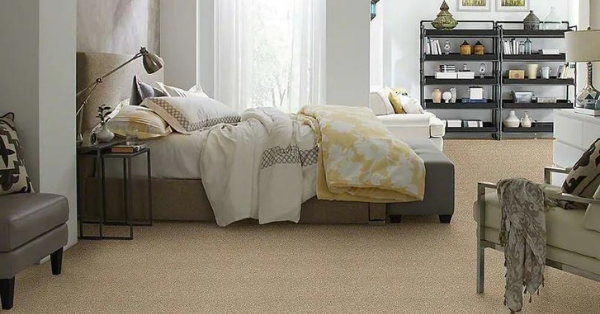 The material is relatively easy to clean and maintain in the long run. It is durable and takes in dyes very well, giving homeowners a reasonable variety of colours and patterns to choose from. Because of how similar the fibres look to those of wool, they are luxurious and fine, and are usually used to make looped carpets at a lower cost than of its natural fibre counterpart.
As mentioned above, it's limitations include tough-to-remove oil stains, lower resilience compared to that of a material like Nylon and colour fading if exposed to direct sunlight for a long time. Despite these weaknesses, Polypropylene is still considered a good option among homeowners looking for affordable yet durable carpeting options. The material's durability is good enough for high-traffic areas in the house.
Acrylic
One of the most popular substitutes for wool, even sometimes known as "synthetic wool", Acrylic provides homeowners with the expensive look and feel of the natural fibre at a fraction of its cost. With great resistance to static, moisture, stains, mold and mildew growth, acrylic is colourfast, durable and easy-to-maintain. It also has the ability to retain its colour for a long duration, better than most synthetic materials
Along with the above-mentioned benefits of this inexpensive and resistant material, it is also important for you to know of its limitations. Acrylic isn't as durable as a material like Nylon and it doesn't do well in high-traffic parts of the house. The fibre also sometimes reacts to some alkaline-based chemicals and turns brown when exposed to them. Keep in mind, it makes a much stronger surface for its cost when blended with wool.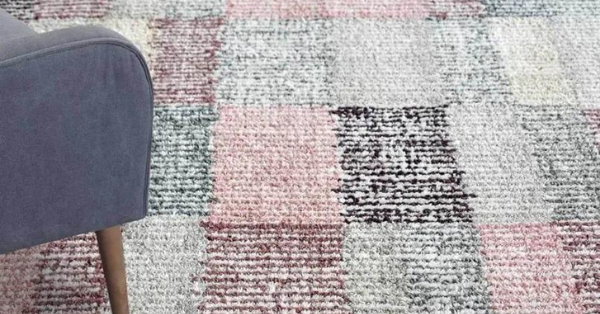 Nylon
Among all the available synthetic alternatives for carpeting in the market, Nylon is the most popular option for residential carpets. This is due to its resistance to wear and tear, mold and mildew and long-lasting durability, ability to hold dye and affordability. It is slightly more expensive compared to the other synthetic options but is well worth it because of how well it holds up in heavy traffic.
Nylon carpets can last for up to a decade or longer, maybe even 15 years, if they are cared for and maintained well by owners. The fibres can hold in dye well and this is why they come in a variety of colours and patterns, giving you many design options to decorate your home with. These carpets resist soil and dirt well which is why they require only regular vacuuming and nothing more.
Its excellent wear-resistance makes it a suitable option for a room like a dining hall where chairs are moved around a lot. It will hold shape for a long time and remain the same until the end of its usage. Nylon is perfect for areas like the stairs and hallways, for homeowners with children and pets. The only problem with this material is that it can produce static electricity in case of rough contact and abrasiveness.
Triexta
Triexta is a fibre that is similar to Nylon but slightly finer and softer. This fibre comes with increased strength and durability, especially suitable for homes with children and pets. It is also hydrophobic, making it completely liquid-repellent. Triexta has recently become a popular option for homeowners with increased needs.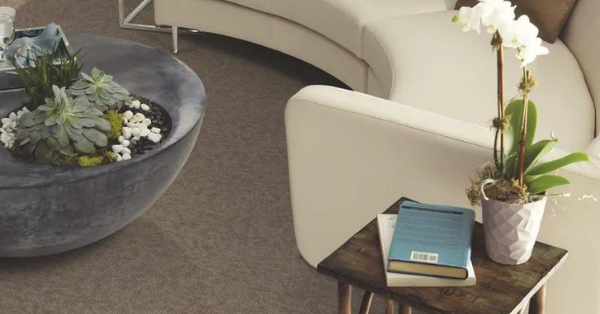 The fibre is derived mainly from corn syrup and not petroleum, like the other synthetic materials, making it more sustainable. Triexta is stain, liquid and mold-resistant with a softer feel. Defined as a polyester product, this material has all the benefits of polyester in addition to the extra strength and resistance because of which it is comparatively higher in cost than the others. The fibres of this material are denser which also makes it slightly harder to vacuum and clean.
Here's a comprehensive and comparative study of natural and synthetic carpet fibres.
Method of Construction : Cut pile
Carpet is made by looping yarn through a surface and creating a pile on the other side. There are mainly two ways this is done. Carpet styles on the basis of the method of construction can be broadly categorised into Cut Pile,Looped Pile and a combination of the two methods: Cut and Loop.
Cut pile, as the name suggests, is a style of carpeting where the exposed fibres of varying lengths are cut off. This makes the surface of the carpet soft and even, comfortable to walk and sit on. Cut pile construction makes carpets look neat and formal, giving your room a pleasant and elegant appearance overall. There are many variations in this particular kind of carpet that we will explore in detail in the following paragraphs!
Plush
Sometimes known as the velvet-cut pile, plush carpets are a variation of cut pile carpets with shorter, trimmed fibres that give the carpet a smooth, velvet-like texture. The densely-packed fibres give this kind of carpet a very soft and cosy look, especially if it is made of wool or a synthetic alternative. It can be used as a decorative carpet for rooms with low-traffic like the bedroom as high footfall can create trails and indentations.
Saxony
Saxony style on cut-pile carpets have slightly longer, untrimmed fibres that softly fall on the surface of the carpet instead of standing straight up like a plush carpet. These carpets have a casual-luxe look and if maintained well, can last for many years looking brand-new. However, they are expensive, high-maintenance and are prone to wear-and-tear and damage if placed in a high-traffic area. It is best to use Saxony carpets for decor purposes.
Textured
The term "textured" in cut-pile carpets is used to identify carpeting with uneven, two-toned fibres that are twisted into curly or spiral strands. They are also fittingly known as "twist" carpets. The twisting is done with a steam treatment process and because of the subdued, shaggy look, the carpet doesn't show indentations and footprints like other cut-piles would. Twist carpets are suitable for rooms with medium to high-level traffic, like bedrooms and family rooms.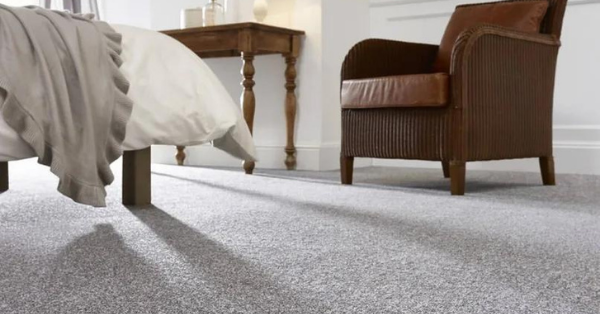 Frieze
The Frieze style of cut-pile carpets includes those with slightly longer fibres which are twisted and kinked together, lying in different directions to create deep texture. This creates a messy but soft look across the surface of the entire carpet. Because of the groups of strands twisted together, this style is more durable and resistant to wear-and-tear which is why it is fitting for medium to high-traffic regions of the house. The same style with longer strands is called "Shag".
Cable
Cable carpets offer a casual sense of comfort and richness to a space with well-defined interior design. They have thick, longer fibres that stand out individually and also on the whole with the entire carpet. Cable fibres can flatten with heavy footfall and weight which is why it is best to place them in lounge rooms and bedrooms with less walking. Cable carpets offer a sense of plush comfort and can elevate the style of a room if added in complementary colours.
Method of Construction : Looped pile
Also known as "uncut pile", looped pile carpets have the full loop of yarn intact on the surface of carpet. This unique method of construction makes looped pile carpets extremely durable and resistant to wear-and-tear, keeping footprints and trails invisible to the eye. They are also easy-to-maintain, and stain-repellent, depending on the yarn used.
All these features make looped pile carpets the best option for high-traffic, commercial areas with heavy footfall. However, as they have loops that can break, some of them are not advisable for pet owners and people with small children. These carpets have variations that each offer a wide range of benefits for homeowners.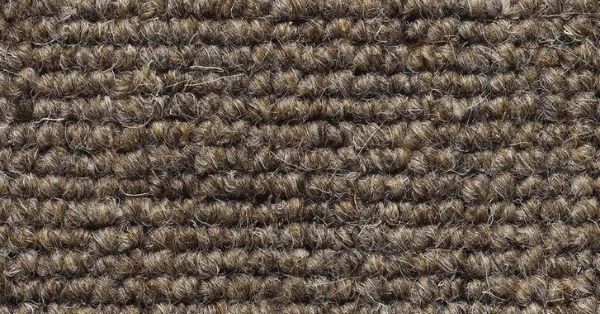 Berber
Berber has dense piles of yarn constructed to ensure maximum durability and damage-control. The fibres are bent into many short loops all across the surface of the carpet, tightly-packed to make sure nothing pulls it all apart. This makes the carpet extremely tough and long-lasting at low and affordable costs. Berber carpets are smooth, even and casual for a home with any basic style of interior design.
Level loop
Level looped carpets have shorter and evenly-lined yarns that are looped into the backing of the carpet all across its surface. The loops are all equal in size and this makes the entire carpet stiff and tough. The design on these carpets is symmetrical with duo-tone yarns and the construction is done in a way that allows for its usage in high-traffic homes and spaces with many people.
Multi-level loop
As the name suggests, the loops on multi-level looped carpets are uneven and their tops vary in height throughout the carpet's face. This enables for the creation of beautiful and unique patterns and textures, adding an element of visual design and detail that most looped pile carpets can not. Because of this, multi-level looped carpets can be used to decorate high-traffic rooms when selected in complementary colours and designs.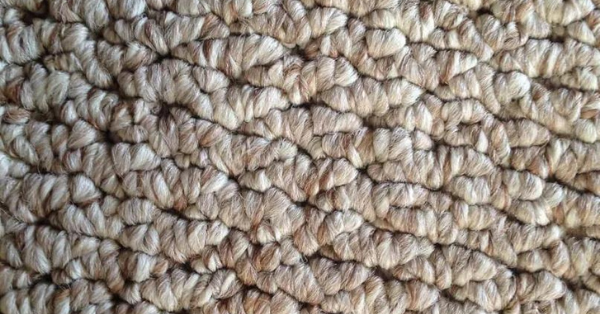 Sisel
Sisel is a variation of looped carpets where loops of different colours of yarns and sometimes even different lengths are lined in rows to create a unique design and pattern. These carpets come in a variety of designs that you can choose based on the colours and patterns you like, that will go with the overall decor and aesthetic of your room.
Method of Construction : Cut-and-Loop
Also called "sculpted carpets", cut-and-loop carpets contain textures and patterns achieved by combining methods of cut pile and loop pile construction. Carpet manufacturers get to play with a lot more visual texture and design with this particular carpet style.
Level Cut-and-Loop
This kind of Cut-and-Loop carpet has fibres of the same height. From the top, you'd be able to see a slight variation in the fibres as part of them will be looped and the others will be cut. Unique patterns can be created with even the same colour of yarn in this construction method. It is a subtle and detailed way of displaying decorative art in a durable carpet.
Textured Cut-and-Loop
In this method, the carpet has an arrangement of cut-and-loop fibres varying in height, creating patterns not only with their different constructions but also with the depth caused by the difference in fibre height. This gives the carpet a three-dimensional look and adds to its texture. There is a wide variety of textured cut-and-loop carpets in the market that have linear, geometric and free-shape designs. They are also known as patterned carpets.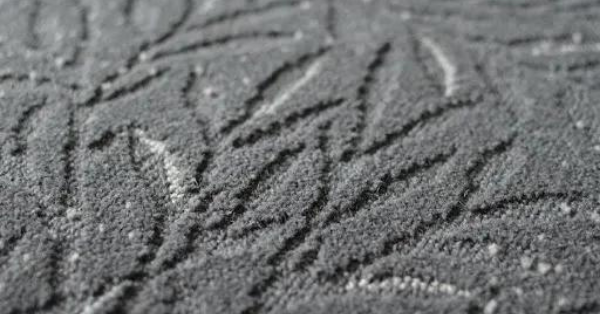 Carpet Pile Height
A carpet's quality can be ascertained with its fibre density, face weight, material and pile height. The denser and heavier a carpet is, the better quality it is. When it comes to material, what matters is how strong and long-lasting it is, whether it is a natural fibre like wool or a synthetic like nylon. Carpets can be categorised into three styles based on their pile height.
Low-pile
Due to the short and even densely-packed fibres in low-pile carpets, they tend to be the most durable and long-lasting carpets out of the three. Low-piles do not attract dirt and dust and can endure long periods of heavy footfall on them. It is best to stick to a low-pile carpet for a high-traffic area like a passageway or stairs in your house.
Medium-pile
These carpets with their medium-length fibres strike a fine balance between durability and comfort. Medium-pile carpets are resistant to wear-and-tear to an extent while also providing you and your family with a soft, cosy surface to lounge on. They are more prone to gathering dust and pet hair but can be easily cleaned with regular vacuuming.
High-pile
The long fibres in high-pile carpets make them luxurious and comfortable with a plush appearance. These add good cushioning while looking beautiful and decorative but they are highly prone to damage by impressions, dust and fibre snagging. It is best to place such a carpet in a low-traffic area of the house, just to add a touch of warmth and cosiness.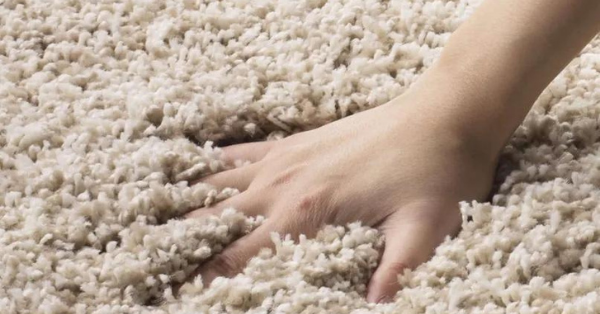 How you can pick the best carpet for your home
Now that you know all about the different styles of carpeting available, you may be a little confused as to what style to pick. There are a few things to keep in mind before going for a carpet! Colour, patterns and texture are important visual factors to help you pick.
You also need to consider the dimensions of carpet, depending on the total surface area of your house that you want to be carpeted, its shape and placement. With this information, the people living in your house, the purpose of the rug and the time period for which you want to keep the same carpet, you'll be able to finalise on a material.
Determine a carpet's quality with the help of its face weight, fibre density and pile height.
Conclusion
With my extensive knowledge of the different styles of carpet available in the market, I intended to answer some of your carpet-related questions. I hope you now have a clearer idea of the styles and a better understanding of your home's needs. Add carpeting for comfort and luxury and to accentuate your home's appearance. Discover your favourite style of a perfect carpet and improve your house's interior design.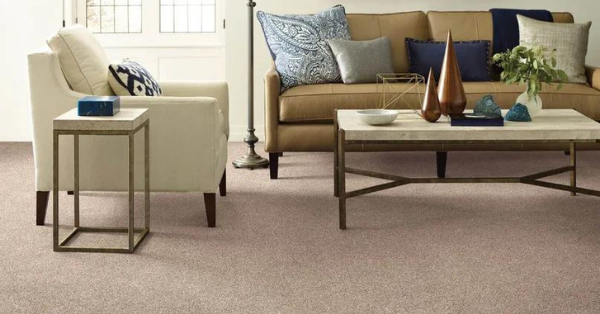 A wool carpet can add warmth, softness, and safety to the home with its graceful presence. Read this guide to learn why you should get a carpet made from wool.
Jute rugs may be your best natural fiber rug option to buy. But it can also be a terrible mistake. Learn the pros and cons of having one at home before buying it!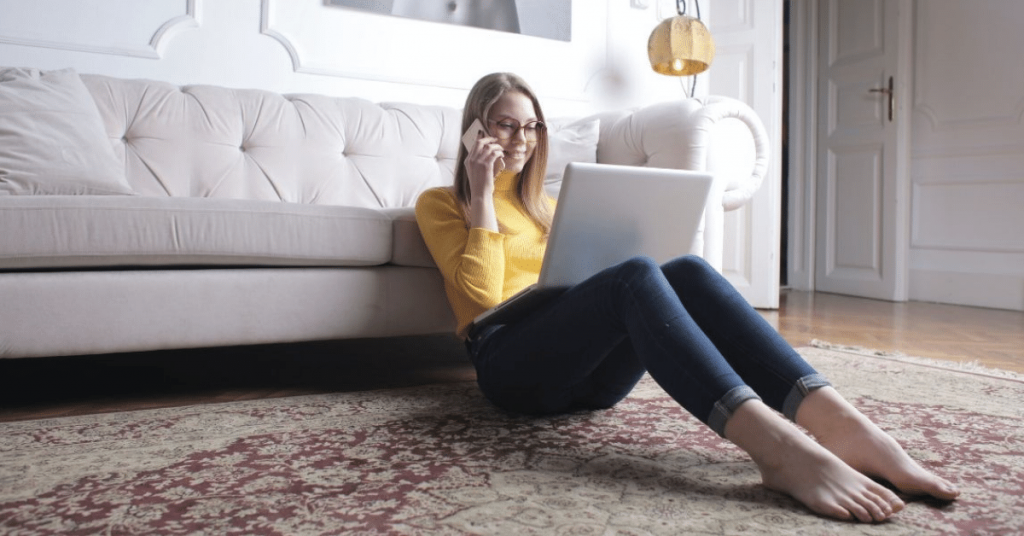 Choosing the right material for a rug will ensure its durability, longevity, and performance. Read this guide to learn more about natural and synthetic fibers.