Choosing a new carpet for your home can be an exciting prospect. Once you've finalized a stunning carpet, you have to get it installed at your home. While there are many carpet installation tools in the market, it is confusing to know which ones to get at the start. I'll help you figure out the tools that you will need!
There are a few carpet installation tools that you need to have. Study the carpet installation method before purchasing any tool. Ensure you have tools such as: carpet adhesive, seam iron, seam roller glue, stair tool, cushion-back carpet cutter, knee kicker, tack strip cutter and hammer tacker.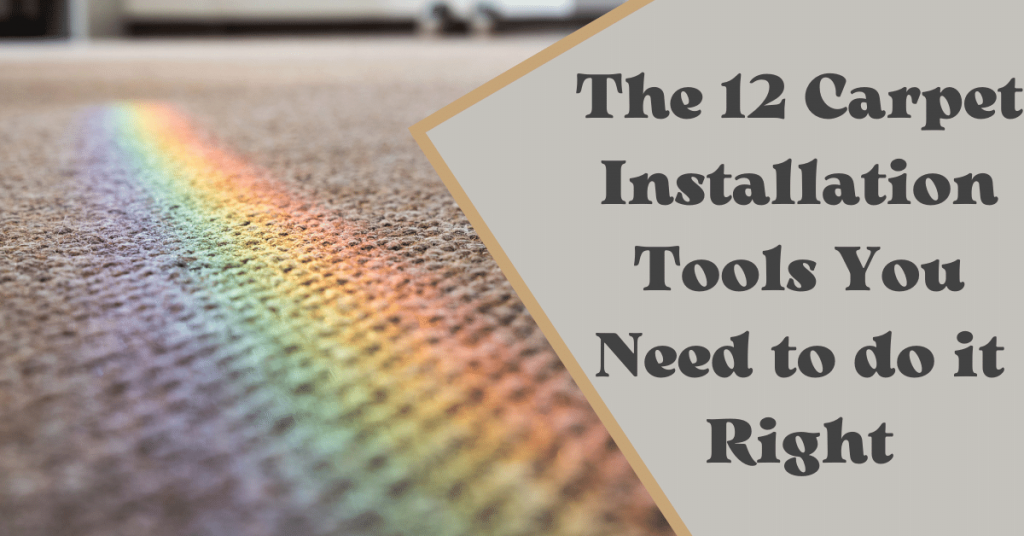 What Tools Do You Need for Carpet Installation?
To install a carpet, you may need some tools from the following: carpet glue, knife, seam iron, seam roller, stapler, tape, stair tool, knee kicker, cushion-back carpet cutter, hammer tacker and tack strip cutter. The tools you need depend on the type of carpet installation method you choose.
Here is a list of the tools:
1. Carpet Glue
Carpet glue is necessary for one of the most popular installation methods out there which professionals choose over and over again.
Carpet adhesives are a crucial part of the glue down installation method. Through this method the carpet finds solid support and doesn't find any room for movement. In other words, the floor covering stays securely put and won't buckle.
The only concerns people have with the usage of carpet glue revolves around the fact that it isn't environmentally friendly and can make it difficult to remove the carpet. Using this product makes the most sense if you want seams that do not peak.
One thing is certain, if you use the right carpet glue, your carpet will be more securely attached to the floor and have a long life.
Henry, W.W. Co. Carpet Adhesive Beige #663
The Henry, W.W. Co. Carpet Adhesive Beige #663 is a perfect purchase if you want a successful carpet installation. It has excellent trowelability and a strong initial grab. The special thing about this product is that it will give you time to make minor adjustments as you stick the floor covering on the floor with it.
Since you're probably a beginner, the fact that this adhesive gives you a bit of wiggle room is great. This is one of the most popular glues in the market and rightly so. Even my own experience with it has been positive which is why I recommend it! Don't hesitate in placing your trust on this adhesive!
2. Carpet Knife
When you're installing a carpet, the finesse and precision of a cut can significantly impact the appearance of the carpet. Using a blunt carpet knife can be frustrating and cause you embarrassment as you ruin your expensive new floor covering.
If you're about to go on the journey of installing the carpet yourself, ensure that you get the right equipment. Never opt for an inferior carpet knife.
While you could use an ordinary utility knife, it won't give you the same level of control and precision a carpet knife can. Therefore, you should only get a specialized carpet knife which has a sharp and durable blade that allows you to swiftly cut the carpet as desired.
Delphin Dolphin Carpet Knife
The Delphin Dolphin Carpet Knife is a terrific investment if you're going to install a carpet. It has an incredible design with an ergonomic shape that ensures a firm grip. Moreover, it has an easy opening which makes using the tool a piece of cake.
The tool originates from Germany and is quite handy. The best thing about this carpet knife is that it offers neatness and precision in cuts while still maintaining safety. You won't have to exert a lot of pressure on the Delphin Knife to cut the floor covering. We know how important a tool like this can be so we only recommend the best!
After all, the entire look of the carpet can be ruined due to a poor cut by an inferior product! Don't worry about this happening to your precious floor coverings as the Delphin Dolphin Carpet Knife is adored by professionals for a good reason. It is an ingredient for a successful carpeting project!
3. Carpet Seam Iron
A carpet installation project often requires seaming pieces of the floor covering together. To do this a superior carpet seam iron is needed. Carpet rolls available in the market are available in 12 and 15-foot wide variants, which necessitates the need for seaming.
The seam iron should enable you to adjust the temperature and equitably distribute heat to the carpet fibers. Otherwise, you may end with a poor seam that isn't going to work!
Crain #905 Heat Iron for Carpet Tape
The Crain #905 Heat Iron for Carpet Tape is a reliable tool that has an excellent performance. While some carpet seam irons can end up harming the fibers, this one is designed to never do so. It has a built-in heat shield and Teflon coated base which helps it protect the floor coverings.
While it may be a little pricey, the Crain #905 is certainly one of the most respected seam irons out there. It is a trustworthy product that ensures both speed and safety when you have to seam the carpet.
4. Carpet Seam Roller
A seam roller is a handy tool that enables you to bring the carpet pile together thereby showing as little of the seam as possible. While the tool may look intimidating, it operates on a very simple principle.
A carpet seam roller has two small axles and a metal wheel which can be described as toothed. The design of the roller helps it apply pressure on the seam. The tool essentially pushes the carpet seam together giving the illusion that there is no seam to begin with.
Since you will probably be placing the seam together by hand, it may be too apparent. The end result won't appeal to you and you'll be upset by the imperfections, in such a case, you should get this tool.
The verdict is clear, if having a tidy seam is important to you, get a seam roller.
ROBERTS Carpet Seam Roller
The ROBERTS Carpet Seam Roller is a perfect tool to consider for your carpeting project. It has been designed with an extra wide head which ensures reduced dishing in the seam. Apart from that, it is built to be more durable and lightweight than its competitors.
The die cast handle is also a wonderful feature of this carpet seam roller. You can use it comfortably without having to worry about the performance.
When assessing any carpet seam roller for effectiveness, the ease with which it can be moved backward and forward is always considered. You can do this easily with the ROBERTS carpet seam roller without altering the position of the floor covering's backing.
Carpet Seam Roller
Reduces dishing in seam area with an extra wide...
Durable and lightweight superior die cast handle
Moves forward and backward without altering...
5. Carpet Stapler
A carpet stapler has heavy duty staples that can secure a carpet to the floor. If you dislike adhesives and the strong odor they bring in the home, you may be attracted to use a carpet stapler.
While it may seem a little odd to use at first, you will get comfortable when you use the carpet stapler for a while and get the hang of it. If any hardwood floor is involved, there may be a need of tapping the staple with a hammer. The idea is to ensure the carpet staple is properly driven inside the floor!
If you plan on carpeting your stairs, then you might want to invest in a superior carpet stapler. After all, it can secure the carpet at the edges of the stair and cause it to look more elegant!
If you purchase an inferior carpet stapler, be ready to see it jam! The hassle such a poor tool will cause is likely to frustrate you! So make a wise decision unless you want to feel upset.
ROBERTS Electric Carpet Stapler
The ROBERTS Electric Carpet Stapler is the perfect tool if you want to avoid the use of adhesives. It will allow you to secure the carpet to the floor in no time.
The best features of this stapler include its 85 staple capacity and intelligent design that enables fast reloading. It has a pretty ergonomic and non-slip plastic handle which will let you use it comfortably.
In carpeting projects, precision is important and the ROBERTS carpet stapler offers you just that. It has a heat-treated hammer mechanism which will let you shoot staples according to your needs.
Sale
6. Carpet Tape
At times, people don't want to use carpet glue or a carpet stapler. This leaves an option of using a double-faced carpet tape to install the carpet.
You might find it useful to know that there are a few types of carpet tapes:
The first type helps secure area rugs
The second type binds raw edges on floor coverings
The third type joins various sections or pieces of the carpet to unite it.
Carpet tape is usually available in a roll format. The most attractive quality about this tool is how it allows you to avoid any mess. Even if you remove the tape, you will not have to struggle with any floor issues which are incredibly common with carpet installation methods using glue!
XFasten Double Sided Carpet Tape
The XFasten Double Sided Carpet Tape is a residue free tape that is safe to use on multiple surfaces like wood, foam and rubber. It offers strong adhesion which won't disappoint you.
Other tapes in the market tend to lose their stickiness after a few days which can frustrate you. However, XFasten Carpet Tape has been designed to eliminate this problem for good. It ensures that your floor coverings will stay securely in place for at least 6 months.
PRO-TIP
Use XFasten Carpet Tape if you wish to protect pets, elderly and children. The tape has such an adhesion which will never fail! In other words, anyone walking on the carpet will never slip and will hence be safer!
The tape is highly appreciated by consumers and is said to be safe for delicate surfaces like wood and vinyl. You won't have to worry about installing your carpet with this tape since it's so easy to use.
Sale
7. Carpet Stair Tool
When installing a carpet in the stairs, you need a tool to help you drive the carpet in some areas to improve the overall look. This tool is called a carpet stair tool.
The name of the tool itself is pretty self-explanatory. I've experienced success in using it to tuck the carpet in various crevices. Regardless of whether it is used on the edge of the stairs or the side of the walls to tuck the floor covering, the tool works perfectly!
Roberts Carpet Tools 3-1/2-Inch Stair Tool
The Roberts Carpet Tools 3-1/2-Inch Stair Tool can be particularly useful when you're placing a floor covering on the stairs. It has the ability to drive the carpet into difficult to reach areas like gullies and crease carpet along the wall line.
The design of the tool ensures comfort as it has a cushioned slip-resistant handle. Moreover, it has a checkered head which prevents the hammer from slipping when securing the carpet to the floor. The durable chrome-plated steel stair tool is highly durable and uses heavy duty blades to set carpets in difficult crevices.
If you want to install a carpet in the stairs, you absolutely need this stair tool!
Roberts Carpet Tools 3-1/2-Inch Stair Tool 10-521
Use to set carpet into tack strip, drive carpet...
Cushioned, slip resistant handle
Checkered head prevents hammer form slipping when...
Heavy duty blades easily set carpet into stairway...
Made from forged, chrome-plated steel for...
8. Carpet Power Stretcher
A carpet stretcher or a power stretcher is a specialized tool to use when you're installing wall-to-wall carpet. The tool operates by stretching the carpet in a way that pulls it closer to the wall. Once this happens, it is fixed to a tack strip.
Power stretchers have a lever and a pole which apply tension on the carpet across the room.
If you want to ensure that the carpet appears flat and tight across the floor, you must use a power carpet stretcher!
Roberts 10-254V Value Kit Power-Lok Carpet Stretcher
The Roberts 10-254V Value Kit Power-Lok Carpet Stretcher is a kit that can help you install wall-to-wall carpeting in a better way. It has the ability to stretch up to 38 feet, making it suitable for use in the home.
The kit has been designed for use on carpets with different thicknesses so the pins can penetrate at various depths. Apart from that, the swivel head does a wonderful job in stretching angles or corners.
WARNING
If you don't pay attention to your carpet and don't use a good stretcher, you're going to face the formation of wrinkles on the carpet over time!
The ROBERTS brand is trustworthy and so is this product which will amaze you with its brilliant performance!
9. Carpet Knee Kicker
Knee kickers apply tension to the carpet by utilizing a kick of the knee to the tool which gives it the unique name. They are suitable for use in smaller spaces such as closets or staircases.
They work on the same principle as power stretchers but are made for smaller spaces!
Economy Adjustable Knee Kicker
The Economy Adjustable Knee Kicker is designed to make carpet installation projects easier. It is a Taiwanese product that will never disappoint you with its performance.
In other words, using this knee kicker ensures the carpet is taut when installed!
Sale
10. Cushion Back Carpet Cutter
When it comes to carpets, neatness is the most important factor. If you want to install carpets with perfect seams and properly cut edges, rely on a cushion back carpet cutter. This tool is designed to cut through carpet backing yet be precisely straight when in use.
Crain 301 Cushion Back Carpet Cutter
The Crain 301 Cushion Back Carpet Cutter is designed to trim seam edges close to the tufts with neatness. It will ensure you maintain the integrity of the carpet and cut through the backing with ease.
The best thing about this cutter in particular is how the 30 degree blade ensures a clean and precise cut. The end result is an elegant and neat carpet that you can install with confidence!
11. Carpet Hammer Tacker
While you have to squeeze the carpet stapler to staple the carpet, you have to use the carpet hammer tacker by smacking it into the carpet like a hammer.
Carpet hammer tackers are becoming more popular amongst people who dislike the use of carpet glue.
Both carpet staplers and hammer tackers allow people to evade hassle but the latter is more useful when you need to install a carpet in a larger area.
Hoteche Heavy-Duty Hammer Tacker
The Hoteche Heavy-Duty Hammer Tacker is the perfect tool for your carpet installation project if you have a large area to cover. While carpet staplers take more effort to use, the hammer tacker makes it easier to get the job done without exerting too much effort.
It is a strong performer that rarely ever jams. In other words, it will get the job done without giving you too much trouble.
12. Carpet Tack Strip Cutter
A carpet tack strip cutter is a tool that allows you to cut tack strips without exerting too much effort. Tack strips are designed to grip onto the carpet and be stuck between the strip and the wall. A tack strip cutter can ensure you're better able to make clean cuts on the tack strip and preserve the look!
The tack strip is quite thick and a normal cutter will not be able to cut it neatly. Sometimes people use a saw to cut this strip but that can be dangerous. Therefore, you should opt for a specialized tool to make the task safer and easier for you!
Crain 450 Deluxe Carpet Strip Cutter
The Crain 450 Deluxe Carpet Strip Cutter is made with sharp durable blades that can cut tack strips both straightly and diagonally. They are strong cutters which provide increased cutting force. In other words, you won't have to put in too much effort to cut the tack strip making the installation go smoother!
Crain 450 Deluxe Carpet Strip Cutter
Longer, sharper blades snap architectural
Cut regular strip straight or diagonal
Rugged forged steel construction
Top blade stabilizers minimize deflection
Conclusion
There are a number of tools that can help you install your carpet. You will need only those tools which suit your installation method and aim.
Tools like carpet glue, carpet stapler, carpet seam iron, carpet seam roller, carpet stair tool, hammer tacker and carpet tape are a few tools that you may need for the carpeting project!
Here is a special comprehensive guide about the best rooms to carpet!
Are you excited about decorating your home? You should think about all the rooms worth carpeting!