Wall-to-wall carpet is the most comfortable and affordable flooring material and is available in a wide variety that customers can choose from based on their unique individual needs. Carpeting is soft, comfortable, and durable and it provides inhabitants of a home with a cushiony surface between the hard tiles on the floor and their feet.
While a large population of homeowners prefers investing in good quality carpeting for their homes, it certainly would help everyone to know how to go about finding the best carpet for their home and how much it would cost them to install it for the required area. While carpet installation costs vary based on the material, construction method, and style, the average cost for new carpet installation ranges from around $3 to $6 per square foot, $650 for a room, and around $2250 for a house with 3-4 carpeted rooms.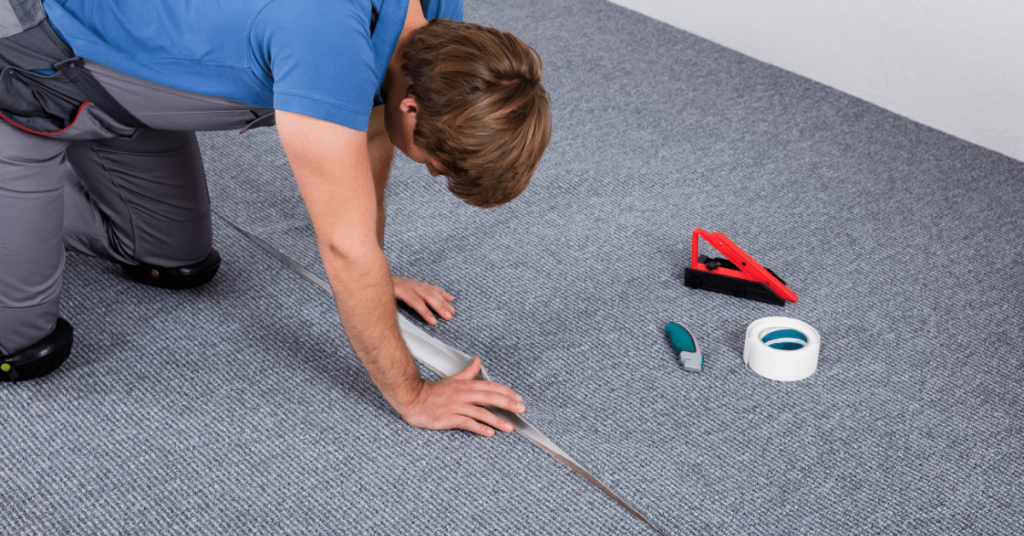 WARNING
SELECT WHAT SUITS YOU
Carpeting is a long-term installment for your home. It is always better to pick a good-quality carpet so that it lasts long and doesn't lose value in a year or two. You don't want to invest in cheap, low-density material and burn a hole in your pocket within two years. There are affordable synthetic options that you can use for at least 5-7 years with the right padding.
PRO TIP
COMPARE
When you start looking for the perfect carpet, get in contact with more than just one carpet vendor. Smaller companies often charge less than large contractors. Get your quotes from at least 2 or 3 vendors to be able to compare and choose the best option.
Carpet Installation
Before going into detail, let's first understand what the process of carpet installation includes.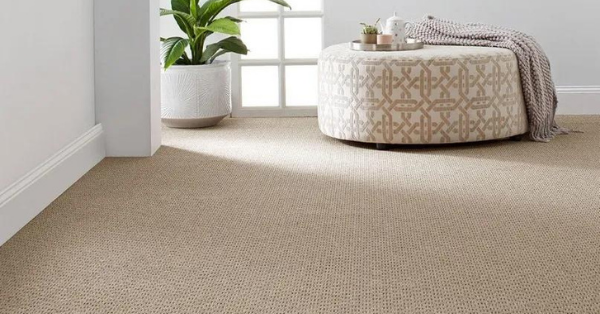 Ahead of the actual installation, experts assess the rooms where carpeting is to be installed and decide if any doors and furniture need to be removed or moved to make sure carpet installation goes smoothly. At the same time, they will measure out how much carpet material they need, including stairs, if there are any.
Carpet installation starts with the removal of whatever carpet remains on your flooring. After this, your carpet professional will assess the condition of your subfloor and repair or replace any part of it if required. After preparing the subfloor, they will lay the carpet padding, stretch out your brand new carpet, staple or glue it down, and remove excess material.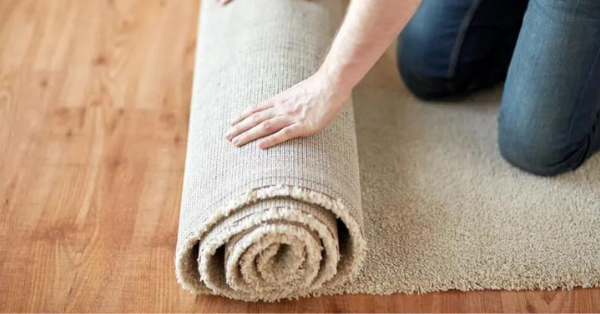 How much does carpet installation cost?
Carpet installation is something everyone sets aside a budget for, especially in the United States, where on average, it costs around $3-$6 per square foot. A room of 12×12 square feet would cost you around $650 and an apartment with 3-4 rooms that require to be carpeted would cost you around $2250.
This is just a rough estimate but many different factors impact how much carpet installation costs. There's a range of carpet materials for you to pick from. You can do so based on your decor style, the foot traffic in your home, and how well you can maintain your rug! We will explore the other factors that will help determine the cost of your home's carpeting below.
Factors that impact the cost of installing carpet
As mentioned above, different factors help in ascertaining the cost of carpeting.
PRO TIP
INSTALLATION PRICES
The bigger the area of carpeting is, the cheaper your installation prices will be.
Material
Material is one of the most important determinants of carpet cost and quality. There are a myriad of materials in the market for homeowners to choose from. Each of these has its advantages and disadvantages when compared with the other. Allow yourself to fully explore each carpet material before you make the final decision.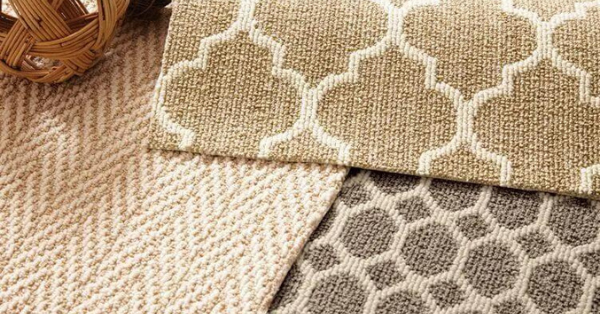 The widest categorization of carpet material is the source. Some materials are natural – plant or animal-based – and the others are man-made. Listed below are the most popular carpet materials.
Wool
Wool is the most reliable and popular natural carpet fabric. It is luxurious, soft, durable, versatile, and extremely comfortable to walk on. When combined with fibers of man-made materials like nylon or acrylic, it is even stronger and resistant to wear-and-tear. Wool rugs and carpets and handed down across generations because of the high quality and durability of the fabric.
The material also has the necessary qualities of insulation and sound-absorption which are very important in modest modern homes with nuclear families. However, wool absorbs moisture easily and all these benefits come at a slightly higher cost when compared with its synthetic counterparts. Wool carpeting ranges from around $4-$12 per square foot.
You may notice that this range begins at the higher end of our national average cost. This is because of the wool's superior quality. The price of wool carpeting is slightly lower when it isn't made of pure wool, that is when it is blended with a synthetic material like nylon or acrylic.
Cotton
Another natural carpet material worth mentioning is the very versatile and reliable cotton. Cotton carpeting is not as durable as the long-lasting wool but it is highly recommended for homeowners who like changing their decor up every once in a while. This is because the material comes in a wide variety of colors and is easy to maintain and clean.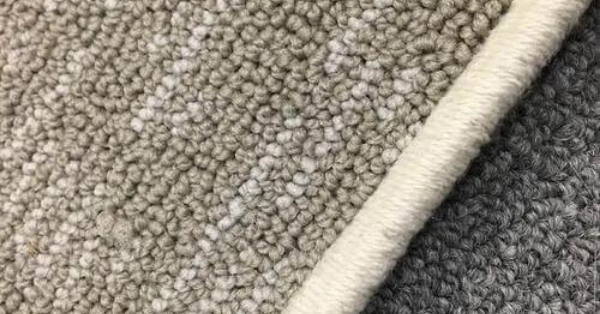 The natural fiber has a casual appearance and can be used to complement rooms with different decor styles as it absorbs dye easily. Cotton carpeting can be placed in areas with heavy footfall because of how low-maintenance it is. However, cotton stains easily and fades over time. Carpets in this material costs around $7 and upwards.
Acrylic
Sometimes called "synthetic wool", acrylic is the closest to wool in terms of appearance and feel. The man-made material can replicate the luxurious look of wool at a much lower price than the latter. Homeowners often prefer this material because of its high resistance to sunlight, static, moisture – growth of mold and mildew, and its great retention of dyes. Acrylic carpeting also comes in a decent range of colors for those owners who like to have many choices.
However, it is important to know that the material isn't as long-lasting and resistant to wear-and-tear as its natural lookalike. On its own, the material can not be placed in high-traffic areas. When blended with wool, acrylic makes for hard-wearing carpet fiber. Acrylic carpeting starts at $4 and better blends are costlier.
Nylon
In the synthetic carpet material market, nylon is the sturdiest, most resistant, and affordable fiber. This is why the man-made fabric is sought-after the most by homeowners all across the country. Nylon is great in areas with heavy foot-traffic, resists dirt and soil well, and is produced and dyed in various colors. The material holds shape for many years and doesn't show wear as long as basic cleaning and maintenance is done regularly.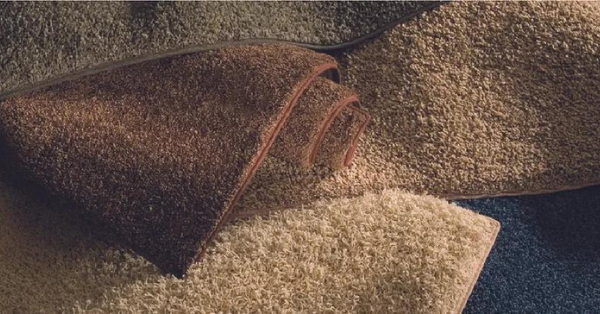 The carpet material also can repel stains and moisture which is why it is a great option for homes with many people, children, and/or pets. Nylon carpeting ranges from $0.50-$7.50 and this low cost is why it makes for a better option when compared to acrylic and other synthetic carpeting.
Triexta
Because of the technological developments in the carpet manufacturing industry, experts formulated a finer and more durable version of nylon. Triexta is more suitable for homes with young children and/or pets because of the damage it can take without wearing out. The material is completely spill-resistant and has gained popularity in modern households because of this.
The synthetic material comes largely from corn sugar, making it an environmentally friendly alternative. Because of its significant benefits over nylon, it is slightly more expensive to install triexta carpeting. It ranges from $1.50-$6.50.
Polyester
Similar in composition to triexta, polyester is another synthetic carpet fiber that is popular among homeowners in the 21st century. It is also very similar in appearance and feel to wool because of which it is often sought after. The material is soft and luxurious and has a great ability to resist spills and staining. It absorbs dye well and comes in a range of colors for the color-conscious customer.
PET, a type of polyester made of plastic bottles, is eco-friendly and durable. However, polyester isn't a great option for areas of the house with high foot traffic. This synthetic alternative to wool ranges from $0.75-$4 and the quality varies widely.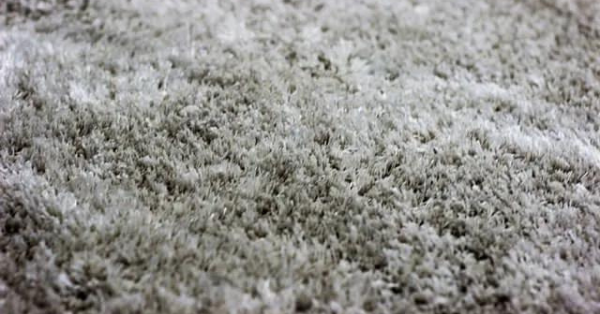 Olefin
We have yet another wool look-alike in the synthetic carpet material section and this time, it is one that is made with a polypropylene compound. Olefin has many advantages that make it a worthy option for homeowners looking for carpet – it is strong, resistant to wear, luxurious in appearance, easy to maintain, and affordable.
The only disadvantage of this material is how it absorbs oil stains easily which can be difficult to remove. Olefin ranges from $1-$3 and it is a great option for people who want low-priced, good-quality carpet for their home.
Style – Construction Method
Now that we have covered the different materials that carpet is made in, let's move on to the construction methods involved in their production which have a lot to do with the quality and cost of carpeting. Broadly, carpet construction can be divided into the following: cut pile, looped pile, and a combination of the two methods – cut and loop pile.
Cut pile carpets have fibers that are cut off and leveled on the surface. This makes them look very neat and gives people a comfortable feeling while walking, standing, or sitting on them.
Plush
Well-trimmed and velvet-like, plush carpets look soft and are extremely comfortable. These survive best in low-traffic areas and can not be placed in areas with a lot of footfall. They are decorative carpets and they range from $1.50-$6.00.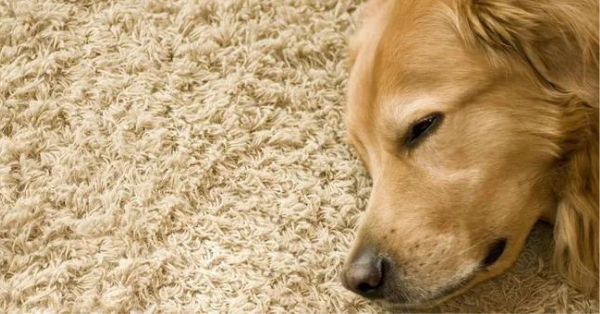 Saxony
Softer in appearance and casual-luxe, Saxony carpets are as high-maintenance and costly as plush and serve a decorative purpose well. These range from $2.00-$6.50 and cost also differs based on the material used to construct.
Textured
Uneven, duo-toned, and twisted, textured carpets are better at enduring traffic and movement in homes. These carpets don't show footprints and wear as much as the above-mentioned cut piles and range from $1.00-$8.00.
Frieze and Shag
In frieze carpeting, fibers are twisted and kinked together for a unique texture and increased resistance to damage. Frieze carpets with longer fibers and open tufts are shag carpets. They range from $1.50-$8.50.
Cable
Cable carpets are soft and have longer, thicker yarns that are known for how they stand out from the backing. However, they aren't as durable as frieze, shag, or textured carpets which is why they are good for decor purposes. Cable carpeting ranges from $0.75-$8.00.
Looped pile carpets are constructed by allowing an entire loop of yarn to cover the entire surface of the carpet. These carpets are resistant, smooth, and long-lasting.
Berber
The most popular style of carpet construction, Berber carpets are notable for their dense, close loops that make the carpet highly durable and resistant to wear. These carpets range from $2.00-$9.00.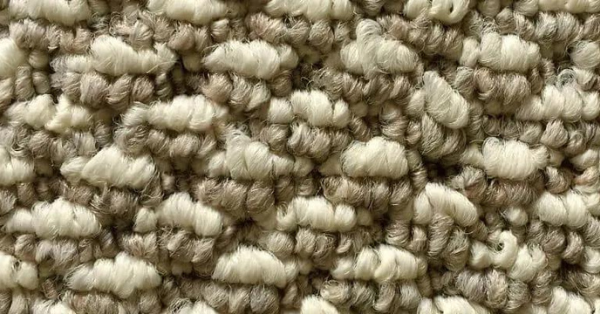 Level loop
A variation of the loop pile style of carpeting, level-loop carpets have loops of the same length all across the face of the carpet, making them stronger and tougher than Berber. Patterns are created with the help of different-colored yarns. Level loop carpeting costs $2.00-$9.00.
Multi-level loop
The loops on these carpets are uneven which allow it to create three-dimensional patterns on the face. These loops also make the carpets very tough and resistant. They range from $2.00-$9.00.
Cut and loop pile
This construction method combines the two methods of cut and loop pile in a single carpet and the result is a harmonious composition including beautiful patterns and colors in a sturdy, durable floor covering. These carpets range from $2.00-$10.00 per square foot.
Carpet padding
Another important aspect of carpet installation and figuring out how much the whole process will cost is understanding the different carpet padding available in the market. For this, we first need to understand what carpet padding is. Carpet padding is a layer made of foam, rebond or fiber that is placed underneath carpet fabric.
Carpet padding is purchased separately and placed under the carpet for increased resistance to wear-and-tear, insulation, reduction of noise, moisture, and finally, comfort and support. Sometimes, carpeting comes with padding but usually, customers are required to buy it on their own before carpet installation. On average, carpet padding costs $0.40-$0.90.
Carpet padding is available everywhere and in varying thicknesses and density and the different types are described below.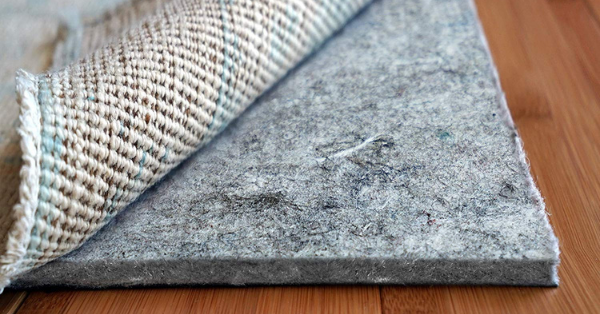 Rebond
The most commonly used carpet padding, rebond uses reclaimed scrap foam that would go on to fill landfills. These carpet paddings are identifiable by their multi-colored appearance and are very extremely affordable and durable. They last for 7-15 years on average and the cost ranges from $0.25-$0.80.
Foam
Made of urethane, this padding isn't made of recycled materials like rebond which is why foam padding is slightly denser than the foam used in furniture. It allows for an extremely soft step but isn't as durable as the other options available in the market. Foam padding costs $0.25-$0.40.
Frothed foam
Frothed foam carpet padding is dense and doesn't have a lot of air which makes it an extremely good choice for high-traffic areas in the house. This makes the padding more expensive when compared to urethane foam, ranging from $0.80-$1.00 per square foot.
Memory foam
You might have heard of this name while looking for mattresses! If you haven't, memory foam is an extremely soft and comfortable foam that allows users to sink into the surface of the carpet. However, they sink and squish over time which makes them not-so-deal for high-traffic areas. Memory foam carpet padding ranges from $0.60-$0.90.
Fiber
These carpet pads are made of a combination of usually synthetic fibers like nylon and polyester and they are known for their dense and flat appearance and feel. Fiber carpet padding is usually recommended for Berber and they work well for varying traffic.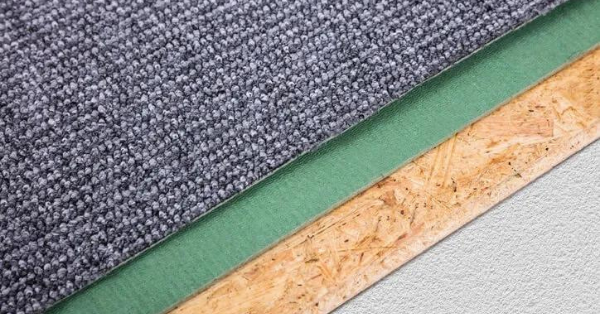 Natural fiber pads also exist in the market but are more susceptible to the growth of mold and mildew. Fiber pads aren't as comfortable as foam padding and they range from $0.75-$2.5.
Jute
Not a widely-used option for carpet padding is the natural fiber jute. Jute padding is flat and light-weight but can provide stable padding underneath your new carpet if you're looking for natural fiber. However, the material is susceptible to mold growth as it absorbs moisture and stains easily. Jute padding costs around $0.50-$0.90 per square foot.
Rubber
Rubber pads are often used in commercial spaces and are well-known for their resilience and durability. When picked in the correct density and thickness, rubber pads and slab rubber padding can last for decades and help you maintain the quality of your new carpet. Because of their superior quality, they cost around $1.50-$2.50 per square foot.
Waffle rubber
Waffle rubber pads, as the name suggests, look like giant waffles made of rubber underneath your carpet. The ridges in the construction of these pads allow for an even allocation and distribution of weight which keeps your carpet looking as good as new for a long time. It is soft but needs to be replaced every once in a while. Waffle rubber padding ranges from $0.60-$1.00.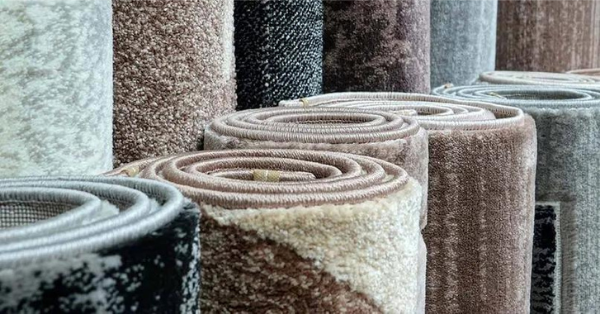 Labor costs and other additional charges
To determine the labor costs for carpet installation, you need to know what services you need from your local flooring expert. If it is your first time getting carpet installed in your home, you probably will not have a lot of additional costs to consider. However, flooring experts will analyze your floor and let you know what needs to be done before the actual installation.
Subflooring – the removal of previously-constructed subfloor (usually plywood) – is an important prerequisite to carpet installation and it costs around $0.65-$1.00 to remove the old subfloor and $0.75-$4.50 to repair or replace it. This is included in the labor costs of carpet installation.
Removal of old carpeting costs around $0.25-$1.50 per square foot.
Complex areas like stairs, baseboards, and door thresholds will also have custom costs depending on the service provider you choose, the level of complexity and area. The average cost for carpeting a flight of stairs is $750 and each stair will add around $6.50-$15.00 to the total bill.
WARNING
CHOOSE WISELY FOR YOUR STAIRS
Pick a carpet material that will prevent accidents for stairs! The best carpet for stairs is low-pile nylon with twists or trims as this kind of surface will prevent slippage and accidents when paired with thin, sturdy padding.
To understand more about carpeting for stairs, read this.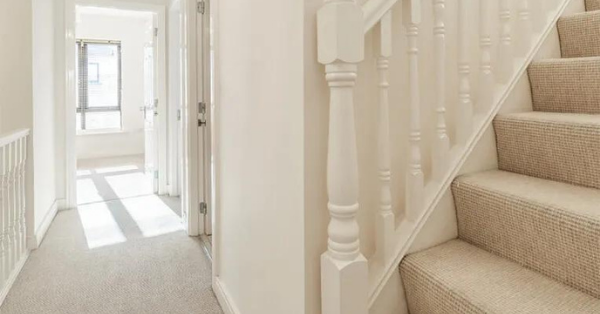 Some flooring companies also charge additionally for services like removal or moving of furniture, removal of doors, stain-resistant treatments, and providing radiant heating.
Tack strips and other additional items are included in the installation cost or added separately.
In most professional carpet installation services, measurement is included. However, sometimes, an additional $50 is charged to complete measuring and analysis.
Conclusion
Getting carpet installed in your home or even starting to think about the process can seem like a daunting task but it doesn't have to be. It is easier with a comprehensive guide that helps you navigate the complex world of carpets and rugs. Carpeting adds luxury and comfort to your rooms and makes you feel more at home.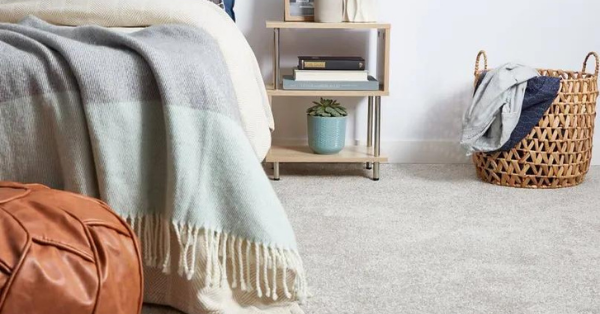 Are you wondering what carpet will be the best choice for your stairs? This post will help make the process a less confusing one. You will find a list of factors to consider when choosing the best carpet for your stairs.