Carpeting plays an integral role in the interior decor of a home while providing you and your loved ones with warmth, protection, comfort, luxury, and beauty. Waking up in a comfortable bed and setting your feet on soft, plush carpeting has to be one of the best feelings in the world. Good carpeting can transform your space's appearance and take it from drab to luxe in no time!
The market offers us a variety of carpet styles to choose from, whether they differ on the basis of the material they are constructed with or the method of construction itself. Some of these carpets play a more decorative role while others are highly durable and wear-resistant. Every one of these styles serves their own purpose that I will explore in detail here.
In order to buy a carpet you need to follow these 6 steps: First, determine de size of the area for which you need carpeting, second choose the best material from various alternatives, third define your budget and set a limit, fourth decide on the best construction method, fith pick the color and patter you like the mostand sixth decide on carpet pads and underlay.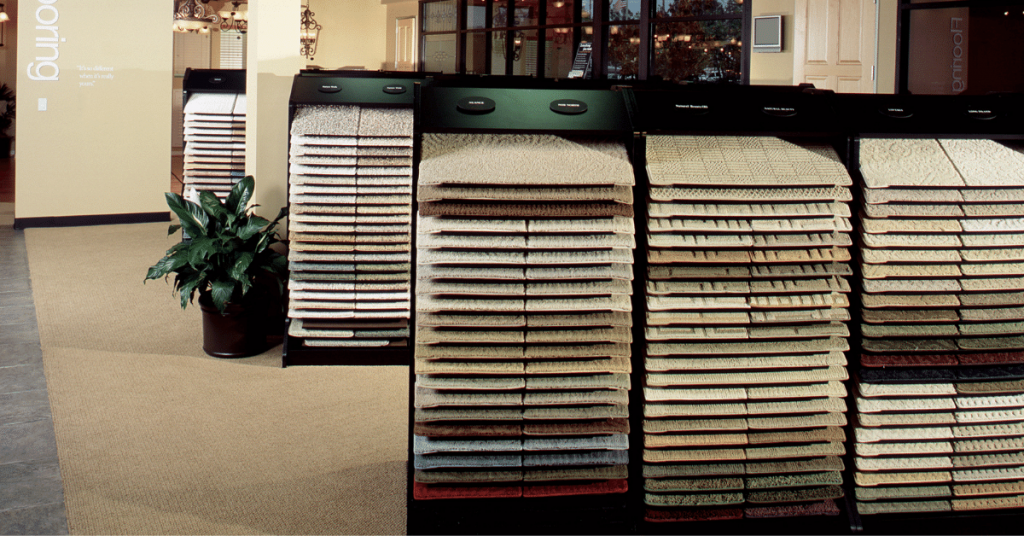 I didn't want this guide to be extremely long, but a step by step guide. But if you're about to buy a carpet, I would strongly encourage you to read the following posts too. These are an absolute must if you're about to buy a carpet!
There are many places near you that offer carpets. And you want to get a good deal and fair installation prices, right? This guide will help you decide where you should buy your carpet.
If you're about to buy a carpet you need to know about the different fiber materials. They all have their pros and cons, so read this to choose wisely!
Are you at crossroads in deciding the best carpet brand for your home décor? This post will point you in the right direction. It provides a list of the 6 best and trustworthy carpet brands to choose from.
Steps to buy the perfect carpet for your home
A tried and tested process that will aid you in determining the carpet for your home. Follow these steps to discover the carpet that will elevate your experience in your home.
1. Determine the size of the area for which you need carpeting
The first and most important step of the carpet-buying process is to look at your home and decide where you want carpet installed. Some people go for full-house carpeting, others prefer installation in select rooms. Understand why you need carpeting in the areas you have selected and whether or not to include carpeting in wet spaces like the bathroom and kitchen.
WARNING
NO CARPETS IN BATHROOM
Centres for Disease Control (CDC) recommends to avoid installing carpet in the bathroom as it could lead to high rotting of the floor, apart from mold growth.
After this, calculate the total surface area by measuring the longest and widest part of each room, including at least 10 cms for trimming and extras. Having a rough estimate of the area may help you in narrowing down to the best options, especially if you have carpet services quoting sky-high prices that are not at all worth the fabric and size you're buying. Part two of calculating a rough estimate will be picking the material which I will talk about in detail below. You can contact for carpet installation.
PRO TIP
ESTIMATES HELP
Having a rough estimate can help you filter out the steeply expensive and the warily cheap businesses.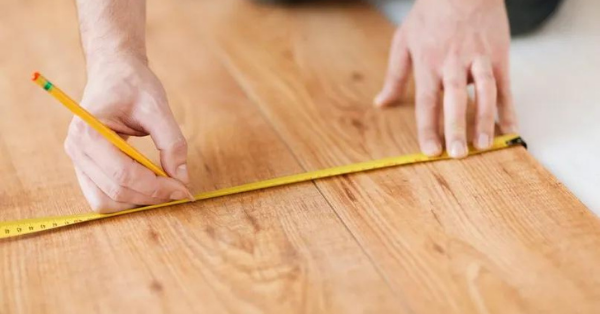 2. Choose the best material from various alternatives
Once you have a rough idea of what size of carpeting you may need, the next step involves multiplying the square foot cost of each material to the total area. You may follow the same step to calculate the rough cost for carpet padding, an important accessory I will discuss in the paragraphs below. First, it is crucial to understand the different materials available.
If you want to read a complete guide on every carpet material available with their pros and cons, check it out here. If you just want to know the basics, keep reading.
There are many natural and synthetic materials used to make the carpet in the market today, most of which are highly durable and strong. Settle on an option based on their features, your particular needs and how they enhance your dwelling space.
Wool
Used for high-quality carpeting, wool is a natural fibre known for its durability and ability to retain its velvety appearance even after many years of use. The luxurious fibre also is sustainable and hypoallergenic, perfect for homes with sensitive individuals, old people and babies. Wool carpets look elegant and soft while being extremely comfortable to walk and lounge on.
This material is a great option for those who want a strong yet gentle surface in their homes. However, this natural fibre is sensitive to the growth of mold which is why people with high indoor humidity are advised to go for a different material. Despite this and its relatively high costs, wool is a reliable and wear-and-tear, soil-resistant material that lasts long.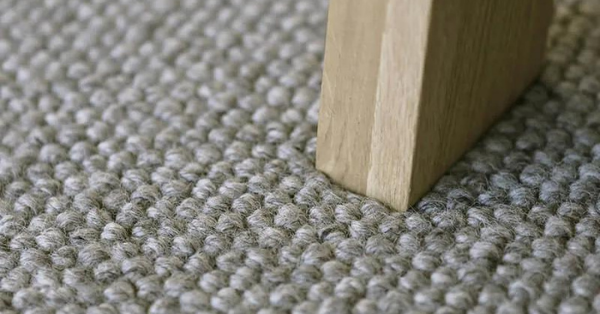 Sisal, Seagrass, Coir, Jute
Collectively categorised as "coarse, plant-based fibers", sisal, seagrass, coir and jute are rising in popularity because of the increase in the need for environmentally-responsible alternatives for toxic and harmful synthetic materials. Sisal and seagrass are non-toxic, strong and require low maintenance. Coir is tough, water-resistant and has natural insect-repellent properties. Jute is strong but finer than the other three and softer to the touch as a result.
However, sisal, seagrass and jute absorb moisture and shouldn't be considered if you have high indoor humidity. They also fade slightly when exposed to direct sunlight. Apart from jute, the other coarse carpet fibers may not be the material for you if you want a soft and luxurious carpet. They are more suitable for high-traffic areas like stairways, passages and entrances.
These plant-based materials come in unique textures and colours, mostly ranging from light beiges to tans, sometimes green. Sisal absorbs dye very well, giving you a bigger variety of colours to choose from. Their natural, rustic look can add accent to rooms, adding textures and dimension to your otherwise regular-looking space.
Polypropylene
Moving on to the synthetic materials available in the market, while they are less expensive and stronger, they are harmful to the environment. Polypropylene, or olefin, is hard wearing and stain-resistant, making it a very popular fibre for carpet production. Olefin carpet is commonly considered a synthetic replacement for wool carpet because of how soft and tightly-packed its fibers are while selling at almost half the price.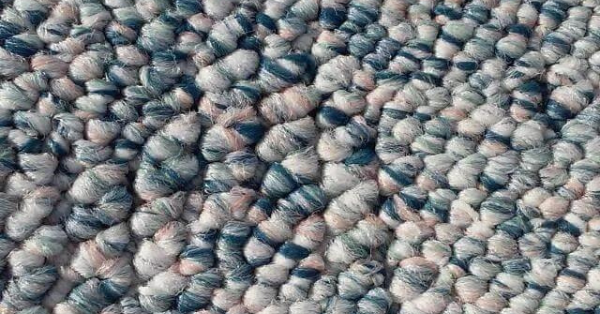 The material's easy maintenance and durability for high-traffic areas makes it the most sought-after material for carpet production after wool and nylon. However, polypropylene has low resistance to oil stains and is also flammable. This may not be the best option for a house with a fireplace or young children who may cause accidents. Notwithstanding this, the synthetic fibre is the best option for people looking for a cheaper substitute for wool.
WARNING
VENTILATION IS IMPORTANT!
Synthetic materials off-gas unpleasant-smelling Volatile Organic Compounds for long periods of time after initial installation unless proper ventilation is provided.
Read this to know more about why your new carpet smells.
Nylon, Triexta, Acrylic
The most popular choice for synthetic carpet production, nylon is durable and can last for over a decade while looking as good as new if they're regularly vacuumed. The fibers hold in dye very well, giving you the possibility of owning a vibrant and strong carpet.
It has excellent resistance to wear-and-tear which is why it is a great option for high-traffic areas and homes with young children and pets. Triexta is similar to nylon, only finer and stronger and fully liquid-resistant. Acrylic is a less-strong substitute to wool that retains colour for a long time.
Polyester
This liquid-resisting fibre came into existence when carpet fibers' prices began to soar and companies had to find cheap alternatives. Sometimes compared to wool because of its luxurious appearance, polyester holds dyes extremely well and is a long-lasting material.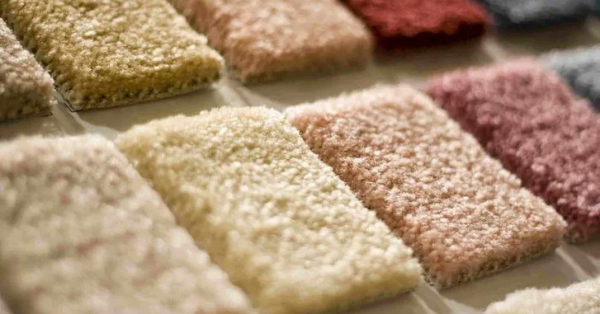 Even though it is a good alternative for wool, polyester fibers can flatten under a lot of weight and walking, which is why they are a suitable option for medium-traffic areas in a small family's home. Polyester is used in a lot of blends with stronger fibers where they are more durable.
These are the best carpet fibers.
PRO TIP
LISTS HELP
Make a pros-and-cons list for your final set of materials if you are unable to decide on a final one. You can also make a more comprehensive list that also includes construction and pile-height to determine the quality of your carpet.
3. Define your budget and set a limit – get an estimate
While you want to buy the best quality carpet for your home, you also need to keep the budget in mind. Based on the total surface area and the cost of your top-choice materials, reach a rough estimate of how much you think is enough to invest in carpeting for the house. Do not be very rigid regarding this amount, it is only an estimate that will help you rule out the very expensive options. Place your faith in honest companies that do not look to swindle customers.
How long a carpet will last will depend on how much it costs but many other factors too!
4. Decide on the best construction method for your needs
After going through the options for materials, it's time to look at construction methods that will help you determine the most suitable carpet for your home.
In order to understand this section correctly, you have to know what carpet pile is. We have a post that thoroughly explains it:
Carpet Pile and its height can be very important when it comes to buying a carpet. Learn about the different types and heights in this Ultimate Guide!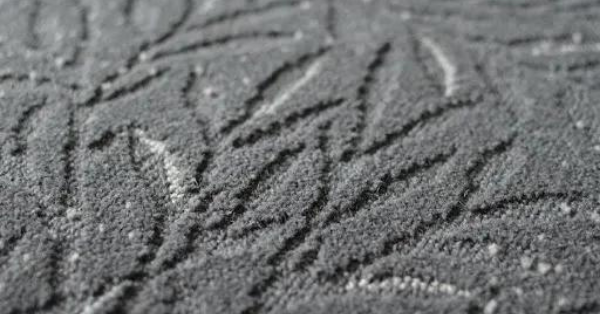 Cut Pile
In cut pile carpets, the yarns used in construction are usually trimmed from the top, making the surface flat and even. This makes the carpet soft and comfortable, giving it a velvety-luxurious appearance. The decorative and soft plush, cable and Saxony are popular styles of cut pile carpet that can be used in low-traffic for decor. Cable has uncut yarns that flatten in high-traffic.
When paired with a durable material, cut pile carpets can repel stains and trails while keeping its shape for many years. Some variations of the cut pile like twist and frieze have messier yarns, making them stronger and more resistant to damage compared to the even-piled ones. These cut pile carpets can be placed in medium to high-traffic areas of the house like bedrooms.
Looped Pile
Looped pile carpets have uncut loops of yarn on the surface, making them extremely resistant to wear and lasting for years. These stain and trail-repelling carpets are good choices for areas with a lot of footfall, like stairways and corridors. Berber is a simple-looking but highly durable looped pile carpet. Others like a level loop, multi-level loop and sisal carpets are durable and decorative because of the variation in yarn colour, loop height and both.
WARNING
SAFETY HAZARD!
Cut pile carpets with long yarns and high-looped carpets can be a safety hazard or just unpleasant if you have small children, old people or pets in the house.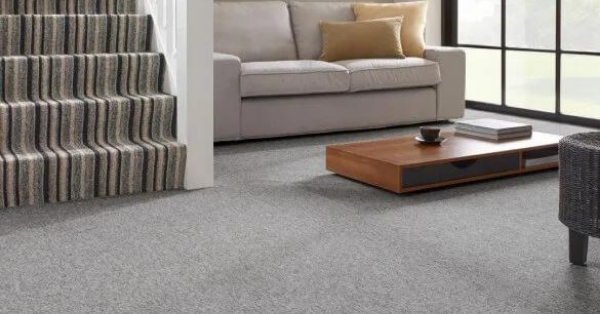 Cut-and-Loop
Cut-and-loop carpets contain a lot more visual design like patterns and textures compared to the other styles. They are also stronger than cut pile carpets because they have a mixture of cut and looped piles of yarn, increasing the ability of the surface to carry weight without forming indentations. Level cut-and-loop and textured cut-and-loop are variations that use yarns of the same length and distinctive sizes respectively, creating a lot of depth and texture.
PRO TIP
CARPET'S PILE HEIGHT
Apart from material and construction, a carpet's pile height also determines its quality.
5. Pick your favourite style – colour and pattern
After looking at the carpet construction, it is crucial to select colours that harmonize with the rest of the house, including the furniture. Everything in the room must be in sync, nothing looking strange or out of place. Go for patterns that complement other things in the house. Your carpet shouldn't create a visual clash that is unpleasant to look at. Determine what pattern and colour to select after carefully observing the existing designs and motifs in the room.
PRO TIP
COLOUR THEORY
Use colour theory to help you find out complementary colours for your home's carpet.
Are you wondering what carpet color will be best for selling your house? This post will help you decide. You will also find a list of how carpet color affects your house sale.
6. Look at auxiliaries – carpet pads and underlay
This is the thing that most buyers get wrong. They pay too much attention to a carpet's color and texture, and not enough to other very important things like carpet padding or carpet tuft. And it's extremely important!
Carpet pads offer extra support to carpeting by acting as a shock and noise absorber, it provides heat and cushioning to those walking or lounging on the surface. They can also extend the life of your carpet and keep it looking good for as long as it lasts. There are rubber-based options like the cushiony waffle or the sturdy flat and crumb. Foam-based carpet pads like jute and recycled felt are firm, comfortable and eco-friendly while PU and PE are widely used.
Read more about carpet padding here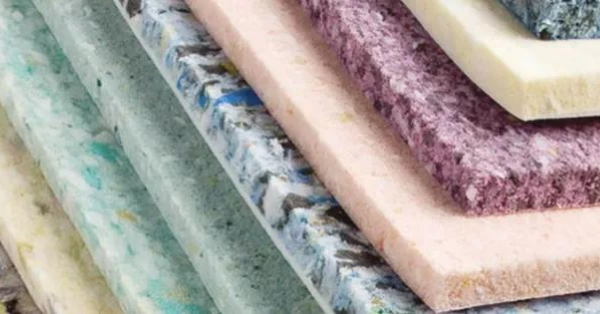 Still unable to decide? Here's an easier way:
If you have gone through this post and many others but still aren't able to come to a conclusion, this might be the best option for you. I have listed the most suitable carpet based on the material and construction for different parts of the house and the footfall. Read on to find out more.
– Opt for frieze or Berber for living rooms where you don't want any damage visible.
– Bedrooms could use comfortable long-pile carpets like wool cable or nylon twist. For higher traffic, go for a looped pile in the same materials.
– A high-traffic stairway needs low-maintenance durable carpet like a nylon short-pile.
– Corridors and hallways with foot traffic need dark-coloured loop carpets like Berber.
– Rooms for kids require stronger, low-staining options like looped-pile nylon.
– A dining room or kitchen could use low-staining olefin carpeting.
Apart from the room-wise classification of carpet, there are homeowners with special needs who could benefit from an easy solution.
– For allergic people, pick hypoallergenic and easy-to-clean nylon or wool short-pile.
– If you're more of a stay-at-home person who spends a lot of their day indoors, you might like something comfortable requiring extra upkeep like plush or Berber.
– Active households may need something like durable nylon, polyester or olefin.
– Homes with pets, older people or children can use short-pile or looped carpets. Wheelchair users will also benefit from something like a Berber carpet.
– Homes with a lot of windows and sunlight will need low-fading materials like olefin or nylon so that carpets look as good as new for longer.
Decide if you need high-traffic carpet with this tool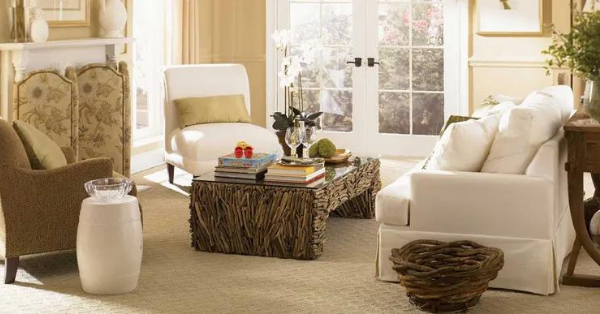 Quality-indicators in carpet
Apart from the above-mentioned factors, it'd also help to know the following information before buying a carpet. A carpet's quality can be determined with the help of its fibre density, face weight, material and pile height.
When a carpet is densely-packed with fibers, it tends to be stronger and more durable than a loosely-packed one. If you run your hand through the face of the carpet and feel its backing, the base that the fibers are attached to, it means that the carpet isn't densely packed enough. In a high-quality carpet, you will feel the carpet backing material very slightly or not at all. This should help you determine the fibre density of the carpet.
The face weight, or, the weight of a square foot of the carpet, will tell you whether or not a carpet is of optimum quality. The heavier the carpet is, the more densely-packed it is, which translates to its good-quality. Denser and heavier carpets last longer and are more expensive than loosely-packed, lighter carpets.
As with any other product we use, carpets have their quality levels judged by the material used to make them. I have already gone over the different carpet styles in regards to the material used in detail above. What matters is how strong and long-lasting the material is, whether it is a natural fibre like wool or something synthetic like nylon.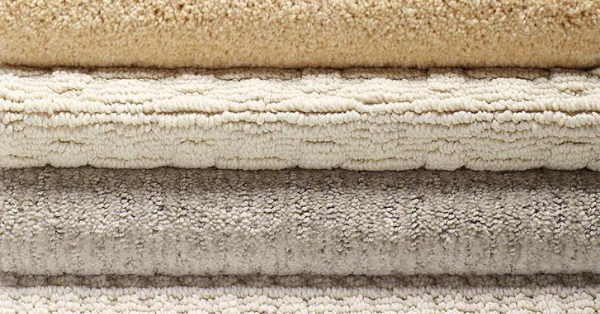 The last and a very important determinant of carpet quality is its pile height which refers to the height of each individual fibre on the carpet. There are three styles of carpets: low-pile, medium-pile and high-pile which go from good-for-high-traffic to decorative-and-low-traffic in that order. Low-pile carpets are stronger and durable whereas high-pile carpets are soft and luxurious but high-maintenance and easily-damageable.
Conclusion
To summarise, these are a few important things you need to keep in mind before investing in carpeting. Colour, patterns and texture are crucial visual design elements that you might want to think about if you want your home to look welcoming and aesthetically pleasing. Finalise the dimensions and the placement of the carpet and decide on a material and construction.
Now that you have a clearer idea of what you want and what your house needs, pick a reliable business that serves all your interests at prices that you can afford. Contact them, visit their website or call them up and tell them about your needs. The carpet specialists there will be able to clarify everything for you and guide you through your actual carpet-buying process.