Birds are attractive. Many of them are adorable. That is why a lot of people keep them as pets. While these feathered creatures are beautiful, they do create a lot of mess.
If you have one in your house, you might have seen bird food, feces, and feathers all over the place. If you have carpeted floors, then the problem compounds. You do not want to have those dirty feces marks and mess on your expensive carpet. Luckily, your love for birds can coexist with your love for carpets.
You can use simple and easy steps to deal with the mess birds create on a carpet. Getting a well-designed birdcage, using carpet protection films, birdcage mats, newspapers for lining, and knowing proper cleaning techniques will equip you to deal better with birds on a carpet.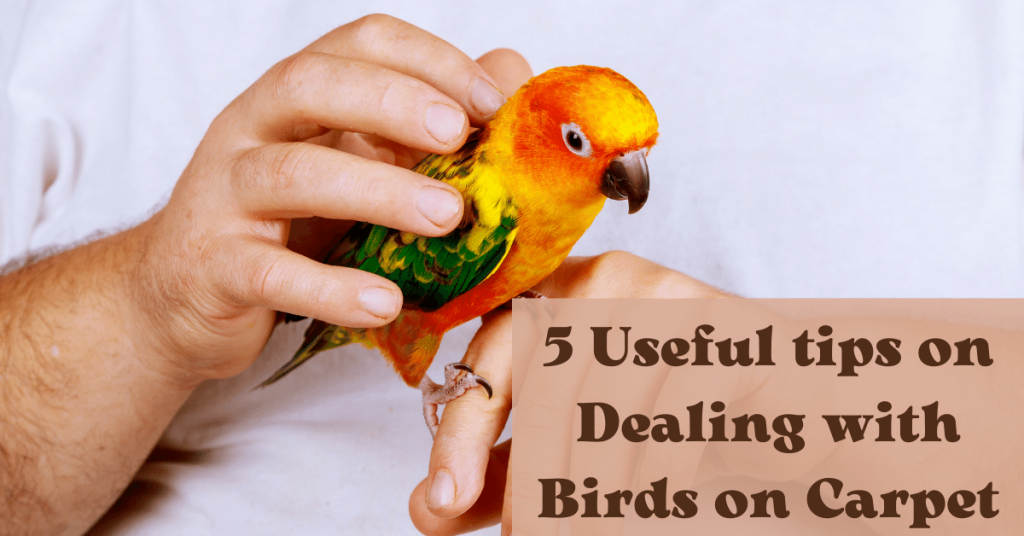 5 Useful Tips to Deal With Birds on Carpets
While birds can create a mess, they are prettier than the filth they create. I have always been a bird and a carpet lover. Over the years, I have found different ways to protect my carpet against the mess that these pretty feathered creatures create. I will share my experience with you that will definitely help you a lot. Here are my 5 techniques to deal with bird mess:
1. Get a Better Bird Cage
PRO TIP
A well designed birdcage will reduce the mess by one half.
Trust me this one step alone will reduce half the mess birds create. Gone are the days of old cages which were difficult to clean and carry. These days there are affordable cages that have extra protection against the mess birds create. They are specifically designed to keep the mess away while giving maximum comfort to the birds.
These modern cages have a removable bottom structure. It prevents the birds feces to travel down to your floor. And guess what this is removable and you can clean it easily. Moreover, these cages have an extra protrusion just below the food bowls. This protrusion runs across the perimeter of the cage and protects your carpet against seed spills.
If you are interested in getting a new cage, get [amazon link="B000QFRSRM" title="this"/] one and reduce the mess by half:
[amazon box="B000QFRSRM"]
2. Use Carpet Protection Films
A birdcage will not always do the job for you. Some big birds are strong to throw the seeds further away with their feathers and the cage protrusion will not be able to protect it. In this case, there are chances that seeds, and other bird food items fall on your carpet.
In this case, you have to use something as a protection layer on the surface of your carpet. You can use it on the carpet area where you often place your birdcage. Over years, I have seen this self-adhesive carpet protection film serve [amazon link="B071WD4NLR" title="this"/] purpose the best:
[amazon box="B071WD4NLR"]
3. Get Birdcage Mats
Apart from using a carpet protection film, you can also use a birdcage mat. These are reusable and are easy to wash. You can even machine wash these mats. If you are someone who takes the cage along, like always, you would prefer these mats as protection. One thing that I like the best about these mats is that they settle tight on any flat surface. They remain where you place them which is good.
Once you have these mats, feel free to take your pets to your office, living room, and dining room. And you know what, do this while having nothing to worry about the dirty carpet. If you are interested in these mats, [amazon link="B011XQUV08″ title="here"/] is where you can get them:
[amazon box="B011XQUV08″]
4. Use Newspapers for Lining Your Carpet
If you are tight on budget and cannot afford a adhesive film protector or a mat, you can always use old newspapers for lining your carpet. When there is enough mess, change the newspapers. This is as simple as it sounds! Obviously, newspapers will not look good on your carpet but hey, who worries when the budget is tight.
5. Proper Cleaning Techniques
Even with all these protections, with a stoke of bad luck, some of the mess may end up on your carpet. In that case, it is very important to know the cleaning techniques to keep your carpet protected.
If there is bird food like seeds on your carpet, use a vacuum cleaner to clean that up. However, if the feces are on your carpet, let them dry completely. Once they are dry, scrub them with a piece of cloth. Then wash that area with a carpet cleaner. If you do not have a carpet cleaner, [amazon link="B004H1R8TY" title="here"/] is where you can get one:
[amazon box="B004H1R8TY"]
Conclusion
If you love birds, keep on loving them. Just do not get afraid of the mess they create. That can easily be taken care of. You can protect you carpet against bird mess by using different techniques. A better birdcage, carpet protecting films, mats, newspapers, and proper cleaning techniques can safe you against bird mess.
Want to know more about carpet cleaning? Check this out:
If you want to clean your carpet, this page has links to everything you need to clean it yourself and how to guides.