One day I decided to replace the dead grass in my courtyard with an artificial one, and that was the best decision I've ever made. Always soft, fresh, and green, the fake grass added lots of charm and coziness to the area behind my house. I was so happy about the investment I've made, but there still was a thing, which disturbed me. The artificial grass collected some pet hair and debris. So, I wondered, if it is allowed to vacuum.
As a general rule, the manufacturers don't recommend vacuuming artificial grass. The reason is vacuum cleaners suck the infill, which the manufacturers put among the artificial fiber of the turf to make it springy and soft. Thus, after 10-15 cleanings of the fake grass with a vacuum, you'll ruin its soft infill completely. So, vacuum the artificial grass very rarely. Probably, it is better to use a specific artificial grass vacuum for that.
Can You Use a Wet and Dry Vacuum on Artificial Grass?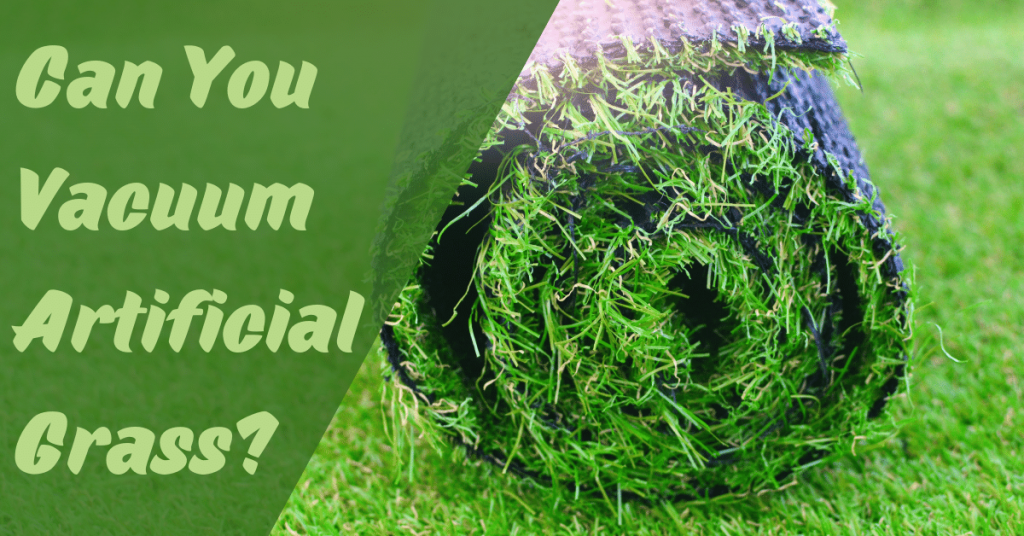 As I've already mentioned, using a vacuum cleaner – dry or wet – for artificial grass maintenance is not a good idea. You shouldn't do it very often. Nevertheless, there are situations, when you can use either wet or dry vacuum cleaners to maintain the artificial grass well enough. Let's specify when you can use the wet or dry vacuum on fake turf.
Use dry vacuum cleaning in case of emergency
If your artificial grass has an infill, you shouldn't use a wet vacuum to clean it. The fake turf has different kinds of infill – in some cases, it is silica sand, crumb rubber, coconut shells, cork, etc. They don't recommend cleaning these materials with a wet vac. Besides, a wet vacuum cleaner can loosen the artificial grass installation.
In case of dry cleaning, you can use it in case of emergency. For example, if your kid scattered salt or sugar on the artificial grass and you need to clean it fast till it melted in the sun. In this case, you can get the house vacuum cleaner of low or medium power and clean the grass with it. But never do this regularly. Later we'll consider the alternative tools to keep the artificial grass clean without a vac.
Use dry and wet vacuum cleaning on the artificial grass without infill
You should avoid vacuuming the artificial grass both with the wet or dry vacuum cleaner if it had infill. Nevertheless, nowadays there are lots of artificial grass options, which are sold without infill. In this case, the fake grass has curled thatched roots. They keep it from moving and damage. If you have grass of that kind – without infill – you can vacuum it as often as you need. It is possible to do wet cleaning or dry cleaning in this case.
Get the specific vacuum cleaner for fake grass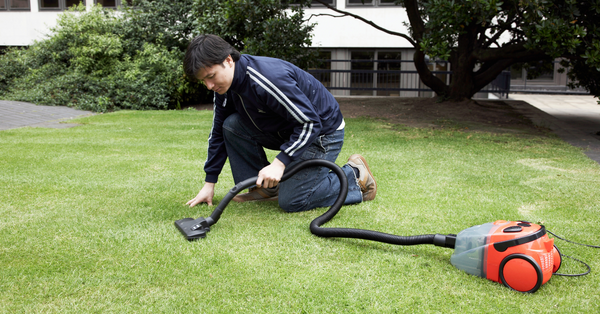 I know that many of my readers can't imagine cleaning any type of floor or ground covering without a vacuum cleaner. If you need to gather all dirt, debris, and pet hair from the artificial turf with a hoover, then consider purchasing the specific vacuum cleaner.
As for me, I've made this investment and I am absolutely in love with [amazon link="B00WSZL04K" title="Vacmaster WD 18 AG Artificial Grass Vacuum Cleaner"/]. I like to vacuum artificial grass, as in this case, it remains shiny, clean, and plushy. The vacuum cleaner, suitable for artificial grass, works gently on artificial fiber. Its molded combs are soft but effective in deep cleaning all kinds of dirt from the fake turf. This vacuum is suitable for both, wet and dry cleaning. It can also work as a blower.
I've recommended Vacmaster just as an example of the specific vacuum cleaner, which can be used on artificial grass. Of course, there are many other options of that kind on the market. So, if you can't imagine the cleaning routine without vacuuming (just like me), then get the hoover for artificial grass and enjoy!
But the vacuum is not the only way to keep artificial grass clean. There are many alternative methods. So, let's move forward and consider them, too.
What's the Best Way to Clean Fake Grass?
There are several ways to clean synthetic grass:
With a hose
With a broom or the carpet rake
With a damp sponge or soft cloth
There's no "magic" way to clean the artificial grass. The variant you choose depends on the place, where you put the synthetic grass. Let's consider all these situations.
The Best Way to Clean Artificial Grass Depending on Location
You can place artificial grass almost in any place in your house. Here are the most widespread locations for artificial turf. You choose the best way to clean the fake grass depending on its location.
1. Playground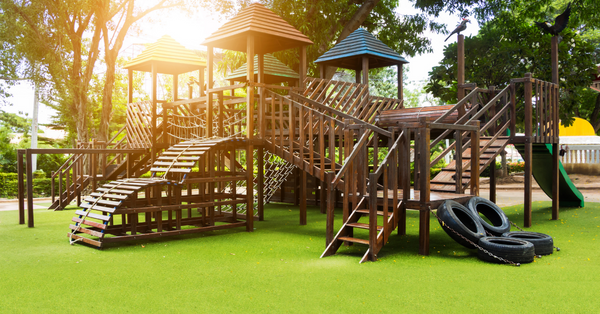 Many of my readers put artificial grass coating on the kids' playground. Thus, in their courtyard, there's a great playing area, where the children can run and jump barefoot. The soft artificial grass is even better for kids than the natural one as it is always green and fresh. There are no dry thorns in it.
Clean the artificial grass on the kids' playground is very easy. Just take the hose and pour it with fresh warm or cool water. Then leave it for a couple of hours to get dry. And your kids can play on the artificial turf again!
2. The Best Way to Clean the Artificial Grass in the Pet Yard
The dogs' and cats' owners often get artificial grass for the yard, where the dogs and cats sleep and walk. The great news is: that your pets can pee on the artificial grass, just like they do if they walk on the natural one. To clean after pets, you can use that very hose. If you didn't manage to clean the pet urine immediately after it appeared, then you can get the wet sponge and rub the place of the spill. To get rid of the urine smell, prepare the homemade solution. Take 1 part of warm water and 1 part of white vinegar. Pour the mixture into a bottle and spray it on the affected area. If necessary, use the hose again to clean the urine residue. You may use the turf deodorizer to be sure, that none of your guests will feel the pet odor while visiting your courtyard.
3. The Best Way to Clean the Artificial Grass in the Sports Ground
If your partner and kids like to play football or volleyball in the summer evenings, then you should arrange the sports ground in the back part of your courtyard. It's a good idea to cover it with artificial grass. The soft springy grass will prevent the players from sliding and help to avoid traumas in case of falling.
Cleaning the artificial grass on the sports ground is very easy. Get the carpet brush to gather soil, fallen leaves, and debris from the fake turf surface. Once a week clean the sports ground, covered with artificial grass, with a hose. Then make the grass fluffy again with a carpet rake.
4. The Best Way to Clean the Artificial Grass in the Balcony Surface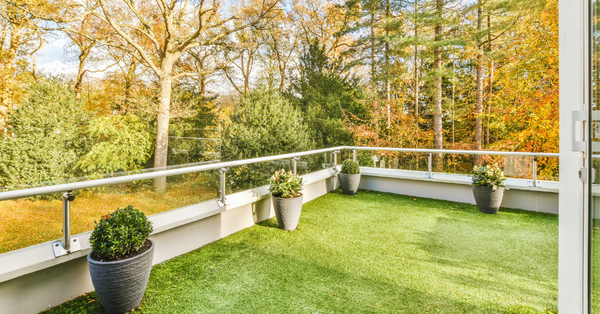 Many people cover the surface of their balconies with artificial grass. With such a covering, the balcony turns into a cozy sitting area. Just put an armchair and a coffee table on the artificial grass and enjoy cozy evenings with a cup of tea or a glass of wine in your hands.
To clean the artificial grass in this case, you should use a soft broom or carpet brush. With its help, you'll get away from the turf surface all dust and dirt. Then take a wet sponge or a piece of a wet soft cloth and rub the artificial grass surface. If necessary, use the turf deodorizer.
How Often Should I Clean the Artificial Grass?
I usually advise my readers to clean the artificial grass as soon as it gets dirty. As for regular cleaning, I recommend doing it once a week. Start cleaning by taking dirt with a soft carpet brush or broom. Then start wet cleaning with a hose or wet sponge. Finally, you can use the turf deodorizer to get rid of unpleasant odors, left by pet urine or spills. If you have some hard stains or want to save some time, you can hire a professional cleaning service. I recommend doing it once a year to be sure, your artificial grass is absolutely clean.
To know more about maintaining the artificial turf, watch the video:
Conclusion
To wrap up, artificial grass is a great update for your landscape. After the proper installation, it will serve you for several decades. To prolong your artificial grass term of service, you should maintain it right. You can vacuum the artificial grass very rarely if it has an infill. But you can use both, wet and dry vacuum cleaning with the non-infill fake grass. There's also a specific vacuum cleaner for artificial grass. You may consider getting it to maintain your synthetic turf fresh, fluffy, and clean.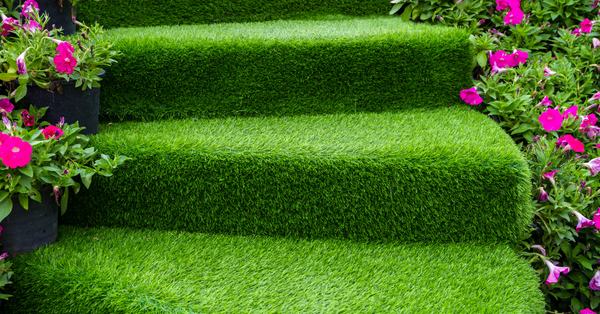 Keep in mind that proper maintenance is the key to the great look and durability of your synthetic grass!