If you've had to buy a rug before, the you'll knwo what I'm talking about…
Rug shopping can be a nightmare! There's lots of thing to consider and have in mind. From style and size, to care and maintenace. No wonder we forget things along the road!
And lots of rug purchases end up being returned just because we didn't take into account the room size, or our home decor…
Let's face it, it's a tricky business!
But even though, we're willing to go through it all. Why? Because rugs are great to have. Who doesn't like to have a cozy and colorful rug at home? It makes it look and feel all homey and warm.
Now, to make this buying rug thing less of a problem, we've decided to make things easier with this article.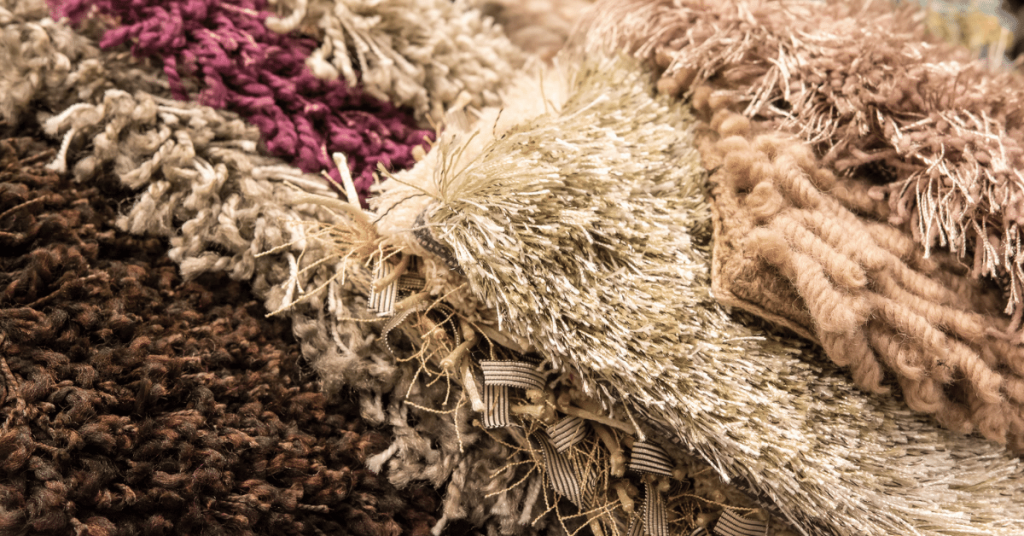 But if you're really into rug shopping I recommend you to go and read this Ultimate Rug Buying Guide. It will save you a ton of time and trouble!
1. Size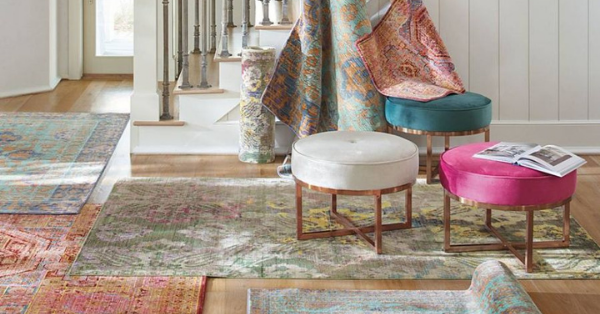 You've probably heard it before, but it is (in my opinion) one the most important things, if not the most, to have in mind when buying a rug.
A small rug can make a rug look a bit awkward and even cheap.
First, you have to decide whether you want to define a sitting area or just fill the room.
– If you want to fill the room, the bigger the better.
– If you want to define a sitting area you'll have to take into account the layout of the furniture that will go on top.
You can help yourself by using some basic area rug placement flooring plans.
One good tip to avoid making size mistakes it to take a painter's tape and draw the size you want to buy on the floor where you would place it to see if it fits well.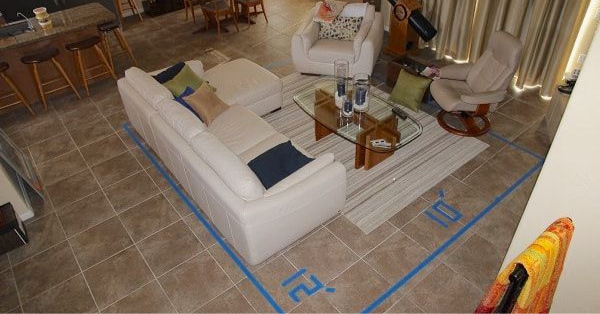 Also, don't forget to leave some space to be able to open the doors easily without touching the rug!
2. Pile and Material
Well, well, well… I would say this one is one of the most difficult choices, because we you might not now all existing materials or how well they work for each room, traffic, etc…
What you have to really take into account is the lifestyle you'll hav around that rug you buy.
Where is it going to be placed? How much traffic is it going to support? How it will be used?
Here are some pile genral rules:
– For high-traffic choose low-pile rugs.
– For low-traffic choose high-pile rugs.
Now, when talking about materials, it can get confusing so we've prepared the following rug material guide for you, based on their characteristics and where is best to place them: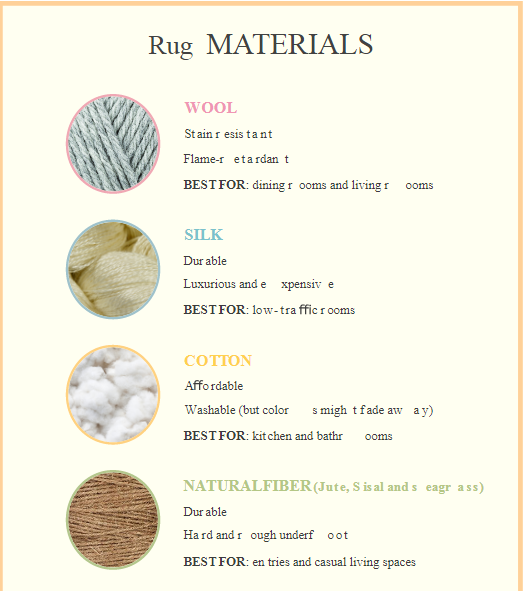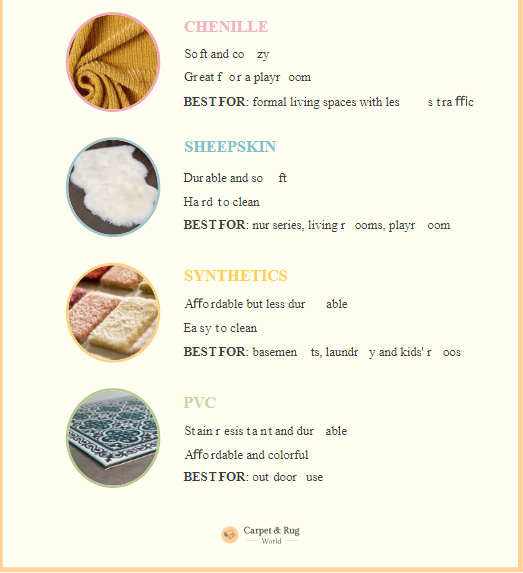 3. Rug Design
Now that you know which rug size you want and the pile and material you need, there are infinite rug style options!
So, how to choose the right one?
First thing you need decide if your going to choose the room decor around the rug or if you're buying a rug that needs to fit well with the decor that you already have in the room.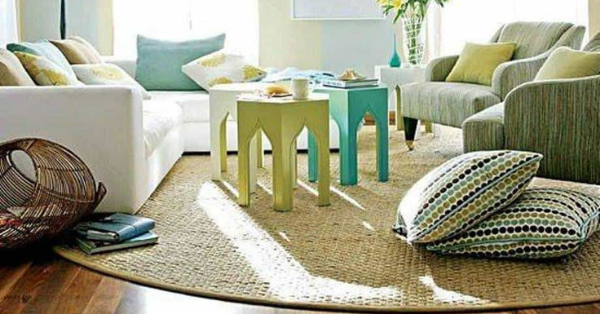 Do you want it to stand out or be more of a neutral rug?
If your going for a whole room redecoration, then you can go for a more bold pattern to make it the focal point of the room.
If you just want to replace an old rug, then neutral colors are easier to blend with your existing decor.
The texture of a rug is also a very important thing to have in mind. You choose it when you decide the rug material.
– For more busy walls and room neutral textured rugs with simple designs such as hand-knotted and flat-woven styles work great.
– For rooms with a more minimalist design, you can go for a more bold pattern and bright colors, such as hand-tufted or patterned rugs.
4. Colors and Patterns
When choosing the color you have to take into account 3 things:
1. Color of the carpet or floor you're going to place the rug on.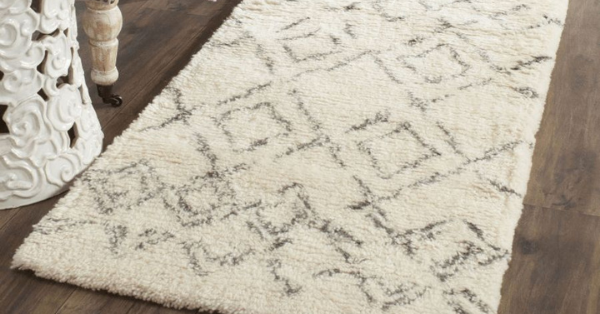 A good rule would be to choose a medium or dark-colored rug for light floors and carpets. And light-colored rugs for dark carpets and floors.
2. The furniture that will go on top.
– It needs to complement the colors of your existing furniture (if you're just replacing the rug).
– If you're redecorating the whole room, then a good idea is to pick the key colors from your rug pattern and choose the color of the furniture acordingly.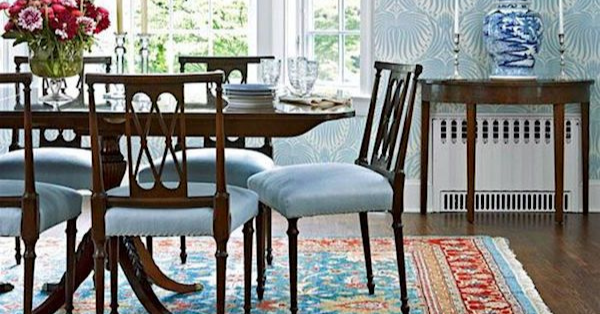 Rug borders can also add dimension and a more bold look to the room.
3. The space and room.
– If you go for darker colors, the room will feel more intimate but smaller.
– If you go for a lighter color, it wil give the room a much wider feeling.
5. The Different Shapes
Now, this one should be easy. The most traditional shapes you can find are:
– Rectangular rugs: perfect for large rooms, hallways and entries. It is the most traditional choice.
– Square rugs: if you want to avoid awkwardness, avoid using this shape in room that aren't also squared. Or if you want to define a smaller space in an open area of the house.
– Circular rugs: ideal for smaller rooms and to place similar shaped furniture on top, such as a dining table.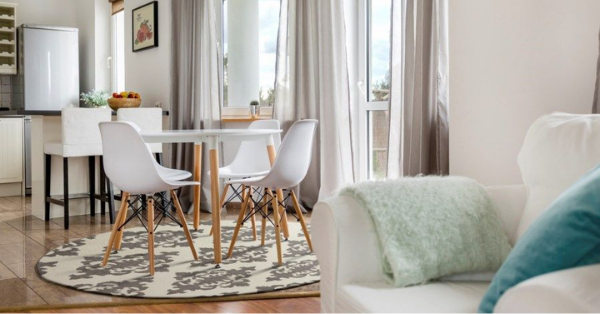 6. Consider the Room
Are you going to place it in the master bedroom, in your kids room, the bathroom…?
– If you're going to place in the living room, then the rug material must be comfortable but also durable. Another plus if you have kids or pets, is stain-resistant rugs. Sisal rugs are a great choice here.
– Cozy and warm rugs are the go-to for bedrooms, whether its the master bedroom or your kid's bedroom. Wool and chenille rugs are a great option if you want a bit of a luxurious look.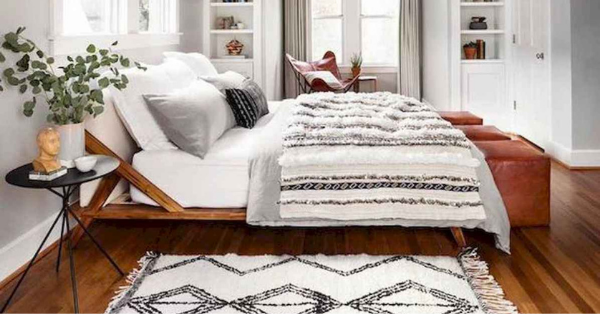 – For dining rooms, you'll want to go for a more stain resistant material if you want to void any disasters. Wool or synthetic material are a safe choice.
– A kitchen can be a messy place. So, something like seagrass will work as it is water resistant. Take especial care here to use rug pads if you have slippery rugs. We don't want accidents!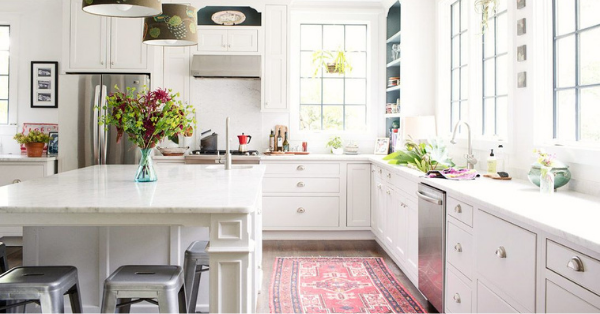 – Entries and hallways are ususally a high traffic area, so durability is a must. Coir rugs are an ideal choice to place in this areas.
7. Care and Maintenance
This is somethig we tend to forget. Especially if we've fallen in love with a rug that's sort of special but quite impossible to clean.
But trust me, you'll forget how great and unique it is once it starts getting uggly and dirty and you realise you can't clean it or if you do, you'll have to spend too much money for it.
If your going to place the rug on a low-traffic area, the you don't need it to be as easy to clean as a high-traffic area rug, because it won't get as dirty.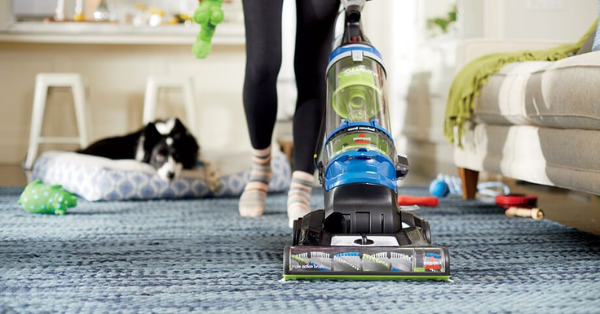 Wool and acrylic materials are both durable and easy to clean.
Patterns will also make a grat difference here as detailed patterns will hide better the stains than bold-colored rugs.
8. Rug Pads
You may think that this is an unnecessary extra cost. But no. It is a safety cost and you should gladly pay it as it will prevent many slippery accidents.
Not to mention it can also extend the life of a rug as it reduces the friction of the rug against the floor.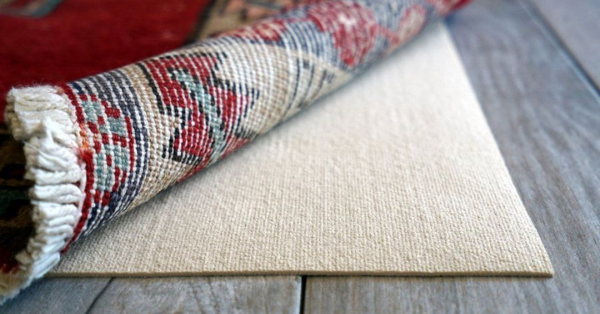 If you want to buy the right pad, here you have a great Ultime Guide about Rug Pads.
Conclusion
You thought that buying a rug only involved choosing the color and size?
Well, you might regret your rug choice after you've read all this tips. But don't worry, next time you'll have the perfect go-to list to avoid missing any of these rug buying tips.
My last advice for you is to look and touch first. Even if your buying online. Go to a rug store and see the different rug materials. Touch them. See how they feel and look on reality.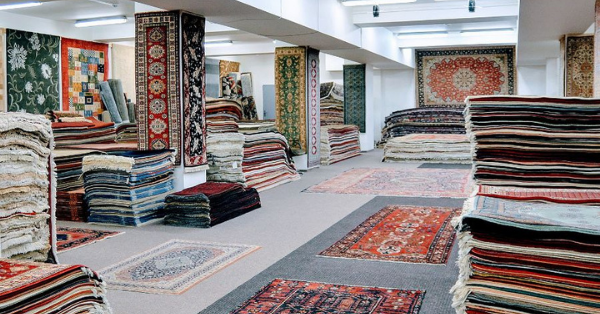 And only then, buy it. Whether its online or in the smae store you went.
P.S. If you're looking rugs online, you might want ot check out this guide to buying the best rugs online!