A home is incomplete without décor that adds some personality to the living space. As a homeowner, you want to purchase only the best things for your place. You know how vital it is to get top-notch carpets and rugs, which both last long and look exquisite. However, you aren't so sure about purchasing one online. It seems risky to rely on the vast jungles of the internet to get yourself floor coverings!
Buying a rug online is a straightforward process if you know where to start. Having bought dozens of rugs myself I know how vital it is to shop at the right shop. I recommend that you rely only on trustworthy online stores like Lumens Light+Living, Ecarpet Gallery, and Natural Area Rugs. Ensure you know the rug size you need, choose a suitable material, and select a style. Once you have an idea of what you need, go through the options available on the sites. Choose colors and patterns that excite you! Finalize the order, and you're all set to get a precious rug!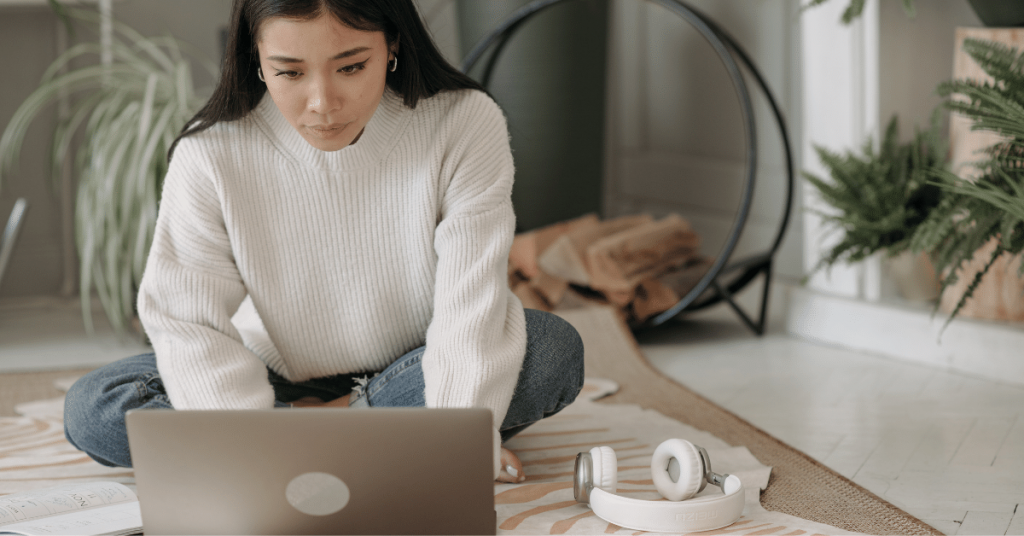 You might want to know which online stores are even worth your consideration!
Online Stores Worth Considering
The internet has revolutionized the way consumers purchase goods and services. Instead of flittering from shop to shop in search of a rug, consumers can buy one right at home. The level of convenience is unprecedented. However, it is also crucial to shop at only well-reputed and trustworthy online shops.
I have seen a fair share of online rug stores; however, I believe that the following ones are the best. They will never disappoint you with the quality of their products!
Lumens Light + Living is a sophisticated online shopping space where you can find the best décor. They have been in business since 2006. You can define the aesthetic quality of their products as 'open-minded modern'. If you can relate to this style and wish your home to appear the same, consider shopping at this store.
When you visit the Lumens Light + Living website, here is what you will see: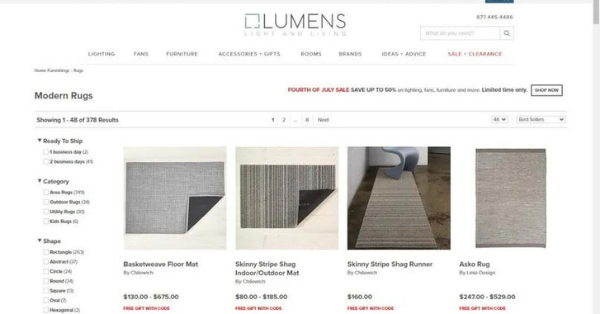 You can go through the rugs and filter out the ones that suit your needs.
The entire customer journey is smooth on this site, which enhances the overall purchase experience. You can easily select the type of shape, color, brand, or features that you wish the rug to possess. Apart from that, you can even have a clear understanding of the customer ratings! The best purchase is backed with the right information, and Lumens supports you like no other online store.
Another precious thing about Lumens is how it gives you great ideas and advice to make buying a rug easier. Have a look at the wide variety of posts that you can go through to find something that you like: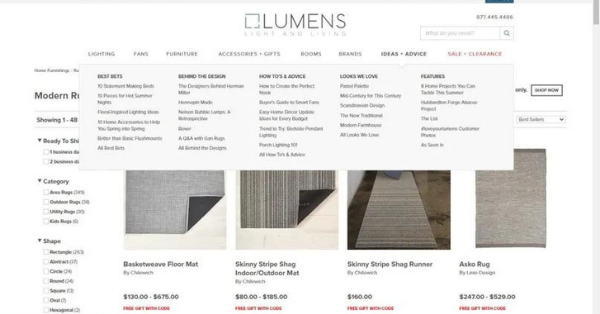 The customer is a priority for Lumens, and the design of the website shows this effortlessly.
Ecarpet Gallery is your gateway to affordable yet stunning luxury rugs. They have twenty years' worth of experience at serving their customers the right way! They believe in making breathtaking hand-knotted rugs more accessible and affordable for others. Therefore, don't be too surprised when you see that they have more than 100,000 ones to offer.
You name the style of rug that you want, and they will deliver it to you. Regardless of whether it is Persian, Transitional, Vintage, or Contemporary, you will get what you desire! Isn't it exciting that the finest of rugs are just a click away?
You may want to take your time to peruse the Ecarpet Gallery. When you visit the site, this is what you will see: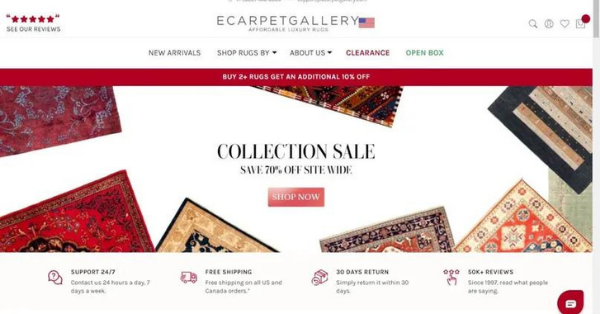 The website is user-friendly and will help you find what you need. Have a look for yourself how it has ensured you can shop rugs by whatever specification you desire. You can find one by choosing the color, size, style, and pattern and perusing the alternatives!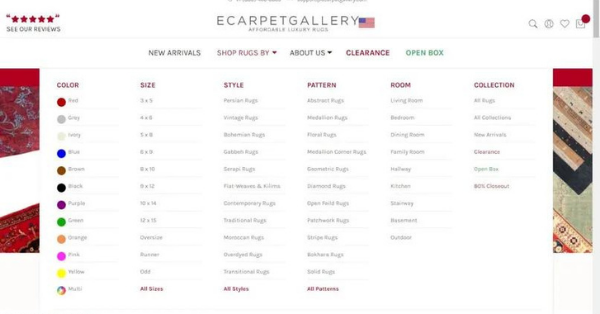 Ecarpet Gallery is a brilliant online store that won't let you down with its superb collection of hand-knotted rugs. If you want a touch of luxury at your home, just visit their online store and get yourself a luscious rug!
Natural Area Rugs
Natural Area Rugs is an incredible online store that offers consumers the best natural fiber area rugs! Since they have more than half a century worth of experience, they are seasoned professionals. You can rely on them to please the customer without fail. Their top-notch rugs have earned them a reputation for being excellent. However, they have made it a point to offer their products at a reasonable rate. Think about it, what could be better than getting quality products for an acceptable price?
Their commitment to exceeding the customer's expectations has always been sincere! Not only are the products symbolic of excellent craftsmanship, but they are also made of high-end fabric. Therefore, if you want to attain a valuable floor covering through a mind-blowing deal, shop from them.
Take a brief look at the Natural Area Rugs website. It is so aesthetically pleasing that you will love surfing it!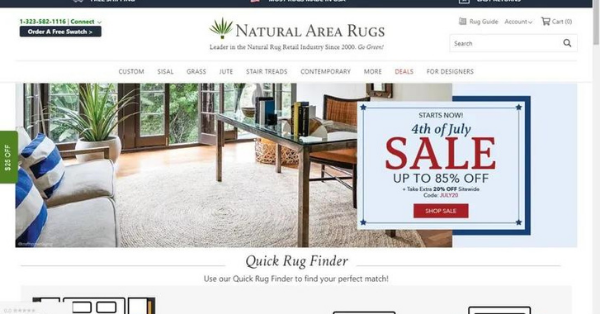 Since they care a lot about their customers, they have curated a section to make the purchase decision easier. This section has all the information you need to choose a rug! I advise you to go through them if you're interested in getting an area rug made of natural fibers!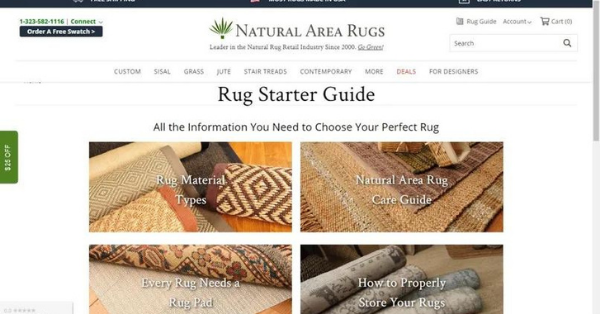 Natural Area Rugs is a superb online store where you can find a product that is worth your time. If being environmentally friendly is important to you, this is the best place to choose for shopping. After all, they solely deal with floor coverings made with natural fibers!
Now that you know where you can get the best rugs from, it is time you move ahead!
Buying Guide: Step by Step
Now that you have chosen a website that appeals to your taste, it is time that you move ahead. After all, you know where to find the rug. All you must do is understand the process.
I have outlined all the steps that you must follow to buy the best rug online!
STEP 1: Determine the Required Rug Size
You need an area rug that fits perfectly in your room. Ideally, it shouldn't be too small or too big. Otherwise, it may look out of place. To ensure that you purchase the right size, you may need to use a proper measurement tool. The idea is that you must figure out the dimensions of the rug that you will purchase.
Since you are going to purchase a rug online, you must be vigilant. You don't want to be embarrassed by the purchase because it isn't suitable for your home. Don't halfheartedly measure the room and try to visualize the area rug's placement to come up with the required size.
After you place the order and receive the shipment, you can move ahead! After all, you have to be prepared to get rid of carpet beetles.
STEP 2: Finalize a Suitable Rug Material
The online market opens endless possibilities for the type of rugs you can purchase. If you desire an environmentally friendly material, you may opt for floor coverings made with natural fibers. Otherwise, you may choose to buy the more affordable and easier to maintain polymer-based rugs!
Popular types of natural fiber materials include wool, cotton, jute, and sisal.
A rug made with wool is a symbol of luxury that expresses your lavish lifestyle effortlessly. The softness of this beauty will cast an alluring spell on you. Since the material is hypoallergenic, you won't have to worry about safety. In other words, whether it be kids or pets, everyone can hang around these rugs without worrying. Wool rugs are a sensational yet elegant purchase that will withstand high footfall gracefully.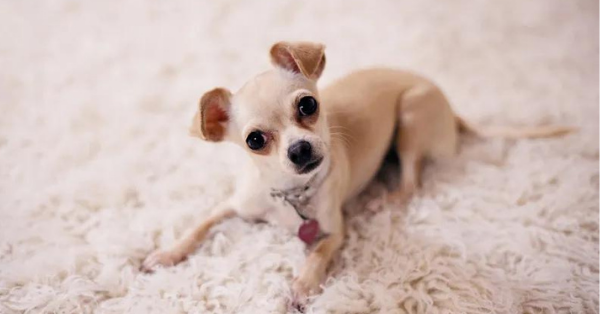 PRO TIP
IF YOU HAVE A KID, PET, OR AN ALLERGY-SUFFERER AT YOUR PLACE, PURCHASE A WOOL RUG!
Wool is a natural fiber that has unique properties that make it safe to keep at home. Even if there are sensitive groups around, the material will not trigger an abnormal immune reaction. Therefore, calm down and purchase a wool rug without hesitating one bit.
Cotton is another natural fiber that you can consider for your rug. It is soft and has a reputation for being suitable for low-traffic areas. Usually, you would find area rugs made from it in kitchens or baths. Since the material isn't tough enough to withstand high footfall, this isn't an ideal material for busy spaces. However, if you want something cozy and light, this might be the material for you.
Jute is a delicate natural fiber that you can often find in the lining or backing of floor coverings. Since the material requires low maintenance, it is admirable to own. Similar to cotton, jute isn't that tough, and so you should ideally place it in areas that experience low footfall. Perhaps an area rug made with this natural fiber can be placed within the bedroom. Since it is aesthetically pleasing, you could consider it.
Sisal is another stunning fiber that is highly durable. While it may not be the best material to step on barefooted, it lasts long! You may want to keep in mind that this isn't the easiest material to clean. Therefore, the ideal placement for a sisal rug lies near the entrance.
If you wish to choose a more affordable and durable option, perhaps you should consider synthetic fibers. You could consider getting a rug made from nylon, polyester, or polypropylene.
Most residential homes swear by the use of nylon rugs. They are available at affordable rates and can be surprisingly stain-resistant. Moreover, they are also high in durability. In other words, with a nylon rug, you won't have to worry much about the shape distortion of the fibers. It makes sense for budget-sensitive consumers to purchase nylon rugs.
Another material you could consider for your rug includes polyester. This synthetic material is also pretty resistant and durable! However, it is best not to buy an area rug made of polyester. This material is known to release volatile organic compounds in the air. In other words, floor coverings made from this material can be dangerous for sensitive groups like children! Don't purchase it if you have an allergy-prone individual or a baby at home.
Polypropylene is a thermoplastic material that you can commonly find when scouring rug materials. It is sturdy, which makes it desirable to own if you want a long-lasting rug. Moreover, it is also easy to maintain, which ensures that you have a clean floor covering at your place. The only downside of polypropylene is that it is harsh to the environment like other synthetic materials.
Do keep practicality in your mind when you choose a material for your rug. Don't settle for something that you regret later!
STEP 3: Determine a Budget
Ideally, you should be mindful of financial considerations when purchasing a rug. After all, you would be surprised how expensive they can be! Instead of buying something too heavy on your pocket, determine a budget beforehand. With a set price limit in your mind, it will be easier for you to buy something within your means.
Since you already know the material that you fancy, all you have to do is research a bit online. Figure out a practical price range that is acceptable for you to pay. When you're online, make sure you don't fall for any scams. Some websites may be selling rugs at unbelievable prices because they are not sincere with their products. Don't purchase from them unless you want a knock-off at your doorstep. Only purchase rugs from reputable stores like the ones mentioned in this article.
I highly emphasize that you only place your trust in a reliable online rug store.
STEP 4: Sift Through Rug Styles and Choose One
Now that you have a budget, it is time that you pick a rug style that fits your aesthetic.
The rug can become the focal point of the room without much ado. If it matches the décor, it will mesh in and enhance the vibe and beauty of the space. Otherwise, it will seem like an alien that is out of place. Whenever you pick a rug style, do keep in the rest of your interior design in mind!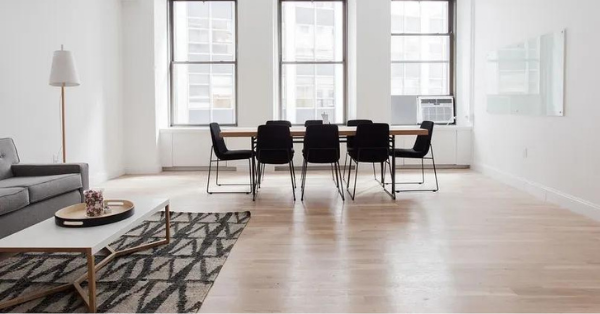 Here are a few aesthetically pleasing rug styles that you may like:
Rustic Rugs
Modern Rugs
Bohemian Rugs
Traditional Rugs
Rustic Rugs are stunning masterpieces that are a result of taking inspiration from American craftsman design. Such rugs have a natural vibe and rugged appearance, which makes them appear a little seasoned. If you want the appeal of your home to be rural and aged, I recommend that you consider this rug style seriously!
Modern rugs can transform any room by making it look more breathtakingly beautiful. If your home has fresh and trendy home décor, this style is right for you! They can effortlessly be contemporary and appeal to the senses. If you are confident that this sort of rug will match with the rest of your style palette, I recommend that you purchase it right away!
A Bohemian rug is a fancy and colorful rug that can make any room look fun. It has a playful appeal that can be very attractive to others. While they look a lot like Persian rugs, they are less traditional and feature bolder patterns. Placing a bohemian one can be a great way to express your creativity at home. Don't hesitate to show your colorful personality through this rug if it excites you!
Traditional rugs are lavish and sophisticated. So if you have exceptional tastes and are willing to pay a little extra, you should get one. They might feature prominent Asian designs and intricate motifs that are pleasing to the eye. If you get one for your home, be ready to house a classic floor covering that everyone swoons over.
Choose a style that suits your personality and move ahead!
STEP 5: Evaluate Options in Different Colors and Patterns
There are countless colors that you can pick, and there are endless patterns that the rug can flaunt. It might be overwhelming to pick one. Don't be tempted to pick one just because it looks alluring. Instead, be mindful of practical considerations.
Imagine how awful it would be to be stuck with a white rug that is painful to clean. Now you wouldn't want to have such a floor covering at your home, would you?
PRO TIP
CONSULT COLOR THEORY TO HELP CHOOSE THE PERFECT COLOR FOR YOUR RUG!
Color theory teaches you how to use colors in the best way possible. You can benefit from this theory by using it to choose one for your rug. After all, the existing colors and patterns in the room will define how a new color will appear!
The rug shouldn't seem odd when placed with the rest of the home décor. The rest of the furniture and walls should complement the carpet. Be easy on how you clump patterns in your home! The main aim you should have is making sure that everything looks harmonious. Every home has some sort of pattern here or there, pay attention to it and choose rugs that enhance beauty.
You should go through the online stores and look through the options to come up with your final choice.
STEP 6: Finalize the Purchase and Prepare for the Rug
Once you know which rug to purchase, there is no reason for you to delay the purchase. As long as you've chosen a reliable online rug store, you can be confident! Relax and take the leap of faith. You will undoubtedly be pleased with the purchase.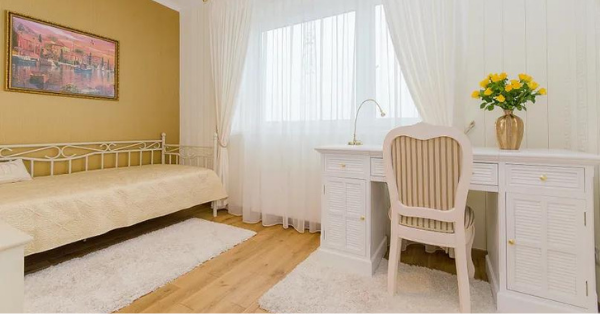 After you place an order, you may want to dedicate some time to rearrange things at home. Perhaps you would like to adjust the placement of the furniture or clean items a bit. Make sure you get rid of any wall-to-wall carpeting that clashes with your vision. You wouldn't want to get an area rug that you can't place where you desire.
Conclusion
An area rug can make a living space look fresher and more exciting with ease. While buying one may be overwhelming, you can find the best stores online if you're patient. You might want to figure out how the reputation of the business is before you trust it. I have gone through countless stores, but I place my trust with Lumens Light+Living, Ecarpet Gallery, and Natural Area Rugs.
I really hope you found this guide useful! And if you'd like to see more, we also have a similar guide on Eco-friendly Rugs.