Don't you just love to beautify your home with décor? The home should look so good that your heart smiles whenever you're home. Moreover, even if a guest comes over, they should be complimenting the stunning look of your home. Choosing the right rooms to carpet is essential to ensure these things happen.
The best rooms to carpet include the bedroom, the living room, the playroom, the study and the dining room. Apart from that, it may be wise to carpet the stairs as well.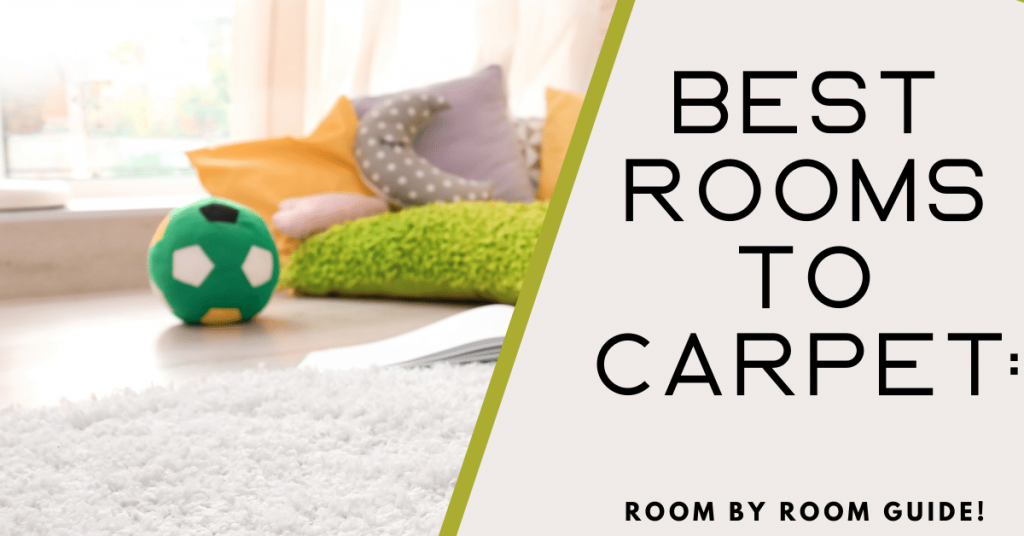 Bedroom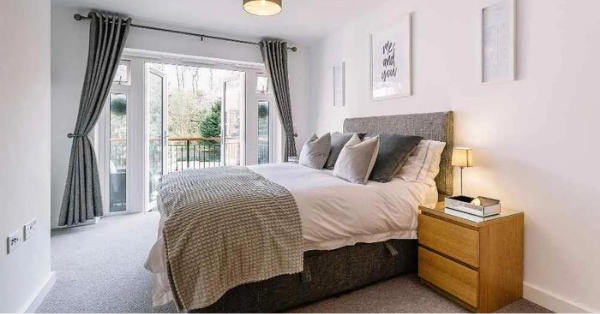 The bedroom should be the coziest spot in your home. After all, you should snuggle and relax in an atmosphere that is both comfy and aesthetically pleasing. Adding a carpet to this essential room is a terrific decision. The room is obviously best suited to carpet.
So you wake up with a freshness in your mind and want to start the day with grace. When you step on the floor, it is a pleasure to be welcomed with a warm and fuzzy floor covering. The bedroom is one space that you will never regret carpeting. It is just so practical and pleasing at the same time.
DID YOU KNOW?
Carpeting your bedroom can save you dollars. If you opt for a carpet instead of engineered wood flooring or luxury vinyl flooring, you will save a substantial amount.
You will be able to add to the serenity of your bedroom with the right carpet. Not only will the floor covering act as a sound insulator, but it will also be warm. It is awful to put out a step and instead of finding a soothing carper underneath your feet, finding a chilly floor.
Tips to Select the Perfect Carpet for your Bedroom
The perfect carpet for your bedroom should ideally be made either with wool or nylon. While nylon is the more affordable option, it is a synthetic fiber that can potentially release volatile organic compounds (VOC) in the atmosphere. A space that is as intimate as a bedroom should probably have a natural fiber carpet.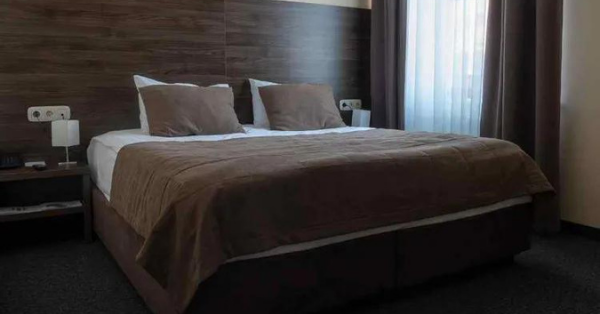 Wool is a classy and elegant option that can elevate the room effortlessly. It has been a public favorite for centuries and is worth your consideration.
PRO-TIP
Whatever you do, don't skip on the carpeting of your bedroom as you will regret it later on!
Here are a few pointers that can help you with finding the perfect carpet for your bedroom:
Think about the pile that is most suitable for the room. You can consider options like cut carpet pile or uncut carpet pile. Heavy-traffic areas would probably benefit from choosing high pile carpets.
Ensure you choose a carpet that matches the style of the bedroom.
If softness of the carpet is a crucial factor to you, please consider plush carpets.
It might be a good idea to look for Green Label Plus certification to ensure the carpet in your bedroom is environmentally friendly.
Living Room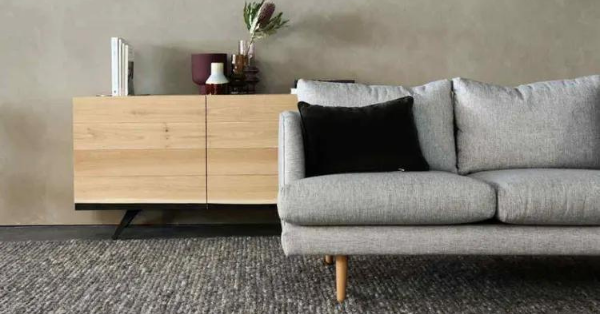 You probably spend a lot of time in your living room. It is that one spot in your home where entertainment is guaranteed. You can watch television, read a book or talk to friends over a cup of tea here. Adding a carpet in the living room could be an excellent decision.
There is no denying the importance of the living room. You want to decorate it in the best way possible and a carpet can do just that. However, it is crucial to be practical while choosing a floor covering. Moreover, the carpet that you choose should blend in with the rest of the room unless you want it to take the center stage.
PRO-TIP
At times it can be a good idea to choose a vibrant carpet for your living room. You have to decide if you want it to be the highlight of the room!
Usually, people prefer to have a neutral-colored carpet in the living room. In fact, if you didn't know gray is one of the trendiest carpet colors of 2021.
Anyhow, since you will spend hours on end in this room, it is a good idea to choose a durable fiber. It is essential to consider how it will perform after exposure to traffic and cleaning. Moreover, there are more things that you may have to look into if you have children or pets at home.
Tips to Select the Perfect Carpet for your Living Room
The living room is a practical space where you spend time doing fun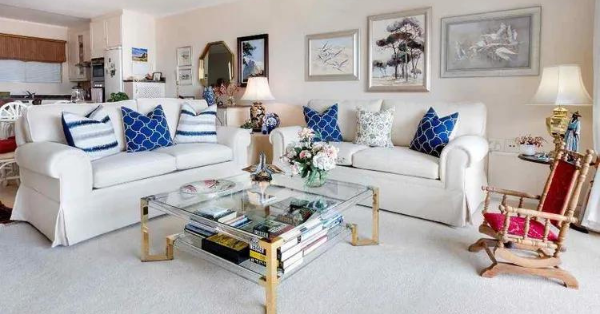 Here are a few pointers that can help you with finding the perfect carpet for your living room:
The factor that is the most crucial for this carpet is durability. The living room has high-traffic and so the floor covering should be tough.
Ensure that the carpet's backing is of high-quality.
Consider materials like nylon, triexta, polyester and olefin.
Since the room has high usage, it is also likely to get dirty often. Naturally, you should choose a carpet that is easy to clean.
Prioritize softness so that the family can enjoy the soothing touch of the carpet fibers!
It might be a good idea to look for Green Label Plus certification to ensure the carpet in your living room is environmentally friendly.
Playroom
The playroom is not a room found in every home. However, you may have adorable children who love to enjoy themselves with toys and games in a dedicated room. One thing is for sure, the playroom is an excellent room to carpet.
DID YOU KNOW?
Interior designers often call carpets a classic choice for playroom flooring!
Since playtime can often create a lot of noise, a floor covering can insulate the sound and maintain peace in the rest of the home. Choosing a durable carpet that is soft and warm will ensure your kids enjoy the room for a long time.
Keep in mind that the floor covering chosen for the playroom must be tough. How else can it withstand the bubbling energy kids have? Moreover, it needs to be easy to clean as children may create a mess.
Generally, the carpet color should be lively to add a spark to the room.
Tips to Select the Perfect Carpet for your Playroom
You are emotionally connected to your kids and wish to choose the best carpet for their room. We understand how important it is for you to make the right call!
WARNING!
Never choose a polyester rug for your playroom. It is toxic and can pose threats to the wellbeing of your children. A playroom is the last place where polyester should find refuge!
Don't compromise with a polyester carpet for your playroom, if you are curious, read our post to learn about polyester rugs and their impacts on babies!
Your newborn brings endless blessings and undeniable bliss to your home. Read this post to learn whether a polyester rug is safe for your beloved baby.
Here are a few pointers that can help you with finding the perfect carpet for your playroom:
Try to choose a natural fiber carpet that is hypoallergenic for this room. Children are sensitive and are best kept away from plastic-based fibers.
Consider getting a twist pile carpet which is both durable and soft making it perfect for the purpose of the room.
Try to get a funky color like pink and blue to add some personality to the room. Don't get something too light as it may get dirty!
Ensure that the stain-resistance of the playroom's carpet is top-notch! You will thank us later.
The softness of the carpet could also be an important consideration as your charming kids will crawl on them!
It might be a good idea to look for Green Label Plus certification to ensure the carpet in your playroom is environmentally friendly.
Study Room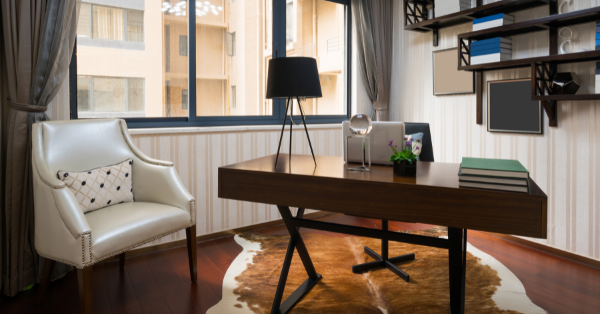 The study room is a practical space where a person can read a book or do some work. It is ideally a quiet spot in the home where you can focus on the tasks that are most important. For such an intellectually-charged space, it is wise to have a carpet that insulates sound.
It makes sense to carpet the study room. Especially in the current era of COVID-19, it is important to have a reliable place at home where you can work from home.
We often underestimate the importance of a serene workspace. It can substantially impact our productivity. Moreover, we may be in a better mood thanks to it as well.
While the study room is one of the last rooms people think about carpeting, it will eventually become one of the first ones. Think of it in this way, when you work, you deserve to be both comfortable and pleased by the surroundings! A carpet can help make this happen!
Tips to Select the Perfect Carpet for your Study Room
Choosing the study room carpet shouldn't be too mind-boggling.
I think one of the most crucial things to remember is that this room is practical. Therefore, the carpet should not be distracting! Choose a color and type of carpet that doesn't steal the show and harm your productivity along the way.
WARNING
Keep bright colors away from the study room carpet! It shouldn't grab too much attention when you're aiming to work.
Here are a few pointers that can help you with finding the perfect carpet for your study room:
Choose a carpet that has a thick pile. It should have good sound absorption abilities to enhance the serenity of the study room.
Think about the carpet's durability as it may be placed underneath furniture. You need to ensure that the fibers are resilient!
Don't choose a distracting color or design for the carpet. Simplicity rules in this room.
Choose a soft and warm material that aids comfort and makes the working experience more pleasant!
Dining Room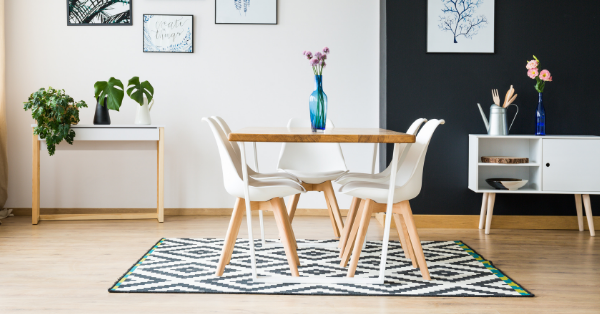 The dining room could benefit from some additional warmth and comfort. This room is a space where a family can come together and spend quality time over a meal. To make the place more memorable, the floor could use some fluffy décor. A carpet can help it achieve just that as it is soft, cozy and downright beautiful.
When the rest of your home is so stunning, why leave the dining room out? It can help style the interior in a more graceful way while enhancing comfort!
If you've made the decision, that is awesome. Please ensure that the carpet that you choose for this room is both functional and practical.
PRO-TIP
If you've invested in expensive hardwood flooring for the dining room, it is crucial to protect it. The addition of a floor covering can save your investment by acting as a buffer in case of an accident. Just imagine what would happen to the floor if a glass fell directly on it!
If you wish to dampen the sound, the carpet is a smart choice. You will eat on the dining table and you should be able to avoid noises as someone gets up or comes back!
Another reason why you may want to get a carpet for the dining space is that it makes the room look ten times better. Imagine having guests over to your place. They'd be impressed by the gorgeous carpet on the dining room floor. You won't feel bad about spending even a single penny over it!
Tips to Select the Perfect Carpet for your Dining Room
It may be overwhelming to choose the perfect carpet for the dining room, however, it isn't impossible. All you have to do is remain consistent and work towards finding the right one.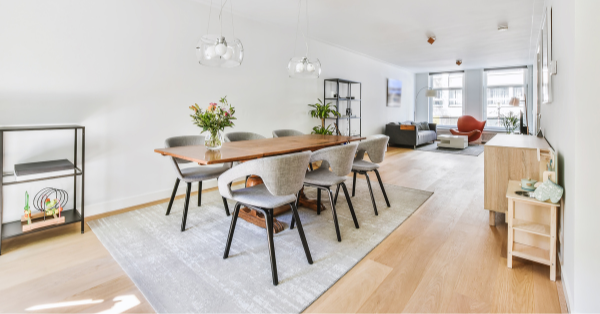 You should always think about the exposure to spills that a carpet may have before getting one. If you can't clean and maintain a carpet, don't buy it! The choice is yours, but it is best to choose one that is easy to maintain for your own convenience.
Here are a few pointers that can help you with finding the perfect carpet for your dining room:
The carpet must be stain-resistant and easy to clean.
Consider choosing either flat weave or short pile carpets for the dining room.
Consider a carpet that can be the highlight of the room's décor.
Check out carpet tiles as they can enhance the dining room's beauty effortlessly. Plus you can easily replace a carpet tile if it gets damaged!
Avoid opting for light shades as the dining room carpet is prone to getting dirty!
Stairs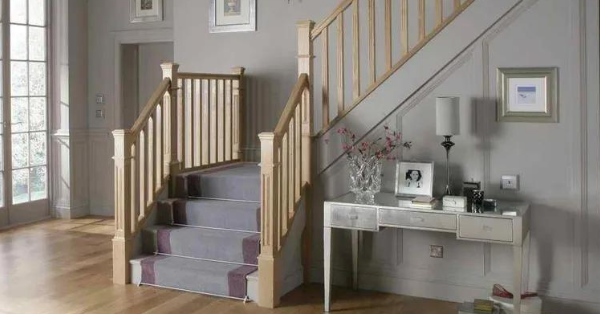 If you have stairs in your home, you know how often you need to move upstairs and downstairs. Did you know that a carpet can actually protect the stairs? If you've invested in hardwood stairs, you know that it costed you a fortune. The least you can do is save them from being scratched incessantly.
Stairs look ten times more beautiful when they're covered with aesthetically pleasing floor coverings.
Apart from that, the carpet on your stairs will also prevent accidents. It can be a frightening scene to see a loved one injured because of falling down the stairs. With a carpet, you can prevent such an accident from happening. The padding underneath the carpet essentially gives the person walking over the carpet more support. You'll be less likely to fall down with it!
PRO-TIP
If safety is your priority, there is no ignoring your stairs. Carpeting them is a must as they are known to reduce the likelihood of slipping and harming oneself on them!
Do your loved ones a favor and make a smart move. Decide to carpet your stairs and give others a reason to feel safer in their home!
Tips to Select the Perfect Carpet for the Stairs
The stairs are an important part of your home that let you move up and down floors easily. It is recommended that you invest in carpets for them for added protection.
Here are a few pointers that can help you with finding the perfect carpet for your stairs:
The pile should ideally be low, so consider something with 0.75 inch pile or less.
Choose between twisted or cut pile for the stairs and avoid Berber.
Since the stairs experience a heavy traffic, only choose a highly durable carpet with a long lifespan.
The carpet should also have soil-resistance so that it doesn't absorb oil present on the bottom of your feet.
Always ensure that it matches the railing, or else it can compromise the aesthetics of the area.
Things To Think About When Getting a Carpet For Any Room
Here are a few things to think before you head out to purchase a carpet for rooms in your home!
1. What is better for my home: natural fiber carpets or synthetic fiber carpets?
Your choice makes a difference on your wallet, the environmental impact and the safety of your loved ones. Generally, it is better to have natural fiber rugs, however, they can be expensive and more difficult to clean. On the other hand, they are better for the environment and safer for kids and pets.
However, synthetic fiber rugs are cheaper to purchase and easier to maintain. But they can be a nuisance to the environment and release VOCs.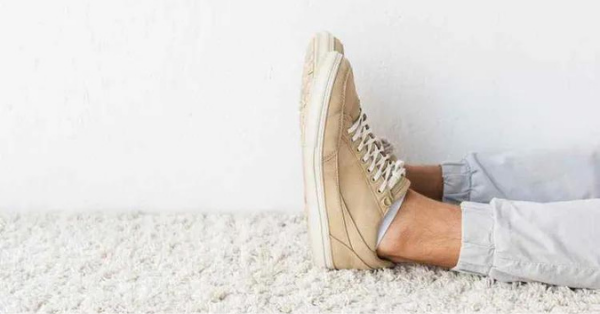 If you want to learn more about this, read this post
Choosing the right material for a rug will ensure its durability, longevity, and performance. Read this guide to learn more about natural and synthetic fibers.
2. What are the different carpet styles?
Carpet styles can be described in terms of the pile, the material and the type of designs. Every room is unique and needs different carpet styles.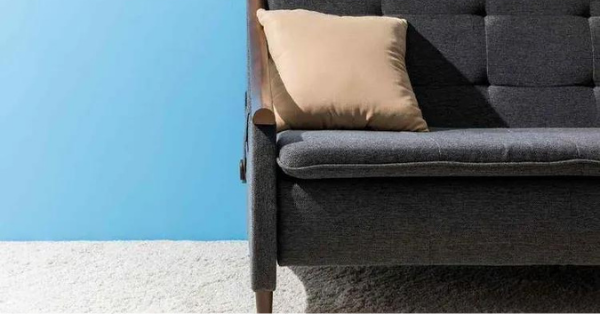 If you are overwhelmed by the information of different carpet piles, styles and materials, you have to do something about it. I recommend you read up more about the topic and understand more about major carpet styles!
A detailed guide into carpet styles, differentiated on the basis of material, construction and pile height. The post also includes the things you need to keep in mind before buying a carpet.
Conclusion
When you are out to decorate your home and make it more welcoming, carpeting rooms makes sense. The best rooms and spaces to carpet include the study room, the living room, the dining room, the bedroom and the stairs!
Here is a special comprehensive guide about carpet buying!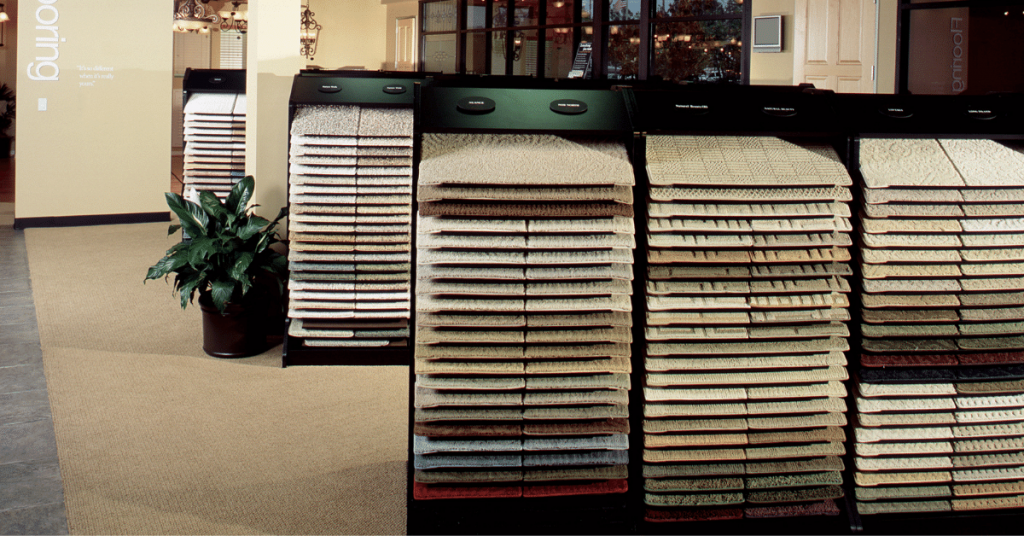 If you want to buy a carpet, this page has links to dozens of resources that you need to read to make the best possible decision.