Homes should be a safe-haven where you can be your most beautiful and healthy self. However, for that to happen, it is crucial to keep things hygienic and clean indoors. The carpets especially need to be liberated from deeply embedded dirt. Failure to do so can trigger health issues and allergies. Therefore, it is essential to own an excellent carpet cleaner. But you might be wondering which one is right for you.
Title
BISSELL ProHeat 2X Revolution
Hoover Power Scrub Deluxe
Bissell 3624 SpotClean Professional
Hoover PowerDash Pet Compact
Picture
Title
BISSELL ProHeat 2X Revolution
Picture
Title
Hoover Power Scrub Deluxe
Picture
Title
Bissell 3624 SpotClean Professional
Picture
Title
Hoover PowerDash Pet Compact
Picture
Picture
To deal with the accumulation of dirt, dust, and debris, you must purchase a carpet cleaner. Since the market is full of different machines, it is overwhelming to find one which perfectly fulfills your needs. However, with a little research and mindfulness, this shouldn't be too difficult. I highly recommend the purchase of the BISSELL ProHeat 2X Revolution for its overall effectiveness and the Hoover Power Scrub Deluxe for its suitability for everyday use.
Let's have a closer look at the five things you need to consider before you purchase a carpet cleaner!
5 Things to Consider Before Making a Purchase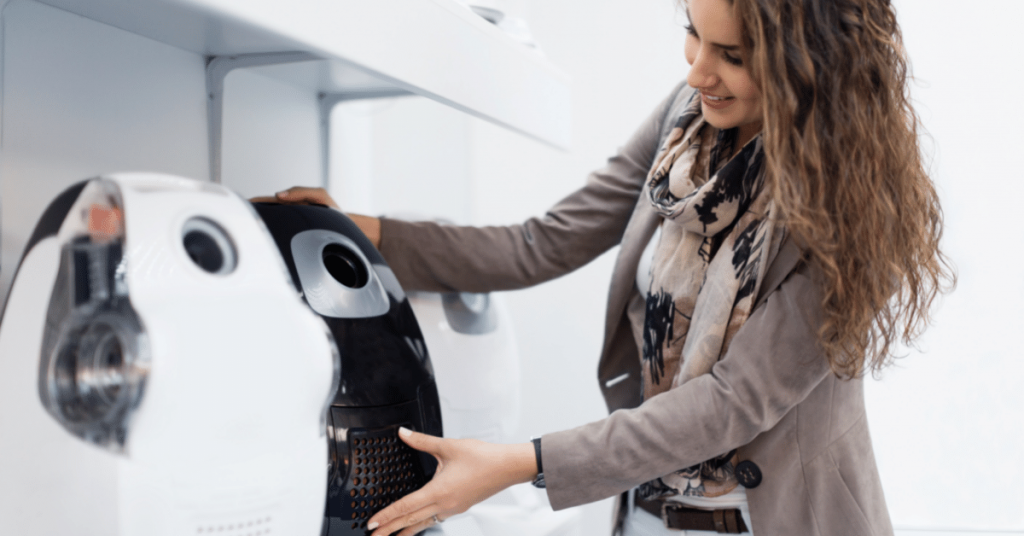 You need to purchase a cleaning machine with outstanding performance to eliminate the presence of dirt from carpet fibers. Do consider crucial aspects like the overall effectiveness or portability of the machine. Otherwise, you will surely regret it later. Make it clear for yourself; there is no way you can compromise on these things!
The 5 Things You Must Know Before Buying a Home Carpet Cleaner
1. Overall Effectiveness
The purpose of a carpet cleaner is to rid the fibers from everything dirty. If you have well-trafficked carpets that you will routinely tend to, your machine should be effective and easy to operate. Ideally, it should be a complete cleaning solution that leaves the floor coverings spotless.
2. Everyday Use
If you intend to use the carpet cleaner every day, it must be cut out for such heavy usage. Otherwise, you are bound to be disappointed. The machine you get should endure stress and be able to perform, nevertheless.
3. Portability
Carpet cleaners are heavy on their own, but they get heavier once you add a cleaning solution inside them. So, if you want mobility in moving around the machine, it needs to be portable. How else can you expect to get rid of stains and spots around the home? You must know whether the carpet cleaner enables you with its portability or not.
4. Budget
There is no use in setting your heart out on a carpet cleaner that you can't afford. Therefore, you must keep your budget in mind while surveying options. A brilliant machine doesn't have to cost you an arm and a leg. It will be good for your pocket to have a carpet cleaner that has an economical price tag.
5. Suitability for Pets
If you have a fuzzy animal roaming around the home, the carpet cleaner you get must be specialized. Having a machine that can deal with pet hairs is vital, especially if you have allergy-prone individuals at your place. Otherwise, chaos is inevitable.
The Best Overall: BISSELL ProHeat 2X Revolution
The Bissell Proheat 2X Revolution Deep Cleaner is a potent machine that delivers on its promise effortlessly. It rejuvenates floor coverings, making it a household essential.
The BISSELL ProHeat 2X Revolution
This versatile machine enables you to free your rugs from dirt and grease. Testing reveals that the results are nothing short of brilliant. Not only did this cleaner pick up carpet piles, but it also removed most of the stains. However, if a harshly embedded stain is to be eliminated, you must make repeat passes.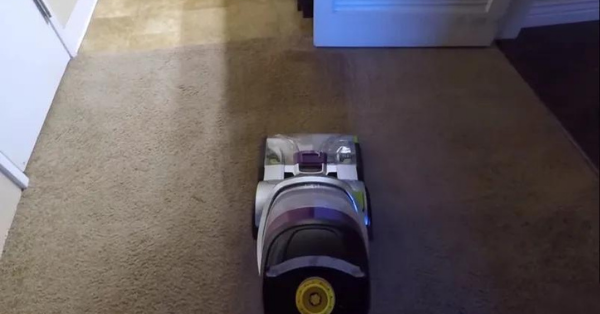 Heavily carpeted homes facing the constant hustle and bustle of the household would benefit the most from this carpet cleaner. The design of the machine makes it both easy to use and phenomenal in terms of performance. Therefore, this cleaner is the optimal choice because of the flexibility it offers.
Best for Everyday Use: Hoover Power Scrub Deluxe Carpet Cleaner
The Hoover Power Scrub Deluxe Carpet Cleaner is a machine that can withstand everyday usage and still perform impressively. It targets embedded dirt and impurities leaving your carpet with a soft and fresh flair.
The Hoover Power Scrub Carpet Cleaner
This carpet cleaner is suitable for heavy usage and does not disappoint in its performance. It has a heavy suction which pulls out dirt and debris from the fibers. While it may take some extra passes to remove harsh stains, it is worth the purchase. This machine has an impressive ten amps of power for brushing and suctioning. Therefore, it will never fail to bring your carpets back to mint condition.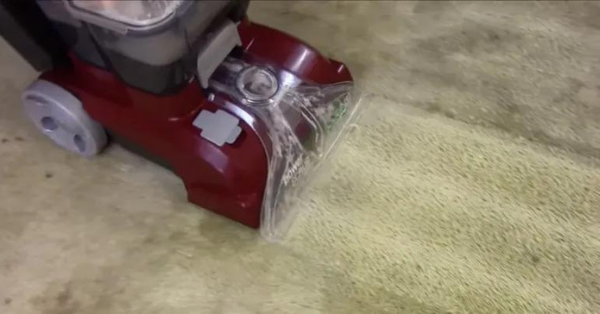 You will be pleased by the rate at which this machine picks the liquid back up. The cleaner indeed does a commendable job with the suction and leaves the carpet fibers soft and dry. When you want to clean the machine, it will come apart without much ado, making the process simpler. Therefore, it is easy to use it every day without being frustrated by cleaning it.
Best Portable Cleaner: Bissell 3624 SpotClean Professional
The Bissell 3624 SpotClean Professional Carpet Cleaner is a powerful machine that is exceptionally mobile. Maneuvering it while it cleans the floor coverings is a breeze.
The Bissell 3624 SpotClean Professional
This carpet cleaner is a relief to use because of how easily it can be moved around. You can take it wherever you like and target hard-to-reach areas. It has been engineered to eliminate dirt without having to exert too much effort. Once you test it out for yourself, you will see how it makes your floor coverings brighten up.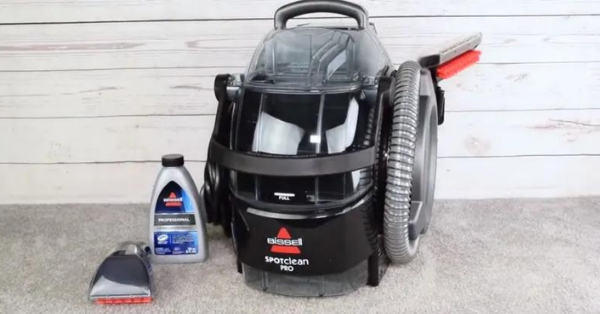 The machine is poised to take on any sort of grease, grime or dirt present on the carpets. When you buy it, you also get a 3" tough stain tool and a 6" stair tool. This entire package is the ultimate carpet cleaning solution that you can use without worrying. Since you are looking for a machine to use at home, portability matters, and this machine hits the mark.
Best on a Budget: Hoover PowerDash Pet Compact
The Hoover PowerDash Pet Compact Carpet Cleaner is an economically priced machine that delivers excellent value for money. It is curated to tackle tough ingrained stains present in fibers.
Hoover PowerDash Pet Compact
This economical and lightweight machine is spectacular in dealing with the mess created by animals. It has a powerful suction making it a wise purchase. Regardless of whether it is fur or pee, using the cleaner will liberate the carpet fibers from it quickly. The only downside is that it is suitable for use in smaller areas. If you intend to use it for multiple areas of the home, be ready to empty and refill the machine more than once.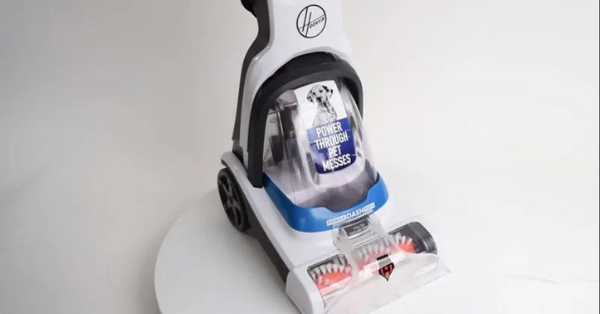 If you're looking for a machine that can get rid of a few spills, buy this cleaner confidently. It is easy to operate and prep it for deep cleaning. All you have to do is fill the right amount of water and solution in the tank and place it in the holster. You may wish to make a pass or two while pressing the trigger to release the solution. Do ensure that the cleaner suctions the fibers towards dryness. One thing is assured, if you buy this machine your carpets will be clean and stunning!
Most Pet-Friendly Cleaner: Shark Rotator Powered Lift-Away TruePet Upright Vacuum
This powerful carpet cleaner is engineered with perfection to tackle stains. If there is a pet in your home, this is the perfect machine for you!
The Shark Rotator Powered Lift-Away TruePet Upright Vacuum
This carpet cleaner is a mechanical masterpiece that holds a lot of raw power. When tested, it was able to remove dirt, grease and grime efficiently. Apart from that, the pickup of pet hair and mid-sized debris was also effortlessly done by it. However, for larger debris, you may need to use the attached wand.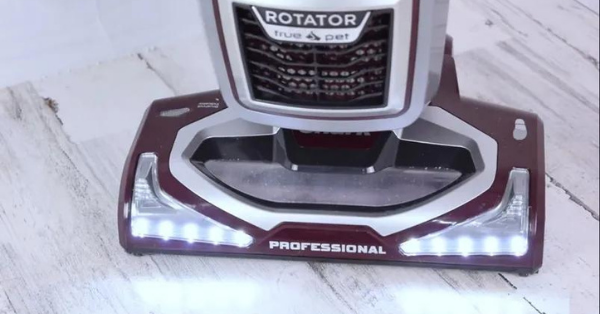 This domestic carpet cleaning tool is an excellent addition to your equipment if you have pets. After all, the machine has unparalleled performance and is unbelievably easy to operate. It can easily cope with the demands of a low pile and medium-pile carpet. Since the height of the cleaner is not adjustable, it is best not to use it for shag carpets.
Conclusion
Every home can use a home carpet cleaner to free floor coverings from dirt, debris, and grease. Before making a purchase, it is crucial to evaluate the machine in different aspects. These aspects can include overall effectiveness, portability, budget-friendliness, pet-friendliness, and suitability for everyday use.
If you still haven't found what you were looking for, I recommend you check out our post about carpet steam cleaners.
Want to buy the best carpet steam cleaner? In this guide, we review the most versatile, the best for allergy sufferers, the best professional, the best budget, and the best rated.
Other Sources: