Homeowners are always wondering how they can improve the cleaning regimen at their place. After all, it is quite challenging to keep a home free of dust and dander. If you're looking for something that can take care of both carpets and hard floors, consider buying a canister vacuum. These nifty appliances have cleaning nozzles attached to a cleaning wand, which will help you reach hard-to-access areas. The versatility of a canister vacuum makes it an excellent addition to the cleaning roster.
Now that you have decided to buy a canister vacuum cleaner, you ideally want to find the best one available. There are countless models of this type of vacuum in the market, which may make the purchasing process overwhelming. However, if you have the patience to go through the options and research a bit, you'll find the right one for your home. I recommend you purchase Dyson Cinetic Animal Canister Vacuum and Miele Complete C3.
Title
Miele Complete C3 Canister Vacuum
Eureka 3670M Canister Cleaner
Dyson Cinetic Animal Vacuum
Miele Electro+ Canister Vacuum
Hoover CH30000 PortaPower
Picture
Title
Miele Complete C3 Canister Vacuum
Picture
Title
Eureka 3670M Canister Cleaner
Picture
Title
Dyson Cinetic Animal Vacuum
Picture
Title
Miele Electro+ Canister Vacuum
Picture
Title
Hoover CH30000 PortaPower
Picture
Let's have a closer look at the five things you need to consider before you purchase a canister vacuum cleaner!
5 Things to Consider Before Making a Purchase
When you get a canister vacuum cleaner, you wish that it delivers its promise of superior cleaning. It isn't that big of a challenge to find a machine like that if you put your mind to it. Moreover, you must prioritize aspects like the overall effectiveness and quietness of the canister vacuum cleaner. Whatever you do, don't compromise on the quality of the model you get!
The 5 Things You Must Know Before Buying a Canister Vacuum Cleaner
Here are the five things that you should consider when you go ahead and buy an upright vacuum cleaner.
1. Overall Effectiveness
A canister vacuum cleaner is a more versatile machine than an upright vacuum cleaner. However, when you purchase one, you must look for other things as well. It is vital to consider durability, suction strength, and overall performance. After all, all these factors determine the satisfaction you get from the purchase. When you are buying a canister vacuum cleaner, make sure that you keep your standards high. You deserve to get a machine that cleans different services without leaving a spot!
2. Value for Money
You must keep affordability in mind when you buy a canister vacuum cleaner for your home. However, since you are going to invest scarce financial resources to obtain one, the machine better work! There is no point in getting an appliance that doesn't do its job. Therefore, you should scrutinize the models in the market until you find one which is impressive yet economically priced. Don't let anyone fool you. You will be able to find a budget-friendly canister vacuum cleaner that never fails.
3. Suitability for Pet Owners
Keeping the home clean is an everyday struggle for pet owners. That is why canister vacuum cleaners are ideal for homes with animals roaming around. After all, you can use these portable machines to access difficult spots and corners easily. If you get one with strong suction power, you won't have to worry about any hard-to-reach areas again! The cleaning wand attached to a canister vacuum is an absolute blessing that allows targeted cleaning without much ado.
4. Quietness
Are you annoyed by loud vacuum cleaners? Perhaps you should consider getting a quiet one! Since you're willing to invest financial resources to get a machine, you might as well get one you like. Everyone doesn't have a polished taste, but those who do know the beauty of silence if you're one of those people you should prioritize the quietness of a canister vacuum cleaner! What could be better than getting something that does its task effectively and silently?
5. Light Weighted
Do you wish your tools made it easier to do the chores? A canister vacuum cleaner can be light-weighted, which allows you to move around as you please without hesitation. The more attention you pay to factors like the weight, the more satisfied you will be with the purchase. After all, you will know for sure that the vacuum cleaner doesn't bother you with its refusal to bulge. Don't let any concerns discourage you and honestly keep the search for the machine alive!
The Best Overall: Miele Complete C3
The Miele Complete C3 is a brilliant canister vacuum cleaner that has an impressive cleaning performance. It has undeniably splendid suction strength, which will never disappoint you!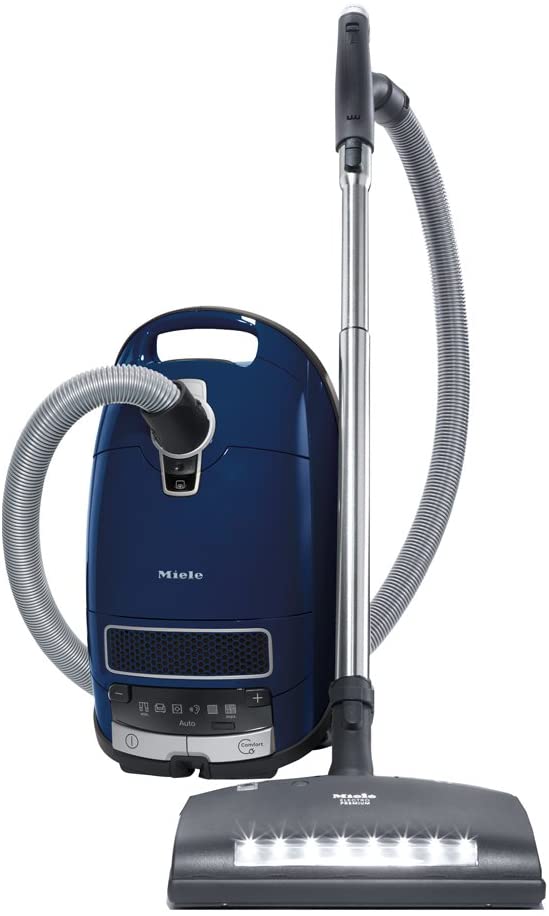 While it is specified that this machine is best for soft carpets, that doesn't mean it can't be used elsewhere. It can even be used on tiles and bare floors without much ado. The effectiveness with which it picks up dirt will blow you away! Apart from that, it is a huge relief to see how the cleaning wand is designed with care and precision. Thanks to it, accessing hard-to-reach spots is no big deal. This model offers easy maneuvering and protection from irritants and allergens. Isn't it unbelievable how spectacular this machine proves itself to be?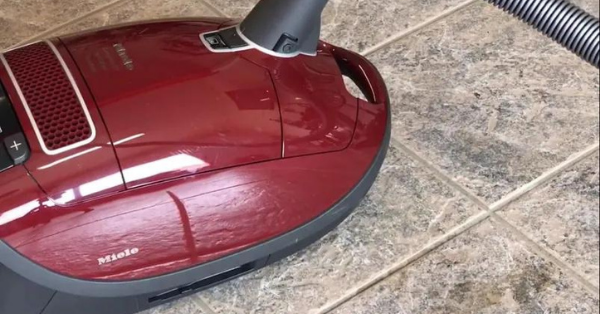 The Miele Complete C3 is designed elegantly with a potent suction strength to support its capabilities. When you order it, you will also receive the air-driven powerhead, which is splendid! This attachment ensures a more thorough cleaning in areas that would otherwise be left unclean. Moreover, it has a long cord, which makes it a pleasure to use it around the home. During cleaning tests, the machine never fails to amaze others with its excellent performance. There is no need to have any reservations while purchasing this beauty!
The Best Value for Money: Eureka 3670M Canister Cleaner
The Eureka 3670M Canister Cleaner is an intelligently-engineered affordable machine. With this machine in your possession, you will feel more confident about the cleaning regimen.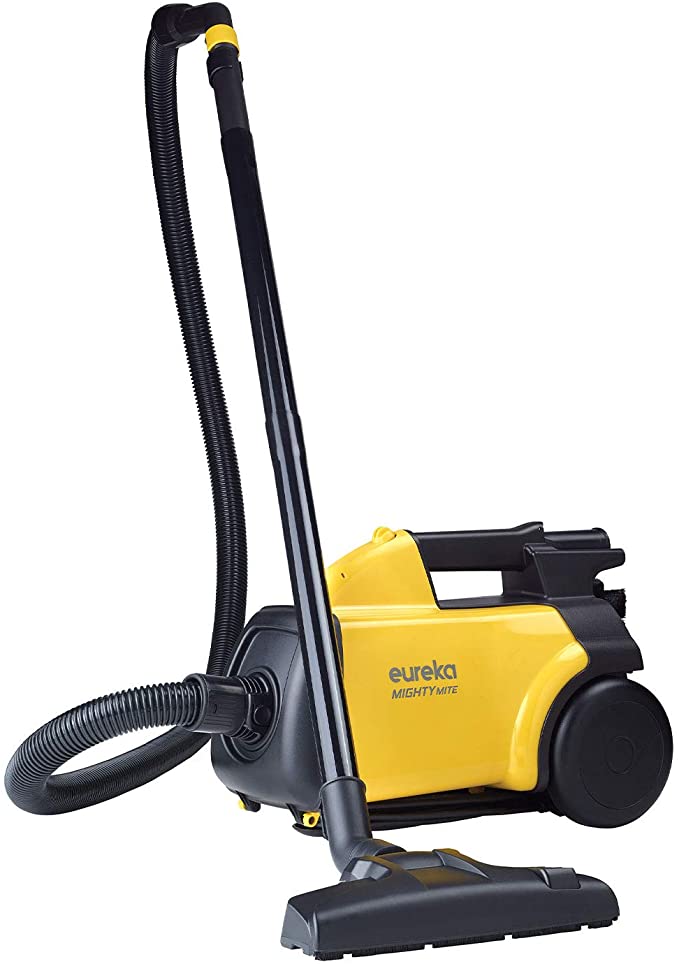 This vacuum cleaner doesn't require any assembly, so you can begin using it right away after the unboxing. Once you operate this machine yourself, you will realize how maneuverable it can be. Isn't that great? The Eureka 3670M Canister Cleaner is a spectacular canister vacuum that never fails to amaze the consumer. It has a decent suction strength, which captures dust and dander efficiently. Apart from that, with this model, you also receive a range of cleaning tools for additional convenience. Regardless of whether you aim to clean the upholstery or stairs, you can do it!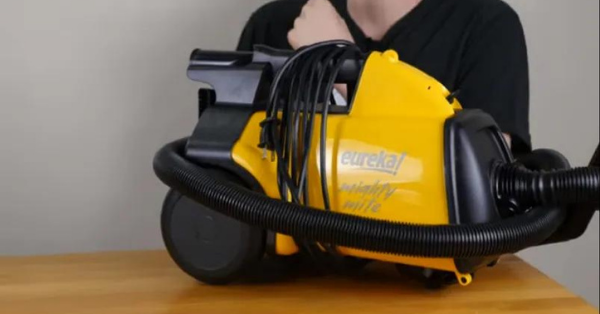 If you're looking for an economical vacuum cleaning solution that is worth your attention, this is it. This specific canister vacuum cleaner has a long 20-foot cord, which gives you mobility. Moreover, the 10-amp motor ensures that the vacuum reports excellent cleaning results whenever tested. While other options at such a low price point don't offer many promising features, the Eureka 3670M Canister Cleaner does. Don't hesitate to purchase it if managing the budget is your main priority.
The Best for Pet Hair: Dyson Cinetic Animal Canister Vacuum
The Dyson Cinetic Animal Canister Vacuum is a particular machine that effortlessly gets rid of dust, dander, and pet hair from the environment. Its capabilities make it an ideal purchase for any pet owner!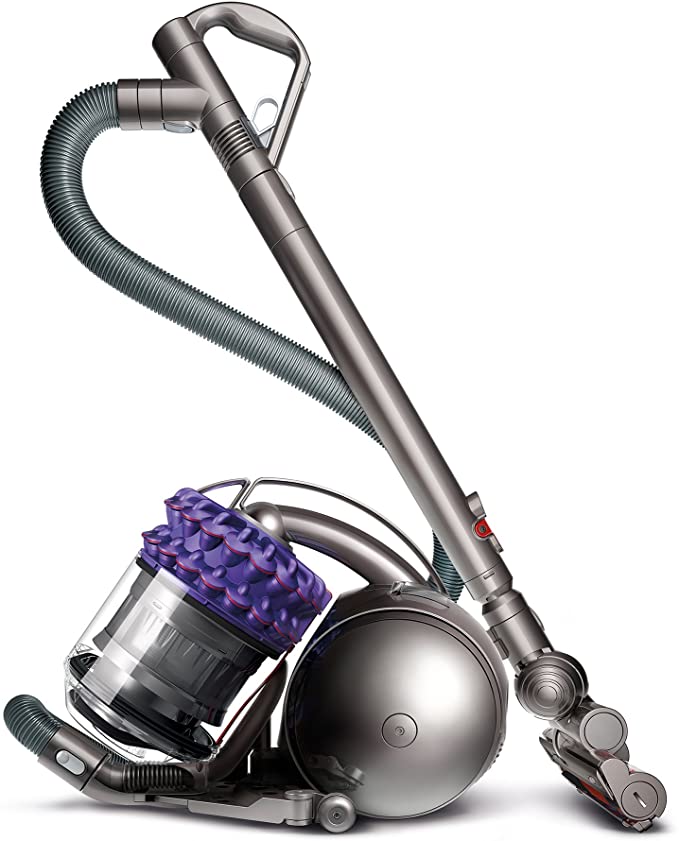 This machine is one of a kind in the way it behaves. Firstly, it has an innovative design that lets it stand back up even if it topples. Apart from that, it has a strong suction that picks up dust, dander, pet hair, and debris thoroughly. Finally, it has an advanced cleaner head, which dutifully removes the finest of particles. This model is easily one of the most potent canister vacuum cleaners available in the market. Even during cleaning tests, this vacuum holds up with an impressive performance.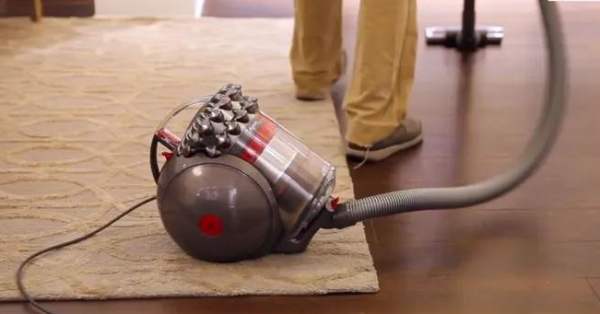 As a pet owner, you want a machine that you can use to clean and target every nook and cranny. Luckily, this machine can offer you just that! It is a worthwhile investment that will leave you, stunned! Moreover, its bagless design adds more comfort to the cleaning process as it reduces unnecessary hassle. You don't have to worry about hidden costs related to bags! What else could you want? It isn't easy to regularly clean homes with pets; however, this machine makes it quite straightforward to do so. You can use the majestic cleaning wand to suck away all mess. Even though it is undoubtedly an expensive purchase, it is worth every penny!
The Quietest: Miele Electro+ Canister Vacuum Marine Blue (Compact C2)
The Miele Electro+ Canister Vacuum Cleaner is a machine that vows to clean the room without making any noise. It is a perfect purchase for anyone who prioritizes silence and convenience.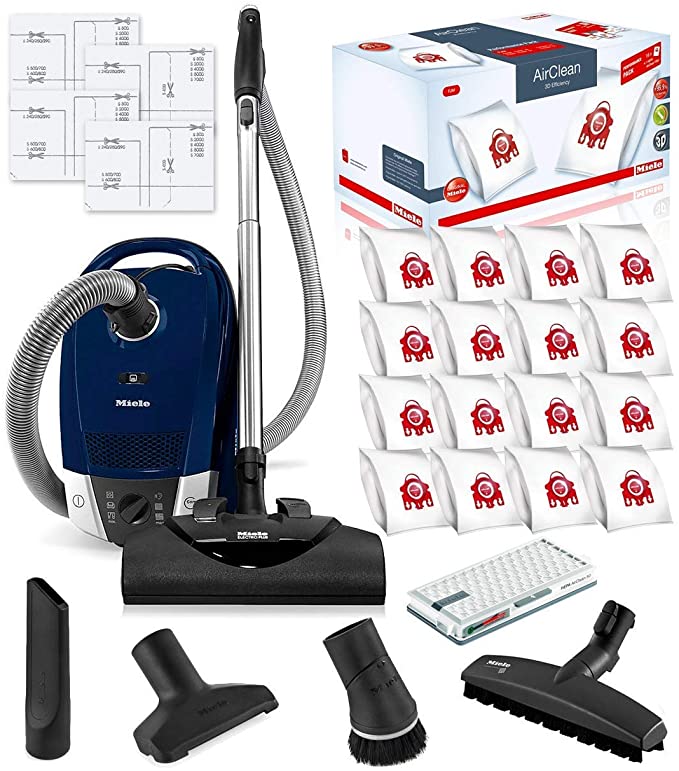 The Miele Electro+ Canister Vacuum is potent, elegant, and silent, making it a worthy addition to the cleaning roster. This canister vacuum cleaner possesses a powerful suction and a HEPA filter, which ensures the capture of dust and dander. The air blown out of its exhaust is fresh because of the top-notch filtration. Even though this model requires bag changes, this isn't a frustrating process. All in all, it has been designed intelligently, which makes operating it a pleasure! This baby is undoubtedly a strong contender for your cleaning roster!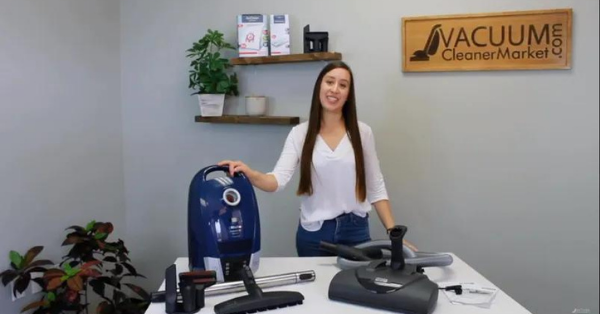 It makes perfect sense to purchase this model if you prioritize a hassle-free appliance for your home. While it doesn't make much noise, this vacuum will remind you of its existence when you see its cleaning performance. It is no surprise that this is one of the highest-rated canister vacuums available in the market! It isn't disruptive at all and will make an excellent cleaning buddy for your chores.
The Best Lightweight: Hoover CH30000 PortaPower Lightweight Commercial Canister Vacuum
The Hoover CH30000 Canister Vacuum Cleaner is a blessing to do chores with because it is so light to carry around. If you prioritize mobility, this is the perfect machine for you!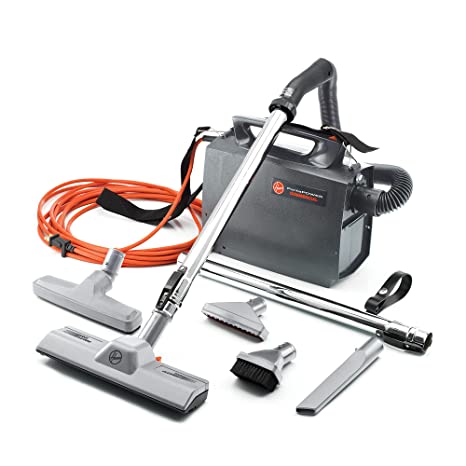 Do you hate carrying around a heavy vacuum cleaner? Well, if you buy the Hoover CH30000 PortaPower, you won't have to do so again! This lightweight machine has a powerful suction that will never fail you in cleaning the carpet and hard floor brilliantly. The generous 33′ power cord makes it a piece of cake to move around the home. Regardless of whether you must focus on hard-to-reach areas or the bare flooring, this machine will blow you away. Its performance is fantastic, and the price is reasonable.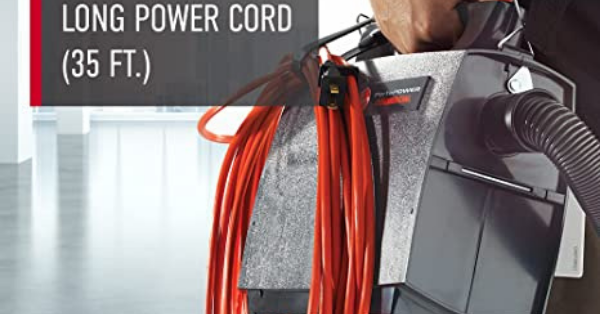 This top-notch canister vacuum cleaner is durable, reliable, and easy on the wallet. The value for money it offers is phenomenal. Moreover, the 7.4 amps motor performance is also impressive and proves to be invaluable during cleaning! There has been a conscious emphasis on engineering the machine in a way which lets more area gets covered in one pass. Therefore, the mobility and practicality of this vacuum cleaner will make it a breeze to use it! No need to hesitate if you have your eyes set on this machine, just purchase it!
Conclusion
Your home could benefit immensely from the purchase of a canister vacuum cleaner. It is an excellent appliance that allows you to clean floor coverings and hard floors just the same. While there are many models available in the market, with the right attitude, you can find one suitable for you. Don't be impatient during the shopping process. Feel free to consider a model mentioned in this article if you wish! I want to emphasize how I wholeheartedly recommend that you purchase Dyson Cinetic Animal Canister Vacuum and Miele Complete C3.
If you still haven't found what you were looking for, I recommend you check out our post about the best upright vacuum cleaners.
Other Sources: