The paint you choose for your wall is can impact the vibe and aesthetics of the room substantially. That's the reason why you should be highly conscious of the color you choose for the walls of your home.
Neutral greys are usually chosen for their ability to fit in any room effortlessly. Agreeable Grey is one such top selling neutral grey paint from Sherwin Williams. Is has a warm neutral color that works well with almost any color and can be used in any space.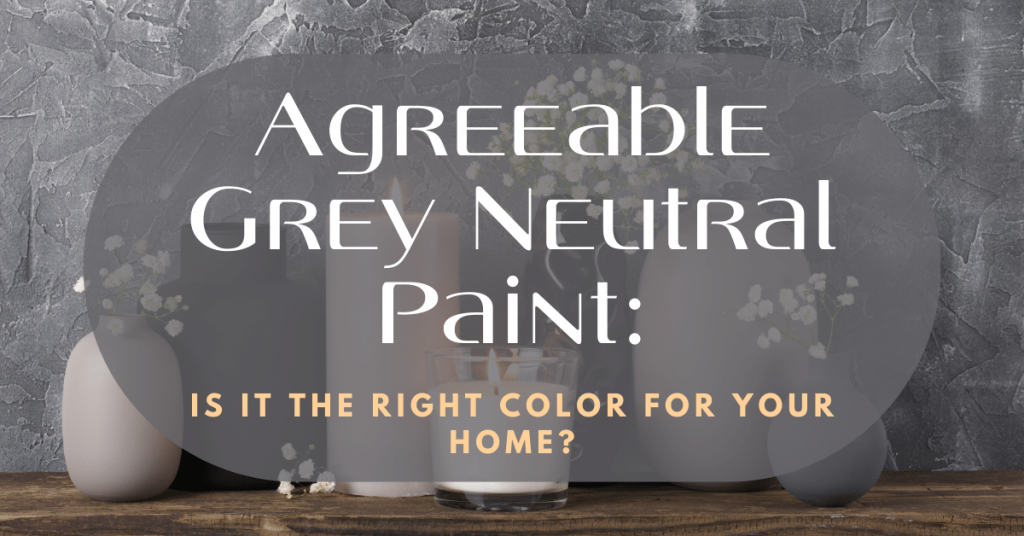 Agreeable Grey 101
Agreeable Grey (SW 7029) is a color with a Light reflectance value or LRV of 60, which means AG is a clear color but not as clear as "off-white" would be.
Agreeable Grey is positioned as one of the perfect greige options that you can consider if you're not sure about which paint to choose.
What is a Greige?
Greige is the word used to describe colors that lie somewhere between grey and beige. They are known for being really versatile and neutral. These characteristics of the color are valued highly by interior designers, homeowners, and even realtors.
NOTE
WHAT IS LIGHT REFLECTANCE VALUE OR LRV
It's a scale that goes from 0 to 100 and measures how light or dark a color is. The closer the number is to 100, the lighter it is. In this scale, white corresponds to 100 and 0 to black.
Agreeable Grey Undertones
As a neutral grey, Agreeable Grey doesn't have a lot of undertones. However, they could be perceived differently depending on the lighting.
All grey hues have 3 undertones: blue, green, and purple. This simply means that any of these colors can show up depending on the light.
These undertones vary depending on whether the grey is cool or warm. Agreeable Grey is known as the perfect neutral grey because it almost doesn't have undertones. However, you can notice AG having a hue towards brown or violet.
NOTE
WHAT ARE THE UNDERTONES
The colors that can appear when a color is next to another or depending on the light are known as the undertones.
The Color's Appearance Can Vary in Different Lighting
Depending on the wall you paint, the color can behave in different ways. You may want to consider this when choosing the perfect paint for your wall.
North-facing rooms: in these rooms the light usually has a blue tinge and is cooler. This means that lighter colors like Agreeable Grey tend to look muted. If you'd like to give a pop to the room, choosing a darker color would be better.
South-facing rooms: tend to have a warmer tinged light that will find its way in your room for the whole day. This light favors the paint we are discussing. This means that Agreeable Grey will show its best side in this type of room.
West-facing rooms: there are light changes during the day that make light cooler in the morning and warmer in the evening. So Agreeable Grey will show its warmth in the evenings when used in west-facing rooms.
East-facing rooms: warmer light in the morning and cooler light in the afternoon. Agreeable Grey will appear cooler in the morning of an east-facing window.
Agreeable Grey Compared with Other Greige Tones
I have already made my point about how amazing Agreeable Grey is, but I understand that maybe you want to compare it to other greige tones to make your mind that Agreeable Grey is the right paint for you. So I have assembled a list of other similar shades from Sherwin Williams and other manufacturers.
Agreeable Grey is amazing but there are other paints that are similar and can be used instead of agreeable grey. All of them are a mix of grey and beige, with a good light reflection.
1. Repose Grey
[amazon link="B01N1TGRK0″ title="Repose Grey"/] is cooler and its base is less greige than Agreeable Grey. You can see the difference in the images below. Repose Grey will look more like a true grey when used.
[amazon box="B01N1TGRK0″]
2. Accessible Beige
[amazon link="B01N4F4FY2″ title="Accessible Beige"/] is another shade worth your consideration. You read it right! It's a beige color, but it leans into grey. Just like Agreeable Grey is grey with a touch of beige, this paint is beige with a touch of grey.
[amazon box="B01N4F4FY2″]
3. Anew Grey
[amazon link="B01N0RZ97Q" title="Anew Grey"/] is slightly darker than Agreeable Grey, it is still a mix of grey and beige.
[amazon box="B01N0RZ97Q"]
4. Revere Pewter
[amazon link="B01N6I0E6I" title="Revere Pewter"/] is the bestseller from Benjamin Moore, just like Agreeable Grey is for Sherwin Williams.
Even though both tones are greige, Benjamin Moore's has more beige in it and is also a little darker than the Agreeable Grey.
[amazon box="B01N6I0E6I"]
5. Edgecomb Grey
[amazon link="B01N6I0K9U" title="Edgecomb Grey"/] is another option that has more beige in it than Agreeable Grey. It also gets lighter on the wall than AG.
The LRV of Edgecomb Grey is 63, while Agreeable Grey's is 60. This means both colors reflect a lot of light. It also means that AG is slightly darker than Edgecomb Grey.
[amazon box="B01N6I0K9U"]
Agreeable Grey Alternatives
Agreeable Grey is surely a dear hue, but there are other options if you'd like to explore other greige options and make a choice that's completely conscious.
[amazon link="B01NAK2D9I" title="Repose Grey"/]
[amazon link="B01NAK2D9I" title="Dorian Grey"/]
[amazon link="B01N4F4FY2″ title="Accessible Beige"/]
[amazon link="B01N0RZ97Q" title="Anew Grey"/]
As you know, the appearance of the color changes depending on the room and the wall it's painted on. So you may think it's hard to figure out the perfect greige for your home.
If this is the case, the best thing to do is to try the paint you're considering directly on the wall you're planning to use them on.
If you're mixing tones you'll want to avoid choosing a tone that's 1 shade darker than the other, since this would make it look odd.
Bottom Line
Agreeable Grey is a perfect choice for almost any room. It has been the go-to color for designers and homeowners for years. Some real estate agents even advise that you use it to paint your house if you intend to sell it.
This happens because AG is neutral, goes well with almost every color and with different floors. Not to mention the fact that you can use it in different styles.
But, if you want a cheat sheet, I've got one right here. The colors that work best with Agreeable Grey are the green and blue tones.
You'll make the right choice by choosing Agreeable Grey if you're moving to a new home, or even renewing the one you already live in.
The colors we paint on our walls dictate the way we may feel in the rooms, it influences the feeling we get about the furniture – whether it's the right choice for the ambient or not.
Maybe you are thinking about how you'll know that Agreeable Grey is the right color for your home. I do think that it's an amazing paint, but don't take my word for it. It's one of the best-selling shades in the world. All these people can't be wrong.
[amazon box="B01N7JC8QN"]
Keep reading
I'm truly passionate about making my house as cozy as possible, and I know that you are too. That's the reason why I write this blog in the first place.
So, keep your journey of making your home the coziest place on earth by reading our awesome post about garage floor ideas you can implement!
Is your garage floor dirty? Do you want to improve the way it looks? Well if you do, these 5 inspirational ideas will change your garage forever!